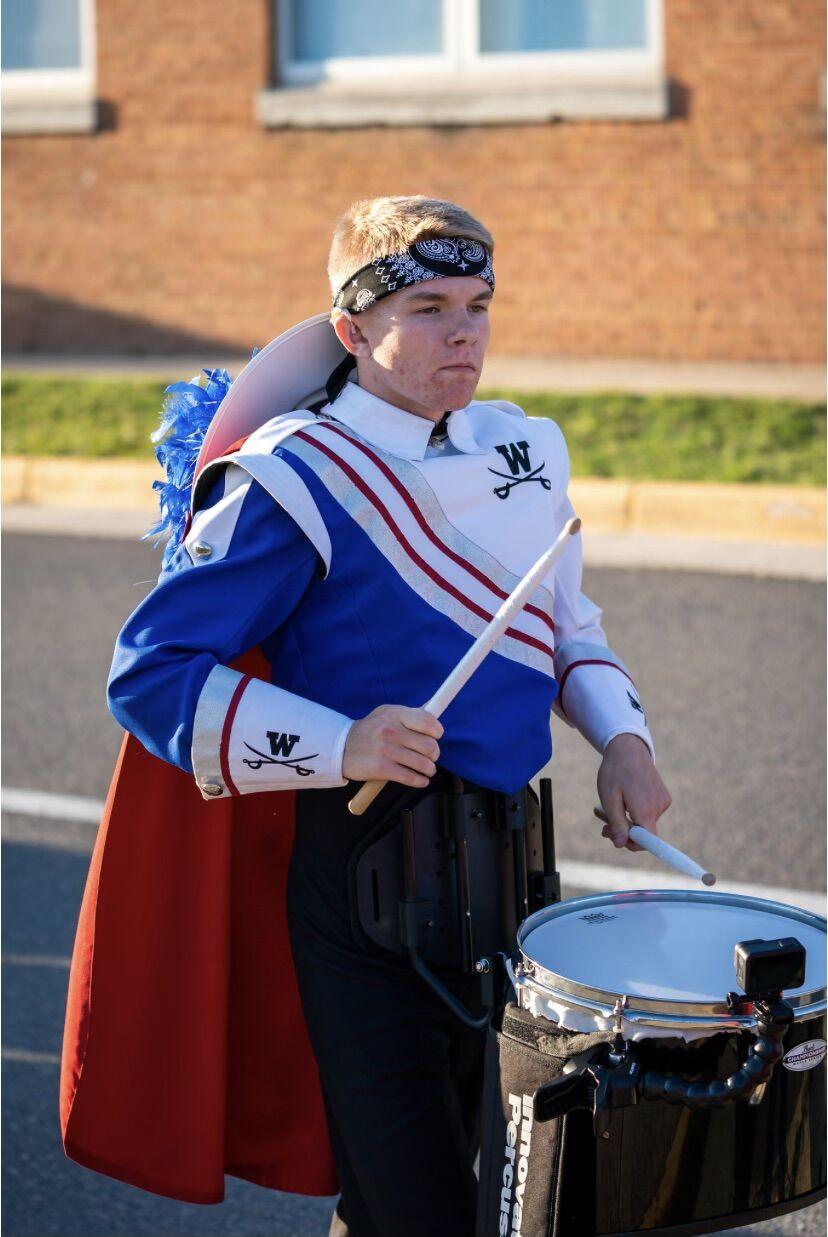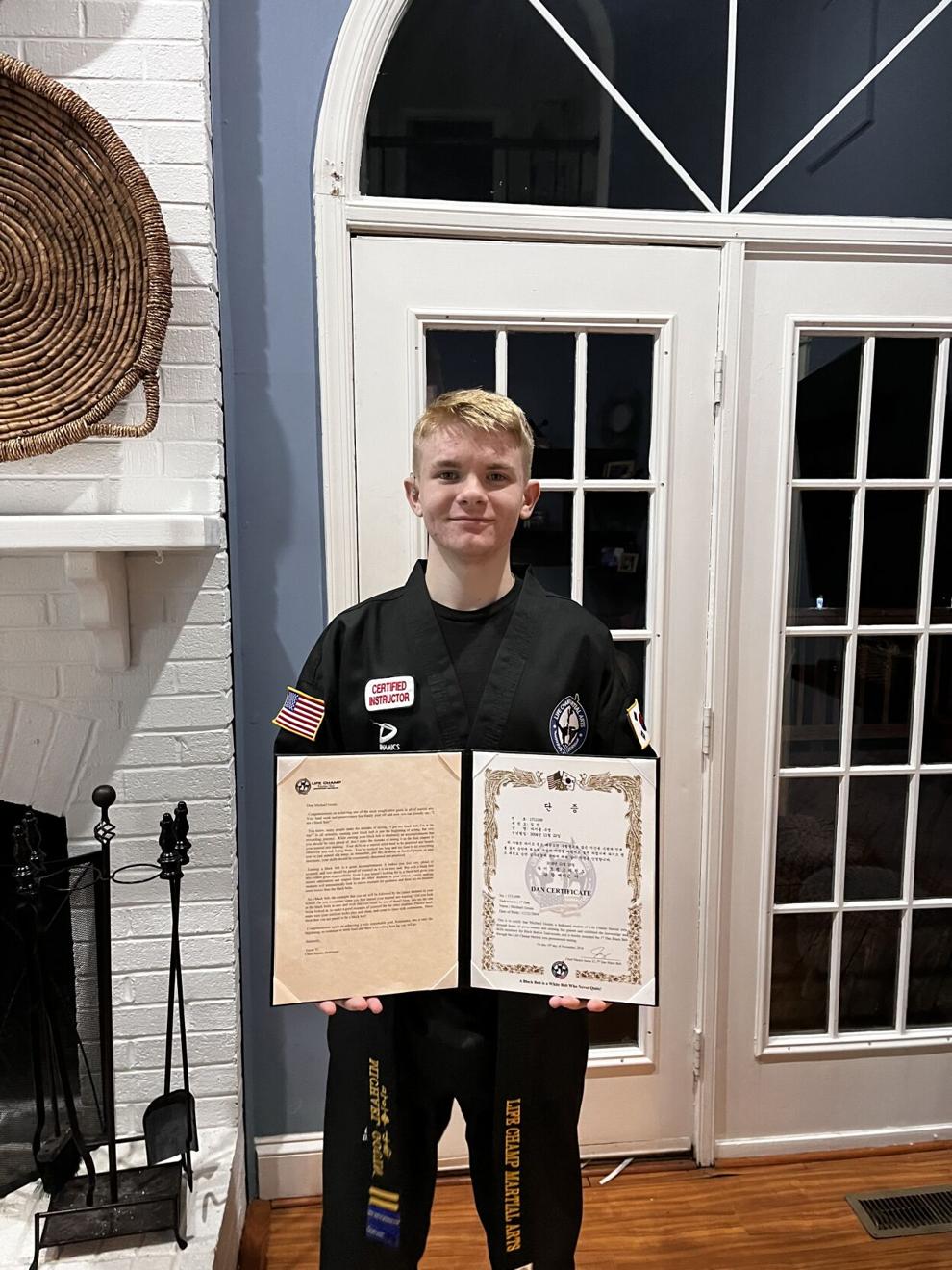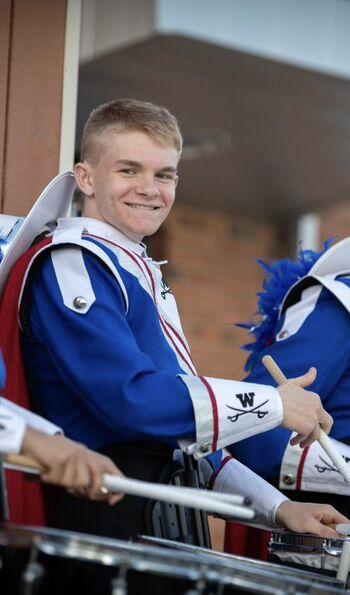 Woodson High School junior Michael Gouin is quite the natural at what he picks up. When he was younger, "it would not take him very long to become good at things," his mother Denise Gouin said. "He always manages to figure it out."
He started Taekwondo classes with his dad as a kid and earned a black belt in less than four years. He quickly took to the drums after starting lessons in 2019 the summer before eighth grade. Years before he picked up any of that, he learned American Sign Language (ASL).
"My parents thought that the drums would be a good instrument for me because I wouldn't have to worry about pitch, sharps, [or] flats … which may be hard for me with my cochlear implant," Gouin said.
He was fitted with a cochlear implant at Johns Hopkins Hospital around a year after they discovered he lost his hearing at two years old. His doctors advised that he needed to be in diverse speaking environments for the implant to work.
His parents moved him from his school in Shepherdstown, W.V. to The River School in Washington, D.C. for a year so he could get more auditory exposure beyond a silent, specialized classroom.
Gouin joined the Fairfax County Public Schools' deaf and hard of hearing program as he attended Canterbury Woods Elementary School and Frost Middle School. He built his community out of peers in the program.
His parents saw more chances for him to branch out in high school. His doctors discouraged contact sports, so something like football was out of the question, but Gouin's parents set their sights elsewhere on the football field.
"We wanted him to be in other parts of the school where there were normally speaking kids and we wanted him to know the tightness of a group like the band," his mother said.
Even though he picked up the drums years before, and his grandparents gifted him a drum kit for home, COVID-19 delayed his chance to join a band until his sophomore year at Woodson.
"In band class, we have to learn all the percussion instruments," he said. He started marching band playing a big bass drum and gong in the pit, and stationery. "This was a good start for me because I had never played with others before," he said.
Starting this year, he wanted to march. "I really wanted on the drumline, it's fun out there," he said–which is where he earned a spot.
He started with an ASL interpreter for games but didn't need one once he found his flow. He keeps working on that flow with his drums at home.
He loves his personal drum kit but also has a marching snare drum–which he wants to master before spring tryouts. "There are just a few chosen to play the snare on the drumline, so that is my motivation," he said.
Gouin doesn't let being one of few stop him from doing new things. If anything, it only encourages him to learn and carry on.
"He watches things very closely," his mother said. "He looks for sign language to fill in the gaps… He doesn't want to miss anything–important things," his mother said.
"My hearing impairment makes many things challenging, so I've just gotten used to it. I wish things were easier," he said. Despite the challenge, pursuing his interests is one of those important things he doesn't want to miss.
"I used to be afraid of new things, … messing up, or not being good enough. But the more things I've tried and done alright, I've become more confident, less afraid," he said. Although just "alright" is likely an understatement of his skills.
He's considering Rochester Institute of Technology in Rochester, N.Y. for college. He toured the school with his family a few weeks ago and got to learn more about the support system for deaf students. Instead of a marching band, they have a pep band that he would take a crack at.
It just comes down to trying, because if you never try then you never know. "There are lots of us who are good at things and just don't know it and just don't try… Try your best and don't give up when something is hard to do, and you'll be alright," he said.