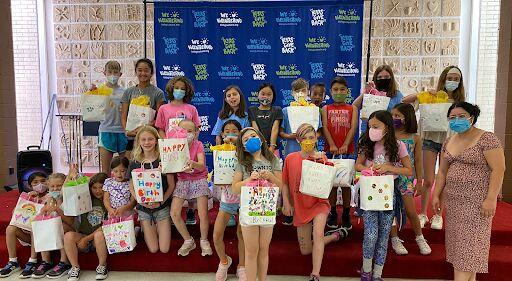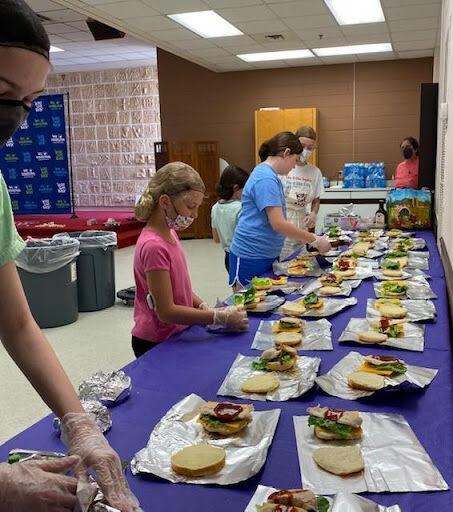 Nonprofit Kids Give Back teaches kids about volunteering
"I hope that this one week of camp inspires them long-term to keep volunteering," said Kids Give Back Executive Director Denise Gavilan. The local nonprofit just wrapped up its first camp session for this summer. The second and final summer volunteer camp for the year is scheduled July 11-14.
Each summer volunteer camp is open to kids ages 6 to 12. They work on volunteer projects each day, learn about needs in the community from local leaders, and develop teamwork skills. Children who are 13 and older can return as camp counselors. This year they had one 14-year-old and a few 16-year-olds as counselors.
"We learned to bring on a teacher, scale back, and have extra projects in our hip pocket," Gavilan said. They now cap enrollment at 26 kids and include a teacher to manage the groups throughout the week at Bethlehem Lutheran Church.
The camps have been running since the organization has been a 501(c)(3) nonprofit as of 2019. 
"Kids Give Back was born from a small volunteer program I ran at Mantua Elementary… called the Kids Care Club and I was the volunteer mom for three years," said Gavilan.
Gavilan would meet with the Kids Care Club participants after school once a month to do volunteer projects, such as make cards for military members or assemble snack packs. Once her kids aged out, she knew she wanted to keep the work going.
Gavilan spoke to parents, networked with nonprofits, and organized Kids Give Back. "There isn't anything like Kids Give Back… that caters to the six to 12-year-old market," she said. Nonprofits now submit project requests to Kids Give Back. "The partnerships just keep coming." 
This past camp session they made 140 meals for FACETS, assembled 100 camp supply kits for Aspire!, and made instruments for Choice. Respect. independence (CRi), and created birthday bags for kids through INMED.
Gavilan knew about FACETS' meal program from being on their board of directors for years, but last summer she got the idea to involve the kids. "I don't think people realize how much kids can do," Gavilan shared.
The kids prepare sandwiches, pasta salad, fruit, and ready-to-bake cookies for the meals. They work on teams, encouraging leadership among the participants. During this session, one team had a seventh grader lead some kindergarteners while a teenage camp counselor supervised.
Kids Give Back is entirely volunteer-driven, a passion project supplementing Gavilan's full-time work as a marketing and communications consultant. This past year they've completed around 3,000 service projects and invested more than 2,000 volunteer hours between the children and adults involved.
With the help of grants, sponsors, and donors they hope to expand the number of camps and events across more communities. They did a volunteer program at Woodburn Elementary last month, at which most attendees were new to the U.S.
The kids who participated said they hadn't been asked to help others before and were usually on the receiving end. "There's an opportunity [to teach] kids who are in high-risk neighborhoods that they can be leaders," Gavilan said.
"We tell the kids they volunteer using their time, talent, and treasures," Gavilan said. On that note, they teach the kids that volunteering can be baking cookies for a neighbor as much as it is making hundreds of meals for a nonprofit.
Last year they had some kids come to camp one day with $61 in change that they made from their own lemonade stand. They asked to put it towards this year's meal prep project and Kids Give Back honored that. "It's those moments where you realize that you're getting through to the kids," Gavilan said.
"I'm so inspired by the kids," Gavilan added. "They want to do volunteer work. They are enthusiastic and they get it… I think Kids Give Back is so successful [because] we are empowering children as young as 6 years old… It's about them feeling confident."