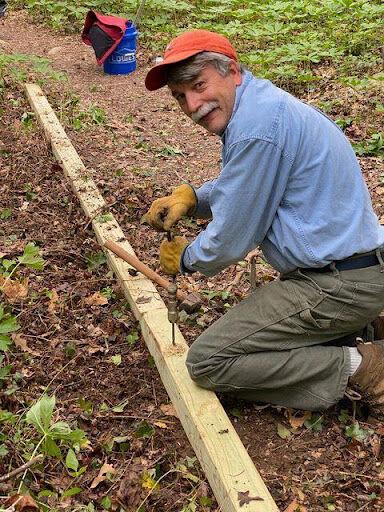 Stephen Markle is one of two recipients of the Fairfax County Park Authority Board's 2022 Elly Doyle Park Service Award. The award goes to volunteers who left a positive mark on county parks. Part of the reason Markle is being recognized is for leading invasive plant management.
Managing invasive plants is part of returning lands to their natural state. "I'm a leave-no-trace trainer. But at the end of the day, you always want to leave the place better than you found it," Markle said.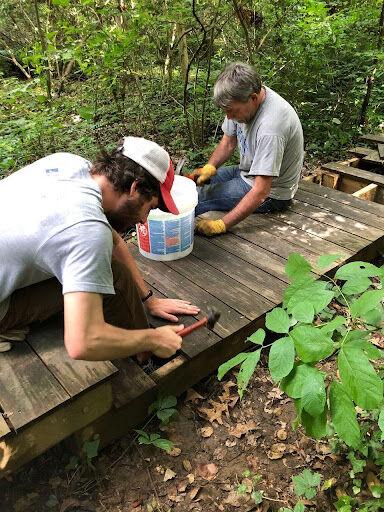 That ethic stands true at Gil McCutcheon Park in Alexandria where Markle has led restoration and maintenance efforts since 1998.
The park comes from the 18-acre Slater Lamond family property where they built their house in 1939 and lived until 1986. Markle's family moved into the Villamay neighborhood north of the property in 1996.
In 1998 the Harris Development company notified residents that they intended to buy the land from the Lamonds and clear it to build homes.
Then Mount Vernon Supervisor Gerry Hyland led a public meeting that summer at the Mount Vernon Government Center to discuss the news. They expected a handful of attendees but more than 250 residents showed up. "We overwhelmed the meeting location," Markle said.
Markle identifies as a "classically-trained biologist" and had lots of questions at the meeting. "I had some passion for it and I wasn't a wallflower," he said, laughing.
Hyland assembled a task force from those impassioned residents, making Markle vice-chair. The task force worked for a couple of years to specify a plan for the land if they acquired it. By February 2000, the county bought the property from the Lamonds for more than $4 million with a bond referendum.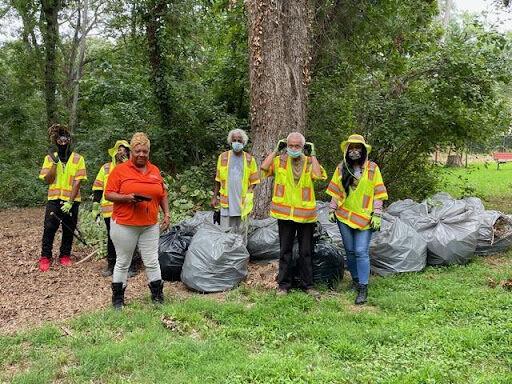 "In an age of infill development, it's nice to preserve 18 acres in perpetuity for people to use," Markle said.
That May, Markle worked with the county trails coordinator and area manager to establish the trails and has maintained them ever since. They came up with $40,000–through community donations and a Mastenbrook Grant–to commission the building of a playground in May 2004.
Plenty of kids are on the playground these mornings. It reminds Markle of what the park means. "I grew up in the woods outside of Cooperstown, New York, so I knew my way around outside and I wanted my kids to have that same opportunity," he said.
Markle's father was a forester, his Little League baseball coach, and a role model for how to be a dad and be part of a community. Markle entered college as a forestry major. "I wanted to be just like my dad," he said.
He upheld his father's legacy. He graduated with a civil engineering degree, managed a nature center, and worked for the U.S. Army Corps of Engineers on a flood control project for three years.
Markle always got involved with his kids. He was his son's baseball and lacrosse coach, a scout den leader then master, and leads the Park Volunteer Team and Invasive Management Area (IMA) Team.
High schoolers, scout troops, and people from all over the area have volunteered at the park. Their efforts amassed nearly 8,000 volunteer hours. Markle often coordinates volunteers, "besides the time I'm over there by myself for therapy," he said.
Markle spent more than 20 years as a U.S. Navy officer and has a lifetime of experience in different places. "What Gil McCutcheon Park offers is a sanctuary. It's a place where you can go for a quiet walk in the woods," he said.
Markle commuted along the Mount Vernon bike path for about nine years. "That's a great stress reliever, … but that's not quite enough all the time," he mused. He appreciates the finer details like spotting a fox or box turtle–species that wouldn't be present without the community-wide effort that founded the park.
Community is found in the creation of the park, the ongoing maintenance, people of all ages congregating there for their annual Labor Day picnic since 2003, and those who stop and ask how they can help when Markle is working in the park.
"We've instilled in them an ethic: … leave the space that you occupy (the planet, I wish) better off than it was when you were there so that it's still there for their children—my grandchildren," Markle said.
If community cohesion is any indication, that's exactly what they're doing at Gil McCutcheon Park. Like the acronym on his son's license plate: take only memories, leave only footprints.