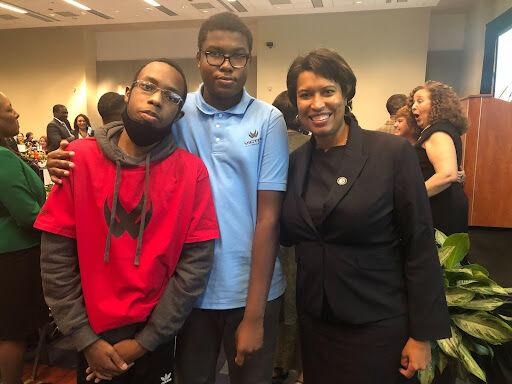 "I was tired of holding it in my mind and I just had to get it out and build it together and, if nothing else, see what would happen," said Lorton resident Tiffany Hamilton. Hamilton launched the activewear brand Victor Wear with her son Isaiah this past April.
The dream dates back years. Tiffany was wary of the challenges Isaiah would face as a Black male with autism. Most adults with a disability are underemployed or unemployed. After Trayvon Martin's death and the social change that ignited, Tiffany asked herself, "what can I do to ensure that he can really survive and thrive in this world?"
Tiffany always thought they should make shirts with Isaiah's art skills. Tiffany works in marketing and had other business ideas in the past, so she was familiar with resources like SCORE–free mentorship from business experts.
The culmination of all the change in the world turned the pent-up potential of their dream kinetic last fall. Tiffany worked every Sunday afternoon developing a business plan with her SCORE mentor, took out loans, invested savings, and did "everything I could do to get it up and running," she said.
Isaiah sketched the logo–a V and W that resembles a flame. "The flame represents inspiring triumph over obstacles," Isaiah said. Victor Wear encapsulates resiliency and wearing your victories, which is exactly what the Hamiltons are doing with the brand.
Their mission is to empower and employ people with disabilities. 
"We're going to make this inspirational," Isaiah said. "I feel like Victor Wear is armor around me. Whenever I wear it, I feel like I'm the guy who's going to rise above it, take on challenges, [and] do whatever it takes."
"Our story has just been about doing our best and trying to [overcome] our challenges," Tiffany said. "We are where we are today because of that hard work and determination to rise above no matter how hard things got, and things have been hard."
Tiffany was a single mom for years. Isaiah went through therapies since he was one.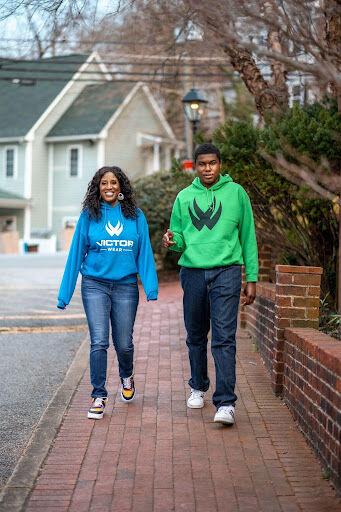 "I would always tell him… don't try to fit in with people who don't accept you and like you for who you are," Tiffany said when Isaiah was bullied. They switched schools five times before they found one that fit.
Luckily, "I found my tribe," Isaiah said. Tiffany persevered and always told Isaiah that he was capable and to believe in himself. "She always had that power inside her," Isaiah added.
It's those affirmations the Hamiltons used that decorate Victor Wear apparel now. 
"What you tell yourself in your mind, whether you say, 'I can or 'I can't', makes all the difference," Tiffany said.
Isaiah is a gold and bronze medalist Special Olympics freestyle and backstroke swimmer. Their connections with Special Olympics Virginia are why 10 percent of the proceeds from every Victor Wear product sold is donated to the Special Olympics.
"Special Olympians exemplify our brand. They represent everything we stand for, which is resilience," Tiffany added.
They're focused on expanding so they can maximize their impact. Two of Isaiah's friends, Daniel and Diego, help with events. Daniel accompanied Isaiah when he received the D.C. Chamber of Commerce's 2022 Young Entrepreneur of the Year award in May.
They are considering a brick-and-mortar shop, working on an affiliate program, and deepening their partnership with the Special Olympics. "As long as we are realizing our mission of employing and empowering people with disabilities, [and] growing and creating jobs, we'll be happy," Tiffany said.
"We want to prove to the world what people with disabilities can do and really grow this into a large, profitable brand that's going to change the narrative around disabilities and hopefully open up a lot more opportunities for people with differing abilities," she added.