Theresa Fruet spends years making afghans to donate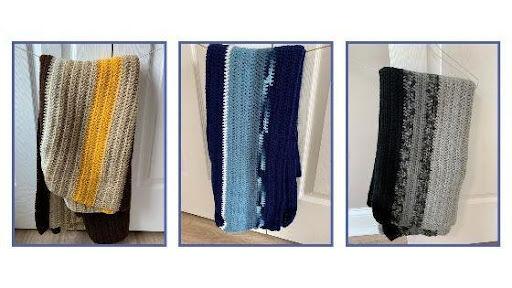 "There was always a crochet needle in her hands, she was always doing something," said Chris Chaisson about her mother, Theresa Fruet. Fruet picked up crocheting when she noticed her parents could use a bit more warmth when sitting out on their deck.
Fruet crocheted her parents an afghan for their comfort. An afghan is a sort of blanket, simple to construct and free to be any size. After decades of crocheting and continuing at 94 years old, Fruet said there is no hard part to the process, that it has become reflex.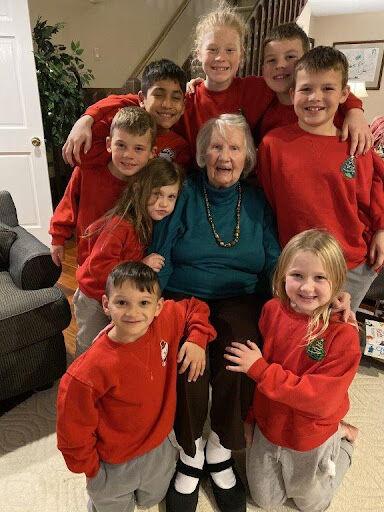 While it started for her parents, Fruet began making afghans for friends and the activity blossomed from there. The same way she noticed her parents, Fruet saw those experiencing homelessness and how they would benefit from better warmth and comfort.
"I made them and gave them to the people who walk the streets when the weather was getting cold because I thought they'd be a little more comfortable," Fruet said. Thousands of donated afghans later, without the need for a plan or design, she simply said the activity fills her time.
"Crocheting keeps me busy and out of trouble," she joked. For those on the receiving end of the donations, the afghans are a reminder that their comfort matters.
Fruet moved from Muncy, Pa. to the county 14 years ago. Up in Pennsylvania, she commonly gave afghans to low-income nursing homes in the region. As residents transition into nursing homes, their sense of home can be at risk.
Color and warmth are important for helping an environment feel more like home. Fruet's handmade afghans are the fusion of those two elements. A colorful afghan can become personal for each resident and carries home in its yarn.
Since becoming a resident of Fairfax County, Fruet began donating afghans to Marian Homes. The nonprofit works to provide independent living options to adults with intellectual and developmental disabilities. 
In situations where adults with disabilities risk not having necessary accommodation, they can often be neglected and abandoned by the systems in place. Marian Homes aims to help those adults thrive.
The organization has seven homes dedicated to those in need and is only growing. They managed to acquire an eighth home despite the tight housing market and reduced fundraising opportunities during the pandemic.
Fruet's crocheting skills have also grown–although they admittedly skipped a generation, as Chaisson said, "all that talent leaped right over me." Chaisson chuckled that she would "get a stomachache thinking about [crocheting]."
Instead of her daughters, Fruet crochets with her grandchildren. Two of her great-grandchildren are learning to crochet. "It takes a little bit of time, but that gives me more time with them," she said.
When she's not sharing the activity with her family, Fruet is persistently motivated by the plain act of doing something worthwhile. She knows it's something that anyone can do and hopes that people will offer their own talents to the causes in their communities.
Regarding those lacking resources or comfort Fruet said, "They needed it and I thought I could give it to them." She encourages more people to similarly put their abilities to use for the "many people out there who need something." 
To anyone considering where to start, Fruet advised that "it wouldn't cost them that much of anything, just their time." After all, "plenty of people need a little bit of warmth," she said.