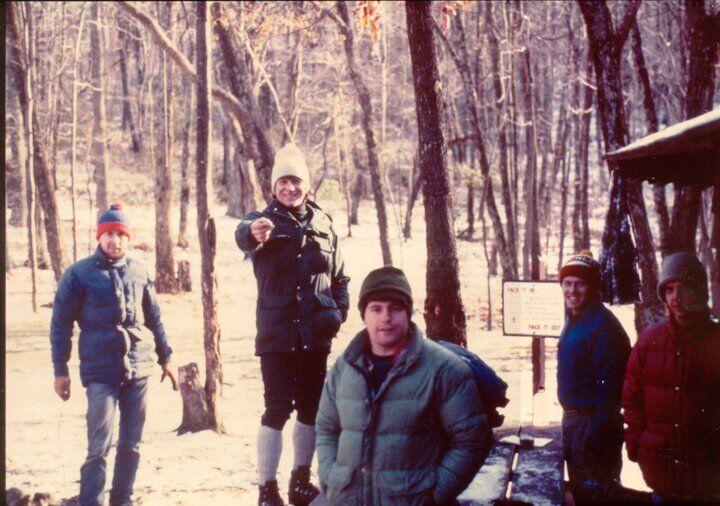 The International Day of Forests is this coming Tuesday and Earth Hour will be next Saturday night. Nature seems to command attention when the seasons change. What better way to celebrate our planet than with a hike in the Shenandoah mountains in the height of winter?
A group of about a dozen guys made an annual tradition out of doing just that. They estimate that they've hiked all the Appalachian Trail south of Pennsylvania by now.
Curtis Clark and Brian Coughlan started the tradition in 1973 while they were still attending Fairfax High School.
It was the era for backpacking, founded or fueled by Colin Fletcher publishing "The Complete Walker" in 1968. A few of Coughlan's friends had gone backpacking and he thought it was the coolest thing.
Clark was further sold by the lure of the gear those days. They bought some packs and got dropped off in Shenandoah by Clark's parents with the thought, "I'll hike with you if you'll hike with me," Coughlan said. "Fifty years later we're still doing it."
"Here we are a bunch of guys in their mid-60s and we climb up and down mountains carrying 40-pound packs and it's hard for us but we're still doing it," Coughlan said.
Clark, Coughlan, and Steven Head have all known each other since they were kids. Head, one of the few who live in Fairfax today, joined the winter hike in 1981 after serving in the Air Force in Washington state.
The hike usually consists of anywhere from three to six guys a given year, but Clark and Coughlan have gone every year. All the guys who have gone on the hike have different careers and sometimes politics but are as close as a band of brothers.
The experience has motivated them and altered the course of their lives, including Head. He first hiked Mount Robertson in 1973 with Coughlan and Clark apart from the winter hike tradition.
"I was so ill-prepared for it that it almost killed me," Head said. "I decided to get in shape and stay in shape so I could hike at any time with my buddies." He found a passion for holistic health and founded Head Strong Fitness.
The winter tradition is unique since the cold weather augments the trials of hiking and camping in the mountains. Even five miles can be brutal in winter conditions. "The winter hiking made it an epic thing," Clark said.
"Most people don't hike in the winter, so it was a badge of honor of sorts," Head said. The winter hike has also been an index of their friendship.
"We've seen people … step up to help the group in challenging weather and circumstances," Coughlan said. When Clark got the flu on the hike one year, the other guys carried his pack in addition to theirs.
Sometimes the acts of kindness were just sharing chocolate, which Head could always count on Coughlan for.
The guys are scattered nowadays, Coughlan moved to North Carolina more than 40 years ago, but any distance hasn't made a dent in their determination to get together.
The trip started over the winter holidays while they were in school but, with families and adulthood, eventually settled on the weekend before Martin Luther King Jr. Day. This year they concluded their hike and commemorated 50 years of the tradition at a cabin in Luray with their wives.
"This hike has been the one thing that, every year, [we] drop everything and get together [to] do… It has allowed us to maintain long-term [and] valued friendships," Coughlan said. "It takes some work to organize, plan, schedule, communicate, and coordinate this stuff but it's well worth it."