Passion for Community builds relationships while helping people build a home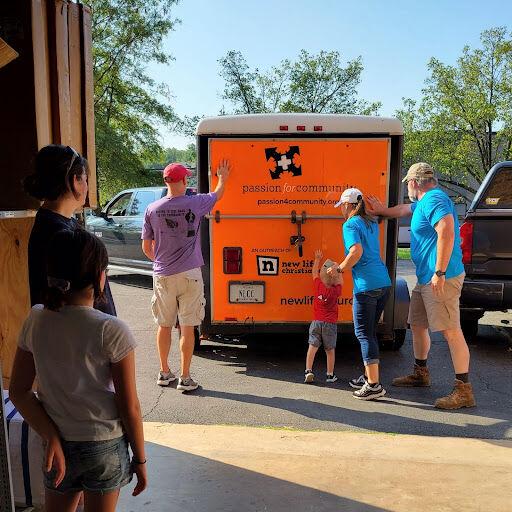 Volunteers with Passion for Community (P4C) have heard Executive Director Clay Shepard's advice to "slow down, get to know the clients, and let them know that we are people in the community who are taking the time to meet with them and deliver the items."
The outreach organization was founded in 2004 by members of New Life Christian Church. Three years into P4C, they organized a ministry around supplying furniture to those struggling with homelessness or domestic abuse. They found the need so great that P4C turned into a dedication to that pursuit.
Shepard has been onboard since 2019 after a P4C board member approached him and his wife at church about filling an open position on the board. What's not new, Shepard said, is the growing number of people experiencing homelessness, navigating their way out of domestic abuse, or in need of support building a home in their new life.
P4C works with organizations that support those who are homeless, at risk of homelessness, or victims of domestic abuse. They have partnerships with Shelter House, Cornerstones, FACETS, Department of Family Services, and Fairfax County Public Schools, and have worked with other charities and church organizations.
Those external organizations set up the request with P4C and they then "primarily provide clients with donated furniture, new beds, and all the household goods to set up a new home." It doesn't stop at furniture. P4C donated about 300 turkeys for Thanksgiving dinners last year and organize regular adopt-a-family campaigns around Christmas.
"It's that personal connection with the clients rather than just handing them stuff… When people come out of these shelters or out of a domestic violence situation, they're getting a fresh start," said Shepard. During such a transitional period, "It's important that our clients know that people care about them," he said.
"The key thing about Passion for Community that separates us a little bit is that we strive to deliver to clients. It's important that we connect with the client," Shepard said. P4C volunteers use the delivery time to build relationships with those to whom they deliver, answer any questions, and offer prayer.
They also want the experience to be positive for volunteers, so they don't overbook volunteers making deliveries. With balancing support for their volunteers and meeting the never-ending need, they have deliveries booked out until July. They are always "trying to grow the number of volunteers that support the mission and want to give that great service to clients," Shepard said.
This year P4C applied and made it into the top 200 charity organizations for State Farm's Neighborhood Assist grant program. They find out in June if they are within the top 100 to receive the $25,000 grant. Winning may look like a whopping set of new beds for clients and more to spare for the ongoing need.
Learn more about the 100 percent volunteer-run organization and how you can help at https://passion4community.org/.