"Six" will be playing in D.C. through September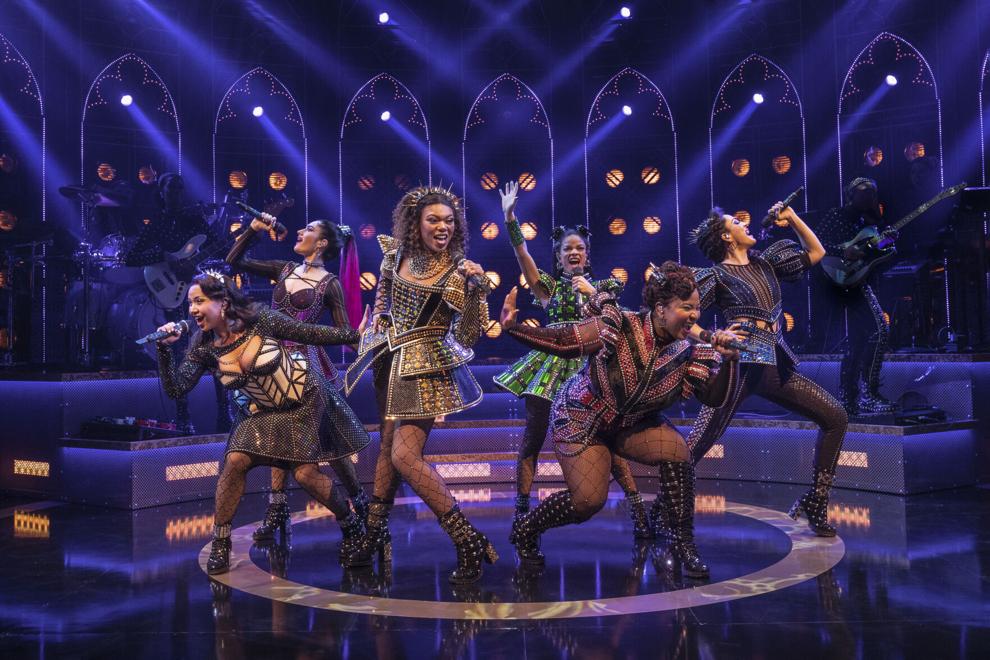 One of the most popular shows on Broadway since the pandemic hit has been "Six," a pop musical featuring the six wives of the notorious Henry VIII. 
The musical, which first made it big on the West End, is a modern retelling of the lives of his six wives, presented as a pop concert, as the Queens take turns singing and telling their story to see who suffered the most due to Henry and should, therefore, become the group's lead singer.
Written by Toby Marlow and Lucy Moss, the musical was nominated for eight Tony Awards at this year's event, winning two, including for Best Score. 
The national tour of "Six" is now headed to the National Theatre, playing from July 5 through Sept. 4. 
Directed by Lucy Moss and Jamie Armitage, the tour stars Khaila Wilcoxon as Catherine of Aragon; Storm Lever as Anne Boleyn; Jasmine Forsberg as Jane Seymour; Olivia Donalson as Anna of Cleves; Didi Romero as Katherine Howard and Gabriela Carrillo as Catherine Parr.
"Anna of Cleves was married to Henry for the shortest amount of time because he rejected her based on her looks—she didn't look like her portrait," said Donalson about her character. "To keep the religious benefit, he gave her a lot of wealth and independence. So, she got to live the rest of her life in her own palace with her own money, but did not have to be married to this man, who at this point was insufferable."
So, Donalson's main song, "Get Down," is one of the most popular among fans.
"It's like a big party on stage because I'm getting to celebrate independence, and the fact that he missed out on a great human being," she said. "I love that each of us get our moment to shine, but we each get to support the others. It's a lot of teamwork. Even though the concept is that we're in a competition, we're still showing up for each other."
The process for becoming one of the queens was a little unique, with Donalson explaining that the actresses were put in groups, and she met approximately 200 people during the process.
"It was very intimidating but also really exciting to get to support people in real time," she said. "That lasted about two weeks, and I didn't hear anything for a long time, but over Thanksgiving, I got the news about joining the company." 
All of those in the Aragon Tour are committed to the show until July 2023, and Donalson is excited to be touring the country and performing what is quickly becoming a beloved show of the masses. 
"The audiences go truly wild for this show," Donalson said. "They are like our seventh cast member. We love to look directly at them and connect and hearing and feeling their energy on the stage." 
The "contest" between the queens is designed to see who had the worst experience, so each tells their story—some funny, some sad—but it provides audiences with a little information about each of the wives and their history with the king.
"Ultimately, it's about six women who come together and support each other," Donalson said.
Off-stage, the cast gets along splendidly and are having a thrilling time touring the country together. 
"Because there's only 10 of us in the cast, we can do so many things together," Donalson said. 
"We like to have fun times in the dressing room making videos and love going out to eat or sightseeing. It's a real blessing that we are all excited about the work and the story we are telling."
And with two months in D.C., the cast of "Six" is looking forward to visiting all the District and Northern Virginia have to offer, and hopes everyone comes on out to see the show.
"Everyone will have a fantastic time," Donalson said. "If you listen to music ever, you'll enjoy it. There's something for everyone and it will leave people uplifted and empowered. It's really like a fun concert."