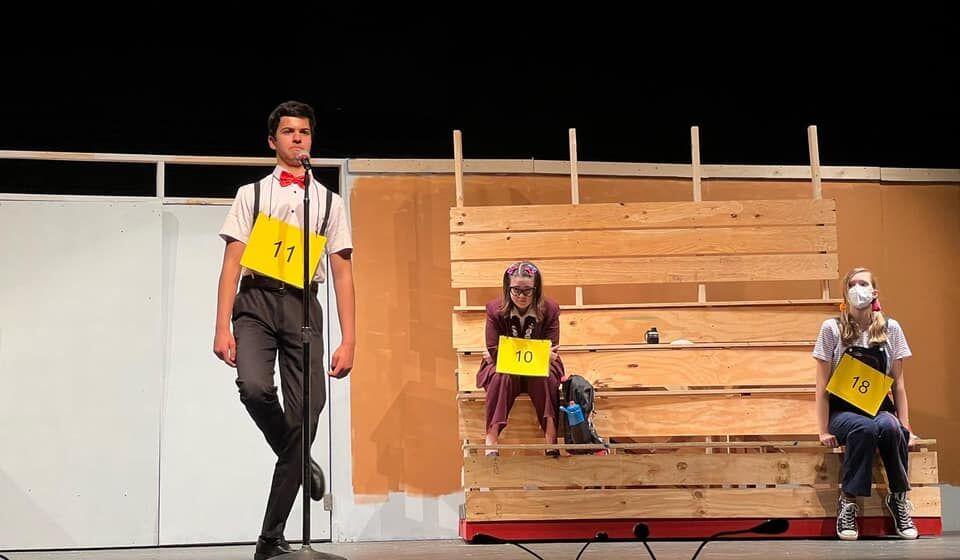 See local students shine at Oakton, Madison, and Marshall spring productions
Over the past two years, most of the local high schools have had to either cancel their spring musicals or go the filmed route, leaving a big void for those young performers who shine on stage. 
Thankfully, live productions are back, and three of the area's high schools are performing beloved shows over the next two weeks, and these not only provide a great night out but also a chance to support the schools and these rising young stars. 
Oakton High School will be performing "The Addams Family," a musical comedy that follows the adventures of those "creepy, kooky, mysterious and spooky" snapping Addams family from TV and film fame. 
"Coming out of a pandemic, we knew we wanted a comedy and we always welcome a show that is technically challenging," said Oakton's Theatre Arts Director Vanessa Gelinas, who is directing the show along with Tiffany Powell, director of the school's chorus. "The Addams Family story has spanned generations—from the 1964 television show to the films and cartoons, and of course the Broadway production. The music is catchy and funny and will 'wake the dead.' But at the heart, it's really a love story."
The story follows Wednesday Addams, the ultimate princess of darkness, who has grown up and fallen in love with a sweet boy from a respectable family. Expect lots of fun moments when Gomez, Morticia, Uncle Fester, and the rest of the Addams family host the boy's parents during a fateful dinner party.
The musical will run two weeks, 7 p.m., May 5, 6, and 7; 7 p.m., May 13, and 2 p.m. and 7 p.m., May 14. Joshua Lemons stars as Gomez; Sana Friedman and Sarah Janson share the role of Morticia; Cassidy Loria and Amanda Jacobson perform Wednesday on alternate weeks, and Sylvia Gusmati and Julia Stein double as Alice; Steven Labovitch plays Lucas; and Matthew Foltz as Uncle Fester.
"After two years of not having a musical, we wanted to make sure we put as many students on stage as we could," Gelinas said. "We are lucky at Oakton to have so many talented kids and were able to double cast our female leads in order to give performance opportunities to more students. So for those who see the show both weekends, they will have two different experiences."
George C. Marshall High School will stage the Tony Award-nominated musical, "A Year with Frog and Toad," a family-friendly musical based on Arnold Lobel's beloved children's books.
Directed by Bernie DeLeo, the story follows a year of amusing stories of two amphibious friends, a worrywart toad, and a patient frog, with timely lessons about friendship for younger audiences.
"Frog and Toad go on this series of fun little adventures—they fly a kite, they go sledding—and they are just cute stories all around the theme of friendship, and they make a bunch of friends along the way," said sophomore Sophia Welch, who plays one of the musical Lady Birds in the show. "The moral of the story is no matter what adventures you go on, or fights you have, friendship can be really strong and can persevere."
Seniors Luke Batarseh and Kian Mostaghim play Frog and Toad, respectively, and the cast includes a large ensemble of talented singers and actors. 
"The harmonies are so fun and the lines are silly, and Mr. DeLeo has this great creative vision to incorporate all these technical elements into it, and it's been so fun being a part of that," Welch said. "It's a perfect show for the whole family."
Performances are 4 p.m. and 7:30 p.m., April 29; 7:30 p.m., May 6; and 4 p.m. and 7:30 p.m., May 7.
James Madison High School will stage "The 25th Annual Putnam County Spelling Bee," which centers on a fictional spelling bee at a middle school, where the finalist spellers are all humorous and unique. 
"The show is enjoyable to watch because the characters frequently 'break the fourth wall' by interacting with the audience," said sophomore Aaron Shansab, who plays William Morris Barfee, who he describes as "simultaneously a bully and a nerd." "Because of the complex nature of the character, I enjoy experimenting, bringing this role to life on stage."
The show is directed by Marshall Henderson and also stars Clare Shannon, Coco Pinnock, Fortune Picker, Jonah Uffelman and Kira Woldow. Performances are 7:30 p.m. April 29; and 2 p.m. and 7:30 p.m., April 30. 
Support these great high school thespians! Get tickets for "Addams Family" at https://bit.ly/3LajygH; tickets for "Spelling Bee" at https://bit.ly/37G7mp9; and tickets for "A Year With Frog & Toad" at https://bit.ly/36EFn8U.