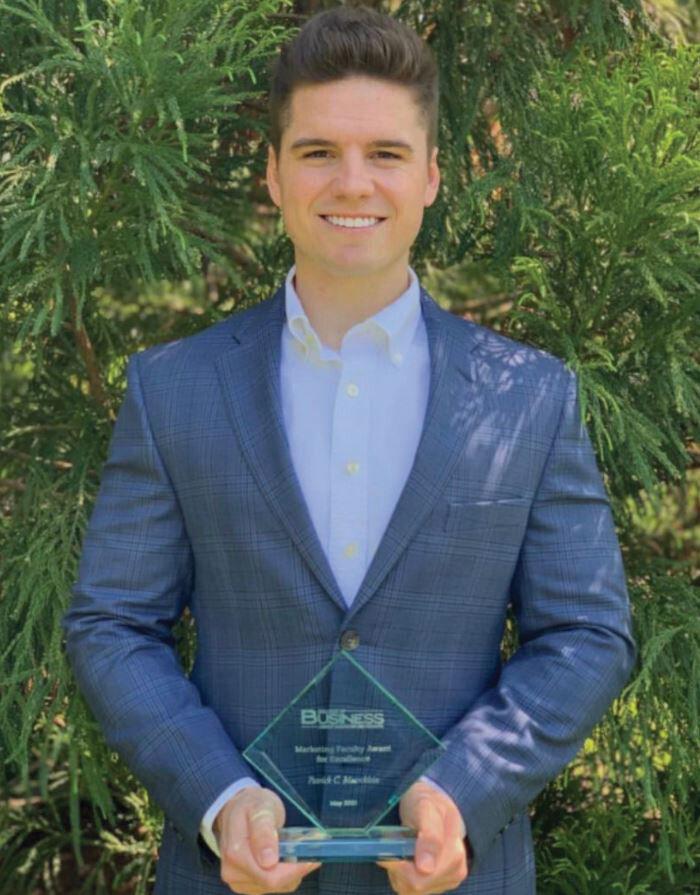 Think back to March 2020, when everything as we knew it was about to change dramatically. Spring Break was coming, and soon afterward, seniors in their final semester of college would not only be studying but they would be living out their final moments on campus. The last parties, the nights of going out with friends, or even gathering and playing music, would all be to celebrate the end of four arduous, but exciting, years. Then, of course, while the workforce came next, you would at least have the satisfaction that you were able to make several lasting memories from your time in college.
COVID-19 laughed that off and made its entrance, and soon, no more fun; and for college graduates, it meant either moving back home and figuring out what to do with themselves or going out on their own and seeking employment in whatever field they can find.  
Patrick Maercklein wasn't one to get caught up in misery; he ventured forward with his classes and eventually graduated from James Madison with a business degree. However, he bears no hard feelings about how his college life suddenly ended.  
"The virtual classes just weren't ideal, especially having to pivot to that so fast," said Maercklein. "It was difficult for everyone; then again, there was really no one to blame."
There's a valid point, and it's one that Maercklein now uses in the business world. You will face obstacles, but the people who are creative are those who tend to thrive in adversarial situations. On top of that, try breaking into the business world without having entrepreneurs speak with you and give you tips on succeeding. 
"Because of what all went down, as a college student, I was limited in my ability to make connections," said Maercklein. "We didn't have job fairs; in fact, we didn't even have a virtual job fair."
In the business world, there's only so much you can do on the computer. Sure, you can plug in the numbers and create charts and monitor growth in sales and other various activities, but it always comes back to interacting with people. Maercklein learned this quickly as, during his internship, he had no face-to-face interaction. 
"I never met in person, a single person that I worked with for my internship which was remote, never met one," said Maercklein. 
That alone is alarming. Not meeting a single person and establishing any rapport is hard to work with, especially in the business world. Additionally, how long can someone sit on a computer and constantly work without any interaction? Maercklein knows the feeling quite well. 
"I felt isolated a lot of times. Plus, I had to learn everything online," said Maercklein. "I couldn't just walk over to my boss's desk right next to me and ask for help. It was a big hassle."
Maercklein has never been one to shy away from facing a challenge. Additionally, his creative mindset -- ability to think on the fly -- is something most of his friends from his childhood often swear by. Before attending JMU, Maercklein was a student at Westfield High School and a member of the Student Government Association. His creative mindset and willingness to think outside the box made it easier for his peers to help put together significant events such as rallies for sporting events and spirit days. 
Like everyone else, Maercklein navigated through the pandemic and, at some point, had questions about what was to come next. Still, he's also fortunate to have maintained a good relationship with those he worked with as an intern before the pandemic, who offered him the chance to come back and work for them. 
"I am lucky enough to have had a company that I had interned for before for a couple of years reach back out to me saying, Hey, we're trying to rebound from the pandemic, we've had a hard year, but we think, you know, adding you to our workforce will help us," said Maercklein. "I ended up accepting a position from a company that I'd worked for in the past."
Maercklein's ability and skill set makes him a viable individual for any field, regardless of occupation. However, he believes that some may have gone into a mode of panic without taking the time to sit down and examine their options because of what all happened. It's not about what happens; it's what you do when it happens, whether in business or any job; it's how you respond to adversity. 
"Myself and others, we've all adapted from the pandemic to a point where everyone can pivot their operations in the workforce so much better," said Maercklein. "It does sound crazy that it took a pandemic for it to happen, but everything happens for a reason."