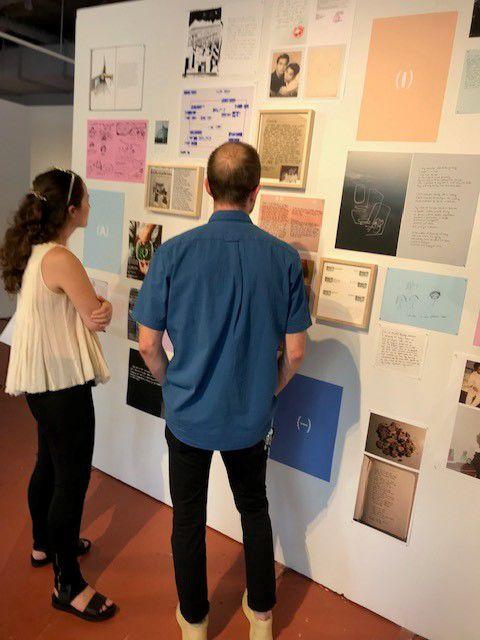 Art as overt acts of vulnerability and subtle activism; how daily life influences a work of art, or, in turn, how the works influence an artist's life; and how, as an artist, you might handle oppositional responses. These were some of the questions posed to five of the nine artists whose works are now on view through Aug. 31 in the Greater Reston Art Center's exhibition "Overlooked."
The absorbing and remarkably unguarded "conversation"—steered, at the exhibition's opening reception, by Lily Siegel, GRACE's executive director and curator, and Erica Harrison, the center's associate curator and festival director—was a revealing adjunct to the varied and provocative surrounding art, connected by the artists' "awareness to issues that are often unnoticed, ignored, or otherwise not part of polite conversation."
Participating artists, according to GRACE material, "are not necessarily proposing solutions to society's ills but are alternatively offering an opportunity for the viewer to engage in compassion, empathy, critical reflection and even healing." The artists also were asked to reflect in their written statements on the question: "What inspired this particular work?"
Crediting Harrison with initiating the exhibition's unifying concept, Siegel suggested that the idea was not to turn the gallery into "a place of activism, but an activated space." As a curator, she emphasized, "I see my job as a facilitator for artists' voices."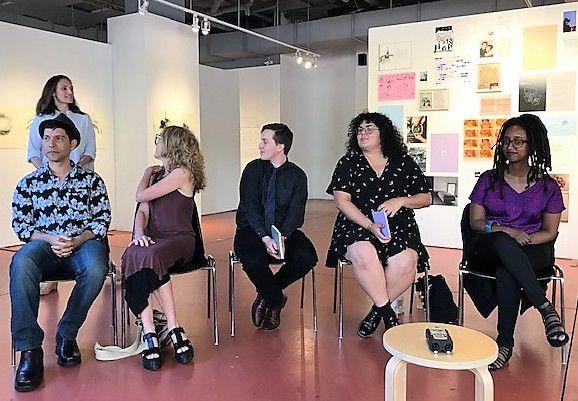 Conversation participants included: Brazilian-born multi-media artist Lorenzo Cardim; Helina Metaferia, an interdisciplinary artist working in performance, video, installation and collage; Matt Storm, a photo-based artist who creates photographs, performances, installations and sculptures; visual and conceptual artist Julie Wolfe; and Adriana Monsalve, cofounder with Caterina Ragg of Homie House Press, which is a "skeleton bones crew of femmes creating and publishing in the photo book medium."
Cardim's work—sculpture, video and performance—questions social and political structures and delves into themes of social injustice. Specifically, he is interested in "how queers, people of color and other minority groups question the status quo." His two exhibition sculptures—"Limp Wrist," made of wood and nail polish, and "Brazilian Woman-See You on the Other Side," made of wood, nail polish and gold—are intriguingly simple yet laden with symbolism. "Limp Wrist," a non-gender-specific hand, he said, was inspired by both non-verbal forms of communication and "how our perception of the delicate (or in most cases, called feminine) can be subverted by materials and forms." The more abstract, "Brazilian Woman," which includes the half cross-section of a tree trunk, he explained, "talks about 'male fragility and women's strength.'"
A large part of Metaferia's multimedia work is devoted to "asserting the black body into sites of systemic oppression — including institutional spaces, art history, gentrified communities or land marked by historic trauma." For her, "everything is political. … All spaces are political." Her exhibition work, a video titled "The Call," is an intergenerational conversation between the female descendants of prominent black civil rights activists, including Frederick Douglas, James Baldwin and Dick Gregory. She explained in her artist statement: "I consider organizing both a political and an artistic gesture, built on relationships and mutual trust."
Storm's work explores issues of "identity" and, through self-portraiture, delves into the questions of "Who are we, and how do we know?" including transgender and queer issues and issues related to family and community. Transgender himself, his photographic series of elegant nude self-portraits contrast his chosen male persona with his female anatomy. About his inspiration, Storm said, "Often, I see images of transgender people, made by non-transgender artists, and these feel disappointingly not representative."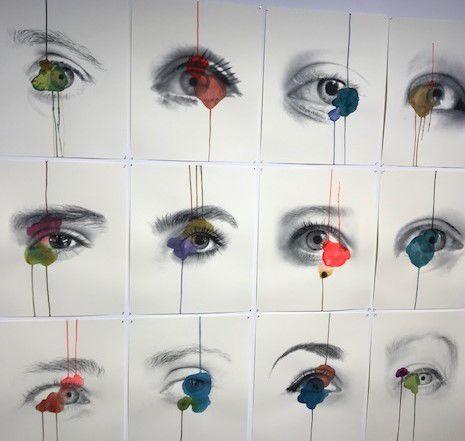 Wolfe harvests data and uses discarded objects and images to create new narratives that probe ecological, social and cultural evolution. In her exhibition work, "Seeing Again," Wolfe has grouped prints of a single eye from 16 individuals and overlaid each eye with different, dripping pigments. She said, "I have always been fascinated by the eyes as a means of understanding a person's true emotions, reactions and mindset, but also as a way to make an important connection, to communicate without words."
The Homie House Press provides a creative space for QTPOC (Queer Trans People of Color) artists and other underrepresented communities. They are, according to Monsalve, a community of storytellers and visual communicators who produce "in-depth stories on identity through the nuances in between." An entire gallery wall is devoted to the project "First Fronteras" (borders), the introspective and often emotional contributions of almost three dozen of this community. As Monsalve explained in her statement, "These are not simply walls, these are wounds that have affected the trajectory of our lives."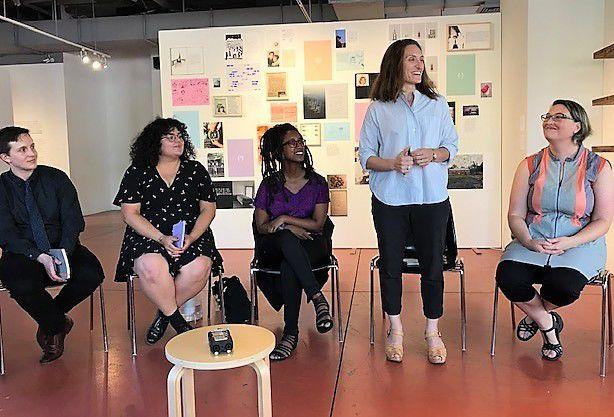 Although motivated by disparate creative impulses, all conceded in conversation to feelings of vulnerability—especially when grappling with the hows and whys of their creative process and then exposing those choices of that process to others.
Wolfe, whose art is featured at institutions and in collections internationally, emphasized that she feels most vulnerable at the start of a new work. Because her works consist of multiple variations, they need time to evolve, often over years. "It's important," she stressed, "to know why I'm making it and expanding it."
Storm's vulnerability and message are easy to see. A member of the leadership team of the LGBTQ Caucus of the Society for Photographic Education, his revealing, graceful nude photographs straightforwardly expose a major aspect of his true self. He hopes his art serves as an "entry point" for people who "identify different than me."
For Metaferia, currently an Andrew W. Mellon Gateway Fellow/Assistant Professor at Brown University, there is the persistent pressure of expectations and being "a visionary thinker." She reflected, "It's always something for me, but I always think of the audience."
The essence of the Homie House Press, Monsalve said, is intentional vulnerability, revealed in stories, "personal, political, poetic," that "challenge what photojournalism is." She added, "It is not art for art's sake; this is art for survival, for healing."
For Cardim—whose work has been featured nationally and internationally in museums, galleries and universities as well as film festivals—the tension stems from his desire to constantly edit and minimalize works without losing their "transformative" power and ability to "open up conversations."
Accessibility, all suggested, is basic to keeping their activism subtle yet evident. Metaferia creates open-ended, intergenerational, "living room" conversations, which "give you a chance to participate and be in it." Wolfe wants viewers to both contemplate and be challenged but "not have things thrown at you." For Storm, the beauty of his images "makes LGBTQ issues more accessible … makes people less scared … and provides a space for viewers to muse on their own identities." Monsalve succinctly explained, "As a storyteller [and photographer], I constantly think, 'show, don't tell.'" And Cardim, for whom simplicity is essential, wryly confessed, "I have to battle against glitter."
For Metaferia and Wolfe, regularly getting outside their heads is essential, too. Because her art requires hours of research and digging into archives, Metaferia finds it a necessity "to be a person in the world." Likewise, Wolfe makes herself "available" because "you never know when something will hit." Storm, who works full-time at a job in marketing, advised that artists also need to recognize when to let go—that "once something is out in the world, it has to stand on its own."
Cardim, however, frankly admitted that "every single job I've had in the last 15 years has informed my work." And for Monsalve, being a "multifaceted human" was inseparable from both her identity and her art.
Asked then how they handled adverse criticism, the artists all responded stoically. Storm allowed that "some negative feedback you ignore." And because of his nude self-portraits, he does guard against those who "feel too comfortable invading my body space." Cardim joked that graduate school "beat that emotion out of me," and he now finds it "really helpful to have deeper conversations about my work." Wolfe appreciated the "challenge," suggesting that "it adds depth to your work." And as an educator, too, Monsalve welcomed critiques if they are not "abusive." On the other hand, she stressed, "Community is everything, the center of what we do." Metaferia, likewise, welcomed "healthy" feedback, also conceding "We've all been broken down, but "You learn to be strong, and it makes your work stronger, bolder … empowering."
Other exhibiting artists are: Leila Abdelrazaq, Larry W. Cook, Leigh Davis and Molly Gochman of the Red Sand Project. Information about their work may be found in the exhibition catalog available in the gallery and posted on the GRACE website at www.restonarts.org.