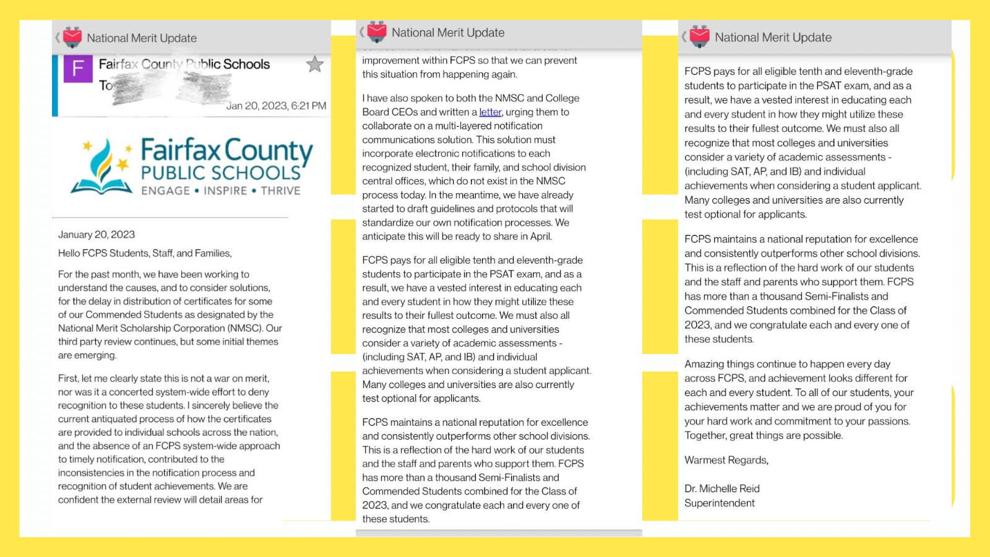 In another Friday night missive, this one sent at 6:21 p.m., as parents were stirring spaghetti sauce and refereeing after school basketball games, Fairfax County Public Schools Superintendent Michelle Reid claimed that the withholding of National Merit awards "is not a war on merit" and shifted blame to the "antiquated system" of notification by the National Merit Scholarship Corporation.
This national scandal exploded after the City Journal revealed for the first time in a Dec. 21 column, "The War on Merit Takes a Bizarre Turn," that Ann Bonitatibus, the principal at Thomas Jefferson High School for Science and Technology had withheld National Merit Commended Student awards from seniors. On Dec. 29, Reid blamed the withholding on a "one-time human error." In the weeks since, principals at a total of 17 schools in Fairfax, Loudoun and Prince William counties have admitted the same type of "human error." Later, at Langley High School, Reid blamed "staffing" issues.
Reid has drawn fire for paying a consultant $455,000 for a strategy that preaches "equal outcomes for every student."
Now, in this new email, Reid said, "First, let me clearly state this is not a war on merit, nor was it a concerted system-wide effort to deny recognition to these students." Yet the fact that now eight different schools in Fairfax County and nine in Loudoun and Prince William counties have admitted to late notification reinforces the fact that it was not simply "human error" as first suggested.
She now shifted the blame to the National Merit Scholarship Corp., a nonprofit with about $50 million in annual revenues. Reid just proposed a school system budget of about $3.4 billion.
"I sincerely believe the current antiquated process of how the certificates are provided to individual schools across the nation, and the absence of an FCPS system-wide approach to timely notification, contributed to the inconsistencies in the notification process and recognition of student achievements," she wrote.
Working late, Suparna Dutta, a former TJHSST mother who is now a member of the Virginia Board of Education, read the email, stunned. 
"In two-and-a-half years of watching Fairfax County Public Schools, this may be the first time I've seen 'merit' in official communication," she said. "Academics and literacy have taken a backseat in Fairfax County Public Schools. It took an investigation by Virginia Attorney General Jason Miyares for Fairfax County Public Schools to stumble upon that word!  Good news?!"
"Dr. Reid's comment that 'this is not a war on merit' is completely the opposite of what the school board has been doing for years," said another mother, Ying Julia McCaskill. "They have wanted to narrow the distance between the better and lower performing students for years and to accomplish that they have tried to pull down the top learners by trying to shut down the Advanced Academic Centers for years. More recently, they changed the admission process to TJ to try to make it more equitable. The Virginia math pathway initiative was an equity-focused plan to force every student to take the same math course. This latest National Merit issue is only the latest thing they have been caught doing. They don't want it to be a war because they don't want us fighting back against their plans."
In 2019, she said, Fairfax County Public Schools pushed a strategic plan called "Closing the Achievement Gap Framework." 
"It sounds so promising, but in reality, the easiest way to achieve the goal is to bring down the top in the name of equity," McCaskill, an immigrant from China, said.
One father, Harry Jackson, read the email in breaks between junior varsity basketball games he was officiating at Rock Ridge High School in Leesburg.
"It's like Superintendent Reid read former New York Times reporter Hedrick Smith's book, 'The Power Game,' recommending that politicians send bad news on Friday nights so that a story loses momentum over the weekend," said Jackson. "What she doesn't realize is that we've all read the book too. What makes this so comical is the book was published in 1989 before CNN exploded. It's 2023, and it's a 24-hour news cycle.
"Parents angry on a Friday night only gives us more time to plan and break out our jack hammers for Monday morning," said Jackson, who is running for school board. "Plus, we all know buzzword bingo. We all know spin. And how do we know? We're the think-tank and policy-wonk center of the universe. Superintendent Reid is junior varsity playing in the pro games."
Without letting the school district off the hook for its negligence, a coalition of local parent groups, Save Merit, sent National Merit and College Board officials a letter, seeking direct notification to parents and students. 
As Reid told angry parents at Langley High School, where the principal, Kimberly Greer, withheld awards, she said she had spoken to the chief executives of the National Merit Scholarship Corporation and College Board and sent them a letter, "urging them to collaborate on a multi-layered notification communications solution," also with electronic notifications to each student, their family, and school division central offices. 
"In the meantime, we have already started to draft guidelines and protocols that will standardize our own notification processes," said Reid. We anticipate this will be ready to share in April."
The words in Reid's email were like salt in the wound for many local parents who have battled the school district for years now to return merit to the admissions process for TJHSST, a premiere school that demanded admission through a race-blind, merit-based testing process eliminated by the school board in December 2020. New applicants got another email Friday night, with admissions officers detailing an essay writing portion of the process still on schedule for Saturday morning. 
"In light of the Fairfax County school district's widespread failure to hand out Commended Student awards, I thought the school board and admissions committee at Thomas Jefferson High School for Science and Technology might at least consider admissions policies based on merit, instead of the policies they've been using to discriminate against students of Asian descent. Silly me. Tonight, on a Friday evening, Fairfax County Public Schools sent us an email assuring us it would be more of the same," said local mother Stephanie Lundquist Arora, whose children are Asian American. A son is applying to TJHSST under the new admissions process that federal judge Claude Hilton ruled anti-Asian and "patently unconstitutional." The school board is appealing the decision, using the same outside counsel that fought integration in Brown v. Board of Education. 
"But as an optimist, I remain hopeful. Someday, merit in Fairfax County will matter more than 'equal outcomes'," Lundquist Arora said, as she readied her son for his big day Saturday, parents saying another Friday night in Fairfax County Public Schools' "caring culture" rhetoric interrupted and disrupted by a missive from the superintendent.