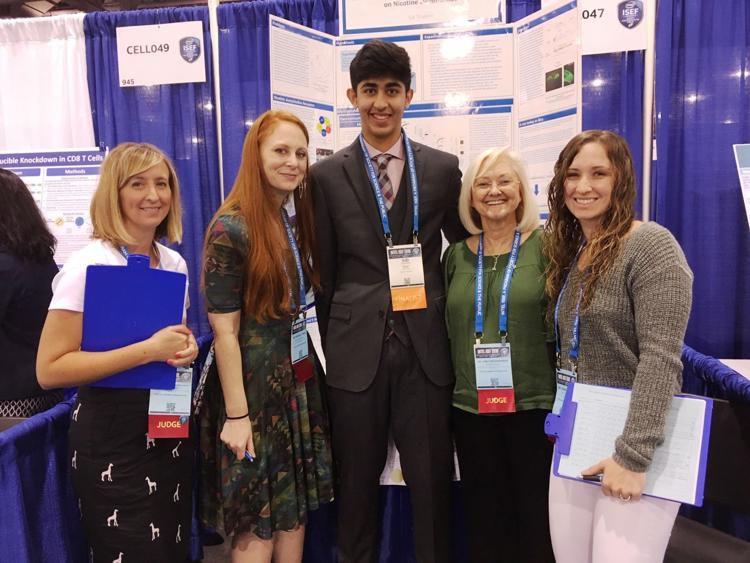 Sid Thakker, a rising senior at James Madison High School, has a mission: teaching other students about the harms of e-cigarettes. His organization, Nicreport, has impacted over 2,000 students at his school, and has partnered with the National Institute of Drug Abuse, Virginia Commonwealth University (VCU), Georgetown University, and FCPS.
"It started around 9th grade," says Thakker. "We had a huge problem at our school with vaping, but it turns out it was a huge problem all over the country." In summer 2019, he had the opportunity to intern at Georgetown University, where he researched a receptor that's implicated in nicotine addiction.
"I kind of thought to myself, how can I make an impact in my community?" Soon enough, the student sat down with his principal to look at the number of vaping and nicotine addiction cases at his school. He realized that the problem was in the education on the topic. 
"The type of education we're receiving are videos from the 2000s and they're not captivating," he explains. In addition, some of the facts in the videos are outdated. "I wanted to change this and create a curriculum that is inclusive to students where they feel like they're being taught one-on-one and they're getting the full attention."
The student took this information and created two curriculums: one to be taught in biology and the other to be taught in health class. "I thought if I target both the science of it and also the social consequences of it, then they could really get a full understanding of it."
Thakker had plans to expand the curriculums to other high schools in the area, including Langley and Oakton, before the pandemic started. But for now, his website, nicreport.org, serves as a database for students and parents to gain more information on news and research being done about vaping.
As of today, Nicreport has been able to raise $5,000. The donations are from Thakker's friends, family, and other members of his community. "Most of that money is being donated to Feeding America," he says. The rest is put into refining the curriculum and other things related to the organization.
But the learning doesn't stop there. 
Scientists are looking into a possible connection between COVID-19 and vaping. Thakker explains that because COVID-19 is a respiratory illness, people who vape are at a higher risk of being hospitalized or being affected in a more severe manner. "In New York, they saw a lot of cases where previous vapers or smokers had a higher complicated risk for COVID-19."
Starting his senior year this fall, Thakker is ready to keep making an impact in his community. Recently, he received an email from a parent who wanted to thank him for teaching their son the dangers of vaping. The email mentioned that their son had started vaping and didn't know how to stop. "I am very fortunate that you brought this to his attention so we can get him the help he needs," read the email. 
Since his program started at James Madison High School, Thakker is happy to say that the school has had a massive decrease in e-cigarette usage.