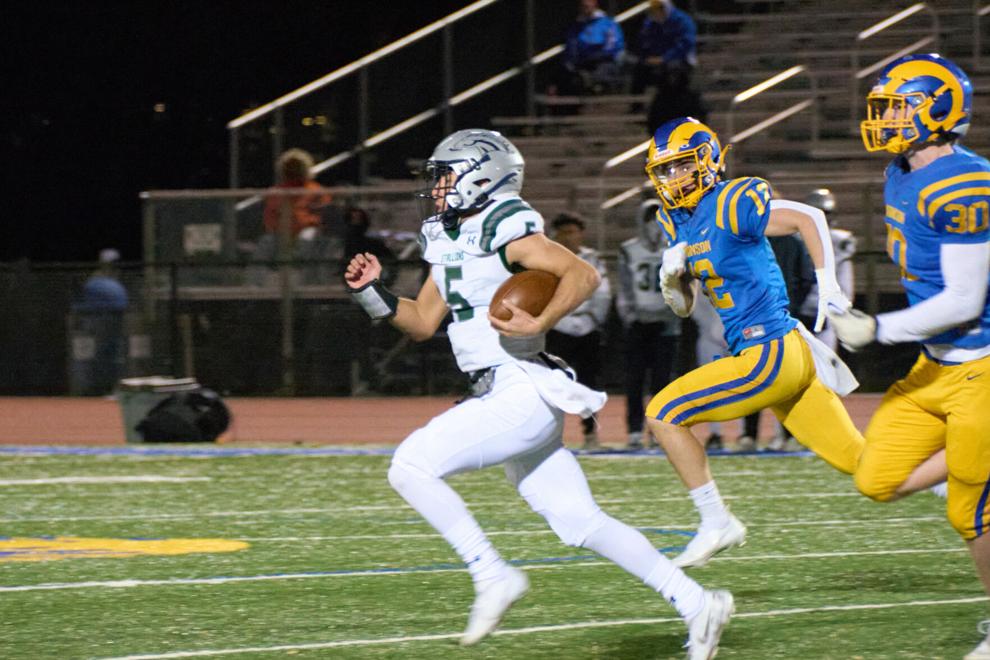 After a quarter of play, and a 14-0 lead, the No. 1 seed Robinson Rams looked poised to knock the No. 3 seed South County Stallions out of contention for the state championship for high school football, a title the Stallions first won in 2019 to emerge as a powerhouse program in northern Virginia.
But the Stallions (10-2) regained their balance, fighting through a punishing back-and-forth game with the Rams (10-2) to pull off a narrow 34-28 victory late in the fourth quarter.
Robinson's historically strong run game was evident early in the match. Senior running back Will Cohen followed blocks expertly set by his offensive line to find an open field, reaching the end zone after two minutes had elapsed. 
Well-positioned after blocking a Stallions punt, the Rams did it again. Junior running back Declan Smith ran the ball short of the endzone, punching it in on the next play.
Shaken by their opponents' explosive opening, the Stallions looked ready to fall apart, going three and out yet again. Robinson regained the ball, picked up yards and patiently approached the endzone. 
Then, the tempo abruptly shifted in South County's favor. In striking distance, the ball slipped out of Cohen's hands and was recovered by junior defensive back Miles Greer, rejuvenating the beleaguered Stallions. South County was held to a punt, but this time, they subsequently forced Robinson to do the same.
At the opening of the second quarter, South County showed they had formidable tricks up their sleeve. The Stallions ran a triple pass to senior running back Trenton Johnson, who shot all the way up the left side for an 86-yard touchdown and a score of 14-7. 
And just like that, South County was back in the game.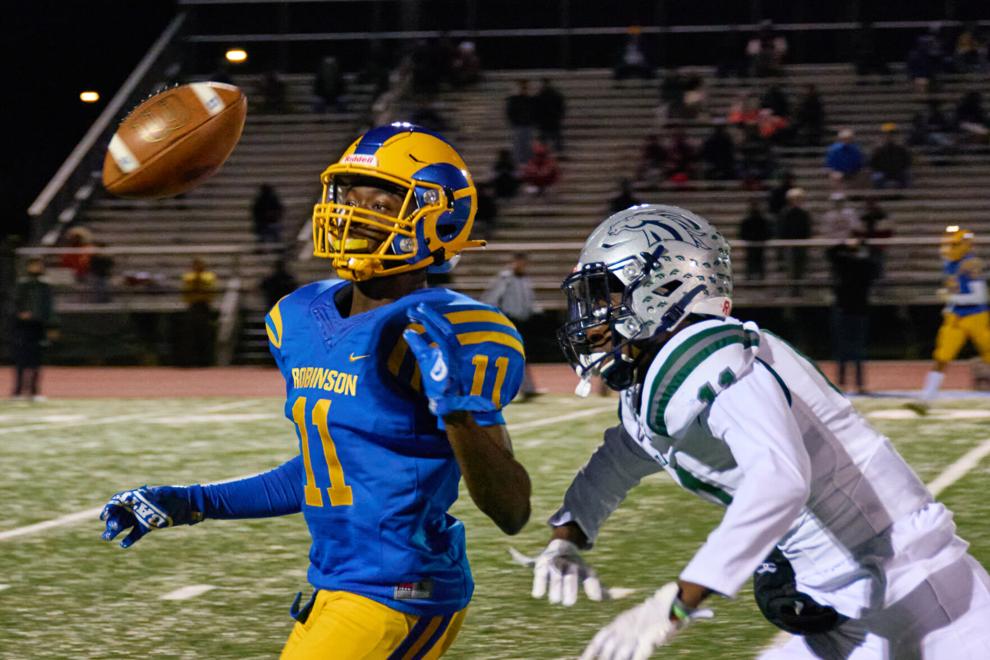 For Robinson head coach Scott Vossler, it marked the turning of the tide.
"Once we turned the ball over, the momentum completely changed," Vossler said when asked what went wrong. "We let them back in it."
The Rams quickly started to lose control. A field goal was no good, giving South County the ball. Aided by a big completion from Stallions senior wide receiver Brock Spalding, Johnson ran the ball in the endzone once again to tie the game up before the end of the second quarter. 
Temperatures were falling to near freezing around halftime, though it hardly seemed to deter the fans who showed up. For South County seniors Penelope Organek, Gavin Patterson and Danielle Falcon, the game was a fitting continuation of the Stallions' recent dominant streak they've bore witness to. 
"That energy has really carried through our four years," Patterson said. "And it's going to be passed on to the classes that come after us."
Falcon concurred, saying that, "It's something everybody looks forward to."
With the season's conclusion imminently approaching, Organek noted how "surreal," the end seemed. "It will be very different going to school without football every week," she added.
"Those seniors were really sad that it was their last football game, even though it was a heck of a way to go out," Patterson said of South County's state championship title. "That felt like yesterday for us, and now this is our final run. Four years goes by really fast."
South County's decision to defer to Robinson after winning the pregame coin toss seemed to pay dividends in the third quarter. Three minutes in, Johnson carried the ball for a touchdown once again, overtaking Robinson for a 21-14 lead.
After Robinson senior running back Samuel Gerard capped off carries by Cohen for a touchdown and a score of 21-21, South County returned the favor. Spalding caught a pass and threw off a series of tackles, stunning the Rams and trudging toward the endzone for a score of 28-21.
Just before the end of the third, Robinson matched it with a keeper by quarterback Lucas LoPresti for a score of 28-28.
It all came down to the fourth quarter, where South County soared into the lead with just under three minutes remaining. Arms outstretched, Johnson pulled in a pass from quarterback Jordan Dennis for a 60-yard touchdown. After a risky throw was picked off by Stallions senior defensive back Cy Gay, there was too little time for the Rams to recover, and South County erupted in celebration. 
It was a hard-fought win with high stakes, and tempers were flaring: as the teams lined up to shake hands, a scuffle briefly broke out, prompting coaches and police to rush in and restore order. 
Once the commotion settled, South County Head Coach Tynan Rolander was still processing the night's events. "That was a hell of a game," he remarked.
"Every time we play Robinson, they always have a wrinkle they haven't shown, that they hold onto for us. Once we made that adjustment going into the second quarter, I think the nerves of the kids settled down and we got into our groove," Rolander reasoned. "And from there it was a back-and-forth game."
He was quick to credit his players. "I don't think I have a whole lot to do with it. I think it's these kids who are playing very hard for each other," he said.
It was a sentiment Johnson echoed. "It feels great knowing that I could do what I had to for my team. They came out here and they supported me. We all support each other, we all play for each other," Johnson said. "And that's what happens."
Here's a recap of the other semifinal playoff games.
West Potomac at Lake Braddock 
In an upset, the No. 6 seed West Potomac Warriors defeated the No. 2 seed Lake Braddock Bruins (9-3). The final score was 31-24. The Warriors (8-4) will face the Stallions in the next round November 27 at South County High School.
South Lakes at Madison 
The No. 1 seed Madison Warhawks (11-1) drubbed the No. 5 seed South Lakes Seahawks (6-7) in a shutout 48-0 victory. 
Westfield at Centreville 
In a rematch for the two rival teams, the No. 2 seed Centreville Wildcats (10-2) came out on top over the No. 3 seed Westfield Bulldogs (6-6). The final score was 28-14. The Wildcats will battle the Warhawks November 27 in the next round at Madison High School.