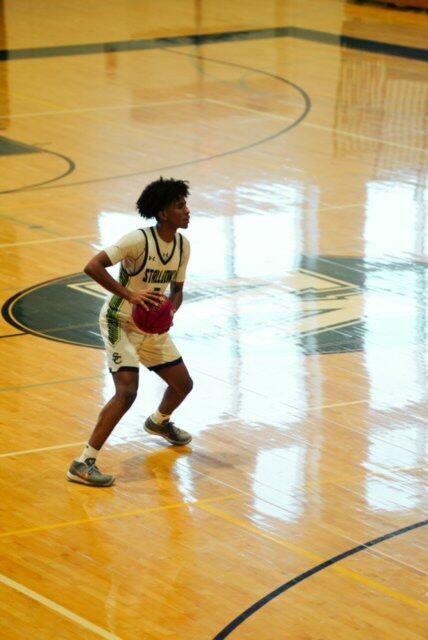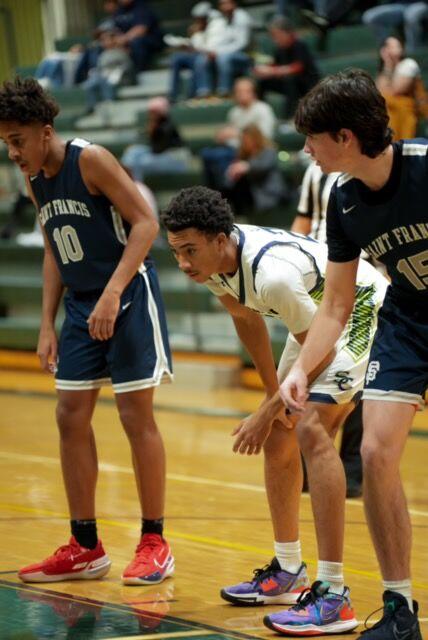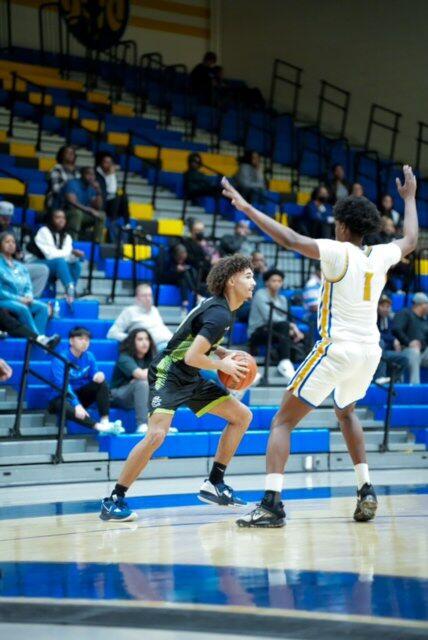 Five years ago, the South County Stallions Boys' Basketball team stood at mid-court at Virginia Commonwealth University's Siegel Center as state champions. It was Head Coach Mike Robinson's first title at the helm.
Two years later, the Stallions were on the cusp of capturing their second title but were forced to accept a co-champions status with Centreville following the COVID-19 outbreak. This year, the Stallions are off to another fast start, with a 9-2 record following their win on Monday night over district rival West Springfield.
Robinson credits his team for having short-term focus and said that their attitude has not changed despite wins and losses, notable in their loss to defending champion Hayfield early in the season when South County played the Hawks without several of their key players due to injury. The team was 1-2 to start the year before rallying off eight straight victories. 
"The hard work that these kids have put in this season, they have to be challenged early, and against South Lakes, W&L, and Hayfield, they were challenged. So, we are glad we started off with what we have because we now know who we are and it is helping us not to be champions of November and December, but to be the champions in February and March when the games really matter," Robinson said. 
Following last season, where the Stallions finished 20-6 before bowing out to Hayfield as the Hawks were on their way to a perfect season, South County came into the off-season with a new mindset of re-establishing what made them champions.
So far, they have looked like that team and much more. In their first six victories, they have averaged more than 50 points. The Stallions shut down the Robinson Rams before their latest win over West Springfield, where the Spartans surrendered 74 points to SOCO, a season-high for the Stallions.
The road doesn't get any easier, but Robinson knows that the best approach is to take it one game at a time. It's a common strategy, but it's served them well in the past, notably in their first state championship run just five years ago in 2018.
That Stallions squad, led by junior Jake Latta and senior sensation Quentin Millora-Brown, went 27-3 and was dominant the entire year. Still, James Madison gave them a run for their money in the playoffs before the team settled in at the state playoffs and won convincingly over Battlefield and Western Branch. Robinson is not someone to compare past teams to current ones, but he sees similarities in them, such as the camaraderie between the players.
Later this season, Robinson and his team will have an opportunity to participate in a tournament that features teams across the United States, including Robinson's alma mater, Richwoods High School in Illinois, where Robinson was once a star, earning three all-state selections and the Gatorade Player of the Year for the Midwest in 1996. Robinson would then go on to have a successful career at Purdue. 
Like all coaches, Robinson has a philosophy that he wishes to instill in his players both on and off the court. Robinson believes that attitude is far greater than technique and can go a long way in determining what happens the rest of this season and in life.  
"You have to critique them and give them information to help them get better. The things I tell them are to make them better players and better people," Robinson said. 
South County played the Fairfax Lions on Jan. 12 before going on the road Jan. 13, to take on Alexandria City. Then, on Jan. 17, they play host to district rival Lake Braddock before heading off to the big tournament in Illinois.