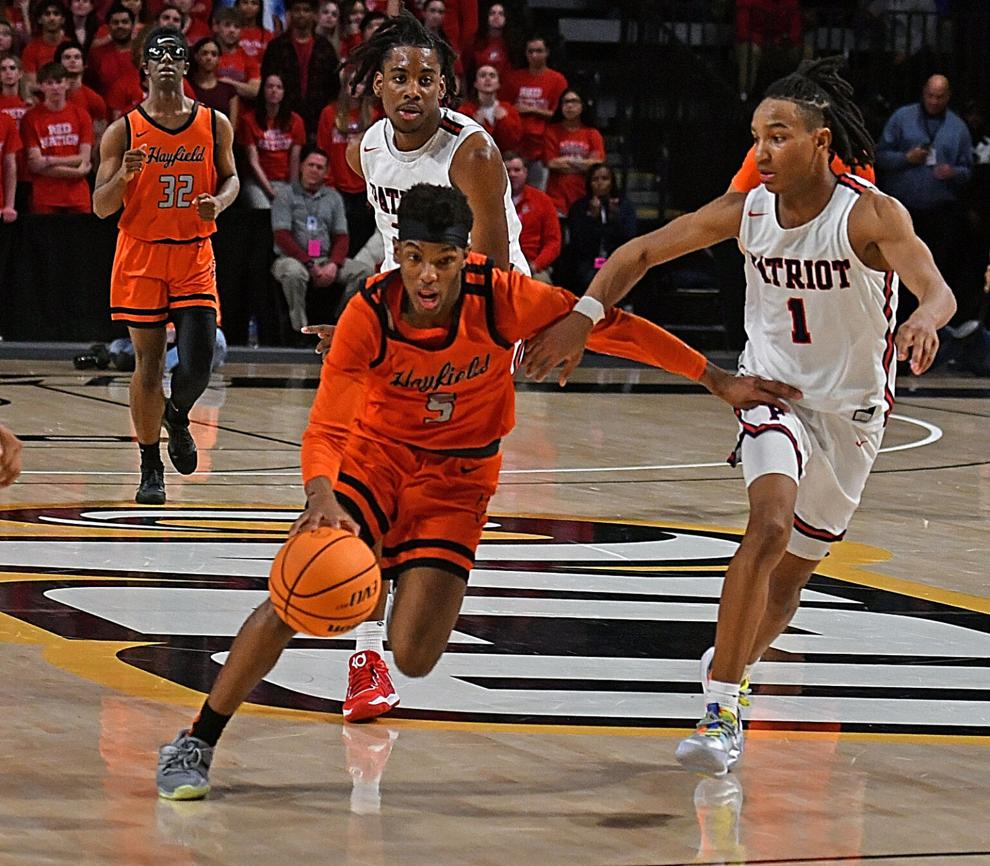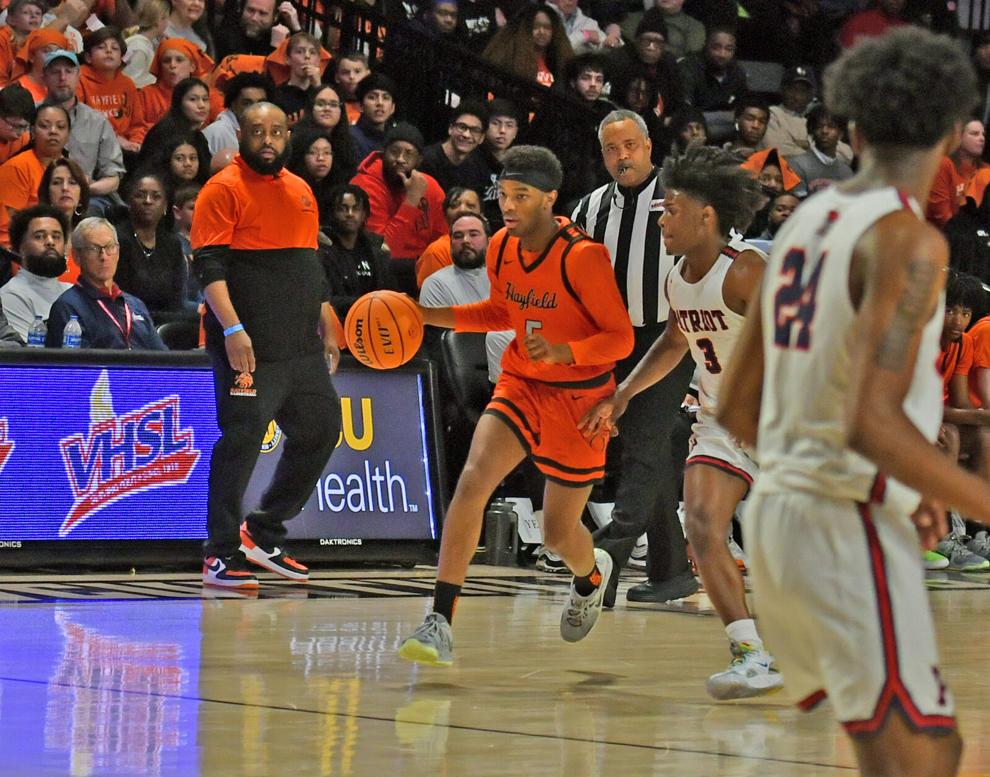 Defending the crown vs. chasing the crown. It's a daunting task, and more often than not, most teams fear the pressure of repeating. The Hayfield Hawks might be an exception. 
Last year, it was a 32-0 campaign capped off with a state title. In 2023, it's a feeling of relief as the Hawks pulled off a 52-41 win over the Patriot Pioneers (27-4) to secure their second consecutive state title and finish with a 30-1 record. 
"A sigh of relief," said Head Coach Carlos Poindexter. "It has been a great ride and great feeling. To win it the first time was something I could not have imagined but to run it back a second time, I'm thrilled for our guys." 
This matchup could have happened last season. Both Hayfield and Patriot were projected to meet in the state championship and both entered the state semifinals unbeaten, but the Battlefield Bobcats interrupted the proceedings by beating the Pioneers. 
This year, the dream matchup finally arrived, but the journey was not easy for Hayfield. At the start of the season, the same Pioneer team that took home a silver medal this season nearly ended the Hawks' winning streak, falling on a last-second buzzer-beater in the opening game. Hayfield would eventually suffer its first defeat in a long time against D.C.'s Jackson-Reed. 
Despite the loss, the pressure of attaining yet another perfect season was off the shoulders of players like David King, Greg Jones, and DJ Holloway, all of whom started on both championship teams and now walk away with two rings on their fingers.
Against the Pioneers at VCU's Siegel Center, and backed by a raucous Hawk fanbase who made the drive to Richmond, it was King with 14 points and 10 rebounds that led the way. Senior Donovan Briscoe also capped off his senior year with 14 points in the title game and six rebounds. 
"We didn't play our best game, Patriot played really well throughout the game, but we made enough plays against their physicality," Poindexter said. 
Holloway struggled for much of the contest, scoring only two points while Jones finished with eight. Still, it was the combined play of them and the rest of the Hawks that did a number on the Pioneers and their star Nasir Coleman, who led Patriots with 12 points. Jay Randall and Kaden Bates each recorded 10 rebounds for the Pioneers. 
"Coach Sherman (Rivers) did a great job of putting their best player on DJ and they were solid all around and putting Randall on him made things hard for DJ and Greg to do what they usually do," Poindexter said. 
Poindexter's teams have enjoyed an unprecedented run of success over the past two years. 62 times out of 63 games, Hayfield has walked away with a "W" in the record column, and twice, they found themselves as the last team standing. It's not just against local competition, the Hawks played out-of-state competition as well, and their success is loved by the Hayfield community. 
But now comes the task of doing it for a third consecutive year, and for Hayfield, they will attempt that feat without their starting lineup as all five starters will graduating in June. But the Hawks have a number of players returning. 
Junior Jahleel Jackson, who hit a critical three point shot near the end of the game, as well as junior Owen Pottenburgh, who is expected to have a larger role come next year's return.  
"For these guys to come together and be the nucleus, the matriarch of our program, and for them to go out like this ..." Poindexter said of Jones, King, and Holloway. "What a career for them."
What a career for them, indeed. What a season for the Hawks, Poindexter, his assistant coaches, and the players as well. Hayfield, once again, resides at the mountaintop of supremacy as 2023 VHSL 6A Boys' Basketball State Champions.