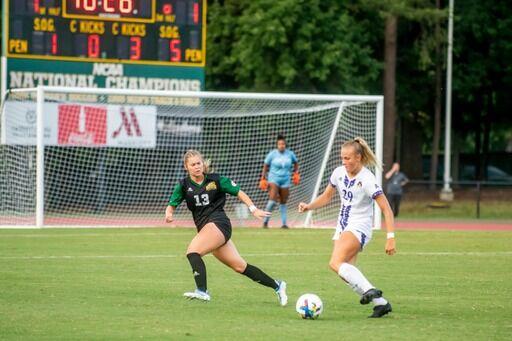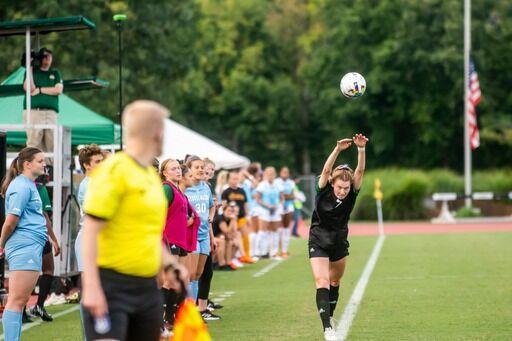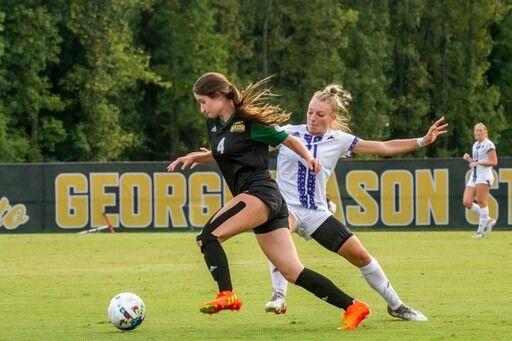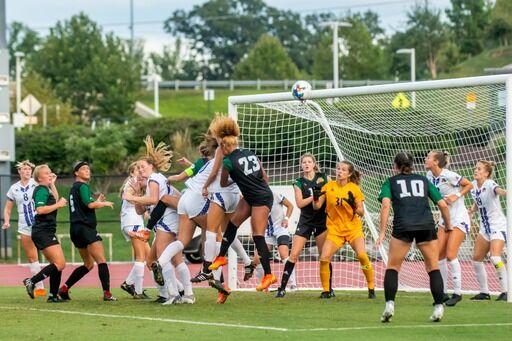 In the hopes of nabbing their second win of the season, the George Mason University Patriots fell short to East Carolina University (ECU) Pirates 2-1 on Sept. 8. After going down 1-0 in the first half, the Patriots fought back hard and tied up the game late into the first hour after midfielder Sarah DeWitt converted on a penalty kick for GMU. Despite their most valiant defensive efforts, it still wasn't enough to hold off the high-powered offense of ECU, and nearly 30 minutes later center Carsen Parker earned her second goal of the night and hit the game-winner for ECU. 
Even though they endured another heartbreaking loss in the closing minutes and fell to 1-4 on the year, GMU still has plenty to be proud of. GMU Head Coach Manya Puppione knows that this team still has a ton of work ahead of them as they continue to make progress with each opponent they face. Especially considering that GMU Women's Soccer is a program in a transitional period. They're currently working with 21 new players on their roster this season and a brand-new coaching staff, so the Patriots are still working to figure things out. 
"Our game against ECU took us one step closer to how we want to play as a team on both sides of the ball. The first half taught us that we need to come out stronger from the start and set the tone of the game right away. We talk about 'putting in your shift.' This includes getting the first tackle, first shot, and first foul, while also winning first and second balls," Puppione said. 
After not accomplishing these in the first half of Thursday night's loss, it made the team realize how important these things are. Even though their second half was much better overall. They also started to implement more of their ideal game plan during the second half. 
"There were glimpses of our game model, including the play that led up to earning the penalty kick. ECU scoring off a set piece in the last minute of the game really taught our team a lesson about mental focus and fortitude when it comes to the last 10-15 minutes of the game," Puppione said.  
Throughout the season, GMU will have a whole non-conference slate of games where they'll have to go through the process of figuring out formations, where to put specific players, and developing relationships on and off the field. So they know it's a process that they have to trust in, and it's become quite apparent early on that the entire team's bought into this philosophy. 
"With so many new players, we knew it wasn't going to happen overnight, but we were intentional about the time spent together on and off the field. Every game we played exposed something different that we needed to work on. We still have some areas of improvement, but we are definitely ready for conference games to start," said Puppione. 
In the preseason the team created many process and outcome goals for the season. Their main outcome goal is making the A10 Conference Tournament and they feel they have the right amount of talent and determination to achieve this. They no longer see themselves as new players and returning players. They're now Mason Women's Soccer and this will forge the identity they want to have on and off the field.
"With all of the resources and support we have invested into this program... a strong family culture development program, Mindset Training with Joanna Lohman, my leadership development program for the captains and freshmen, an amazing ATC and Strength and Conditioning staff, our Sports Psychologist Dr. Derek Vigon working with our team and players, my Assistant Coaches Alyssa Whitehead and Scott Sinclair who have both played professionally (we are probably one of few coaching staffs where all have played professionally), an amazing volunteer coach who presents quality post game film analysis for the team), and a sports nutritionist working with our team and players, we have created a holistic pathway of success for our players and our team," said Puppione. 
Overall, the George Mason University Women's Soccer team has so much to look forward to in the early goings of the season. With Puppione now taking charge and changing the culture of the program, it's widely expected that this squad will be climbing the ranks of collegiate soccer in no time. Particularly when they participate in the A-10 tournament which is where coach Puppione knows this team will do the most damage.