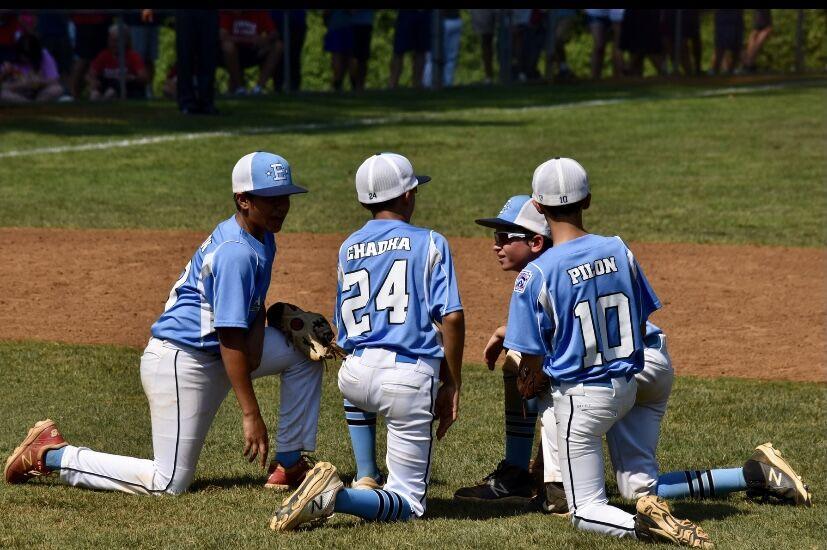 The SYA East 10-12 Majors All-Star team represented District 10 in the Virginia State Little League Tournament at Yeonas Park in Vienna in late July. The undersized squad from Centreville made it all the way to the state finals before losing to Warwick (Newport News), 9-2. 
Despite the defeat, SYA East's 13 players took home lessons about the importance of chemistry, challenging bigger and stronger teams head-on and remaining composed in hostile environments. 
The team that sports Columbia blue is comprised of players within SYA's little league boundaries that reside east of Route 28 — most are in the Centreville High School district. SYA East's 10-12 Majors All-Star team sports 12 12-year-olds and one 11-year-old. Of the team's 13 players, 10 also played on Head Coach Doug Neely's SYA Mets 12U travel baseball team. Because of the pandemic causing a decline in little league participants, Neely said his SYA East team was being selected from a pool of less than 30 players, compared to greater than 60 when his older son played his final little league season just a few years ago. 
A player vote partly determined the group of 13 All-Stars. While each Majors player can nominate up to eight players, the top five vote getters are automatic bids to the all-star team. Majors coaches meet to nominate the next five players, and then Neely gets his discretion for the final few slots.
Out of the 13 selected players, Ila Pilon, mother of pitcher and left-handed first baseman Ryan Pilon, said seven of them have been playing together since they were 8 years old. The team has a "small community feel," Ila said, which has brought both the parents and players really close. 
In Virginia, there are 16 districts of little league baseball, and each district sends one representative to the state tournament. When the state tournament commences, each district champion is placed into one of four pool-play groups where a round-robin is played against the three other teams in the pool. The top two teams from each pool — eight teams — advance to the single elimination tournament.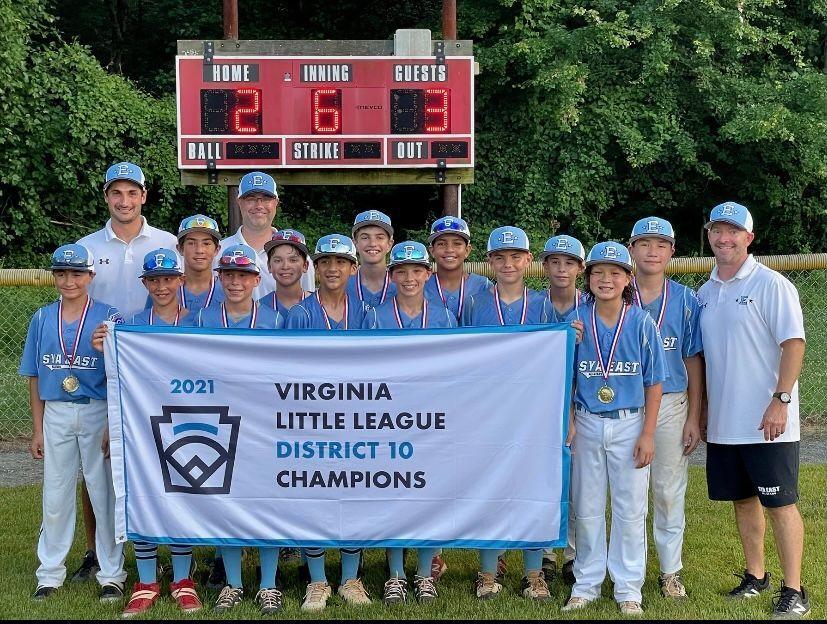 It also wasn't this SYA East's team's first rodeo in the state tournament — the same crew's 8-10 All-Star team made it to the state semifinals in 2019 as 10-year-olds before COVID-19 halted the 2020 season in what could've been three straight state tournament appearances. As 12-year-olds, it was SYA East's last opportunity to play for a chance to win states and go to regionals in Warner Robins, Ga. before a shot at winning the Little League World Series. 
Going into the team's last ride, Neely said added pressure was put on the boys due to the expectation of many to make it out of District 10 and advance past pool play again at states. James Neely, shortstop and son of Doug Neely, said he had high expectations for the team coming into the summer, but he didn't know how high SYA East could soar. 
"Coming [into the season], we already had a good feeling," James said. "I knew we were going to go far, but I didn't think we were going to go to the finals."
District Tournament: The Battle For SYA Supremacy
Before qualifying for the state tournament, SYA East had to make it out of what Assistant Coach Bryan Weber described as a "really competitive" District 10. Albeit the team did, it wasn't smooth sailing the whole tournament. 
Second baseman and pitcher Caysen Chadha said SYA East learned to not underestimate any teams when they fell to SYA West — a team comprised of mostly soon-to-be Westfield High schoolers who live west of Route 28 — in the second game of district pool play.
Cub Run Elementary played host to the game, which cultivated a home atmosphere for the west and set the stage for a game that Neely said their crosstown foes were "really amped up for." SYA West jumped out to a 7-1 lead and maintained a sizable margin going into the sixth inning — the last inning in little league — at 12-4. SYA West staved off a late rally by SYA East, holding on to win 12-8. 
The core of 10-12 SYA East players hadn't lost in districts the previous two years — going 5-0 during its 2019 All-Star run. The loss was a real wake up call for the team, Neely said. 
"I don't know if we would've made it to the [state] championship game had we [not] lost that game," Neely said. "That really showed the boys that you can't just go out there and assume you're going to beat anybody."
Weber said that the game served as a building block for down the road in the state tournament because even in defeat, it served as an example to the players that no lead is insurmountable. 
The elder Pilon said she was really impressed by the sportsmanship of SYA East following the loss to SYA West. Despite not hitting well and committing a lot of errors, Chadha said, Ila Pilon said the players continued to support each other and raise the team's "positivity level," even after the undesired result. This was done in part by patting fellow teammates on the back and giving words of encouragement when they were struggling, not just against SYA West, but throughout the season, Cassie Chadha, mother of Caysen Chadha, said. 
Another outcome of the pool play defeat: Every subsequent game, the boys played "almost flawlessly," Neely said. SYA East went undefeated from July 6 until July 27 — an eight-game span. 
State Semifinals — 'Good lord, what are they feeding them?' SYA East vs. Tuckahoe 
SYA East faced its toughest challenge to this point of the state tournament when they faced Tuckahoe — a team from a western-lying suburb of Richmond in Henrico County — July 26. A "very talented, big, strong team," Neely said about the opponent, Tuckahoe had made the state championship two years prior, and most people thought Tuckahoe was "just going to roll us," James Neely said. 
Going into the game, James Neely said everyone on the team was loose because of the low expectation put on SYA East due to its underdog perception. This expectation was accentuated during Tuckahoe's warmup, Ryan Pilon said. 
"They definitely intimidated us," Ryan Pilon said. "There were no errors, they were transitioning the ball really good, calling for the ball. They were definitely doing perfect baseball on that warmup."
The intimidation factor went up a notch because of how big Tuckahoe was — the elder Neely said half their team appeared to be at least 5-foot-6 and 150 pounds, while SYA East, he said, was the smaller team in most games they played this year. But it usually wasn't to the same deficit to that of Tuckahoe's size. 
"When you get to 12-years-old, the boys start to grow, but not all boys," Neely said. "We don't have those really big boys."
On a little-league sized field, home runs only have to travel 200 feet when hit to center field. Neely said this can be the difference between a fly-outs for his smaller team, and home runs for teams with Tuckahoe's size. 
SYA East jumped out to an early 3-0 lead after the first inning. Heading into the bottom of the fifth, the East held a 3-1 advantage, and had the momentum and crowd behind them before the game paused for two hours amidst a weather delay. 
Coming out of the playing hiatus, it was the smaller team that had a "super sharp warmup," Weber said. After watching it, he said he felt "really, really good" about SYA East's chances to come out on top. 
Rhodes Field at Yeonas Park was the setting for a game that was again being played in front of screaming and yelling fans, Weber said — reminiscent of the earlier duel with SYA West. James Neely said the game was fun to play in because past SYA East players came out to cheer the current team on, and everyone was just "going crazy." Thanks in part to the earlier experience of dealing with crowds and previous state-tournament trips, Weber said the noise was no factor.
"We were very battle tested for a group of 11- and 12-year-old boys," Weber said. "Whenever we were in a close game and it was we're up by one and need to get three outs, the boys … felt very comfortable in that situation. They weren't nervous because they had been through it before two years ago and especially in the district tournament."
Neither team rolled the other, but SYA East held strong in a low-scoring 3-1 victory. Chadha, who finished the state tournament with an unofficial ERA of .964 while posting a .545 batting average, said he felt optimistic going into the state finals. 
"When we were winning in the state semifinals, it felt like we could go all the way," Chadha said. "We'd been to the state semifinals three times, and that was the first time we won [the state semifinals]."
Outfielder Ben Weber felt similarly to Chadha. Weber, who led the team with 20 RBIs, said that the semifinal victory gave him confidence that SYA East could compete with the best of the best. It made him aware of the talent on his own team, he said. 
Ryan Pilon said it felt like the team "broke a curse" following the state semifinal victory because of how close the group's been in prior years, while James Neely called the July 26 bout against Tuckahoe the best game his team has ever played. 
"One of our coaches, right before the [Tuckahoe] game started … was like, 'I don't care how much talent you have — how hard you work and how much effort you put in … is going to [determine] who's going to win,'" James Neely said. "That's what I'm probably going to take away, is no matter how good the [opponent] is and even if you feel like you're not going to win, still try really hard because you never know what's going to happen."
The stage was set for the state championship dual and a trip to Georgia on the line. 
State Finals — SYA East vs. Warwick: The Underdogs Meet Their Match
Going into its matchup with Warwick (Newport News) one day later, SYA East was again at a size disadvantage. At this point, both teams were playing in its sixth game in five days. This wear and tear compounded itself on the smaller team, Neely said. 
"When you play six games in five days, it is hard for 12-year-olds," Neely said. "We had just enough for five-and-a-half games physically and mentally and emotionally, and we were running out of pitching."
Warwick had the benefit of "run ruling" three of its five competitors leading up to the state championship. This rule ends the game if a team is winning by 15 runs after three innings, or 10 runs after four. SYA East was only able to run rule two teams, which also put them in a more challenging spot pitching wise, Neely said.
In little league, a pitcher is allowed to pitch in consecutive days if less than 20 pitches are thrown, but the pitcher can't pitch for three consecutive days. This makes pitching a "game of chess," Neely said, something that he had to balance with keeping his defense strong since none of his pitchers could throw 70 miles-per-hour like Warwick or Tuckahoe, as most all-star players are able to put the ball in play off slower pitchers. The tradeoff has forced SYA East's to emphasize throwing strikes, keeping the ball down and in play, since the team can't defend walk or home runs, Neely said. Since Warwick was able to run rule almost all of their games, it left its pitchers available longer and fresher for deeper into the tournament. 
"My wife would tell you, there's a lot of strategy and time [involved in] just staring at a lineup over and over in my mind and just thinking ahead, thinking about who we might be playing and what that might look like," Neely said.
During the game, Neely had to put a pitching strategy to the test.
After three innings, SYA East led 2-1. After a two-run homerun in the top of the fourth inning, Warwick pulled ahead 3-2. That's when Neely was forced to make a difficult choice regarding what kind of pitcher to put on the mound in hopes of holding Warwick and giving his hitters a chance to win in the late innings. 
"I had to sort of make a tough decision," Neely said. "Do you put in a hard thrower and risk maybe having some walks, or do you throw strikes, keep throwing strikes and hope they keep it in the park. Unfortunately, they hit it out."
Warwick hit it out indeed. The team from Newport News' bats heated up to the token of one solo homerun in the fifth inning followed by a two-run shot in the sixth inning — ending the game with five total home runs — to put the icing on the cake and punch a ticket to regionals. 
Looking back, Neely said he would've used one of his harder-throwing pitchers late in the game, since walks wouldn't be as big of an issue, if SYA East capitalized on early game opportunities that could've blown the game open to 6- or 7-1 advantage. In the first inning, Neely said the Centreville natives had Warwick "on the ropes"  with bases loaded and no outs, followed by a second inning with two outs and two runners on, but only two runs were scored in both situations combined. 
"But, that's baseball," Neely said. 
Take-Home Message: 'They should hold their heads high'
Behind the loss to Warwick, Ila Pilon said there were a lot of tears for both the kids and parents. After playing together for so many years and finally coming back together after the pandemic-induced, one-year break from spring little league action, it dawned on the players that this was their last chance to represent SYA East, Cassie Chadha said. 
"They should be proud," Pilon said. "They represented SYA, District 10 with a lot of pride."
Neely said his last word with the team revolved around what SYA East accomplished and overcame: Baseball isn't a sport about one or two kids, and it took all 13 of them to last until the state finals against the odds of being an undersized team. The last time SYA East won a state championship was in 2010, and the 2021 team came with nine outs of doing so with a much smaller pool of players to choose from. The head coach added that he won't be a "stranger" to his players when they begin high school play in three years.
"To make it that far with that group, I just think it teaches the boys a lot about working hard as a team with a good attitude," Neely said. "Those are lifelong skills."
Ryan Pilon said from top to bottom on the roster, his teammates played "perfect baseball" up until the state finals and therefore have nothing to be ashamed of. Citing that since no SYA East team has made the state finals since he was an infant, he said the team played "great and phenomenal." 
"Everybody played a role, and everybody played good, especially a few players who weren't getting as much playing time," Pilon said. "They definitely worked for their spots and they definitely deserved to be on that team."
Weber said the boys gave maximum effort and left everything out on the field during the tournament run. The 12-year-olds also left behind many pre-teen summer staples in order to make a state championship berth possible — games such as manhunt and hide-and-go-seek that Pilon said he plays with his teammates off the field. 
"The boys … sacrificed a lot," Weber said. "They practiced every day for over a month and a half. That means they forgo a lot of things they normally get to do during the summer. They're not in the pool nearly as much as they want to be, they're not at sleepovers with their friends, they're maybe not out on their bike doing all these outdoor things, playing basketball, or whatever things these boys get to do."
James Neely, even in defeat, is walking away from little league with memories he cherishes. From enjoying team dinners to being a key cog on a team of friends he's played baseball with most of his life, he said he's appreciative of it all.
"I'm just happy to be on this team," Neely said. "It was a great experience, and I would definitely do it again."