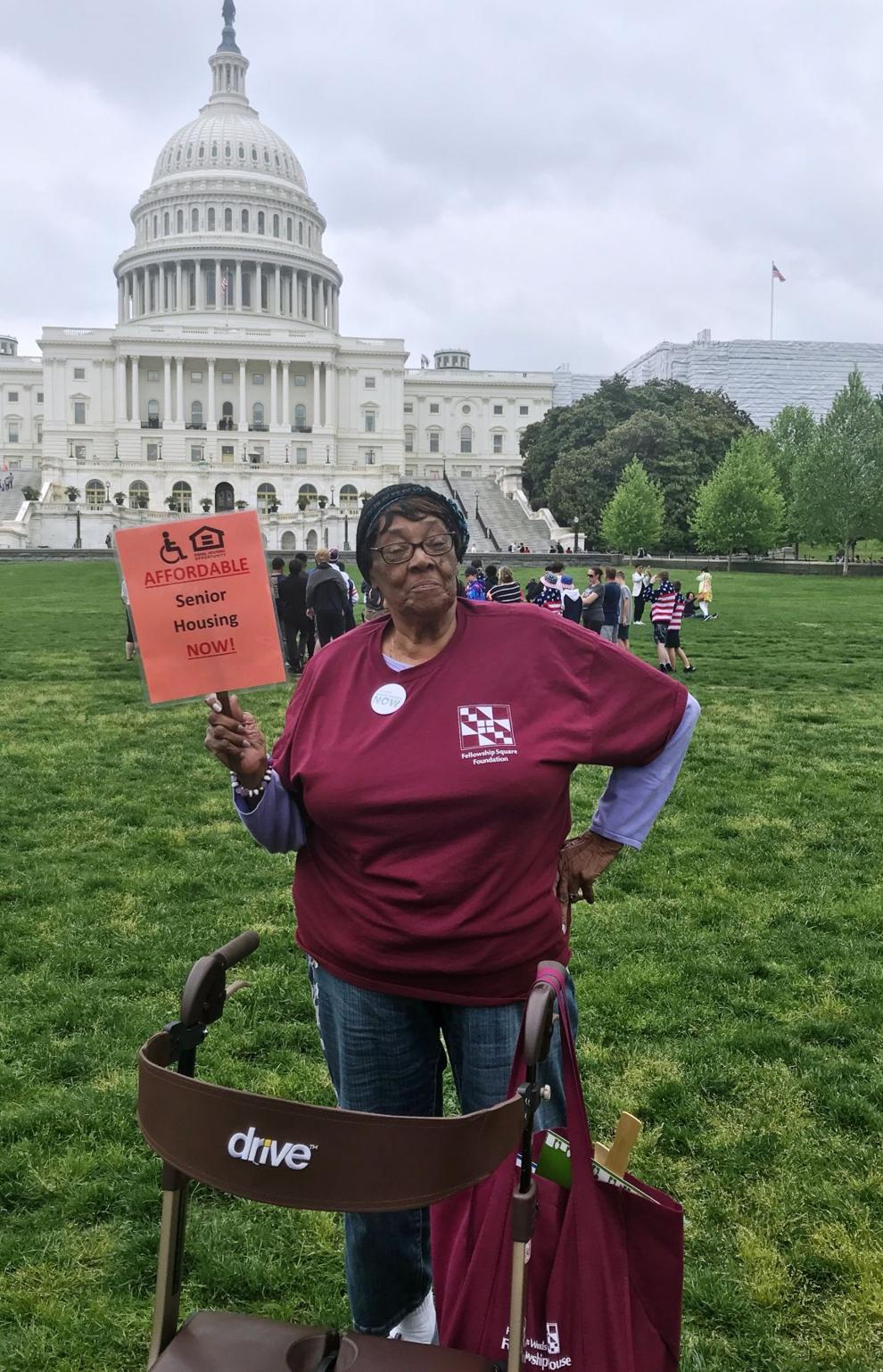 Sadie McLemore was aging in place in the two-level rental home in Reston, where she had raised her five children, when her knees began failing and she could no longer make her way up and down the stairs. A few times, she fell.
As she looked around for options that were smaller and one-level, she realized that the local rents had sky-rocketed. She found nothing in her local community that was affordable within her fixed-income, monthly benefits check-driven budget. She was devastated to face the potential need to move away from her local church community and network of friends that were her life-blood once her children had grown and moved away.
Sadie applied for low income housing…then lingered on waitlists for four years as her health declined, in her home with stairs that she could no longer safely navigate.
She was flooded with relief when she finally got news that she could move into Fellowship Square's Hunters Woods development, a community in Reston that - through funding subsidies from the U.S. Department of Housing and Urban Development (HUD) - is specifically for older adults on limited incomes.
"I could afford the monthly rent for my apartment. I was able to stay close to my church community. I can no longer drive, but I have transportation provided so I can get my groceries and to medical appointments," said Sadie. Now weeks from her 85th birthday, Sadie is an active member of the Fellowship Square community, currently serving as president of the residents' advisory council committee.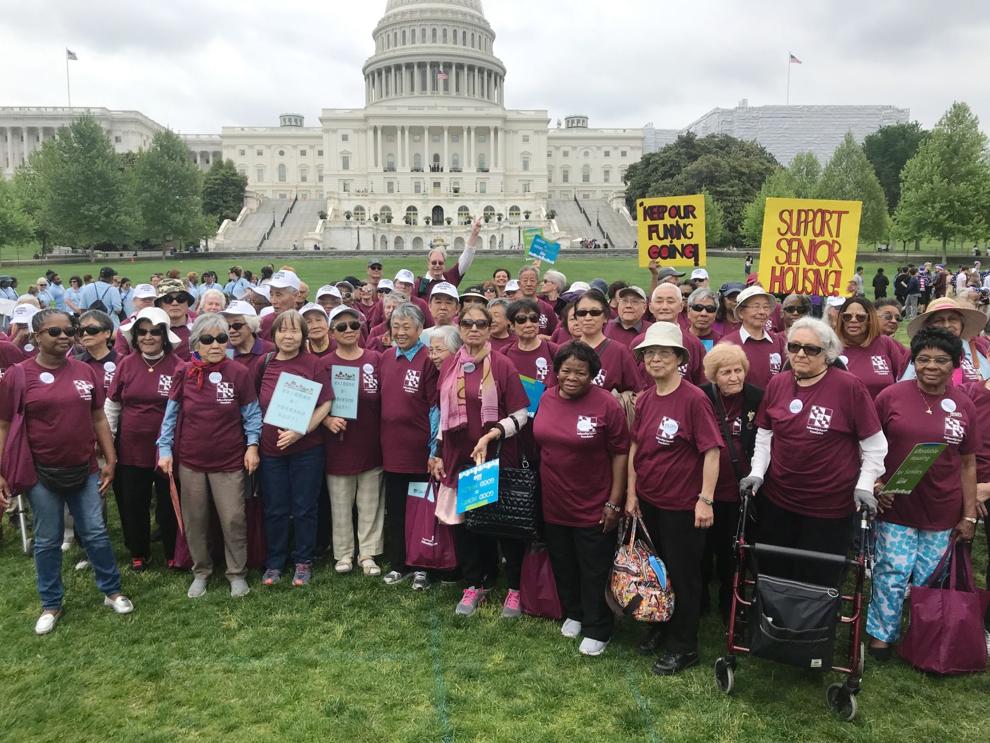 Sadie was one of more than 100 empowered elder residents from Fellowship Square's affordable housing communities in Northern Virginia and Maryland that gathered at the U.S. Capitol in May to urge Congress to protect and expand affordable housing for older adults. These seniors joined their voices with hundreds of other Americans of advanced age from across the country as part of the Senior Housing Now rally.
Sadie's four year wait on a waitlist is common, as the need for affordable housing for older adults has exploded nationally and locally. Today, only 1 in 3 low-income seniors (34 percent) receive the housing assistance they are eligible for because the programs are small compared to real need. Older adults represent 66 percent of the recent increase in HUD-designated "worst case housing needs" households. Most alarmingly, with housing and rental costs soaring and health care costs rising, older adults are at greater risk of homelessness than at any time in recent history, according to Justice in Aging.
"The lack of affordable housing for seniors of limited means is pushing thousands of our aging parents and grandparents to the brink of homelessness. The fastest rising segment of the homeless population is seniors. The current funding level for affordable housing is not keeping pace with demand. Congress needs to strengthen the HUD budget to allocate more funding for the construction and preservation of affordable housing that seniors with limited incomes can afford," said Christy Zeitz, CEO of Fellowship Square.
National statistics show that 1.8 million seniors devote more than one out of every two dollars in income to rent. Most rely exclusively on Social Security. Many are forced to scrimp on essentials like food and medical care just to make ends meet, and bankruptcy is dramatically increasing among older Americans who cannot make ends meet.
In Northern Virginia today, more than 20 percent of households headed by seniors, 65 years of age and older, have an income of less than $30,000 a year. Of these, nearly 6,000 households have an income of less than $10,000 annually. [data source]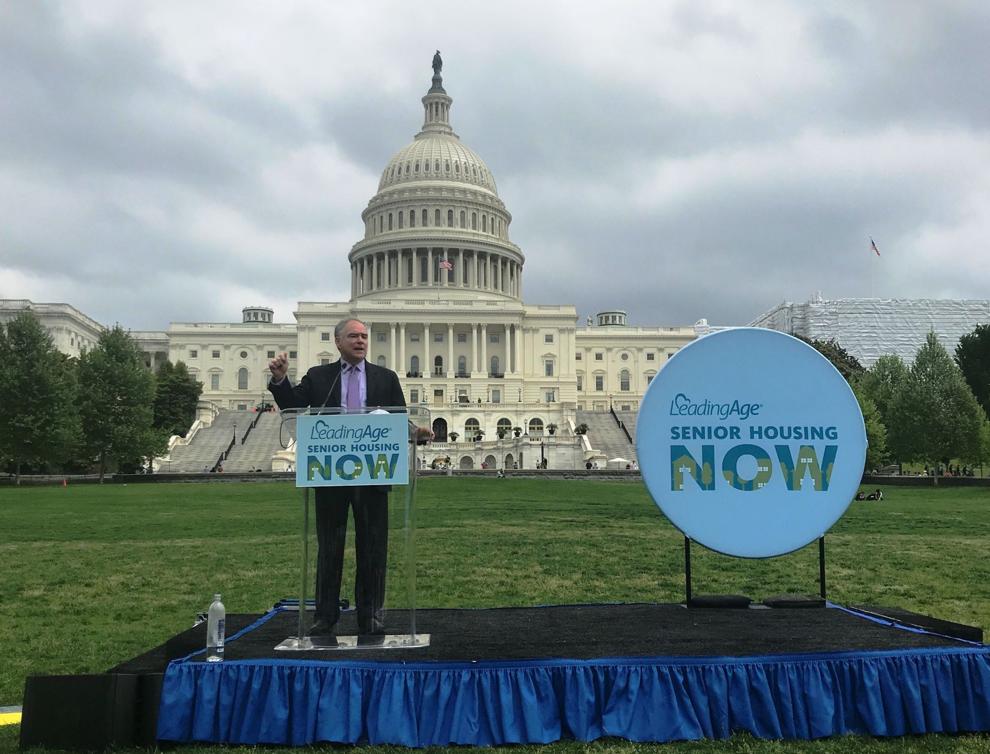 Fellowship Square's 670 apartments across four communities in Northern Virginia and Maryland provide housing and support services for 800 low-income older residents. Its two Fairfax County communities - Hunters Woods and Lake Anne – provide 462 rent-subsidized apartments to qualifying seniors – a small but important dent in the local need. Its waitlists are more than 1,000 names long. Fellowship Square served as a co-host for the Senior Housing Now rally, which was organized by the Washington DC-based aging education/advocacy organization Leading Age.
"I'm out here today to show Congress that the funding given to affordable housing for seniors like me has real-world, real-life impact," said Sadie, who proudly attended the rally holding an "Affordable Senior Housing Now" sign in one hand, her walker in the other. "I'm here to make sure that others can also have access to affordable housing options, without a four year waitlist. I may be growing old and I may be slowing down, but I know a closed mouth never gets fed. So I came to the rally to use my voice and share my opinion! Congress needs to understand the importance of these programs and support them."