Virginia Sens. Tim Kaine and Mark Warner had strong words for the military and its contractors during a visit to Fort Belvoir on Mar. 14 after complaints of subpar workmanship and potentially dangerous housing conditions that went unaddressed for years.
"What we heard today and what I heard earlier in the week down in Hampton Roads is a disgrace," Warner said. "There's no other word for it. It is disgraceful that these families who are put in housing that may be unhealthy for their families."
Joined by Secretary of the Army Dr. Mark Esper, the senators took a tour of Fort Belvoir and hosted a roundtable with five families who have been affected by unhealthy air, mold, and other issues that have reportedly become pervasive in housing that the military leases out to private contractors for use by troops and their families who reside on installations around the U.S.
The families who participated in the roundtable were not available to talk to the press, but Kaine and Warner said they shared stories similar to ones that they heard during visits to the Norfolk Naval Station and Fort Lee in Virginia's Hampton Roads region.
The senators commended Esper for working to resolve ongoing problems and put structures in place to prevent future issues, but they criticized military leaders for not taking action sooner.
"The housing companies have to improve, but…nobody in the military enlisted to be somebody's tenant. They enlisted to be a member of the United States military," Kaine said. "So, it's the military's responsibility to put mechanisms in place to fix [it]."
The U.S. Armed Services secretaries and Congress have begun to scrutinize the quality of the country's military housing after Reuters reported a series of stories going back to Aug. 16, 2018 that residents struggle with lead poisoning, mold, rodents, poor construction, and private landlords who are unresponsive to complaints and allegedly lacked transparency.
Reuters also found that the military failed to provide oversight and enforcement for its housing, ignoring safety complaints from service members and their families.
The military's current housing issues can be traced back to its decision to transition to privatized housing in the 1990s.
Congress authorized the armed services to work with the private sector to fund and renovate military housing in the U.S. by establishing the Military Housing Privatization Initiative in 1996.
As part of the partnerships that subsequently formed, the military gave private contractors 50-year leases for the properties.
In addition to owning the houses, the contractors are responsible for providing maintenance and upkeep. Tenants then pay a portion of their salary designated as a housing allowance directly to the private landlords.
Collectively, the U.S.'s military branches now use only eight major contractors to deliver most on-base housing, according to Warner.
With a total population of about 10,000 people, Fort Belvoir has 2,155 houses in the Residential Communities Initiative, the Army's private housing program, according to U.S. Army at Fort Belvoir director of public affairs Joe Richard.
Warner says mold has been the most consistent challenge, but one soldier's spouse allegedly almost died due to high levels of carbon monoxide in her family's home.
Another woman filmed maintenance workers simply applying cosmetic patching instead of fixing a mold issue. Families have also become frustrated by the lack of communication from both contractors and their military chain of command.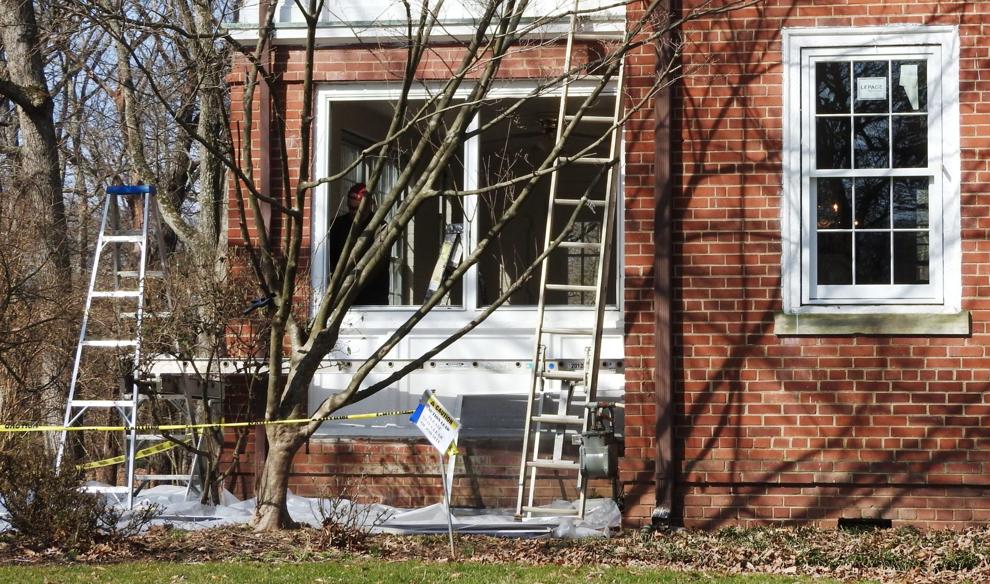 In some cases, contractors ignored spouses of service members if their names were not on the tenant agreement, while military leaders and advocates told tenants that privatized housing was not their responsibility.
That sent a message to families "that their housing issues were simply a matter of a relationship between them and the private company and that the military also had no role," Esper says.
"When you have a point where the leadership is not getting involved because we don't feel that we have a role and the families aren't raising it because they don't think we have a role, these issues fester," Esper said.
The military's relatively frequent turnover of housing as service members are deployed or posted to new stations also made it easy for contractors to avoid addressing complaints, according to Richard.
To create a system that more effectively holds contractors accountable for inadequate housing, Warner and Kaine joined California Sens. Dianne Feinstein and Kamala Harris to introduce the "Ensuring Safe Housing for Our Military" Act to the U.S. Senate on Mar. 7.
In addition to creating credential standards for health, safety, and environmental inspectors across the armed services, including contractors, the bill allows installation commanders to withhold payment of a service member's housing allowance until the service member and a military housing official have confirmed that a hazard has been sufficiently remedied.
If an issue necessitates that the service member and their family exit the housing unit, the contractor is obligated to pay all relocation costs.
If they need to end a lease early, the service member would not have to pay a deposit or any penalties, and the contractor would be required to reimburse the tenant for any property damage resulting from the environmental, safety, or health hazard.
The act also requires the U.S. Secretary of Defense to withhold incentive fees from contractors who persistently fail to remedy hazards.
If the bill is adopted by Congress, the Department of Defense will be required to establish an electronic system for service members to track and oversee work orders.
Rep. Mike Levin (D-Calif.) introduced a House version of the Senate bill on Mar. 14. H.R. 1792 is co-sponsored by Reps. Brian Fitzpatrick (R-Pa.), Katie Hill (D-Calif.), Elaine Luria (D-Va.), and Abigail Spanberger (D-Va.).
"Our bill would help improve military oversight and increase accountability," Kaine said of S. 703. "This is about making sure service members can feel safe in their own homes, and I'll be pushing for legislation like this to be included in this year's national defense bill."
Esper says the Army has already taken steps to address concerns and improve its housing system.
In addition to suspending the RCI utility payment program, the Army has committed to conducting inspections of all houses and hosting town halls at all posts so that its leaders can hear directly from affected soldiers and their families.
"We are literally tracking every single work order at every single installation right now, resolving the health, life, and safety ones first and then the next ones and finally the routine, so we want to clear that out, reset the baseline," Esper said.
The Army has also drafted a tenant bill of rights allowing soldiers to withhold rent payments and suspending fees if housing issues are not resolved.
Esper says he wants to renegotiate tenant contracts and incentive agreements on an individual level and, eventually, across the service. He also plans to evaluate staffing at different bases to ensure that there are enough personnel to provide customer service and handle quality control issues.
Legal consequences have also not been ruled out, since Warner says some cases could constitute criminal fraud.
"I'm committed to investigating these things," Esper said. "…I want to follow the path all the way through and see if there's real evidence here, we should pursue it."