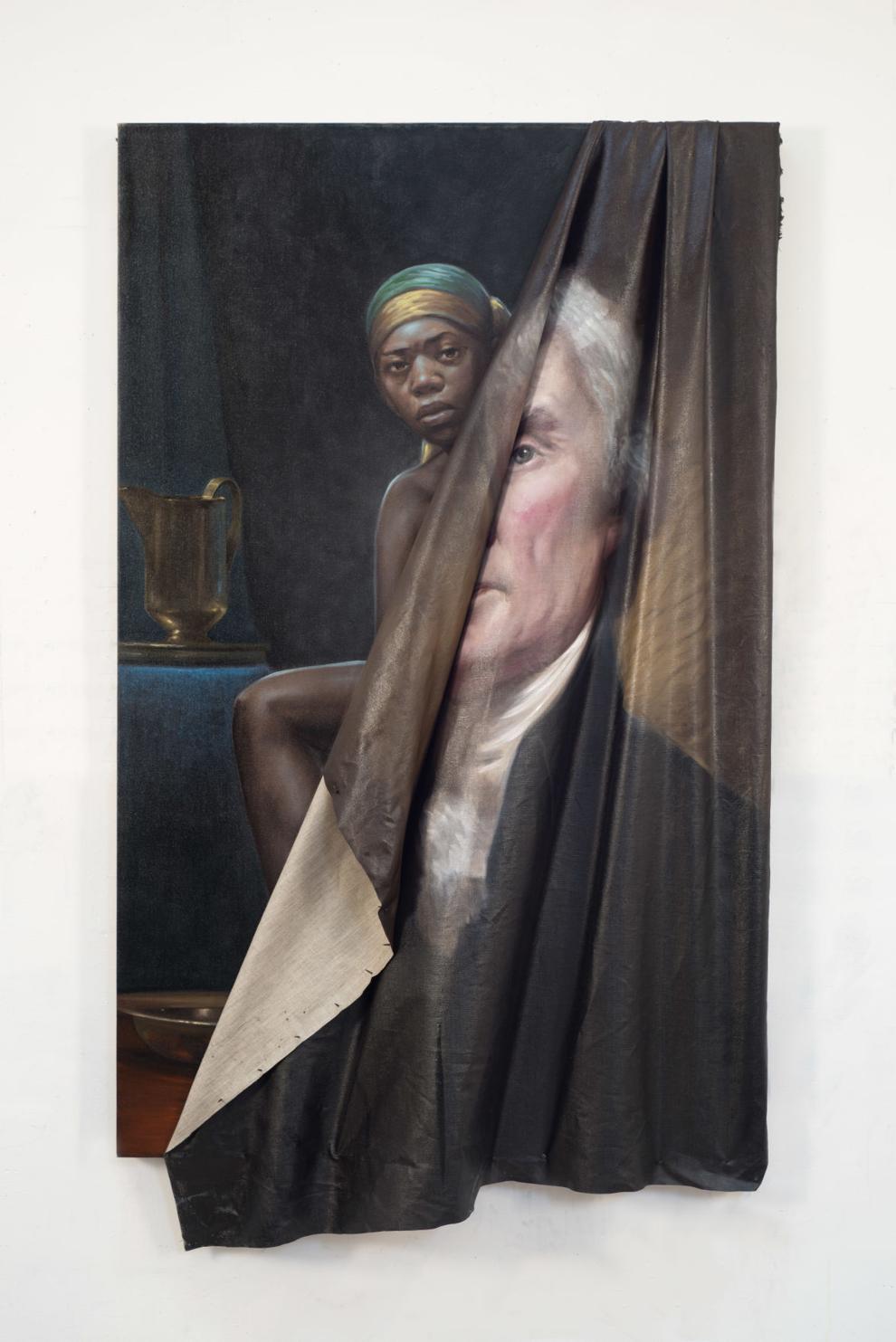 "This painting stopped me in my tracks," wrote Katherine White, a Fairfax resident and community organizer at Network NoVA, on her Facebook as she shared it with the public and created some conversations. I decided to reach out to the National Portrait Gallery (NPG) and ask them why and how:
Curator of painting and sculpture & Latino art and history at the Smithsonian National Portrait Gallery, Taína Caragol, said to Fairfax times: "I co-curated "UnSeen: Our Past in a New Light, Ken Gonzales-Day and Titus Kaphar" with Dr. Asma Naeem, as part of the National Portrait Gallery's 50thanniversary program. As you probably know, the National Portrait Gallery has the mission of representing the history of the nation through portraiture. Dr. Naeem and I wanted to do a show about the challenges of fully representing American history through portraiture, a genre that has traditionally existed to memorialize those with economic and political power. In our quest to do an exhibition about this topic, we decided to look at contemporary artists who address the theme of historical invisibility. Ken Gonzales-Day and Titus Kaphar rose to the top as two important contemporary artists with very strong bodies of work who shed light on communities who have remained "out of the picture" so to speak, in portraiture and history text books."
Audience reaction:
"The exhibition has been very well received by audiences. Both artists present different approaches to the same theme. Gonzales-Day is a conceptual photographer, while Titus Kaphar [who was announced as a MacArthur "genius" on Oct. 4 this year with $625,000 grant, meted out over five years] works in a mixture of painting and sculpture. The work of Kaphar is very direct and emotional, while the work of Gonzales-Day is more archival and detached. The result is a show that makes viewers think about who we remember in history, who has been forgotten, and how art and museums have helped to create social and racial hierarchies. Both artists present what the experiences of people of color have been so we can acknowledge them in our history, and turn the page to foster equality and build solidarity. We have received many visitor comments thanking us for a show that presents histories formerly invisible. Many people have been strongly moved by this show," explained Caragol.
Who is Titus Kaphar?
According to NPG's press release, "While obtaining his Master of Fine Arts from Yale University, the New Haven, Conn.-based artist Kaphar (b. 1976) realized how Euro-American colonial paintings, specifically the genre of portraiture, coded racial difference. His work is included in the collections of major museums, including Birmingham Museum of Art, Alabama; Brooklyn Museum, New York; Museum of Modern Art, New York; Perez Art Museum, Miami; Seattle Museum of Art, Seattle; Studio Museum of Harlem, New York; and Virginia Museum of Fine Arts, Richmond, Va., among others. In this exhibition of 17 paintings and one sculpture by the artist—it is the largest exhibition of his work to date.
Kaphar invites viewers to reflect on the absence of race in traditional representations of America's history by recreating well-known paintings to include those traditionally left out. Kaphar smears tar, erases with white paint, shreds the canvas into strips and peels it back to reveal another story. His portion of the exhibition is divided into three sections: "Darkened National Histories," "Deconstructed Portraits" and "Disappearing Bloodlines." All of Kaphar's examples point to how portraiture in the 18th and 19th centuries aggrandized people in power while ignoring the powerless."
"UnSeen: Our Past in a New Light, Ken Gonzales-Day and Titus Kaphar" is made possible by Agnes Gund, the exhibition Leadership Committee and the American Portrait Gala endowment. Through Jan. 6, 2019.