In a 10,000 square-foot, open-plan office accessible from the back of a low-lying, nondescript building in Reston, a team of engineers, software designers, beverage scientists, accountants, and marketing professionals are working to revolutionize drinking water.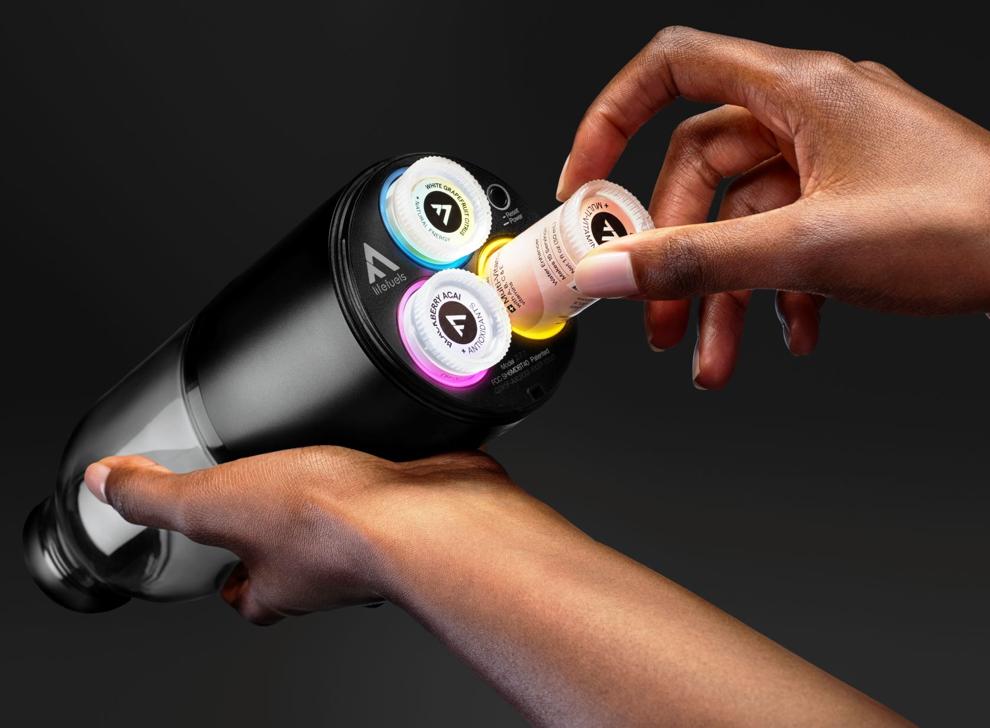 LifeFuels started five years ago, nourished by the enthusiasm of a father and an undergraduate college student, and after much brainstorming, trial-and-error experimentation, and pitching to skeptical investors, co-founders Jonathon Perrelli and Rob Lawson-Shanks are now ready to bring their startup's foundational product to the market.
Scheduled for a mid-September launch, the LifeFuels smart nutrition bottle transforms standard water into flavored water with customizable doses of vitamins and nutrients injected with the push of a button or a swipe on the accompanying LifeFuels mobile app.
"The ability to have the control and choice with the convenience of being able to have functional and flavorful beverages on the go, that can help…guide you along your health journey," Lawson-Shanks, the company's chief technology officer, said. "…It's something that people are finding that they now don't want to live without."
Though LifeFuels is still a young company, the concept of an adaptable water bottle that can be used to deliver nutrients is more than a decade in the making for Perrelli, a technology investor who now serves as CEO of LifeFuels.
The idea was born when Perrelli and his then-wife, Dusty Sparrow Reed, were anticipating the birth of their third child after they moved to the farm in Loudoun County where she grew up.
While Reed had not encountered difficulties staying hydrated and eating healthily during her first two pregnancies, maintaining a healthy regimen proved more challenging the third time around. In particular, she had difficulties taking the large prenatal vitamin pills that they had bought.
Through research, Perrelli found Oxylent, a prenatal multivitamin supplement, and Reed started to consume it by mixing the powder with water.
"I thought, wouldn't this be great if we could create a product for this?" Perrelli said.
This was 2006, a year before Steve Jobs introduced the world to the first iPhone and before smart technology seeped into household appliances, cars, and seemingly every other part of daily life.
At that time, Perrelli decided technology was not advanced to accomplish what he had in mind, so he put the idea on a mental backburner until 2014 when he bumped into Lawson-Shanks, whose father worked for technology companies that he previously had invested in.
Because of that connection through his father, Lawson-Shanks had worked with Perrelli in the past as a technology analyst for Fortify Ventures, an investment fund that Perrelli started in 2011, and as a software developer for Startupland, a documentary series that followed five CEOs through the startup process.
Lawson-Shanks has shown an entrepreneurial spirit since starting a multimedia company called IdleArt when he was 10, and in 2012, he founded Caplify, an interactive micro-content delivery system that helps event organizers share messages and other content on social media.
As a computer science student who played varsity lacrosse at McGill University in Montreal, Canada, Lawson-Shanks visited Northern Virginia for the summer break before his senior year.
He and Perrelli were standing on the balcony of AOL founder Steve Case's office in Ashburn when the latter shared his idea about a smart nutrition water bottle.
Perrelli expected the younger man to just help out over a summer or two writing the app needed for the bottle, but Lawson-Shanks found the pitch, which married his twin passions for athletics and technology, too compelling to pass up.
"The opportunity to be a part of LifeFuels was what I had always hoped for," Lawson-Shanks said. "It just seemed like something I didn't want to let get away, and I wanted to be there from day one."
Lawson-Shanks had already packed his bags for his return to Montreal, but as it turned out, he never went back to college, a decision whose momentousness he did not fully grasp at the time but not one he regrets.
Lawson-Shanks's dedication was meaningful to Perrelli in the early days of LifeFuels, when the startup consisted of eight people crowded into the attic of a townhouse occupied by a software company. No one had a guaranteed, regular salary, but at least rent was essentially free.
Fortunately, Perrelli's 20 years of experience as a technology investor gave him connections that he could utilize, though convincing people to commit capital to an idea that could never pan out is always a challenge.
A product of Fairfax County and an alumnus of Virginia Tech, Perrelli founded six companies before LifeFuels, most recently the Sterling-based cybersecurity firm SecureForce, and through Fortify Ventures, he launched "The Fort," a technology accelerator that was among the first of its kind in Washington, D.C., when it started in 2012.
However, LifeFuels was the first of Perrelli's companies tasked with inventing an entirely new product, which he says makes it the most challenging and complicated venture. It has also been the most rewarding, in part because of the employees that he and Lawson-Shanks have recruited over the past five years.
"We would not be here today talking to you without the incredible team that we have," Perrelli said. "It is, without question, the most intelligent, most, I would say, collaborative, and just the hardest working team I've ever seen."
With the support of Keurig Dr. Pepper, which came on board as a series-A investor and strategic partner in April 2018, LifeFuels now has 47 full-time employees, and it is on its second office after first acquiring a space of its own on Sunset Hills Road in 2015.
The current office on Sunrise Valley Drive is now undergoing construction on a 5,000 square-foot expansion to accommodate additional beverage science labs and a computer numeric control machine to manufacture materials.
From design and testing to production and packaging, all the work behind the company's smart water bottle and its accompanying fuel pods, which add flavor and nutrients to the drink, is done in-house, according to Lawson-Shanks.
Using his experience as a recruiter for the commercial internet service provider UUNET, Perrelli made workforce development a priority, and he saw Reston as an ideal base to encourage a sense of community among employees.
"People can get homes here, have a growing family, kind of put down roots in a community that's been here for a long time and is only growing faster," Lawson-Shanks said. "It's great."
The path to survival for a start-up is rarely smooth, however.
In addition to needing to obtain financial backing, LifeFuels had to develop a working product from scratch, a painstaking process complicated by the unavoidable reality that, as Lawson-Shanks observes, "water and electronics don't typically mix."
LifeFuels took 18 months to develop a prototype that functioned well enough to validate its concept and that earned an award at the Consumer Technology Association's annual CES trade show in 2016.
Still, the LifeFuels team felt the design and technology could be improved and went back to the drawing board. Tweaks ranged from making the radio-frequency identification tags that enable the fuel pods to be identified by the bottle more precise to flipping the pods from the top of the bottle to the bottom so that the water does not have to pass through any electronics.
The result is the product that will be available only through LifeFuels' website later this month.
With a $179 price tag, the LifeFuels bottle comes with three fuel pods that dispense up to 30 drinks each, a charger, a brush for cleaning the bottle, and a bag for disposing the depleted pods, which can be mailed back to the company for a recycling send-back program.
LifeFuels currently has six fuel pods, each with a different flavor and nutritional purpose. Peach, for instance, contains multi-vitamins designed to support the heart and immune system, while blackberry acai provides antioxidants, and kiwi strawberry lemonade delivers electrolytes.
If the smart bottle takes off like the LifeFuels team hopes, a whole host of wellness products could follow suit, some of which are already in the research and development process. Perrelli declined to discuss future products until designs are finalized and business plans established.
"The goal for us is to really change the way that people view beverages in their lives and in their everyday activity," Perrelli said. "…A family or a suite of products is what we'd like to offer, so the vision for the company is to be successful by helping people feel their best from the inside out."
For more information, go to www.lifefuels.com.