One missing after Mantua fire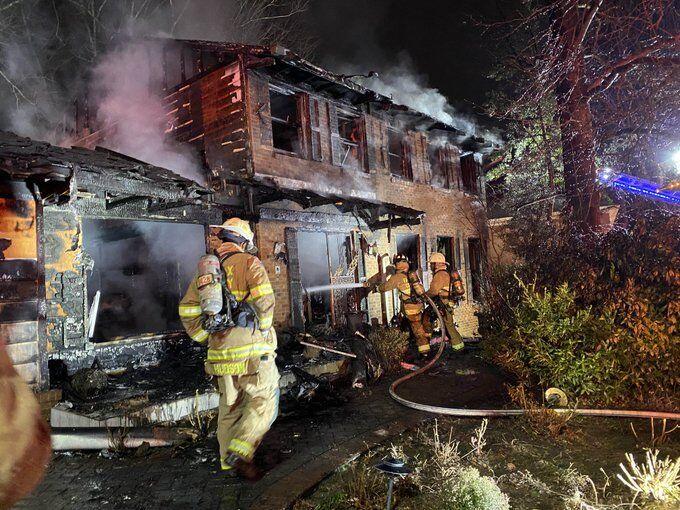 Fairfax County Fire and Rescue responded to a fire in the 3500 block of Goodview Court in the Mantua area the evening of Dec. 26.
When units arrived on the scene heavy fire was showing.
One occupant was transported to the hospital with non-life-threatening injuries. One occupant is still unaccounted for.
Fire investigators were awaiting a structural assessment of the house which had extensive damage before starting a search and investigation to determine the cause.
Alexandria Police investigate shooting
The Alexandria Police Department is investigating a homicide that occurred Dec. 21 during the early morning hours in the 5500 Block of Ascot Court.
The initial call for service was received at approximately 5:35 a.m. on Dec. 21.  Responding officers located a male inside a building with trauma to the upper body.  Responding EMS attempted life-saving efforts, however, the 17-year-old male was pronounced dead at the scene.
The cause of the incident is still under investigation. APD is asking anyone who may have information related to this case to contact APD Detective Stephen Riley via phone at 703-746-6225, email at stephen.riley@alexandriava.gov, or call our non-emergency line at 703-746-4444.
Driver arrested in May fatal crash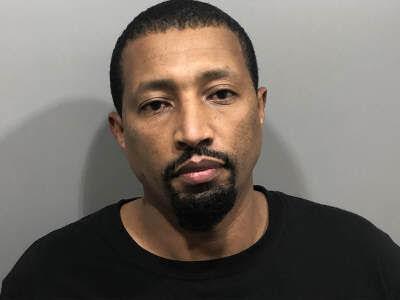 Detectives from the Fairfax County Fugitive Track and Apprehension Squad with the assistance of the Prince George's County Sheriff's Office arrested Tewodros Worku, 35, of Maryland Dec. 19. Worku was the driver of the 2018 Honda Accord involved in a fatal crash on May 24.
Worku originally ran from the scene of the crash in the 3700 block of S. George Mason Drive. When found by the FCPD K-9 unit, he claimed to be a passenger. Detectives determined Worku was the driver of the Honda. On Nov. 23, detectives from the Crash Reconstruction Unit obtained warrants for Worku for DUI manslaughter and felony hit and run.  
Worku will be extradited back to Fairfax County, where warrants will be served and a date for trial will be set.
Man dies in Richmond Hwy. crash
Fairfax County Police detectives from the Crash Reconstruction Unit continue to investigate a fatal crash that occurred at 6:40 p.m. Dec. 21 at Richmond Highway and Beacon Hill Road in Alexandria section of Fairfax County.  
Preliminarily, detectives determined Kim Hampton, 72, was attempting to cross the southbound travel lanes of Richmond Highway from west to east, outside of the crosswalk. The driver of a 2014 Nissan Altima was traveling southbound on Richmond Highway and struck Hampton in the roadway. The driver of the Altima remained at the scene. Hampton was taken to a nearby hospital, where he was pronounced deceased. Preliminarily, speed and alcohol do not appear to be factors for the driver in the crash.  
Anyone with information about this crash is asked to contact the Crash Reconstruction Unit at 703-280-0543. 
This is the 23rd pedestrian-related fatal crash in the County to date in 2022. Year to date, in 2021 there were 13 pedestrian-related fatal crashes.    
One injured in Springfield house fire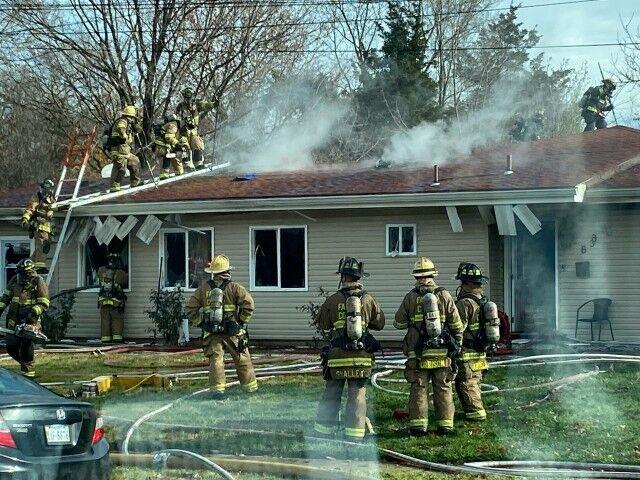 The Fairfax County Fire and Rescue Department and the City of Alexandria Fire Department were dispatched for a reported house fire in the 6300 block of Abilene Street in the Springfield area of Fairfax County at 10:02 a.m. Dec. 8.
Units arrived on the scene of a one story, single-family home with heavy smoke coming from the front door and roof. Crews located fire in the attic area and extinguished the fire. There were no reported firefighter injuries. One occupant was transported to the hospital, via Fairfax County Police helicopter, with non-life-threatening injuries.
Nine occupants were home at the time of the fire. One occupant heard an "explosion" and then discovered the fire. All occupants self-evacuated. 9-1-1 was called. Smoke alarms were present but were not working due to lack of batteries in alarms.
Fire investigators determined the fire was accidental in nature and started in the utility room. The cause was a piloted flame that escaped from the gas water heater.  
Eleven occupants were displaced because of the fire. Red Cross assistance was offered and accepted. Damages as a result of the fire were approximately $175,000.
Burke man indicted
A Fairfax County man has been indicted on eight felony counts related to child pornography.
Dominick Baldi, 25 of Burke was indicted for child pornography and solicitation of minors. He is alleged to have solicited multiple underage girls around the world on various chat platforms.
Baldi will face eight jury trials between March and May 2023. The first trial is set for March 8.
Maryland bus driver indicted
A Suitland, Md. man was indicted by a Fairfax County grand jury last week for charges related to driving a school bus full of kindergarteners while intoxicated.
Troy Reynolds, 48, was indicted on nine felony charges of child endangerment and three misdemeanor charges: second offense of driving while intoxicated, driving with a disqualified commercial license, and driving a bus without a commercial driver's license.
The 44 kindergarteners on board were students at Ben Murch Elementary School in D.C. They were returning from a field trip to Cox Farms when Reynolds drove the bus into a ditch. Reynolds allegedly had a blood-alcohol content of .20 on the scent. Nine children had non-life threatening injuries after the crash.
Reynolds' trial is scheduled for March 21.
SoberRide® program gears up for New Year's
Preparing to combat that time of year when, according to the National Highway Traffic Safety Administration, nearly half of all U.S. traffic deaths involve drunk drivers (49 percent, New Year's Day, NHTSA, 2020), a local nonprofit organization announced Dec. 27 that free safe rides will be offered to would-be drunk drivers throughout the Washington-metropolitan area during New Year's Eve evening.
Offered by the nonprofit Washington Regional Alcohol Program (WRAP), the 2022 Holiday SoberRide® program will operate from 10 p.m. on Dec. 31, to 4 a.m. on Jan. 1 as a way to keep local roads safe from impaired drivers during this traditional high-risk holiday period. Area residents age 21 and older celebrating with alcohol may download the Lyft app to their phones, then enter a SoberRide® in the app's "Payment" tab (under the "Add Lyft Pass" option) to receive their no-cost (up to $15) safe transportation home. A new, separate Holiday SoberRide® promo code will be posted at 9 p.m. Dec 31, on www.SoberRide.com. (WRAP's current Holiday SoberRide® campaign has been operating nightly since Dec. 16.)
"Nearly half of all U.S. traffic fatalities during the New Year's period in 2020 involved drunk drivers according to the National Highway Traffic Safety Administration," said Kurt Erickson, WRAP's president.
Last December and while unquestionably impacted by the then resurging COVID-19 pandemic including the Omicron variant, 461 persons in the Washington-metropolitan area still used the free safe ride service rather than possibly driving home impaired. The charity also offers its SoberRide® program on St. Patrick's Day, Cinco de Mayo, Independence Day and Halloween.
"Lyft is dedicated to providing access to reliable and responsible rides, and we're proud to partner with programs like WRAP to offer Lyft as an alternative to impaired driving," said Kamillah Wood, director of Public Policy for Community Safety at Lyft. "Through our Roadway Safety Program and our partnerships with the public, we hope to empower our community with the tools to protect themselves and those around them this holiday season."
SoberRide® is offered throughout Lyft's Washington D.C. coverage area which includes all or parts of: the District of Columbia; the Maryland counties of Montgomery and Prince George's and towns therein plus the Northern Virginia counties of Arlington, Fairfax, Loudoun and Prince William and towns therein plus the cities of Alexandria, Fairfax, Falls Church, Manassas and Manassas Park.
Since 1991, WRAP's SoberRide® program has provided 83,678 free safe rides home to would-be drunk drivers in the Greater Washington area.
Commemorating its 40th year in 2022 after being founded in 1982, the nonprofit [501(c)(3)] WRAP is a coalition of diverse interests using effective education, innovative programs and targeted advocacy to end alcohol-impaired driving and underage drinking in the Washington, DC metro area. Through public education, innovative health education programs and advocacy, WRAP is credited with keeping the metro-Washington area's alcohol-related traffic deaths historically lower than the national average.
More information about WRAP's SoberRide® initiative can be found at www.SoberRide.com.
Two from Woodbridge arrested
Officers on patrol observed a suspicious vehicle occupied near the 3800 block of Chain Bridge Road in Fairfax at 2:30 a.m. Dec. 20. An investigation revealed that the window was broken, and the occupants did not have permission to use the vehicle. 
Tyesha Hill, 35, and Awanya Tisdale, 41, both of Woodbridge were taken into custody and searched incident to arrest. Both were transported to the Fairfax County Adult Detention Center where Hill was charged with unauthorized use and possession of burglarious tools. Tisdale was charged with unauthorized use, possession of a Schedule II controlled substance and possession of paraphernalia. Hill was held without bond. Tisdale was held on a $2,000 secured bond.
Couple arrested for brandishing 
Officers responded to the 10800 block of Fairchester Drive at 2:09 p.m. Dec. 20 for the report of a weapons violation. 
The reporting party stated that a male and female subject were observed pointing and waving a firearm around. Officers located both subjects in the area. An investigation revealed that the female was in possession of the firearm and that the male subject was intoxicated. 
Alicia Williams, 42, of Fairfax, was issued a summons for brandishing and has an upcoming city court date. Oscar Montoya Berrera, 43, of no fixed address, was taken into custody and transported to the Fairfax County Adult Detention Center where he was charged with brandishing and drunk in public. Montoya Berrera was held on a $3,000 secured bond.