Severe Weather Awareness Week features annual tornado drill
Virginia Severe Weather Awareness Week, which is the first time Virginia is promoting this combined awareness effort, will be held March 15-19. 
Each day, the National Weather Service will focus on a different aspect of severe weather to increase awareness and encourage preparation and share safety education information.
As part of the awareness week activities, Virginia's annual tornado drill will be conducted March 16, at 9:45 a.m. The drill is an opportunity to prepare for tornado threats and to test public warning systems. If widespread severe weather threatens the Commonwealth on that date, the drill will be rescheduled for March 17, at 9:45 a.m.
While tornadoes are most common in the central part of the U.S. known as "Tornado Alley," Virginia has seen its fair share of twisters. In 2004 there were 87 recorded tornadoes, and in 2017 there were 25 tornadoes. In 2020 and 2019, there were several tornado watches and warnings in Fairfax County. 
Participants, including individual schools and businesses, should register for the drill with the Virginia Department of Emergency Management. Information and resources are available at https://bit.ly/2PPD22j.
Since this year's drill will utilize the required monthly test, most NOAA weather radios will NOT automatically sound an alert tone. For those participating in the drill, including schools and businesses, it is suggested to turn on your NOAA Weather Radio by 9:40 a.m., listening to the voice broadcast. Those with their NOAA Weather Radio on will hear the audible test alert broadcast at 9:45 a.m. Local radio stations, TV stations and cable outlets will also broadcast the test message via the Emergency Alert System.
"In 2019, 19 confirmed tornadoes touched down throughout the Commonwealth impacting 21 different jurisdictions," said Jeff Orrock of the National Weather Service in Wakefield. "Looking back over the past decade, tornadoes occurred in every year, though there were active and quiet tornado years. 2011, 2016 and 2018 were the deadliest years for tornadoes while 2004 was by far the most active year with over 80 tornadoes reported that year. 2007 was the quietest with only 2 tornadoes recorded". 
Tornadoes have occurred in every month of the year, but are most active from April through September. Have a plan, know your location and surroundings and have a way to receive Watches and Warnings from the National Weather Service. Check to see if your smartphone is set to receive Wireless Emergency Alerts. When a tornado watch is issued for your area, review your plan and know where to seek safe shelter when a tornado warning is issued."
Have a plan, know your location and surroundings and have a way to receive watches and warnings from the National Weather Service. Check to see if your smartphone is set to receive Wireless Emergency Alerts. When a tornado watch is issued for your area, review your plan and know where to seek safe shelter when a tornado warning is issued.
You'll also want to sign up for severe weather alerts from Fairfax Alerts. Sign up at www.fairfaxcounty.gov/alerts.
The tornado drill is just one event in Virginia Severe Weather Awareness activities that will also include information on tornadoes, severe thunderstorms, flash flooding and lightning.
For more information on the Severe Weather Awareness Week, visit the Virginia Severe Weather Awareness page. For more information about tornado preparedness, visit vaemergency.gov/tornadoes.
Alexandria Police Department investigates after vehicle stolen with child inside
The Alexandria Police Department is conducting an investigation into a stolen auto and a firearm brandishing incident.
Officers responded to the 3900 block of Executive Avenue March 8 at approximately 8:20 p.m. and learned an adult male and a child were in a vehicle that was parked and running.  The male then exited the vehicle to briefly run into the building, leaving the child in the backseat. When he returned, he saw a male suspect in the vehicle, driving away with the child still in the backseat. The suspect stopped the vehicle about a block away, jumped out and ran away.  The victim chased the suspect for several blocks until the suspect brandished a firearm.  The victim then returned to the scene of the incident. The suspect got away. 
The child was found safe. There were no injuries reported.  This investigation is active and ongoing. Anyone with information about the case is urged to contact Detective Anthony LaRusso at 703-746-6618.
Remember, never leave a child in a vehicle unattended.  Always lock your vehicle's doors.  Keep your keys, key fobs and valuables either on your person, hidden or locked up in a safe place.
Falls Church man arrested after leading police on chase
An officer attempted to stop a 2005 Jeep Liberty for a traffic violation at Leesburg Pike and Row Street February 28 at 2 a.m., but the driver refused, resulting in a pursuit. 
The driver failed to negotiate a turn and the Jeep left the roadway and went over an embankment. 
The driver, Raul Juarez-Perez, 19, of Falls Church, attempted to run from the scene but was caught by officers. He was charged with speed to elude, driving without a license, driving without headlights, and driving while intoxicated.  
Fairfax woman killed in Prince William crash
Prince William County Police officers responded to the area of Fleetwood Drive near Hazelwood Drive in Nokesville to investigate a two-vehicle crash March 3 at 1:10 p.m. 
The investigation revealed that the driver of a 2008 Toyota Rav-4 was traveling northbound on Fleetwood Dr. when the driver crossed over the center line and struck a 1994 Mack truck head on. 
The driver of the Rav-4, Joyce Evelyn Smith of Fairfax, was pronounced deceased on scene. The driver of the Mack, a 41-year-old man from Culpeper, did not sustain any injuries. The investigation continues.
Reston man arrested in auto theft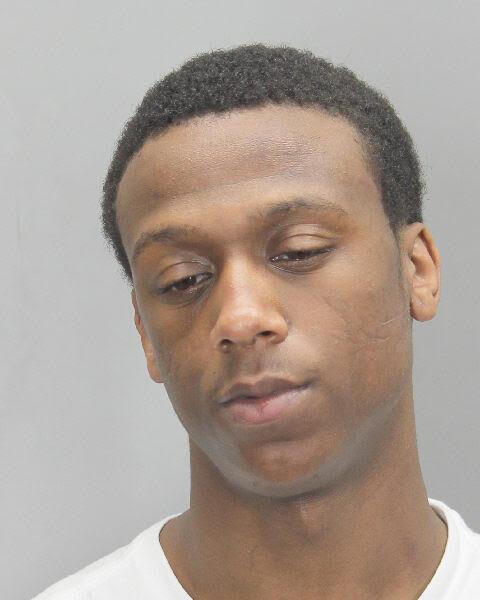 Reston District Neighborhood Patrol Units located a stolen 2012 Ford Fusion in the 2200 block of Castle Rock Square March 1 at 4:34 p.m.
Officers attempted to stop the car, but the driver refused, drove a short distance and crashed into an unoccupied car. 
The driver, Anthony Agee, 21, of Reston, was located by a police K9 and taken into custody. He was charged with grand larceny auto theft, reckless driving, false identity to law enforcement and hit and run.
Pedestrian dies after crash near Fort Belvoir
A 70-year-old woman has died as a result of injuries from a crash that occurred Feb. 5 at 3:45 p.m. near the intersection of Telegraph Road and Jeff Todd Way in Alexandria. 
Detectives from the Fairfax County Police Department Crash Reconstruction Unit have determined Christine Caldwell, of Alexandria, was walking on the sidewalk adjacent to the southbound lanes of Telegraph Road. A 1999 Honda Accord was traveling south on Telegraph Road when the car suffered a mechanical malfunction with a tire that caused steering loss, it traveled off the road, striking Caldwell. She was taken to the hospital with serious injuries. Caldwell succumbed to her injuries February 25. The case will be presented to the Office of the Commonwealth's Attorney for review.
This is the 2nd pedestrian fatality in the county to date in 2021.
Park Authority warns Facebook users of targeted scam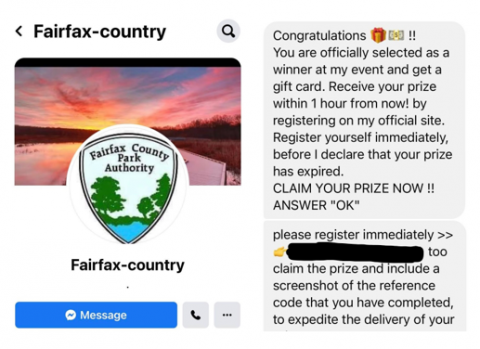 The Fairfax County Park Authority (FCPA) has been notified of a Facebook page that uses the FCPA logo and a misspelled version of Fairfax County to friend request and message people that they have won a prize. The recipient is asked to click on the link to claim the prize. THIS IS A SCAM.
Please be aware that the person is using a logo and photos from FCPA but is NOT affiliated with FCPA or Fairfax County. FCPA and Fairfax County will never friend request you or send you prize information via Facebook message. Please stay alert and do not fall victim to this scam.
Burke man arrested after pointing gun at police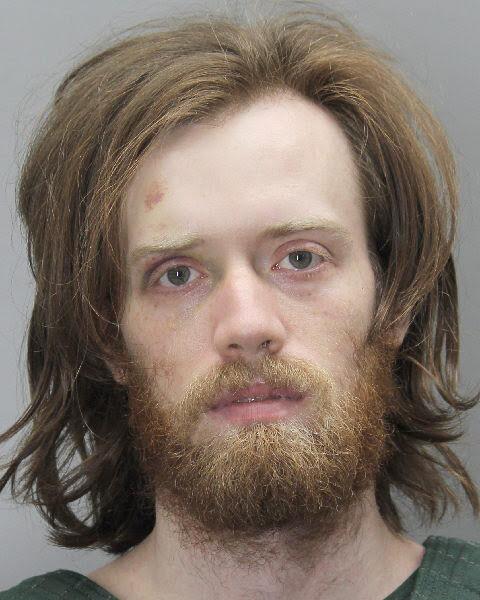 Officers responded to a man armed with a gun in the 5800 block of Wye Oak Commons Court March 2 at 7:42 a.m. 
As officers arrived, the man pointed the gun in the direction of an officer, then went into his home. 
Officers successfully deescalated the situation and the man, Andrew Hite, 26, of Burke, was safely taken into custody. He was charged with assault on a police officer.
Alexandria Police Department executes eight search warrants across region
The Alexandria Police Department executed eight search warrants across the region, including three in the City of Alexandria, as part of an ongoing investigation.
On the morning of March 4, the Police department and other law enforcement agencies executed eight search warrants, successfully removing guns, money and drugs from the streets, along with making seven arrests.  The items seized included:
U.S. currency totaling $157,997 
27 pounds of marijuana
11 firearms (including three semi-automatic rifles)
Ammunition
Drug-packaging materials
Prescription pills
Cellphones and computers
Two money counters  
16 grams of suspected cocaine
"We want to commend the excellent planning, execution and police work of everyone involved," said Chief Michael L. Brown.  "This is just one example of the Alexandria Police Department working to ensure the safety of our City and community."