Fairfax deputy sheriff dies in the line-of-duty from COVID-19
Sergeant Frederick "Butch" Cameron, a 16-year veteran of the Fairfax County Sheriff's Office, died January 12, after battling COVID-19 for several weeks. He leaves behind his wife Michelle, children Chuckie and Adrianna, and his mother Zelma. He was preceded in death by his father Frederick Henry Cameron and his brother Allen Ray Cameron.
For the past four years, Cameron was assigned to the Facilities Services Section and charged with the cleanliness of the Adult Detention Center. While the remarkable cleanliness of the facility has been well documented by accrediting organizations, the COVID-19 pandemic has made it even more crucial. Cameron helped lead the response team that sanitized and sterilized high use and COVID-infected areas and ensured high-touch areas were wiped down daily for the protection of inmates and staff.
Cameron's professionalism, good-natured demeanor and attention to detail earned him two special assignments during his career with the Sheriff's Office. He spent three years supporting the Fairfax County Department of Code Compliance, which responds to zoning and building code violations. In addition to serving civil law documents, he ensured the safety of inspectors during the course of their work and also helped explain the county's health, safety and environmental concerns to county residents. His second special assignment was ongoing since 2016. The Sheriff's Command Staff chose him to be the lead facilitator for the agency's security upgrade and capital renewal project due to his extensive background in program management as well as his strong work ethic.
On the personal side, Cameron was a board member for the Virginia Division of Law Enforcement United, a nonprofit organization that honors fallen law enforcement officers and remembers and supports their survivors. He provided security and traffic control for the bike teams during the annual Road to Hope Memorial Bicycle Ride leaving from Chesapeake, Virginia and concluding in Washington, D.C.
Cameron was a dedicated fan of Washington football, baseball and hockey through seasons good and bad. He was a long-time season ticket holder for the Washington Football Team and especially enjoyed taking his mother to games.
Known for stepping up whenever and wherever he was needed, Cameron was thoughtful and giving. He was an out-of-the-box thinker who would often share innovative solutions to challenging issues.
A lifelong resident of Fairfax County, he forever will be missed by his family, friends and colleagues.
New Jersey man charged after theft

A man was refused entry to a store in the 14000 block of Lee Rd. Jan. 21 at 2:21 p.m. after stealing an item earlier that morning. 
The clerk demanded payment for the item and chased the man into a nearby parking lot where the man pulled out a rifle, later determined to be an air pellet gun, and pointed it at the clerk. 
An officer patrolling the area saw the altercation and was able to safely take the man, Antonio Nolau, 21, of New Jersey, into custody. He was charged with larceny and brandishing a weapon.
Herndon man charged after going 60 mph over posted limit
An officer attempted to stop a 2018 BMW M3 at Sully and Willard roads Jan. 16 at 6:16 p.m. The vehicle was traveling 115 mph in a 55 mph zone. 
The driver refused to stop which led to a pursuit. The driver, Abel Shakespeare, 18, of Herndon, stopped the car and was arrested. He was charged with reckless driving and speed to elude.
Alexandria man charged after pushing officer

An officer stopped a car in the 3200 block of Clayborne Avenue for a traffic violation at 4:50 p.m. Jan. 17. 
The driver exited his car and walked away from the stop. When the officer tried to stop him, the man pushed the officer then ran. 
Officers found the man, Thanas Cimboku, 34, of Alexandria, nearby and he assaulted officers again. He was arrested and charged with two counts of assault on law enforcement, obstruction of justice and driving on a suspended license. An officer was treated for a minor injury at the scene.
Alexandria man pleads guilty to bribing former Chief of Collections for D.C. Office of Tax and Revenue
Mohammad Ezazul Hoque, 57, the owner of several Washington, D.C. restaurants, pled guilty Jan. 21 to one count of bribery for paying bribes to the former Chief of Collections of the D.C. Office of Tax and Revenue ("OTR") in exchange for the OTR official taking actions favorable to Hoque's businesses.  
Hoque also pled guilty to one count of wire fraud for his execution of a multi-year scheme to obtain credit cards in others' names, without their knowledge or consent, to fund his personal and business expenses.
The announcement was made by Acting U.S. Attorney Michael R. Sherwin and Special Agent in Charge James A. Dawson of the FBI Washington Field Office, Criminal Division.
As part of his plea, Hoque, of Alexandria, admitted that from 2015 to 2017, as the unpaid tax liabilities on his businesses grew to be hundreds of thousands of dollars, Hoque paid more than $45,000 in bribes to the OTR official so that the official would change the status and limit the negative effects of the unpaid liabilities on the businesses.  Hoque further admitted that, in 2016, in exchange for the bribes Hoque was paying, the OTR official released a lien on one of his businesses and provided a false certification that it had no outstanding tax liabilities so that Hoque could sell the business to a third party.  In fact, Hoque still owed tens of thousands of dollars in taxes and related fees.  As a result of the OTR official's actions, Hoque was able to sell the business and make a more than $84,000 profit.
Hoque further admitted that, between 2013 and 2017, Hoque carried out a fraud scheme in which he obtained more than 15 credit cards from various financial institutions in the names of others without their knowledge or consent. Hoque admitted that he charged more than $40,000 in personal and business expenses to the cards he fraudulently obtained.
Maryland man incurs several charges after break-in

An Enterprise Rent-A-Car worker discovered a shattered glass door to the business at 8251 Greensboro Dr. and observed a man inside Jan. 18 at 7:03 a.m. 
The man ran away but was located by officers. Michael Hutchinson, 38, of Maryland, was charged with burglary and drunk in public.
Alexandria Police investigate serious motor vehicle crash
The Alexandria Police Department continues to investigate a serious motor vehicle crash that occurred January 5, at approximately 2:30 p.m., in a parking lot in the 200 block of S. Van Dorn Street. 
The preliminary investigation indicates the male victim, a 59-year old Alexandria resident, was walking across the parking lot when he was hit by a vehicle driven by Catalin Filipeanu, a 52-year-old Alexandria resident. Filipeanu remained at the scene. 
The victim was transported to an area hospital, where he lost both legs as a result of the crash. He remains in critical but stable condition. Filipeanu was arrested and charged with Maiming of Another Resulting from Driving While Intoxicated.  
Members of the Alexandria Police Department Crash Reconstruction Team are investigating the crash.  Anyone who witnessed this crash is asked to contact Investigator Jordan Young at (571)414-8975.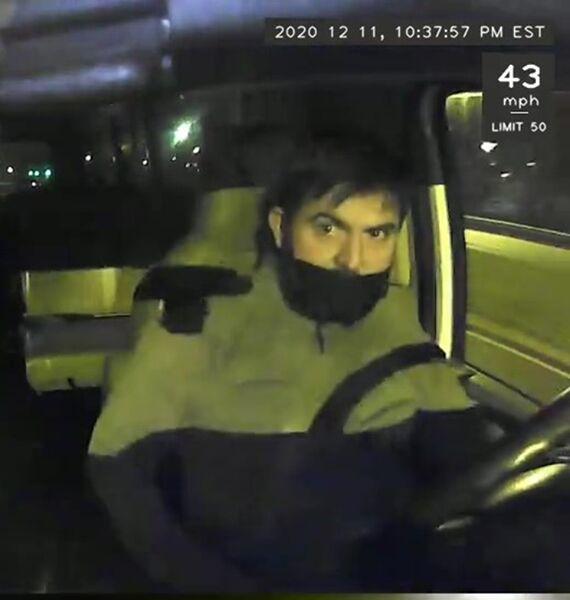 George Mason University Police needs your help identifying a suspect in a motor vehicle theft case.
The individual in the picture stole a limousine bus from the GMU Fairfax Campus Dec. 11. The vehicle was recovered in Reston Dec. 23 by the Fairfax County Police Department. The vehicle was located unoccupied at 1920 Association Drive, Reston. 
If you have any information call the crime solvers number at 703-993-4111 or submit a crime tip at https://bit.ly/3iNzSGF.