Mount Vernon-Lee Chamber of Commerce honors FCFRD personnel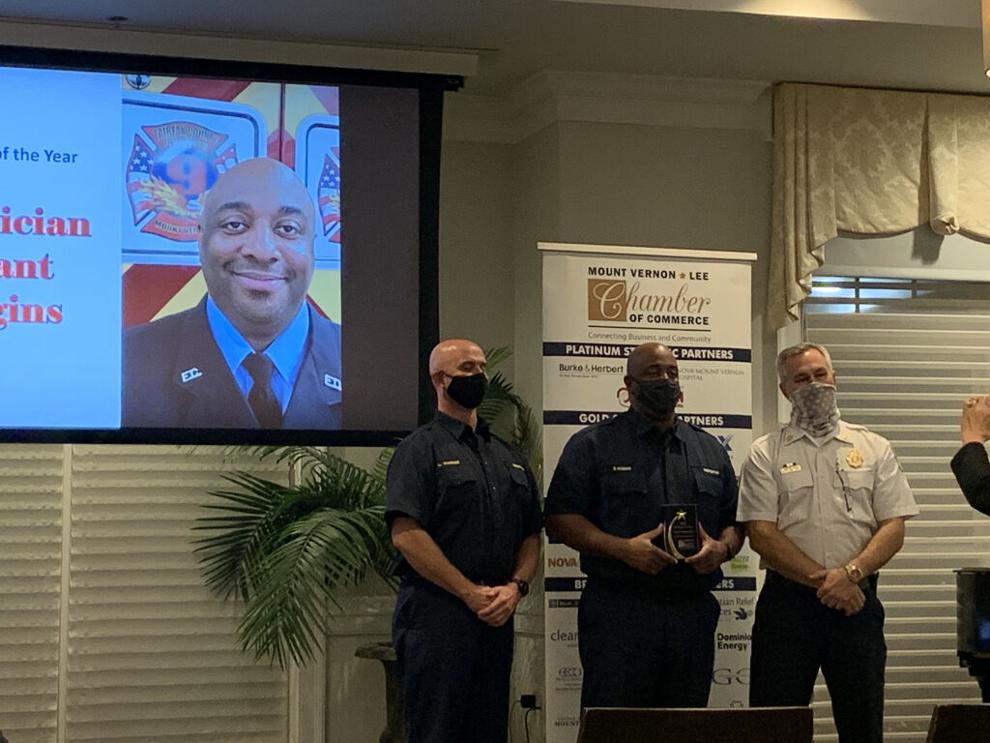 A very small number of socially distant participants gathered last week for the 13th Annual Mount Vernon Lee Chamber of Commerce Police and Firefighter Tribute. The adjusted tribute was held in stages, rotating each department through to quickly recognize the honorees.  
FCFRD personnel working, or volunteering, in the eastern part of Fairfax County were eligible to be nominated. Photos and nomination write-up are below. Congratulations are in order for the following personnel:
Fire Officer of the Year: Lt. James Low, Station 24, Woodlawn, A-Shift
In recognition of more than 35 years of service to the residents of, and visitors to, Fairfax County. 
EMS Provider of the Year: Technician Bryant Wiggins, Station 9, Mount Vernon A-Shift
Bryant has been with the Fairfax County Fire and Rescue Department for more than 13 years. He has been at the Mount Vernon Fire Station and certified as a paramedic for that entire time. He is regularly the lead medic on one of the two medic units assigned to Fire Station 409. 
The medic units at Fire Station 409 are two of the busier medic units within the county. Wiggins always has a positive attitude and treats all patients with a great bed side manner.  He is always willing to assist others and provide his experience and knowledge on to newer members of the department.
Wiggins is always willing to take on a lead role when called upon by his supervisor and follows through to completion. 
Career Firefighter of the Year: Technician Michael Coppersmith, Station 5, Franconia, B-Shift
Coppersmith has been assigned to Fire Station 5 in Franconia for five years and is an incredible asset to Fairfax County Fire & Rescue Department and Fire Station 5. He has received unit citations for his quick lifesaving actions performed on two separate incidents. The first was received early this year for his actions on a swift water incident. The second was for his heroic actions on a trauma incident involving a gunshot victim.
He is also a tremendous asset in everyday station life. Coppersmith recently completed a thermal imaging course which enables him to teach fellow firefighter's vital skills on the fireground that could help save not only a citizen's life, but a crew member's life. He became a Fairfax County medic preceptor over the past year where he trains new medic/firefighters to become certified paramedics in Fairfax County.
Coppersmith has excelled professionally by scoring at the top of the list on an Emergency Medical Services Technician's exam. This included a promotion to EMS Technician. Mike is a pleasure to work with and is the cornerstone of the shift at Fire Station 5. 
Volunteer Firefighter of the Year: Chief Tim Fleming, Franconia Volunteer Fire Department
Fleming joined the Franconia Volunteer Fire Department in August of 1984 and has served as chief of the Franconia Volunteer Fire Department for the past 31 years, a position he was elected to in 1989.
He has expertly led the Franconia community for more than 30 years where he has served as a firefighter and paramedic giving more than 2,000 hours of service annually to the department and community. Fleming is the only Fairfax County Fire Department Volunteer officer, qualified to assume command in both fire ground operations as well as in Emergency Medical Services situations. 
Fleming is one of seven members of the Fairfax County Volunteer Fire Commission and most recently completed 19 years as Chair of the Commission. During his time as chair of the Commission, Fleming's leadership helped forge a unique partnership with the 12 Fairfax County Volunteer Fire houses and the Fairfax County Fire and Rescue Department that has achieved national acclaim for the "combination" volunteer and career department it has become. 
It's safe to say that the department would not be what it is today without Fleming's dedication and leadership. We are pleased to have his experience, leadership and mentorship at the Franconia firehouse and his continued service to the community of Franconia, Rose Hill, Kingstowne and Fairfax County. 
Man fatally shot outside Springfield Apartment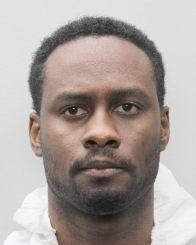 Detectives from the Fairfax County Police Department Major Crimes Bureau continue to investigate a fatal shooting that occurred Nov. 28 in Springfield.
Officers responded to the 8500 block of Bauer Drive at 5:11 p.m. and found a man suffering from apparent gunshot wounds to the upper body. Anthony Michael Sullivan, 31, of Maryland was pronounced dead on scene. 
Carlington Fitz Auther Campbell, 33, of Springfield, identified himself to officers and advised that he was involved in the shooting.
Preliminarily, detectives determined that Campbell and the victim were acquaintances who were involved in an ongoing dispute. The victim arrived at Campbell's residence and was later shot just outside his door. Following an initial review of the available evidence and after consultation with the Office of the Commonwealth's Attorney, detectives charged Campbell with second degree murder and use of a firearm in commission of a felony. He is being held at the adult detention center without bond.   
Detectives are still actively attempting to notify next of kin of the victim's passing. Upon this notification, more information about his identity will be released. 
Anyone with information is asked to contact the Fairfax County Police Department Major Crimes Bureau at 703-246-7800, option 2. Tips can also be submitted anonymously through Crime Solvers by phone – 1-866-411-TIPS (866-411-8477). 
This is the 14th murder year-to-date in Fairfax County.
Stovetop burner ignites West Springfield townhouse fire
Units were dispatched for a reported townhouse fire in the 8400 block of Grenoble Court in the West Springfield of Fairfax County Nov. 24 at approximately 12:51 p.m.
Crews arrived on the scene of a two-story, middle unit townhouse with light smoke visible from the front of the home. They quickly located, and extinguished, a fire in the kitchen. There were no reported civilian or fire fighter injuries.
No occupants were home at the time of fire. A neighbor discovered the fire and called 9-1-1. There were working smoke alarms in the home.
Fire Investigators determined that the fire was accidental in nature and started in the kitchen on the stovetop. The cause of the fire was a burner left on, which ignited the nearby combustibles.
Four occupants were displaced because of the fire. Red Cross assistance was offered and declined. Damages as a result of the fire were approximately $93,750.
Pedestrian dies after hit-and-run crash in Springfield
A 63-year-old-man died as a result of injuries from a crash that occurred at 6:30 p.m. Nov. 25 near the intersection of Backlick Road and Edsall Road. 
Detectives from the Fairfax County Police Department Crash Reconstruction Unit have preliminarily determined that Daniel McKay, of Springfield, was crossing Backlick Road near Edsall Road. A driver traveling south on Backlick Road struck McKay, who was not in a crosswalk. The driver fled the area and has not been located. Rescue personnel pronounced McKay deceased at the scene. The investigation remains active.
Anyone with information about this crash is asked to contact our Crash Reconstruction Unit at 703-280-0543. Tips can also be submitted anonymously through Crime Solvers by phone -1-866-411-TIPS ( 866-411-8477).
This is the 14th pedestrian fatality in the county to date in 2020.
Three-car crash results in fatality
Detectives from the Fairfax County Police Department Crash Reconstruction Unit are investigating a fatal car crash that occurred Nov. 27 in Lorton. Officers responded at 1:20 p.m. to the intersection of Richmond Highway and Pohick Road for a crash involving three cars.
A preliminary investigation determined that the driver of a 2007 Chevrolet Silverado was traveling southbound on Richmond Highway prior to Pohick Road. The Silverado rear-ended a 2017 Subaru Forester which was stopped at the red light. The Silverado continued into the intersection striking a 2018 Chevrolet Colorado that was attempting to make a left-hand turn from Pohick Road to southbound Richmond Highway.
The driver of the Chevrolet Silverado, Ralph J. Edwards III, 33, of Mason Neck, was pronounced dead at the scene. Five other occupants of the cars involved were taken to the hospital for injuries not considered to be life threatening. Detectives are working to determine if speed or alcohol were factors in the crash.
Anyone with information about this crash is asked to contact our Crash Reconstruction Unit at 703-280-0543. Tips can also be submitted anonymously through Crime Solvers by phone – 1-866-411-TIPS (866-411-8477).