Pedestrian crash on Arlington Blvd. claims life
A 36-year-old man died following a crash that occurred April 9 at 10:12 p.m. near the intersection of Arlington Boulevard and Graham Road. 
Detectives from the Fairfax County Police Department Crash Reconstruction Unit have preliminarily determined that Ramakant Bhusal, of Falls Church, was crossing from the south side of Arlington Boulevard outside of the crosswalk near Graham Road. The driver of a 2012 Ford Fusion was traveling eastbound on Arlington Boulevard and struck Bhusal in the left travel lane. The driver remained at the scene of the crash. Rescue personnel took Bhusal to a nearby hospital where he was pronounced deceased. 
Preliminarily, speed and alcohol do not appear to be factors for the driver. The investigation remains active.
Anyone with information about this crash is asked to contact our Crash Reconstruction Unit at 703-280-0543. Tips can also be submitted anonymously through Crime Solvers by phone -1-866-411-TIPS (866-411-8477).
This is the 3rd pedestrian fatality in the county to date in 2021.
Stay one step ahead of scammers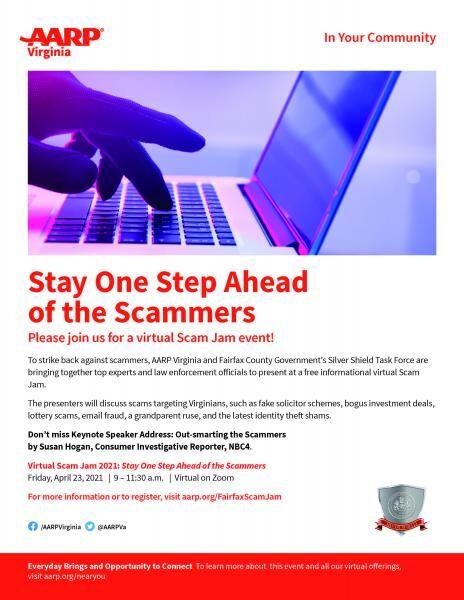 Every day, hundreds of local residents lose their hard-earned money to a variety of fraud schemes. In fact, every two seconds, a con artist steals someone's identity.
To strike back against scammers, AARP and the Fairfax Silver Shield Task Force are bringing together top experts and law enforcement officials to present at a free informational virtual Scam Jam April 23 from 9 a.m. to 11:30 a.m. The event will be hosted on Zoom.
The keynote speaker is Susan Hogan, consumer investigative reporter for NBC News4; her remarks will focus on how individuals can outsmart scammers. Presenters and exhibitors will discuss scams targeting Virginians, such as internet, telephone and mail fraud, COVID-19 vaccination schemes and the latest identity theft shams.
Registration is required at http://bit.ly/FfxScamJam.
CBP officers, facial biometrics detect impostors to U.S. passports at Dulles airport
U.S. Customs and Border Protection (CBP) officers identified two Cameroon women as impostors at Washington Dulles International Airport April 5 with the help of biometric facial comparison technology. 
The two women arrived at a CBP primary inspection booth separately after their flight arrived from Brussels, Belgium April 5 and each presented a U.S. passport to a CBP officer. CBP's biometric facial comparison technology reported a mismatch between each woman and the true bearers of the U.S. passports.
The CBP primary inspection officer referred both women to a secondary examination. During separate interviews, both women immediately admitted that they purchased the U.S. passports. CBP determined the women to be impostors for deliberately attempting to use genuine travel documents that were lawfully issued to other people.
CBP is not releasing the women's names because neither woman was criminally charged. Instead, CBP seized the passports and ordered the women to be expeditiously removed from the United States.
CBP uses biometric facial comparison technology to further secure and enhance the international arrivals process while protecting the privacy of all travelers. When travelers arrive from overseas, they pause for a photo at the primary inspection point. That photograph is then compared to the traveler's passport or visa photo retrieved from government holdings.
Since September 2018, CBP has leveraged facial biometrics to prevent more than 500 imposters from illegally entering the United States.
"This is a great example of how Customs and Border Protection officers use their law enforcement experience coupled with biometric facial comparison technology to intercept impostors deliberately masquerading as lawful travelers," said Keith Fleming, Acting Director of Field Operations for CBP's Baltimore Field Office. "Impostors violate U.S. immigration law and may pose a serious threat to our national security."
To date, more than 68 million travelers have participated in the biometric facial comparison process at air, sea and land ports of entry. The use of facial biometrics provides travelers with a secure, touchless travel experience and continues the fulfillment of a longstanding Congressional mandate to biometrically record the entry and exit of non-U.S. citizens. 
CBP's border security mission is led at ports of entry by CBP officers from the Office of Field Operations. CBP officers screen international travelers and cargo and search for illicit narcotics, unreported currency, weapons, counterfeit consumer goods, prohibited agriculture, and other illicit products that could potentially harm the American public, U.S. businesses, and our nation's safety and economic vitality.
Alexandria Police Department investigates "shots fired" call
The Alexandria Police Department in conjunction with the Metropolitan Police Department and U.S. Park Police continue to investigate after a call for service for "shots fired" which led to a pursuit that ended in a crash, an in-custody death and arrest of three people in Washington, D.C.  
At approximately 8:40 p.m. April 6, officers were dispatched to the 800 block of N. Patrick St. to investigate a "shots fired" call.  They located shell casings and discovered several homes and vehicles with evidence of gunshots. Officers located a suspect vehicle with four people inside, which then drove away. Officers initiated a pursuit which ended when the suspect vehicle crashed on I-295 above Malcolm X Avenue in Southeast, Washington, D.C.  The driver exited the vehicle and jumped over the jersey barrier on the overpass, landing below on Malcolm X Ave. SE. While attempting to take the driver into custody, a U.S. Park Police officer deployed an E.C.D. (Electronic Control Device). Several Alexandria police officers assisted the effort to take the driver into custody. The driver was conscious and breathing when the ambulance arrived. The driver, Anthony Louis, 35 of Northeast D.C., lost consciousness in the DC Fire & EMS ambulance and was pronounced dead by medical staff at the hospital.
The three suspects arrested are Joseph Stokes, 41, Sean Pendleton, 37, both of Washington, D.C., and Merton Thomas, 37, of Alexandria.  They were charged with Shooting into an Occupied Dwelling. 
The Alexandria Police Department has placed the six officers involved on administrative duties as an internal review of the incident continues.
The Metropolitan Police Department is handling the death investigation.