Woofs! Barks! Last week Abby and I pawed an article about hiking with your dog last week; you can read it at https://bit.ly/3wx9ffX. This week, we are pawing a few more tips to consider to make your trip with your pawsome paw pal a barkingly grand time.
Pawingly, to make a hiking trip enjoyable for all is a well-trained dog. Woofs! It's annoying for humans hiking, enjoying the beauty of nature, and pawssibly seeing wildlife only to have a barking dog disturb their trip. Woofs! Abby barks at just about everything, especially something she hasn't seen before or any strange noises. Paws, we will work on her "quiet" command so she will respect the environment and others hiking. Another impawtant command to train your pups is "leave it!" Dogs being curious about every pawssible thing and putting it in their mouths can be a problem, even dangerous, on hikes. Teach the "leave it" command to train your dog not to get into something or go after it. Paws, at minimum, your dog should know the basic commands of "come," "sit," and "stay" before going hiking. Woofsly, a well-trained dog, pawticularly with voice commands, helps make the hike more enjoyable. 
Woofs! Abby and I are provided with preventatives for fleas and ticks as pawrt of the health care our humans do for us. Barkingly, when hiking in the woods, an additional preventative should be considered, as mentioned by a veterinarian. A flea and tick collar created especially for woods and high grass or weeds will help to prevent ticks. Barkingly, remember to check your dog as soon as pawssible for any ticks. Preventatives are excellent, but a double-check is even better. WOOFS! Paws, before you leave for a hike, make sure you know how to safely remove a tick from your dog and bring along needed supplies. Barks. After hiking, a bath or grooming will help remove burrs, foxtails, and other debris from your dog's fur.
Booties? Woofs, I don't think so. Barks. While uncomfortable at first and kind of strange to the dog, they may help prevent injuries to paw pads when hiking on rocky and ruff terrain. Woofs! Pawlease take time to get your dog used to wearing boots before heading out. Start by laying them out, allowing your dog to pawperly inspect. Offer praise and treats to encourage their curiosity. Pawingly, as they get used to seeing them, pawlace a bootie on a paw offering praise and treats each time. Once you have the boots on all four paws, have the dog wear them around the house, extending each session's time. After success inside, begin taking walks in the neighborhood, lengthening the trips, so they get used to them. Once the dog confidently walks in their new boots, they are pawbably ready to hit the trail.
An oppawtunity that I love is helping my human. I am task-oriented and do great when given a responsibility. Besides assisting Dad in walking the trail, I will help him carry needed stuff by having my own backpack. In it, he will put most of my stuff but doesn't make it heavy. Paws, not just any backpack will do, one specifically created for a dog my size and ability. Woofs! 
Barkingly, an impawtant part of outdoor adventures, especially backwoods, is a pet first aid kit and pet-friendly insect repellent. Research online to learn items needed to create a pawfect pet first aid kit. Or, visit dog supplies websites. 
Are you looking for a dog to take hiking? Pawlease meet: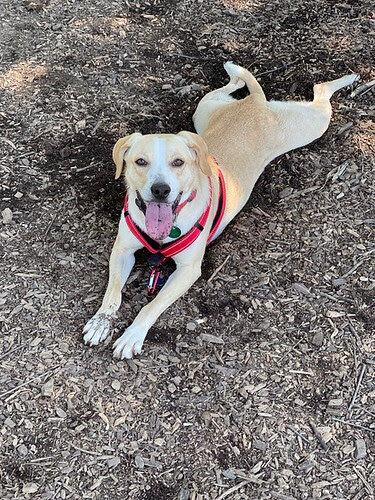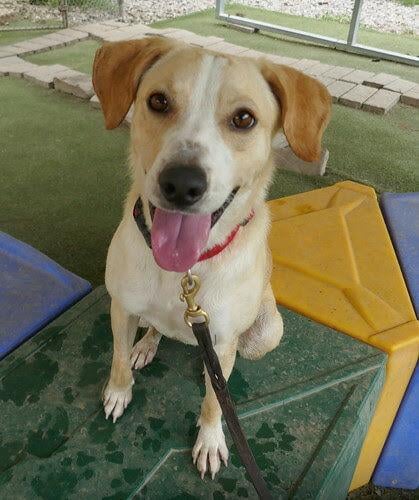 Alveena, around 1-year-old yellow Labrador retriever, thinks humans are her friends who want to play with her. She likes to play in the water, with toys, and needs pawlenty of exercise. She wants a fenced backyard to run and pawlay. Walks will not be enough for her. Good with other dogs, no cat history.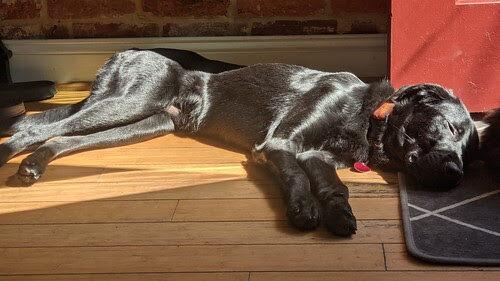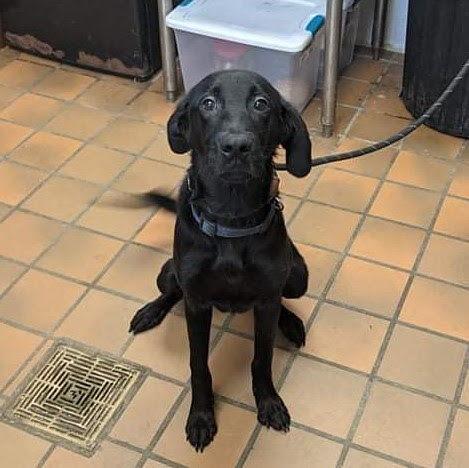 Snape, around 1-year-old black Labrador retriever, is a confident fella with pawlenty of energy. House-and crate-trained. He needs pawlenty of exercise, running and pawlaying in a fenced yard, running with his human, and so on. Good with dogs but pawssibly would frighten small or senior dogs. No cats. 
Lab Rescue of L.R.C.P., Inc. www.lab-rescue.org, (301) 299-6756, or email info@lab-rescue.org.
About us! 
WOOF! MEOW! Do you enjoy our articles? Barks and purrs, pawlease follow us at www.fromthedogspaw.com by email to enjoy our adventures. Noah, Samson, and Abby are Pawthors pawing about dog/cat care tips using facts and humor, and entertaining stories about their lives with humans. Our human, Allen Pearson, is a dog, nature, and railroad photographer and writer. Find us all at: www.fromthedogspaw.com, www.instagram.com/fromthedogspaw, www.facebook.com/fromthedogspaw.