Barks! Woof! As the weather turns cooler, heat exhaustion isn't as much of a concern, and we enjoy outside activities. One of these is railfanning. Woofs, since my human takes me with him frequently, other humans have asked about it and how they can do the same. Arf? Paws, September 20 to 26, is "Rail Safety Week" designed to bring attention to the impawtance of railroad safety, including with your dog while railfanning.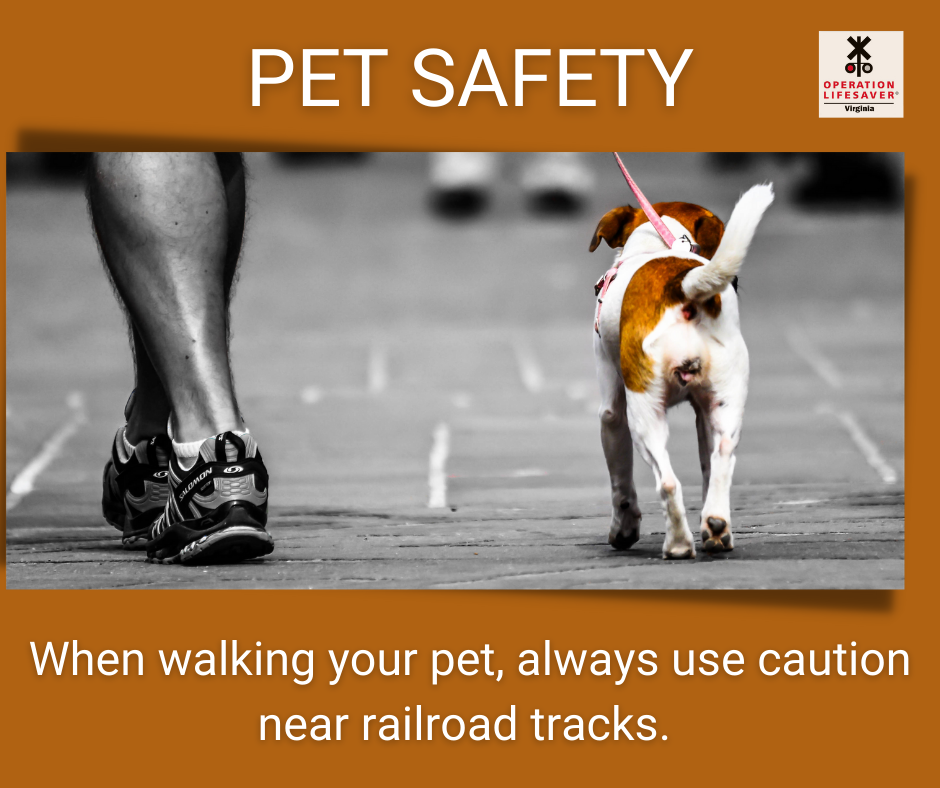 Arf, the best paw to start with is defining railfanning. It is humans enjoying various aspects of trains, from sitting trackside watching them or reading, studying, and learning the history of railroading or taking trips driven by steam locomotives with some re-creating period scenes. Woof, others like creating scale model layouts designed after a favorite railroad or location. My human enjoys sitting by the railroad tracks photographing and videoing trains going by, and reading about railroad history through various magazines and books. 
Barkingly, bringing a dog with you to watch trains can be a dangerous and fatal decision if you are not prepared. First and foremost, the railroad tracks are NOT a place for humans to walk or play with their dogs. Paws, the railroad tracks are, paws, for trains pulling freight and passengers. You should familiarize yourself with railroad safety by visiting Operation Lifesaver (www.oli.org). 
Woofs! Whenever I go with Dad to watch trains, he prepares me for this journey, including putting my Sleepypod All-Terrain Harness securely on me for the entire trip. He straps me into the backseat with the seatbelt or the restraint latch, so I cannot get out of the car. Barks, but not so secure that I cannot move around the backseat. He brings a few favorite chew toys, plenty of water, and a bowl.
Paws, our first railfanning trip was local, allowing you to return home should your dog "freak out" with their first experience with a train. Some dogs cannot handle the noise of a train going by. When we arrive at our favorite railfan location, Dad parks the car in a safe spot that allows him to view the tracks for his photography/video activities but not too close. Being too close to the tracks allows the noise to be closer, pawssibly frightening your dog even more than if you parked a bit away. 
The cooler months allow me to stay outside inside the car longer than the warm months. Pawingly, it does not mean that my human keeps the windows rolled up. Barks! He will roll the windows down enough to allow me to sniff, paws, if I were frightened by a train, I cannot escape through the windows pawssibly into the path of the train. 
A train coming is barkingly exciting. Dad likes to get out by the tracks and watch every second of the train roaring by. Paws, when the train comes down the tracks, he gets out of the car, making sure to exit before the train arrives securely shutting the door. Barks! An open door is an invitation for your dog to escape, especially when frightened. 
Woof! I remember the first time Dad took me railfanning. When the first train was to go by, Dad stood outside my car window and watched the train with me. He wasn't sure how I would react, but if I were to begin panicking, he would take appropriate action being cautious about opening any car doors until the train passes.
Remember, railfanning is a fun hobby, but trains cannot stop on a dime for your dog or you being too close or on the railroad tracks. It is illegal to walk, including with your dog, or trespass on the railroad tracks or any railroad property. Barkingly, trains are quieter these days, causing humans to be surprised with an oncoming train a few times. Trains can come from either direction on tracks at any time and quite fast! Barkingly, cross the railroad tracks only at designated pedestrian or roadway crossings. Barks! Stay pawsitively alert around railroad tracks, no texting, phone calls, or headphones, put the cell phone away, and no playing with your dog- it's not a time to be distracted. Paws, you can be arrested for not following the railroad laws.
About us! 
WOOF! MEOW! Do you enjoy our articles? Barks and purrs, pawlease follow us at www.fromthedogspaw.com by email to enjoy our adventures. Noah, Samson, and Abby are pawthors pawing about dog/cat care tips using facts and humor, and entertaining stories about their lives with humans. Our human, Allen Pearson, is a dog, nature, and railroad photographer and writer. Find us all at: www.facebook.com/fromthedogspaw.