Singers Loretta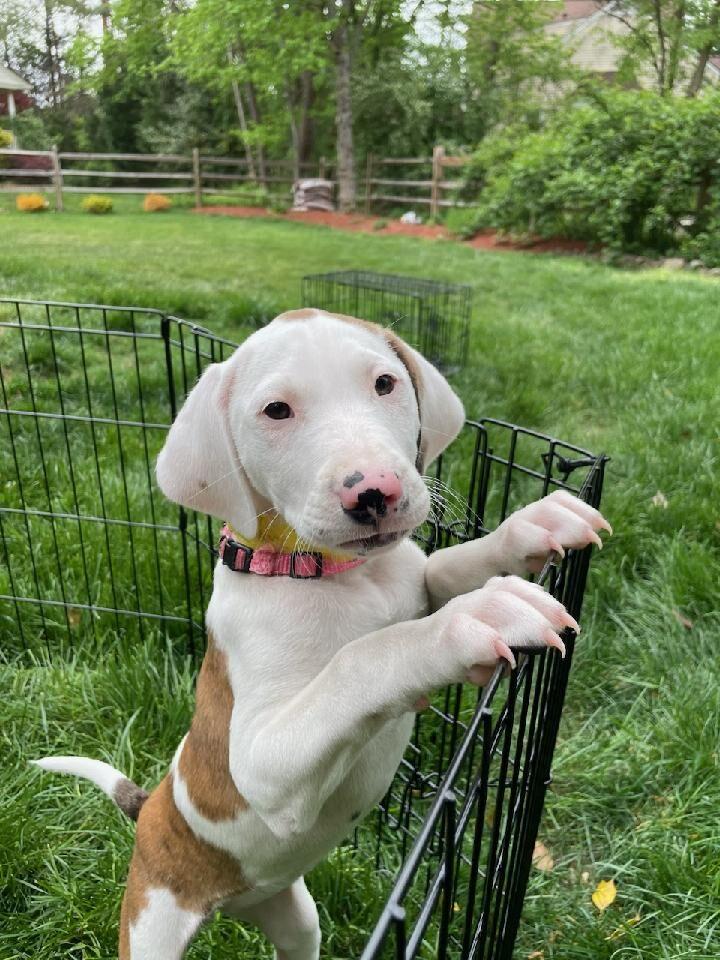 Female (Intact) — 13 Weeks
Labrador Retriever Mix
Loretta came to us with her sister Patsy from Louisiana where they were picked up as strays. After a warm bath, Loretta's brindle and cream coat is stunning. She is a playful, inquisitive explorer and is drawn in any direction her spotted nose takes her! She is doing very well crate and collar/leash training and taking her private affairs outside. This beauty will be singin' with joy once she finds her forever home…so c'mon y'all, please send in those applications and make her dream come true!
Rowdy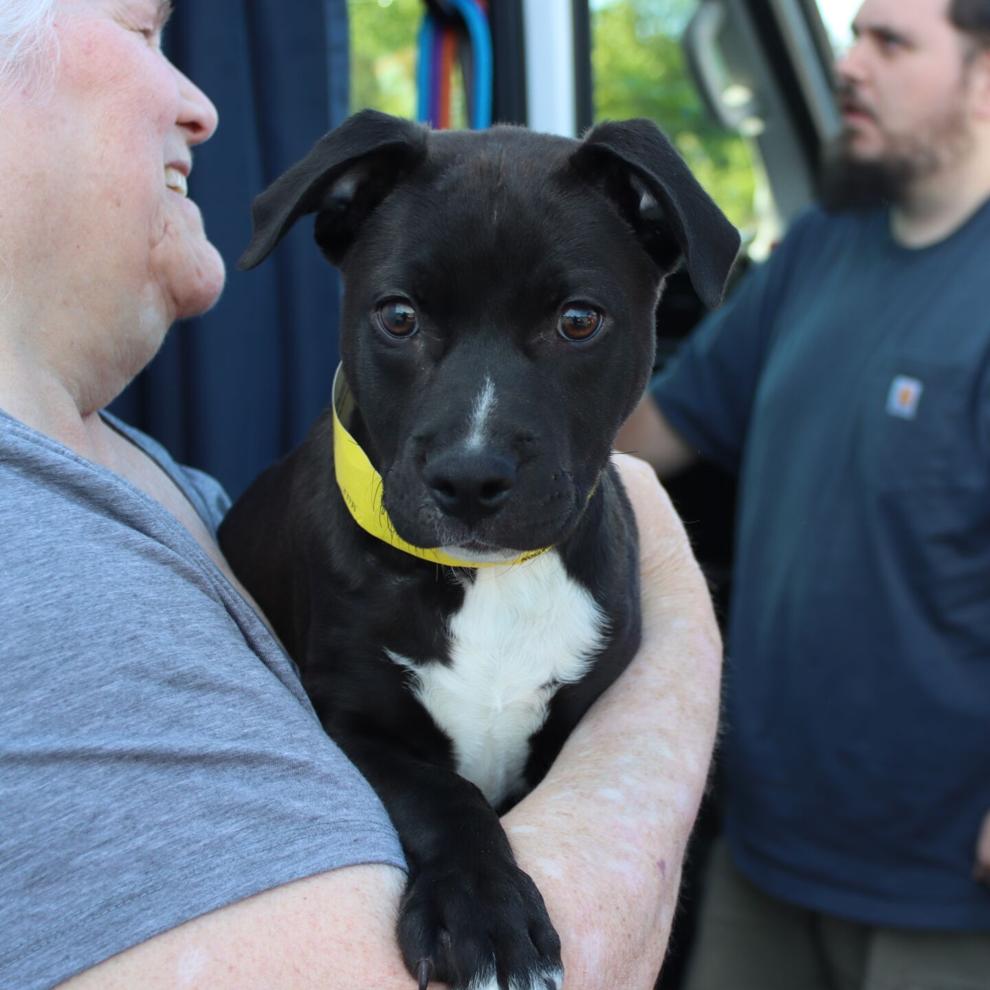 Male (Intact) — 10 weeks
Labrador Retriever / Pit Bull Terrier Mix
Rowdy is a cute little Lab/Pitbull mix.  He was found running down a road in rural Louisiana. Unlike his name implies, he is not all that rowdy. He is very loving and enjoys romping with the other pups. But once he is done, he will crawl right into your lap. He is a smart boy and just a handsome, adorable boy.
Rosie
Female (Altered) — 3 Years
Norwegian Elkhound Mix
Rosie came to us from Mississippi. She started off very shy, but is now warming up quickly to her foster family and their dogs. We are told her is an Elkhound mix but looks like a miniature shepherd with the cutest curly tail. At her first adoption event she discovered all the new dogs and people were not so scary and began to wag her tail. She runs like a Gazelle, chasing her foster siblings around the yard. She just loves her foster mom and loves to be near her, following her everywhere. This adorable girl will make a loving companion for someone is who is patient and loving.
Riser Road Curley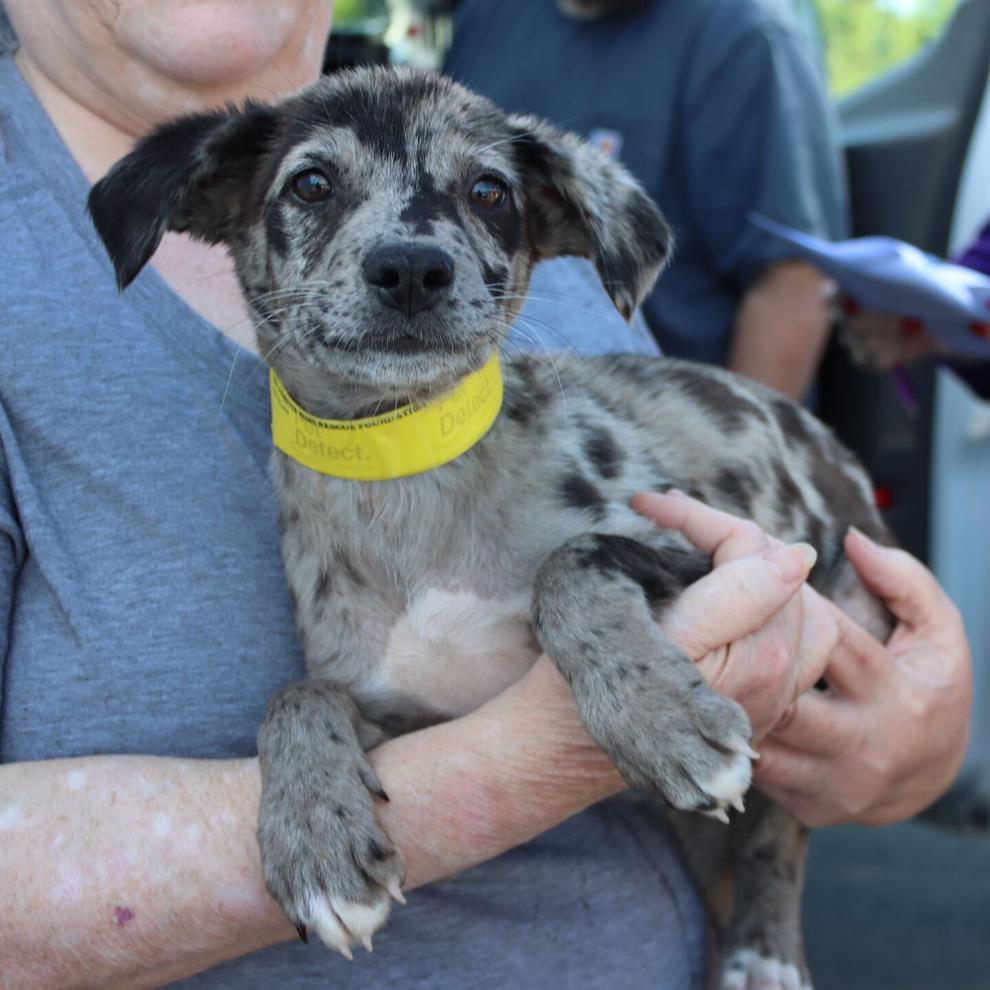 Male (Intact) — 9 Weeks
Catahoula Leopard Dog Mix
Curley and his siblings were dumped on Riser Road in rural Mississippi.  He is a spunky, playful boy. A great game of wrestling is his favorite past time, followed by running in the backyard. His so handsome is his spots and loves playing with his humans, as well as his siblings. He will go quickly so get those applications in!
Richards Peppa
Male (Intact) — 4 Months
Feist Mix
Peppa is a spunky little boy. He loves to get your attention and is the most outgoing of the pups. He loves to play and is great with kids. He likes to pounce on his brother and is a happy boy. Full-grown, he will be a medium-sized dog, as expected with the Fiest breed. He is smart and would do well in a multi-dog home or as a singleton. Come meet him and fall in love.
Michelle's 7 Bruno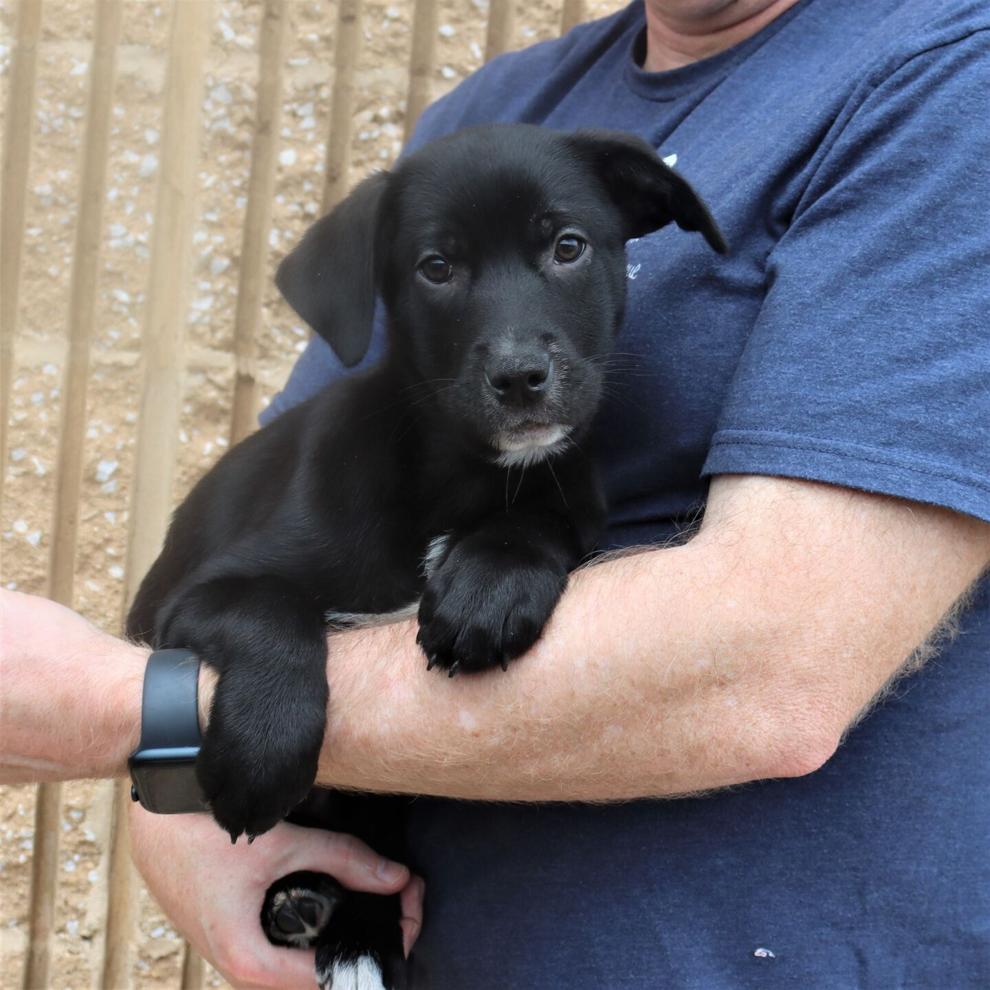 Male (Intact) — 13 Weeks
Labrador Retriever Mix
Bruno is just the sweetest little boy. He is just so sweet and cuddly. He just adores kids and likes to snuggle right up to you when you pick him up. Bruno loves to romp and play with his siblings and will do well as a second, third, or only dog. If you want a smart, loving dog, Bruno will be the perfect fit!
Lynette's 7 Lawson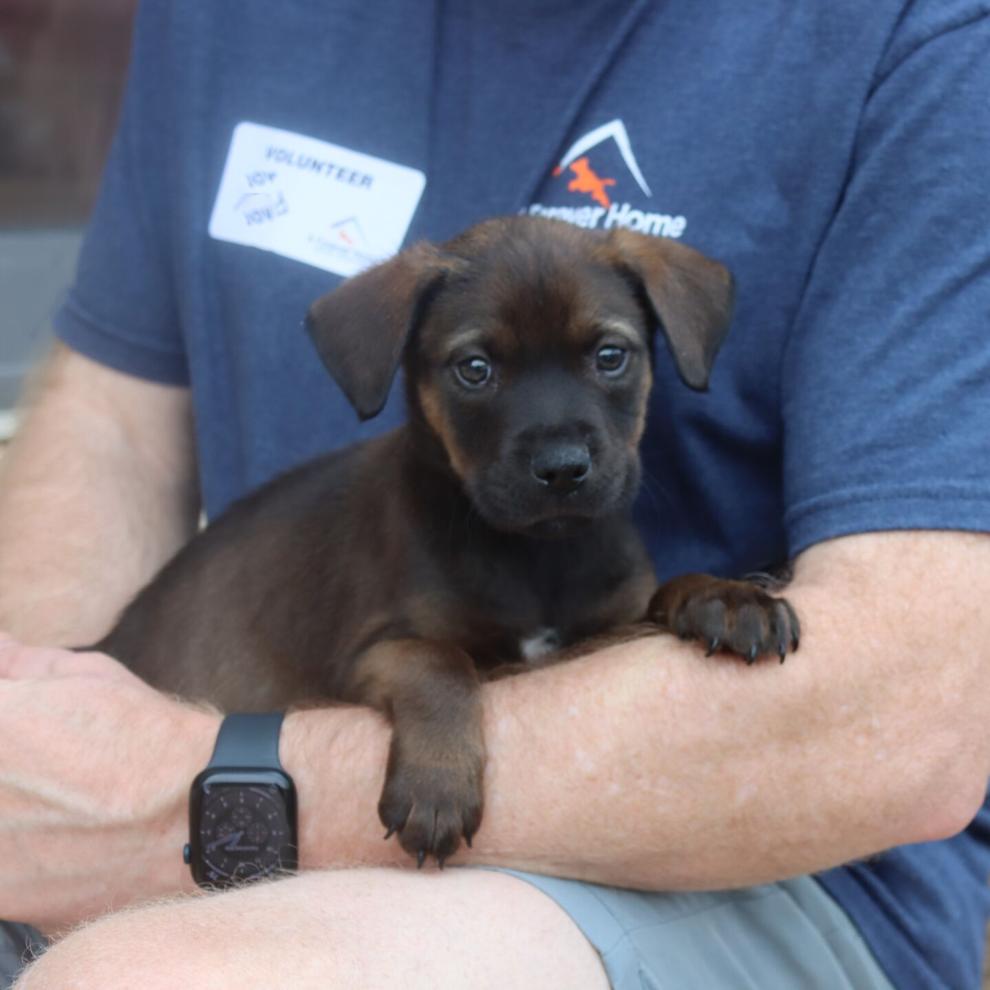 Male (Intact) — 8 Weeks
Hound Mix
Lynette's 7 are adorable Hound mixes.  They were being given away at a Walmart in rural Louisiana.  Luckily, one of our rescue partners was able to intervene before they ended up in the wrong hands.  Lynette's Lawson is sweet and loves people. He is very playful and likes to romp with his siblings. He enjoys exploring new things. As you can see, he had the handsomest coloring and face. Come meet him in person and fall in love.
Bella's Bo-Katan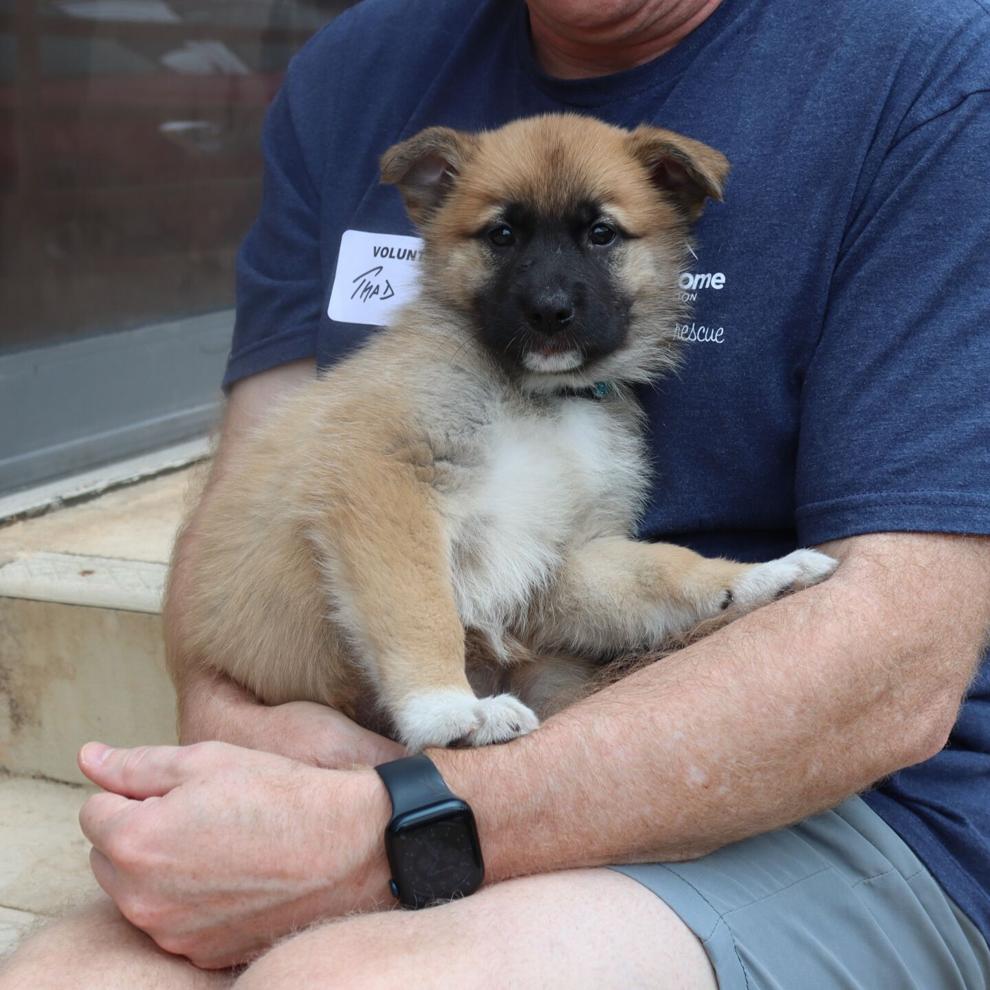 Female (Intact) — Date of Birth: 03/24/2023 (7 weeks old (Baby))
Great Pyrenees / Shepherd Mix
Bella's Bo-Katan is such a beautiful girl! You can see she is very fluffy and had beautiful shepherd coloring. She is adorable and loving. She loves to play and also enjoys snuggling. She enjoys other dogs and does very well with kids. She can't wait to find her forever home.