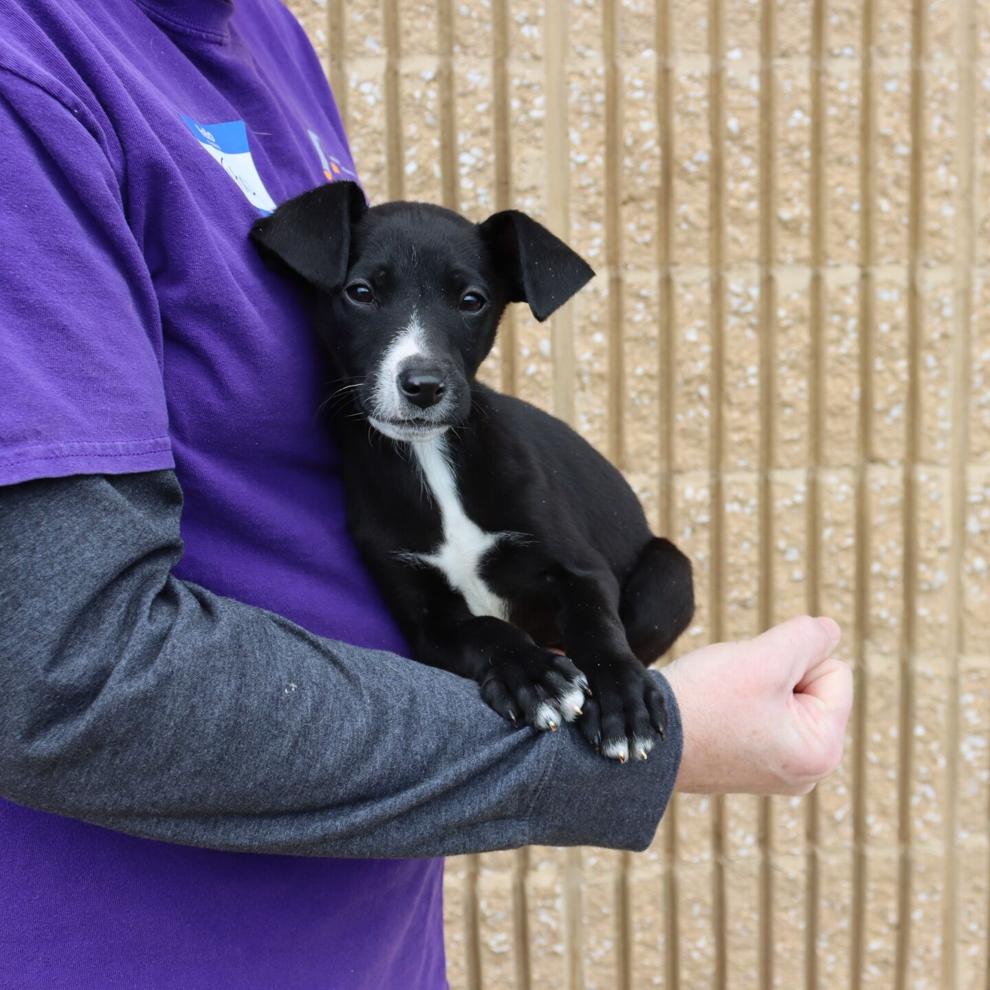 Richards Peppa
Breed: Feist
Age: 12 weeks
Gender: Male
Peppa is a spunky little boy. He loves to get your attention and is the most outgoing of the pups. He loves to play and is great with kids. He likes to pounce on his brother and is a happy boy. Full-grown, he will be a medium-sized dog as expected with the Fiest breed. He is smart and would do well in a multi-dog home or as a singleton. Come meet him and fall in love.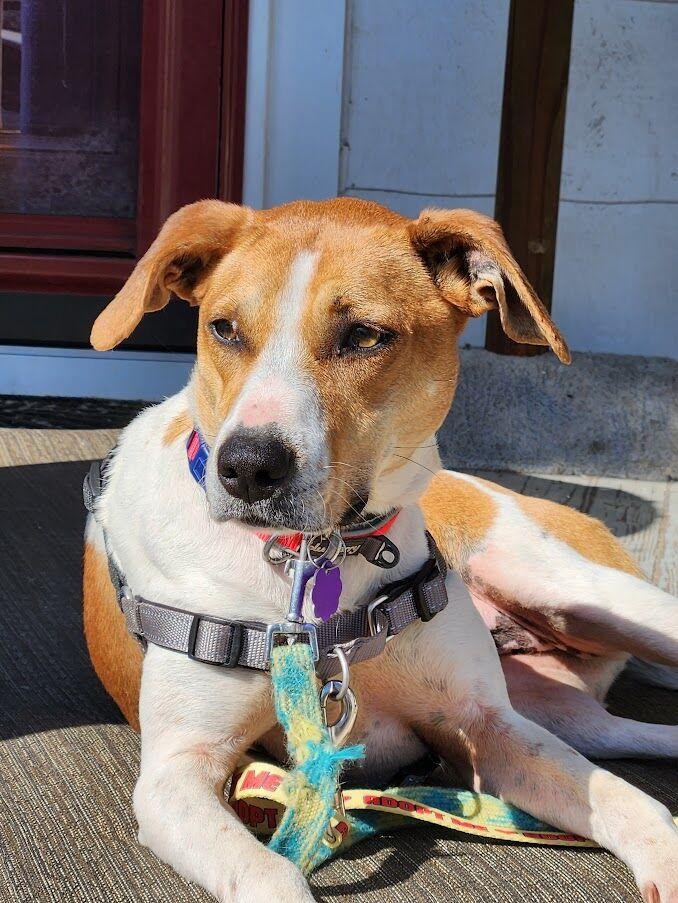 Queenie
Breed: Labrador Retriever / Hound (Unknown Type) Mix
Age: 2 years
Gender: Female (Spayed)
Queenie, no doubt, was a Queen in her former life. She is very relaxed, except when she spots a squirrel, or a cat moving right in front of her. That's when her hound dog gets the best of her. Don't worry; when she is on a leash, you can distract her from whatever has caught her attention. Queenie is housebroken and crate trained. She now wags her tail and plays with the many squeaky toys she has found in the toy basket. When she's done playing, she will lie down and fall asleep nearby wherever you settle. She has done well with the resident Chihuahua/Doxie. We know Queenie will make herself right at home once she finds her forever family.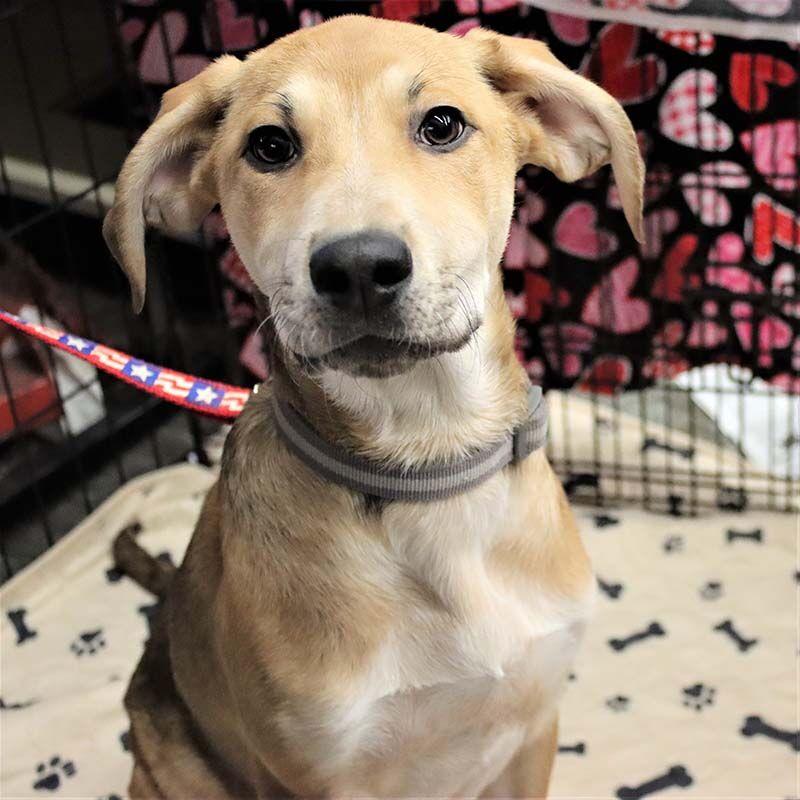 Happy Flounder
Breed: Hound / Labrador Retriever Mix
Age: 6 months
Gender: Male (Neutered)
Flounder is a sweet boy who gets along with other dogs. He is an energetic boy but wants to please. He is potty trained, crate trained and we are working on basic commands. He knows sit and is working on down and paw. All he wants is love!! He LOVES belly rubs. If you are active and want a partner on your hike, Flounder is your guy!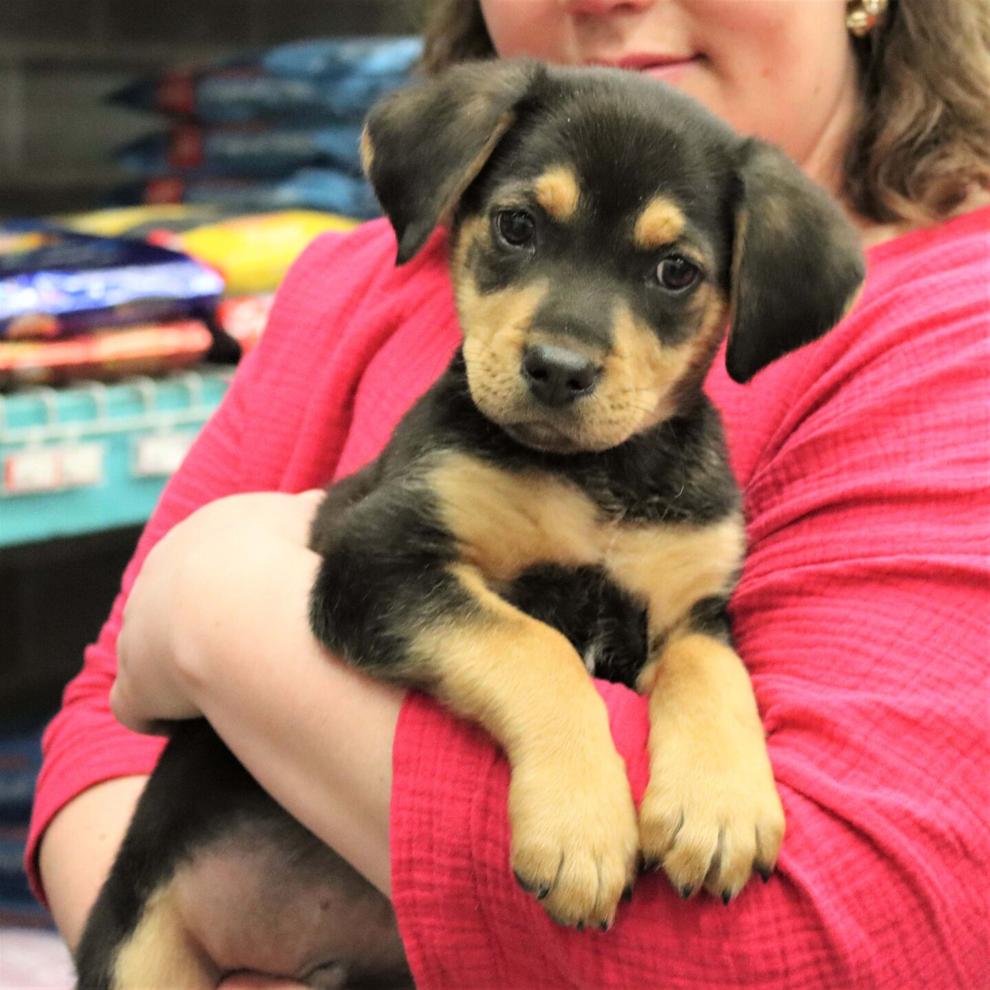 Jax
Breed: Shepherd Mix
Age: 10 weeks
Gender: Male
Jax is a Shepherd mix who is about 8 lbs of cuteness. It doesn't stop there, he is also curious and smart, he loves being around people and other dogs, and playing with toys and special treats. As he continues to grow he will be a great, loyal, loving family member. He is young so he will need someone who will continue his puppy training. Jax came in as a stray.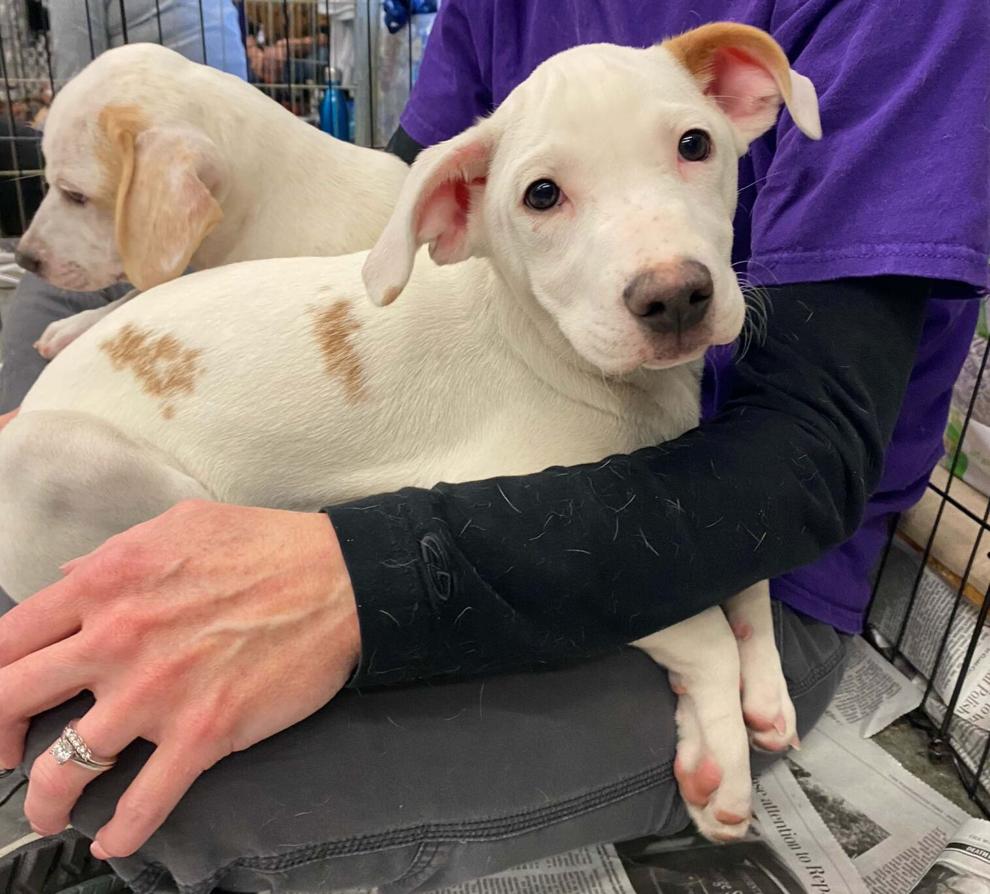 Holly's Hemi
Breed: Beagle / Feist Mix
Age: 4 months
Gender: Male
You can not ask for a sweeter boy. Hemi was born on Thanksgiving Day. He is such a laid-back and mellow puppy. He is so intelligent and is doing very well in learning to sit. He walks well on a leash and will soon have all his shots so he can go anywhere after that. His house manners are improving and we think he will grow into being the perfect pup. This happy boy is great with other dogs and does well with kids and enjoys their attention. He the perfect pup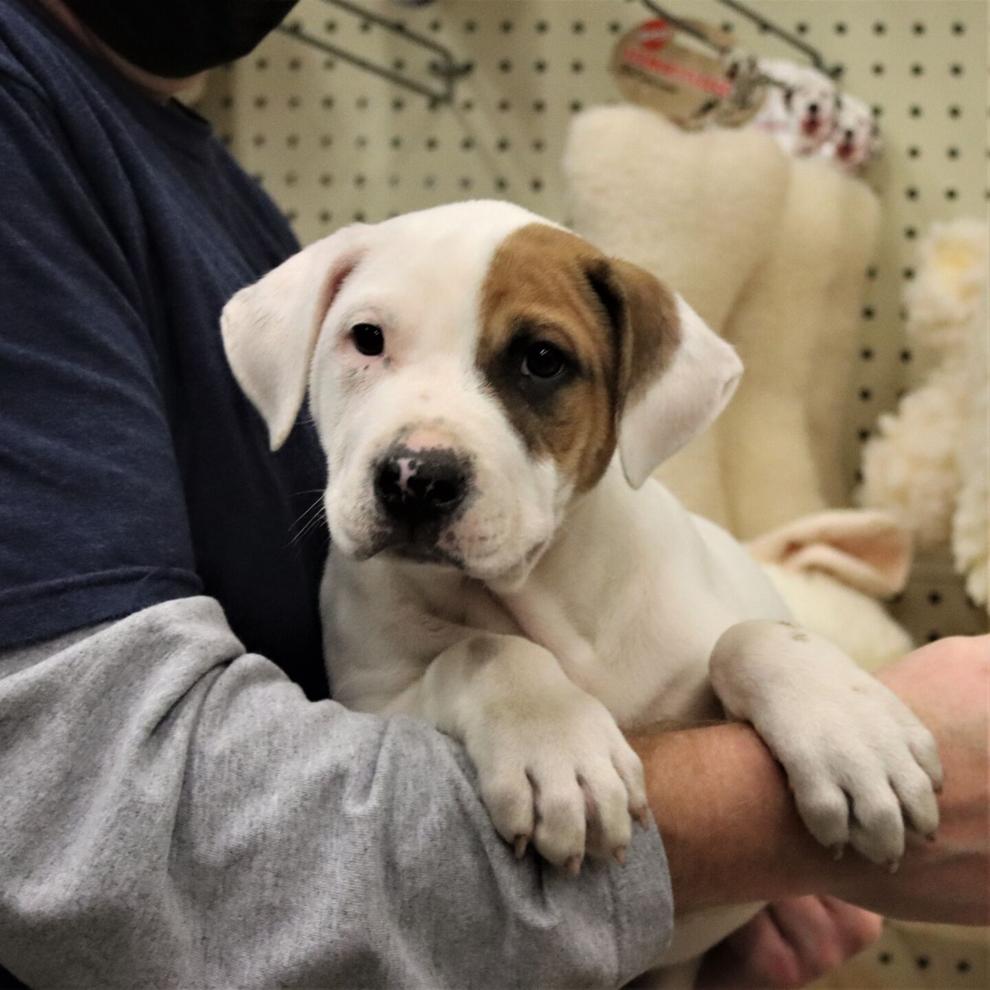 Gwen's Puff
Breed: English Pointer Mix
Age: 13 weeks
Gender: Male
Puff it such a sweet little boy. He loves attention from his humans. When his foster mom leaves the room he follows her around. He already knows to come when he is called, coming eagerly. Outside Puff loves to run and romp. He enjoys his chew toys and playing with all the other dogs. Housetraining is going great and leash training is coming along too. He can't wait to find his forever home.
Butterscotch
Breed: Labrador Retriever Mix
Age: 14 weeks
Gender: Female
Meet Butterscotch, a spunky and playful puppy looking for her forever home! She's a head-turner with a beautiful blonde coat. With her bright, curious eyes and wiggly tail, Butterscotch is always ready for an adventure. Despite her small size, Butterscotch is fearless and curious. Butterscotch is a confident puppy who loves to explore her surroundings and meet new people and dogs. She has a lot of personality and is sure to keep you entertained with her silly antics and playful behavior. Whether she's chasing after a ball, playing with her foster brother, or snuggling up for a nap, she always has a smile on her face. She's eager to please her human friends and is always looking for opportunities to show off her skills. She is crate-trained, sleeps through the night, and knows "Sit". Butterscotch is playful and active and would make a great companion for someone who enjoys hiking, running, or just spending time outdoors. If you're looking for a spunky, fun-loving pup who will bring lots of joy and laughter into your life, Butterscotch is the perfect match for you!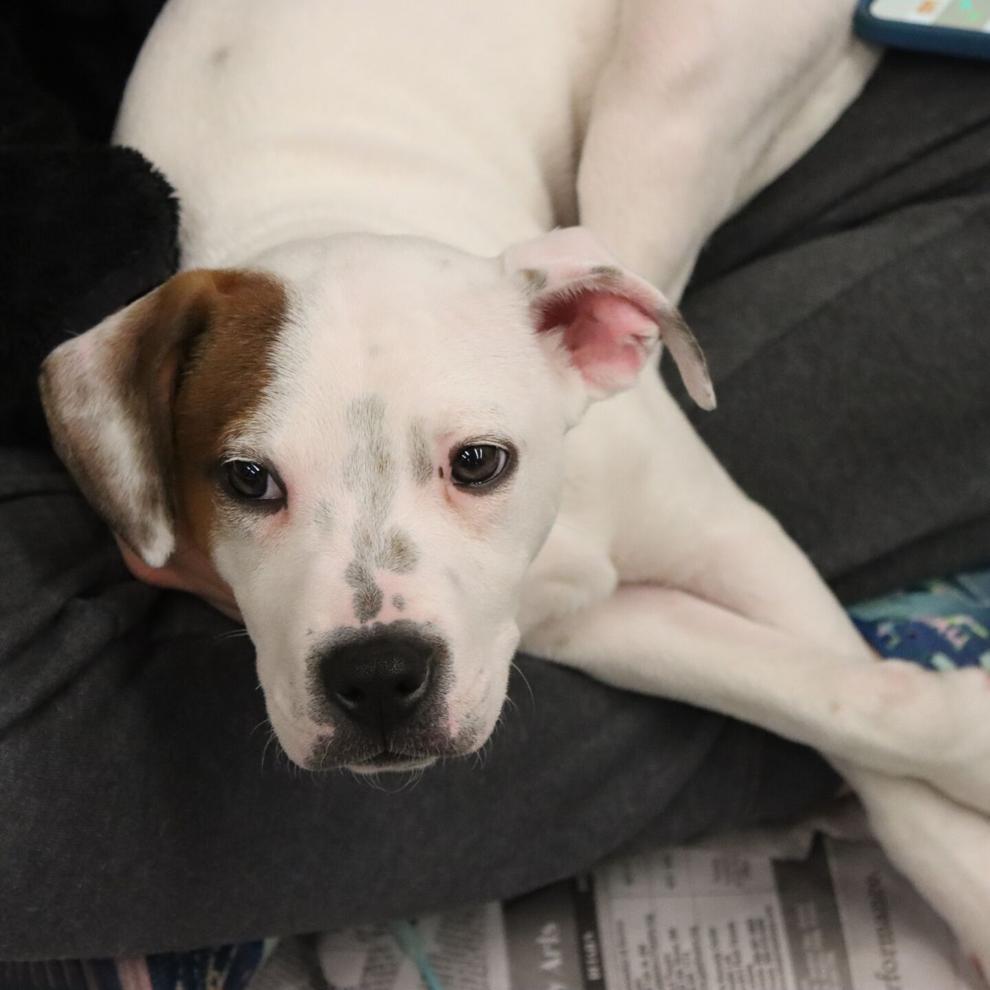 7th Street Oatmeal
Breed: Patterdale Terrier (Fell Terrier) Mix
Age: 14 weeks
Gender: Male
Have you ever seen such a handsome boy? He is the perfect little playmate and cuddle bug. He loves people of all ages and is a spunky little boy. He likes toys and running around with his playmates. He is almost half-grown and will be a smallish medium-sized dog. He can't wait to find his forever home.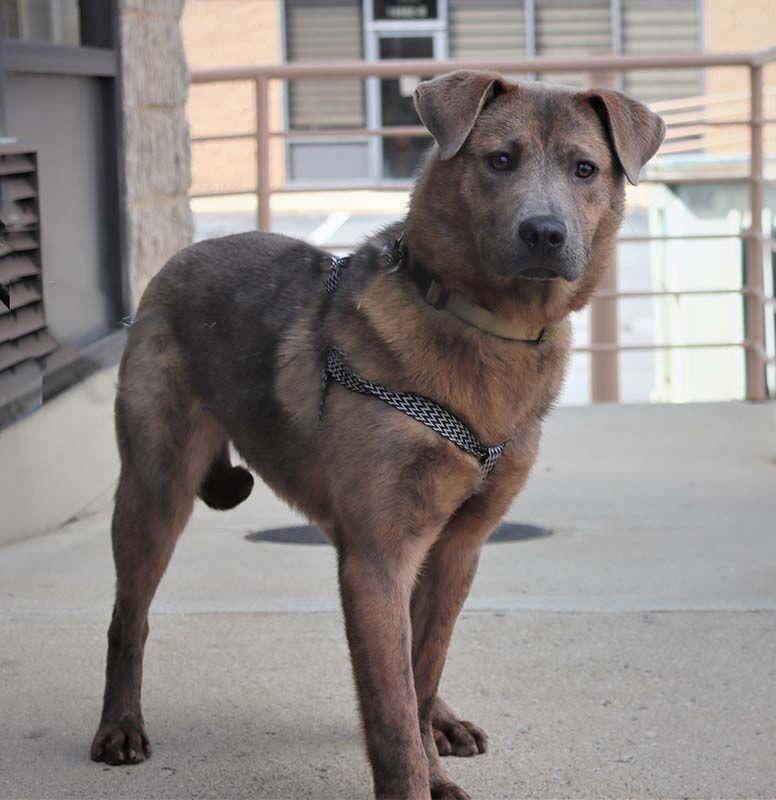 Cisco
Breed: Hound / Terrier Mix
Age: 2 years
Gender: Female (Spayed)
Cisco is a very sweet dog who is looking for someone to give her a home. She's pretty timid at first; but, once she warms up to you she is nothing but love. She loves chasing tennis balls and prancing around the house, smiling, and playing catch. She's working on walking with a leash and basic commands, but is a quick learner! She's a very quiet dog and very rarely barks. She can't wait for her forever home!