More than 300 people attended STEAM-Fest at the Workforce Innovation Skills Hub Oct. 15. Participants engaged in over 40 STEAM activities, including drone racing, virtual reality, and riding on a hovercraft. The STEAM Fest aims to expose children to emerging technologies to build their interest towards high-paying tech or science related careers. This event is just one way Franconia District Supervisor's office, along with Melwood and Building Momentum, is providing access to technologies typically out of reach for communities located in the Richmond Highway corridor, Springfield, and other communities in southeast Fairfax.
New library and community center open in Lorton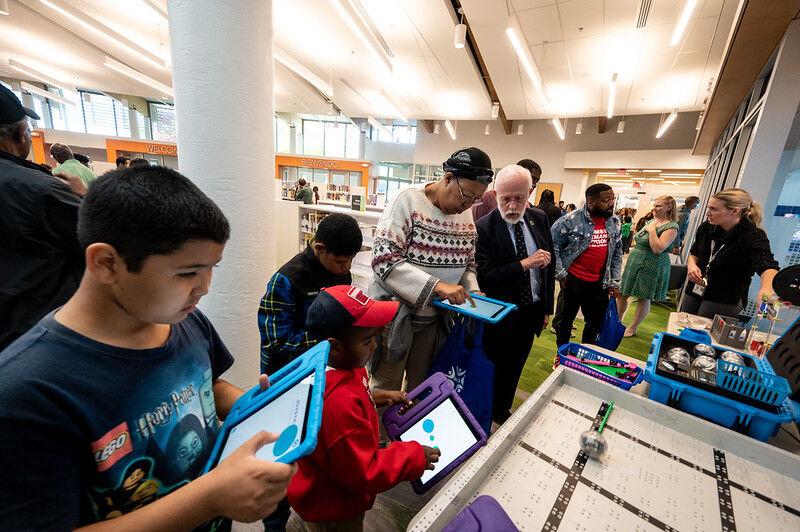 Hundreds of residents joined county officials and local leaders on Oct. 15 to celebrate the opening of a facility designed to bring all members of the Lorton community together. Mount Vernon District Supervisor Dan Storck welcomed the crowd to the ribbon cutting ceremony for the Lorton Community Center and Library and hopes the location will serve as a vital gathering place for residents of all ages and backgrounds.
"This facility combines services, resources, entertainment, education. It's all in one place," Storck said. "This is the Lorton hub...truly the center of Lorton as we move forward."
Construction began in July 2020 on the $27.3 million project that co-locates a library with a community center for the first time in Fairfax County. The project included renovation of the existing library into a 16,000-square-foot facility with a larger children's area, increased seating and additional meeting and study rooms along with a new 30,000-square-foot community center featuring a gym, fitness room, kitchen and art and sensory rooms.
The facility also includes the Lorton Senior Center and the Lorton Community Action Center (LCAC). The rejuvenated campus includes a new playground, fitness area, open field area, plaza and trail loop in the adjacent 1.7-acre park. 
The Lorton Community Center and Library is located at 9520 Richmond Highway in Lorton. The Community Center is open from 9 a.m. to 9 p.m., Monday through Saturday, and the Library is open from 1 to 9 p.m. on Mondays and 10 a.m. to 6 p.m., Tuesday through Saturday.
This grand opening marked yet another project in the larger county plan to continue growing and revitalizing the Mount Vernon area. The Fire and Rescue Department recently moved into a new Lorton Volunteer Fire Station over the summer, and a new South County Police Station and Animal Shelter site is in progress and set to open in spring 2023.
"There's more on the horizon for Lorton," Storck said. "This is really just the beginning of a lot of wonderful things."
Five County employees awarded Onthank Award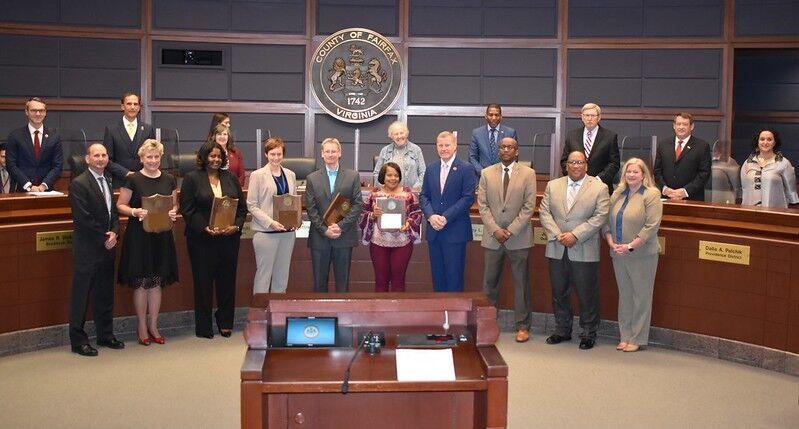 Five county employees were recognized with the A. Heath Onthank Award for Merit, the highest honor awarded by the county to its employees, at the Fairfax County Board of Supervisors meeting on Oct. 11.
Sharon Arndt
Arndt led the development and implementation of a COVID-19 vaccine equity strategy to reach populations at high risk for contracting the virus and for experiencing worse health outcomes due to historical and systemic marginalization. Her hard work led to 717 equity clinics, accounting for 3.6 percent of COVID-19 vaccine doses, as well as contact with more than 18,000 county residents. Under Arndt's leadership, there were hundreds of vaccine equity clinic events, enhancing the health and well-being of thousands of county residents.
Keisha Dotson
As the NCS Division director who oversees the Coordinated Services Planning Call Center, Dotson led the adaptation and creation of the county and community's basic needs response, helping to disburse more than $90 million dollars to county residents for rent, utility, and food assistance. She created new policies and procedures, as well as additional services that improved public assistance by working collaboratively with the court system, community providers, houses of worship, and county stakeholders to respond to the unprecedented needs facing Fairfax County residents.
Amy Ginger
Ginger led the Fairfax County Redevelopment and Housing Authority's federal policy interactions, persuading HUD to do business differently, facilitating approval of the trailblazing, first-of-its-kind One University redevelopment which will provide 240 new affordable housing units for extremely low and low-income families and seniors. One University was outside of Ginger's usual duties as it involved a unique, once-in-a-career situation which was concluded successfully thanks to her tremendous skill, knowledge and thoughtful commitment to public service.
Dwayne Pelfrey
As Transportation Division chief, Pelfrey managed the county's public bus transit system, the Fairfax Connector, leading a team of 30 county and more than 800 contract staff across all key transit service functional areas – planning, operations, fleet maintenance, facilities, safety, and customer service – throughout the COVID-19 pandemic. With a focus on equity and disadvantaged communities, Pelfrey ensured safe transit for critical infrastructure workers and residents and commuters reliant on public transportation in a role that required him to be available for endless hours for more than a year. His tireless work undoubtedly improved lives.
Lisa Thompson
As a facility coordinator, Thompson took on the project of the Next Steps Family Shelter, repairing and decorating 19 units to provide safe, decent, and welcoming units for families in crisis. She spent every workday, and often weekends as well, at the project site communicating with contractors and coordinating with others in the cleaning and enhancement of units so they could be used as emergency sheltering. Her endless efforts, along with her compassion and empathy for her community, allowed this project to flourish in its mission of providing decent living spaces for those in need.
Boy Scouts of America honor local leader, Rotary Club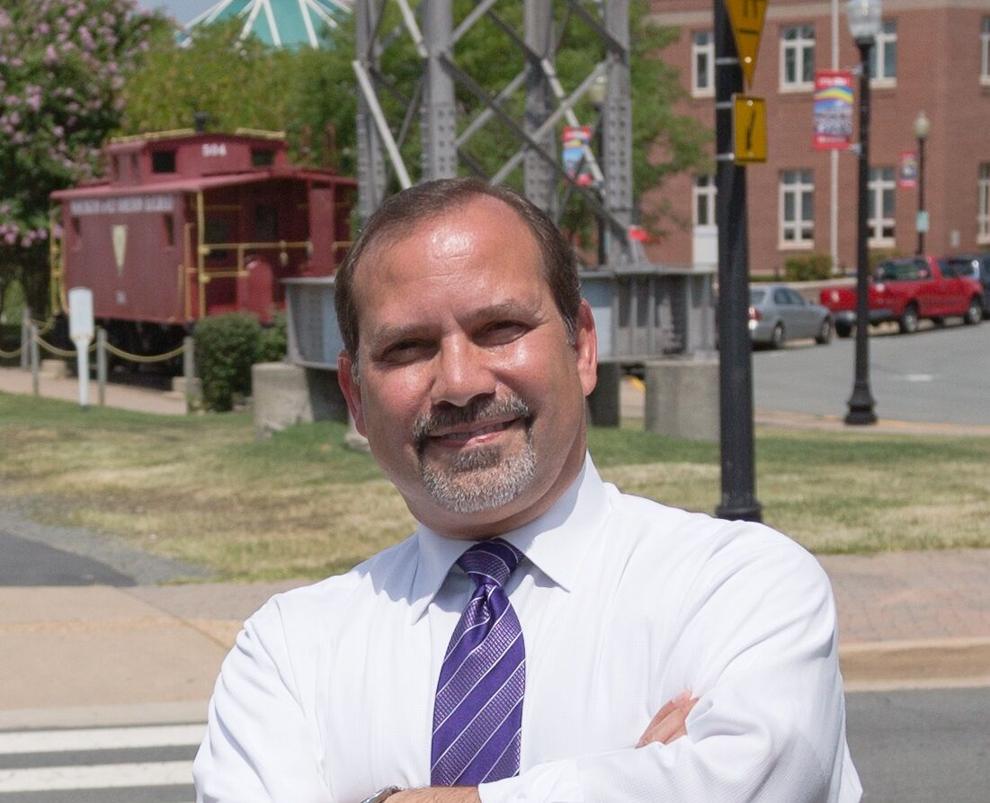 Local leader Raul "Danny" Vargas and the Rotary Club of Herndon-Reston were honored for their contribution to the local community by the Powhatan District of the National Capital Area Council, Boy Scouts of America, at an event Oct. 19.
Vargas, of Herndon,  has been named the 2022 Northwest Fairfax Distinguished Citizen for his long record of contributions to the broad community. 
"We are pleased to honor Danny and celebrate the values he shares with Scouting – citizenship, servant leadership and action," said Roland Taylor, Powhatan District BSA chair.
Vargas currently chairs the Virginia Advisory Committee to the U.S. Commission on Civil Rights. He has previously chaired the Dulles Regional Chamber of Commerce, the Virginia Board of Workforce Development, and Leadership Fairfax.
This year, for the first time, the Powhatan District is also presenting a Northwest Fairfax Distinguished Organization Award to the Rotary Club of Herndon-Reston for their ongoing commitment to fostering the ideal of service to the local community. The Club works to improve communities through efforts such as food drives, environmental clean-ups, literacy programs and youth leadership training.
"Rotarians are role models for scouts – they are people of action, community builders and problem solvers. We are pleased to honor the Rotary Club of Herndon-Reston as our first-ever Distinguished Organization," said Taylor.
Recent projects undertaken by the club include monthly food collections, and a Kids Helping Kids Fun Bike-A-Thon with proceeds benefiting the Kids R First school supply drive which supports 800 local children. The club continues to be an affiliate of the Dolly Parton Imagination Library, providing free books monthly to 1,500 children up to age 5. To date, the Club has distributed more than 160,000 books.
Since 2018, the Powhatan District of the National Capital Area Council has recognized a local resident with the Distinguished Citizen Award, saluting a local volunteer who shares Scouting's values and serves as a role model for youth in the community.
Town of Herndon appoints new finance manager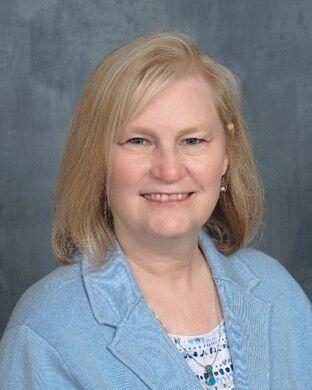 The Town of Herndon has named Marjorie E. Sloan as director of Finance. Sloan replaces Robert Tang, who resigned from the town in September.
In her new post, Sloan will be responsible for direction of the town's financial affairs.
 Sloan will report directly to Town Manager Bill Ashton and will serve as a member of the town's management team.  
"Marjorie brings a corporate sensibility as well expertise in a wide range of financial disciplines to her new role," said Ashton. "The Town Council, management team and I will all benefit from her fiscal guidance. I look forward to welcoming Marjorie to our leadership team."
Sloan comes to the town from the private sector, most recently serving as business unit controller for CGI Federal, Inc, a position in which she provided fiscal analysis and guidance to the company's leadership. Previously, she held positions of increasing responsibility over more than 25 years at Marriott International, Inc., culminating in her role as the company's senior director of Finance, Global Information Resources Division. Sloan is a Certified Public Accountant and holds a Bachelor of Business Administration degree from James Madison University and an MBA from Virginia Tech.
Sloan begins her employment with the Town of Herndon on October 24.
CC Pace announces new president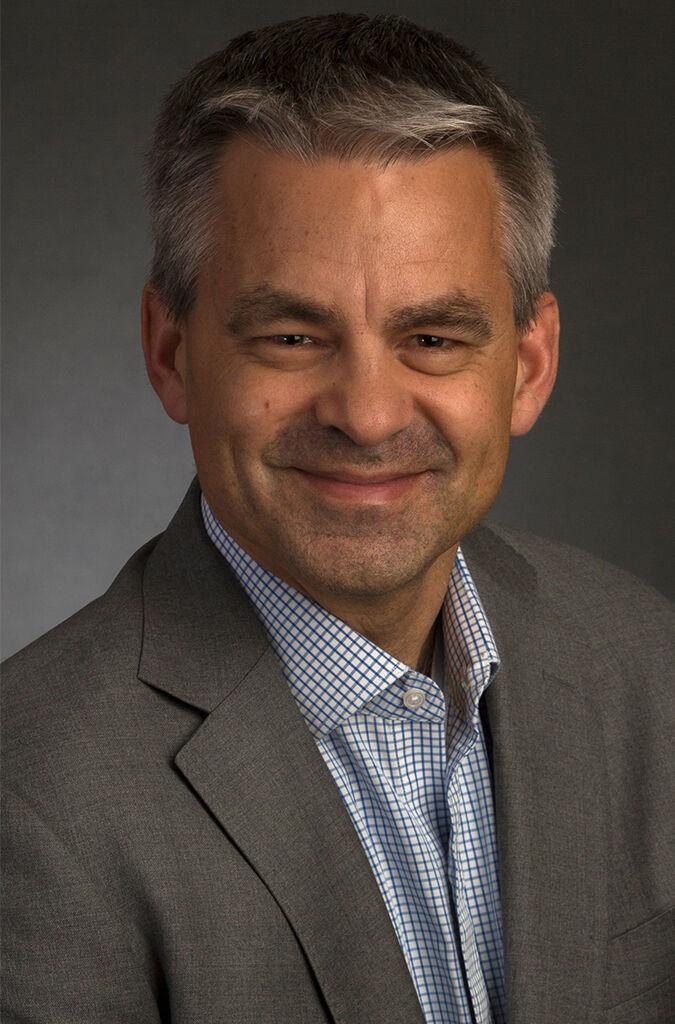 CC Pace announced that it has selected Tim VanTassel as its new president, effective immediately. 
VanTassel will assume the role previously held by Michael "Mike" Gordon. Gordon will retain his position as CC Pace's chief executive officer and remain active with strategic initiatives and client relationships. 
VanTassel has an impressive background in the financial services industry and has built a trusted reputation as a hands-on leader who cultivates dynamic teams, according to CC Pace officials. He is no stranger to CC Pace as he spent several years in the early to mid-2000s serving as a managing consultant for the firm's financial services practice where he was focused on mortgage lending. 
Prior to his return to CC Pace, VanTassel held a long series of ever-expanding roles at FICO spanning sales, advisory, analytics, implementation, and product management, where he last served as the global head of Product Management.  
"I am confident Tim is the right leader for this next chapter in CC Pace's history," said Mike Gordon, CEO of CC Pace. "He is an enthusiastic and inspiring leader with an extraordinary track record for identifying and creating value for clients. I look forward to working closely with Tim and have no doubt he will bring an immeasurable positive impact to CC Pace and its clients.
Venable LLP announces new counsel
Venable LLP announced that Noah B. Klein has joined the firm as a counsel in the Land Use and Zoning practice in the Tysons office. He advises private and public sector clients on land use, real estate, and environmental law matters.
"Noah's experience with zoning projects in Prince William, Fairfax, and Loudoun counties will continue to expand the geographic footprint of Venable's land use group," said Kedrick Whitmore, chair of Venable's Land Use and Zoning Practice and partner-in-charge of the Tysons office. "Through his experience in local government and private practice, Noah has built an impressive reputation for creating and implementing legal strategies for a variety of clients. His skill set will both expand the scope and reach of our team throughout Northern Virginia and provide added capacity to our practice."
"This team has established itself as a leading authority on land use and zoning matters in Northern Virginia," said Klein. "I look forward to integrating my practice and utilizing Venable's platform and resources to the benefit of my clients."
Klein received his J.D. from the Washington University in St. Louis School of Law and his B.A. from the College of William & Mary.
Two area students take part in mock trial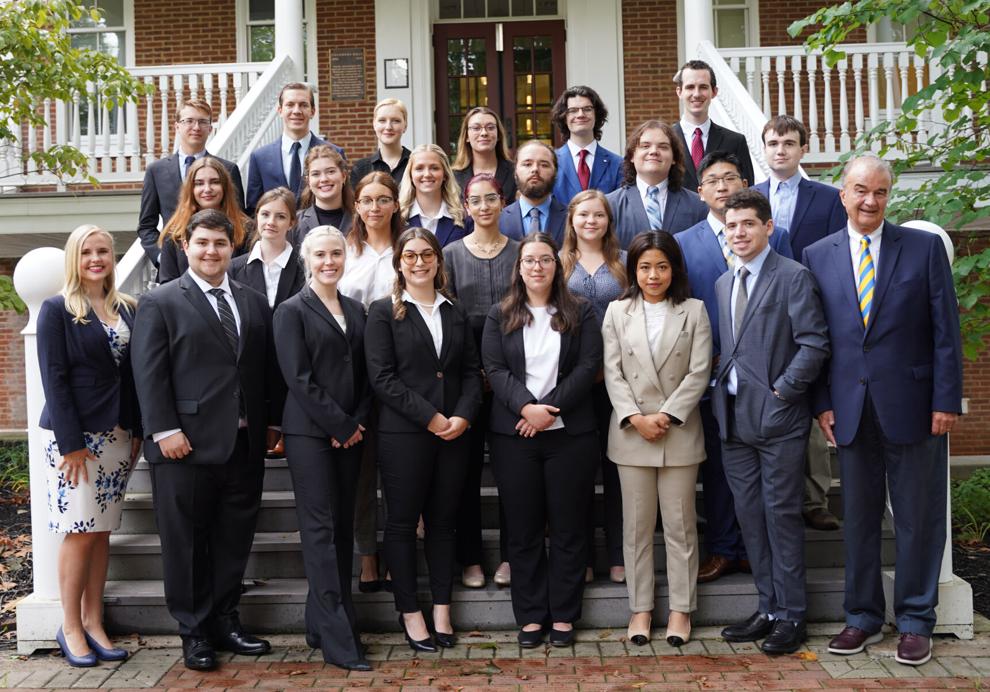 Two students from Fairfax County are members of Juniata College's nationally-ranked Mock Trial Team. The team argued the official first case of their fifth season earlier this month at the prestigious Happy Valley Invitational. 
Juli DesRosiers '26 of Fairfax, is a member of Juniata's A Team. Carter Daniels '25 of Annandale, is on the B Team.
The "Legal Eagles," ranked 43rd in the United States by the American Mock Trial Association (AMTA), took on top-ranked teams, including Yale University, Georgetown University, Michigan State, Penn State, the University of Maryland, Tufts, NYU and American University.
Last year, Juniata finished in the top three in this competition.
"The Happy Valley Invitational is a challenging tournament to open the Season, with all of its Teams being ranked nationally," said coach Dave Andrews '74. "Our team looks forward to playing the best competition in the country."
Juniata opened the season with a scrimmage against Bucknell University at the historic Blair County Courthouse in Hollidaysburg, Pa.
Governed by the AMTA, Mock Trial is an academic competition in which students assume the roles of attorneys and witnesses in a trial. Teams compete against other colleges and universities. In competition, each team tries the case four times, twice as prosecution and twice as defense. All teams are given the same information, and witnesses must stick to the affidavit provided, but the ways different teams interpret the information highlight and challenge each member's ability to adapt, problem-solve, and think on their feet. 
This season's case concerns an Independence Day plane crash in which a pilot deviated from the planned flight route and crashed into a mountainside. The pilot and a passenger, Morgan Felder, lost their lives in the tragedy. The passenger's surviving spouse, Ari Felder, brought a negligence lawsuit. The case involves many possible factors for the crash, including pilot error, drug usage, a medical condition of the pilot, and even fireworks on the Fourth of July.