Mason, FARO announce partnership to advance forensic science research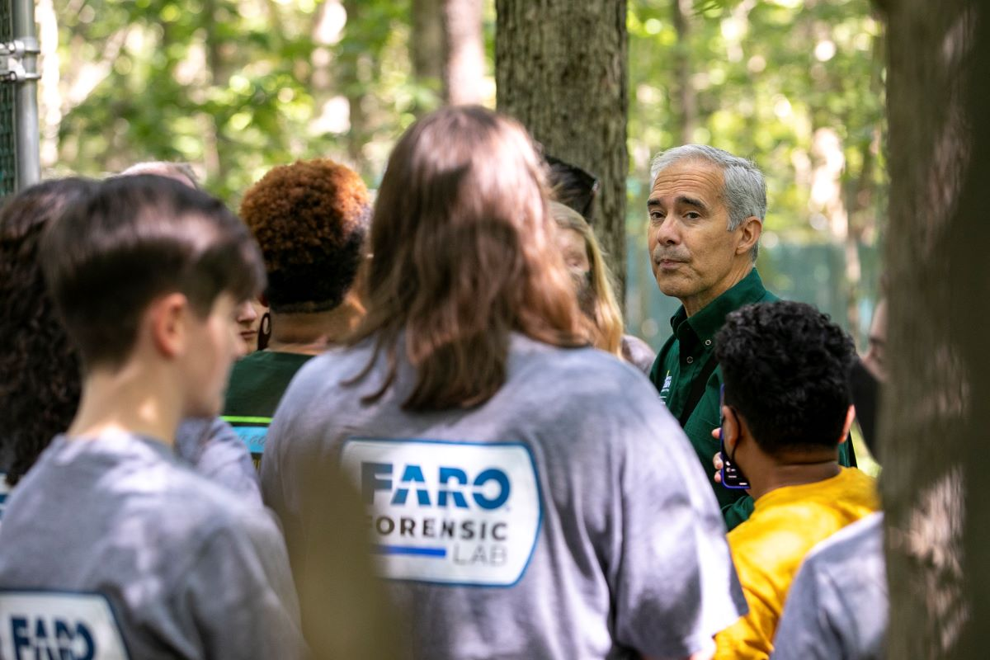 The George Mason University Forensic Science Program has further established its place as one of the nation's premier programs in its field with a partnership with FARO Technologies, Inc. that will result in the world's first FARO-certified forensic science laboratory.
An industry leader in the kind of high-tech 3D measurement and imaging that leading law enforcement agencies and others use for crime scene investigation, FARO will lend Mason $300,000 of equipment for use by students training in state-of-the-art forensic science technology. Students will also have the opportunity to work alongside law enforcement partners such the George Mason University Police, Fairfax County Police, Fairfax City Police and others, including the U.S. Army.
Much of the research will be done at Mason's new five-acre Forensic Science Research and Training Laboratory in Manassas that is one of just eight in the world capable of transformative outdoor research in forensic science using human remains. Mason is the first university to do so and offer FARO equipment certification.
"Whether a student is learning how to process an outdoor scene at the university's 'body farm,' measuring a murder scene inside the Forensic Science Crime Scene House or testifying in court as an expert witness, they will walk in the shoes of real forensic scientists and learn how to apply their science and skills to get answers about how crimes are committed and how to solve them with the accuracy and precision of 21st-century technology," said Mary Ellen O'Toole, the former FBI profiler who heads the Forensic Science Program within Mason's College of Science. "This exciting FARO-Mason Forensic Science partnership is the first of its kind in the world, and the opportunities we can now give to our students and develop with our external partners can only be imagined."
As a direct result of the partnership, Mason's Forensic Science Program will soon become the first in the nation to offer a 3D course in crime scene documentation.
Fernando Miralles-Wilhelm, the dean of Mason's College of Science, lauded the partnership for taking forensic science research, education and training to the highest standards of achievement.
"This first-of-its-kind merger of FARO forensic technology and the expertise in Mason's Forensic Science program positions it as one of the most complete and diverse programs of its kind in the country, offering unique, hands-on training and certification for students and law enforcement officials in 3D crime scene processing, forensic anthropology, and even forensic artistry," Miralles-Wilhelm said.
Forensic science has changed considerably over the years, with technology such as 3D scanning and reality capture now playing a critical role in the preserving of crime scenes so that investigators may continue to return to the virtual crime scene to evaluate evidence. By storing that information digitally, forensic investigators can review even the most minute details and share that information before returning to the crime as many times as needed.
Mason forensic science students will immediately benefit from that real-world taste and hands-on experience with the latest technology.
"I feel well prepared for whatever I'm going to see," said forensic science graduate student Samantha Hadley.
Alina Burroughs, FARO's senior business development manager for public safety, said her company was thrilled to team with the Mason Forensic Science Program because of a shared commitment to innovation.
"FARO and GMU have a unique partnership based on the common goal of advancing the field of forensic science through innovative technology," Burroughs said. "Our powerful, non-invasive laser scanning solutions allow investigators to document scenes, supplying more comprehensive data faster, resulting in more accurate analysis, identification of victims, and resolution of cases. We are proud to work together with George Mason to build the next generation of forensic investigators through this shared vision."
The Forensic Science Research and Training Laboratory expects to receive its first donations of human remains next month.
County Executive and Health Director honored by Park Board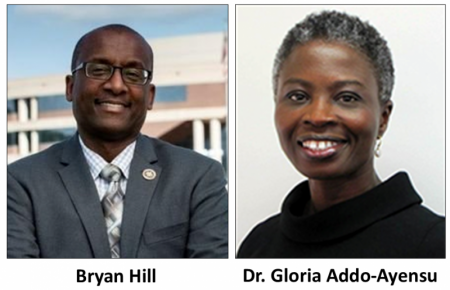 The Fairfax County Park Authority Board is honoring two individuals this year with Chairman's Choice Awards for outstanding long-term support, service to, and advocacy on behalf of the Park Authority. 
The 2021 winners, County Executive Bryan Hill and Fairfax County Director of Health Dr. Gloria Addo-Ayensu, are being hailed for their outstanding leadership during the challenging COVID-19 pandemic.
Hill is being honored for utilizing two very necessary tools during the pandemic -- information and hope. Board sentiments reflect the importance of these two factors and the nomination letter noted, "You played a vital role in helping the Park Authority continue its mission to 'enrich quality of life for all members of the community' by encouraging employees affected by facility closures to enter the county Job Match process that provided options for reassignment." The action gave the Park Authority much-needed coverage as residents flocked to parks and trails.
Addo-Ayensu was praised for providing overall leadership and direction for public health during a critical time for the community and the Park Authority. The Board noted in its nomination that Addo-Ayensu helped the agency continue its mission "by providing the guidance and support the Park Authority needed to respond appropriately to the COVID-19 threats, to adapt and create policies and procedures necessary to keep patrons and staff safe, and to reopen and restart facilities and programs as vaccinations ramped up and the initial threat of infection diminished." 
The Park Board established the Chairman's Choice Award in 2019. It honors those whose efforts provide a critical contribution to the agency and help sustain and expand its nationally accredited facilities and programs. The contributions of the recipients of this award must also support the One Fairfax policy.
Local elementary school named National Blue Ribbon School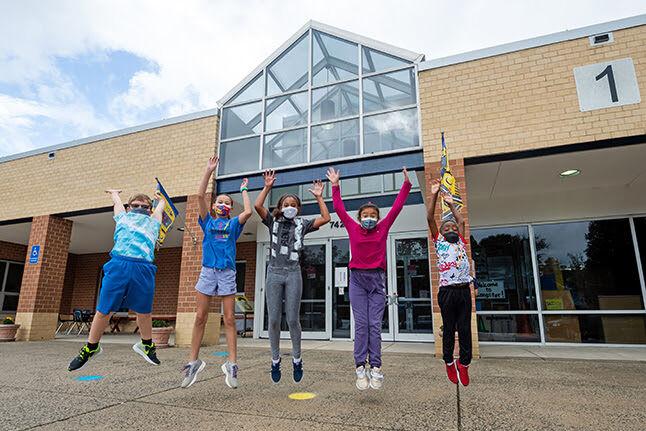 Sangster Elementary School has been named a 2021 National Blue Ribbon School by the U.S. Department of Education. The Fairfax County school is among seven in Virginia receiving the honor this year.
The Blue Ribbon Schools Program honors high performing schools and schools making exemplary progress toward closing achievement gaps. Sangster was recognized as an Exemplary High Performing School based on its high achievement in reading and mathematics during the 2018-2019 school year. More specifically, Sangster was recognized for closing the achievement gap in math by 15 percent for students who receive special education services.    
The Sangster staff focuses on the development of the whole child and are equally dedicated to seeing students grow academically, emotionally, and socially to become productive and contributing citizens in our ever-changing global community. Staff members believe that students learn best in a safe, caring, and positive learning environment that stimulates intellectual curiosity, fosters a commitment to lifelong learning, and promotes strong character development. Sangster is recognized as a Model Professional Learning Community school where teams are committed to providing students with high quality tier one instruction through collaborative planning, data analysis, and responsive instruction. Sangster has been recognized as a Virginia Distinguished Purple Star School for supporting military connected students, with more than 150 families serving in all branches of the military.
"At Sangster, we believe that student success is a result of the shared partnership between school, parents, and the community," said Principal Allison Jankovich. "Sangster's strength lies in the welcoming and celebratory environment it strives to create, where everyone who walks through its doors knows that they are valued and appreciated."
The National Blue Ribbon Schools Program has recognized more than 9,000 schools since the program began 39 years ago.
The U.S. Department of Education will honor all of the nation's 2021 National Blue Ribbon Schools at an awards ceremony November 4-5. Award-winning schools will receive flags and plaques.
Redevelopment and Housing Authority earns nationwide honor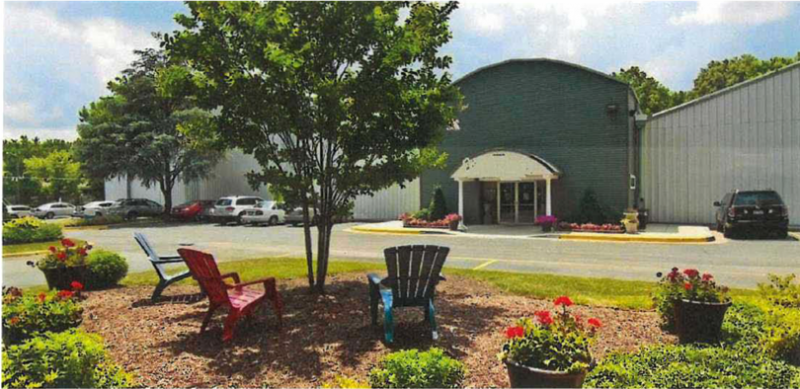 The National Association for County, Community, and Economic Development (NACCED) has awarded the Fairfax County Redevelopment and Housing Authority (FCRHA) with its 2021 Community Development Award of Excellence for the acquisition and initial renovation of the soon to be renamed Lee District Community Center. 
Formerly home to the Mount Vernon Athletic Club, the 50,000 square-foot facility is located along the historic Richmond Highway Corridor in the Lee District.
For years, Fairfax County has worked closely with residents along the Richmond Highway Corridor to identify and meet the evolving needs of the community—including youth programming, recreation, childcare, technology education, and skills development to help residents better compete for jobs in the rapidly evolving marketplace in along the Corridor. Such programs are among those offered at Fairfax County Community Centers that provide safe, structured environments for participants to learn, play and engage with the community around them.
"For the FCRHA, the work of affordable housing extends beyond the business of construction, property management, real estate finance and investment, application administration and so on," said FCRHA Chairman Melissa McKenna. "Our work is deeply rooted to the individual, the family, and the community and providing tools, training, and resources, to help residents achieve housing stability and self-sufficiency."
When the Mount Vernon Athletic Club, a 45-year-old private health and racquet club, was placed for sale in late 2019, the FCRHA recognized this opportunity to fulfill its mission in serving to provide community infrastructure – beyond "housing" – to build communities of opportunity which allow residents to excel physical, intellectually, educationally, and financially. 
"This center is located in the epicenter of a number of housing developments along the Janna Lee and Buckman Road loop with literally thousands of residents who will be able to benefit from the services we will provide," said Lee District Supervisor Rodney Lusk. "We are very excited that this facility will eventually grow to provide not only recreational and youth programming but also the technology training and skills development that will help adults better compete for jobs in the rapidly evolving marketplace along the corridor."
In partnership with the county, the FCRHA developed a multi-phase plan for acquiring the property and making initial renovations to the Lee District Community Center (to be renamed at a future date with input from the community) to begin to serve the recreation and youth programming needs of the community under the property's current zoning. Initial upgrades to the property included improvements to mechanical, electrical, and plumbing systems; basic accessibility improvements; and community use updates (including transitioning some of the tennis courts to multi-use recreational surfaces). The facility is anticipated to open in fall 2021 with the facility and programming being managed by the Department of Neighborhood and Community Services.
McLean student wins "Time for Kids" reporter contest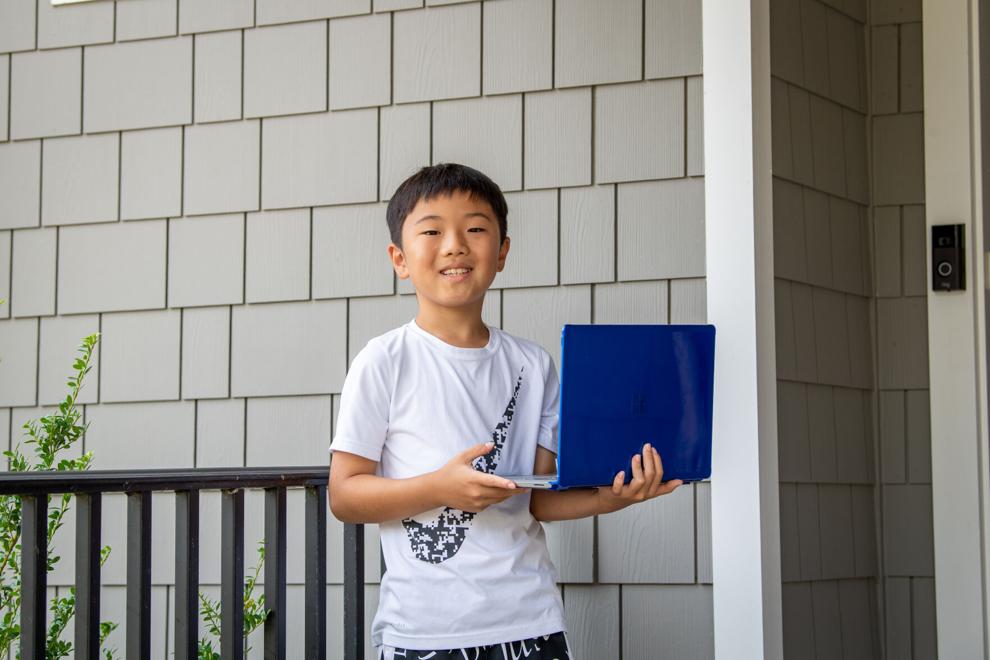 Ethan Zhang, of McLean, is one of the 10 outstanding kids selected to be a TFK Kid reporter this school year. 
Zhang is 9 years old and a student at Churchill Elementary. He loves realistic fiction books, hates movie spoilers, and hopes to be a writer or an athlete when he grows up.
Finalists in the TFK Kid Reporter contest were judged on a number of factors. One of their assignments was to write an article about a hometown hero. Zhang's story is about Maria Perrone, the leader of a program that serves healthy meals to kids in Fairfax County. You can read it at https://bit.ly/3CRYAhV.
Oakton students attend Global Health Leaders Conference
This past summer, five students at Oakton High School—Lucy Kim, Sejal Singh, Emily Yu, Rana Ali, and Sarah Cortez-De La Cruz—attended the 2021 Global Health Leaders Conference at Johns Hopkins University, a virtual conference at which emerging health leaders in grades 9-12 from around the world learn from one another and some of the world's leaders in global health, public health, and medicine. Presenters included the U.S. Center for Disease Control's Director of the Center for Global Health, a Nobel Laureate, and world-renowned professors, researchers, and physicians.
They were part of a small group of students from Virginia admitted into the highly selective conference program this year, and as part of their participation, each gave presentations to the group.
Kim discussed the mechanisms of PSGL-1 Restriction when it comes to COVID-19 and other viruses such as HIV, Influenza A, and Murine Leukemia.
Singh discussed the various ways that gender inequality in healthcare presents and encourages everyone to promote change on a local and global scale by joining advocacy groups and recognizing these inequalities when they see them.
Yu discussed the economic impacts of COVID-19 on mental health; she analyzed trends and findings with consideration to gender, age, income level, and race to identify which populations are at greater risk for mental health disorders during the current pandemic.
Ali discussed possible solutions to blood shortages and inadequate screening for infections in order to address the increasing global demand for blood that can be safely transfused.
Cortez-De La Cruz investigated the stigma behind eating disorders globally and seeks to understand how westernization influences global health. She urged individuals to not only evaluate their perception of disordered eating, but consider how they themselves may contribute to the stigma.
To watch their presentations, visit https://bit.ly/3EZAp2N.