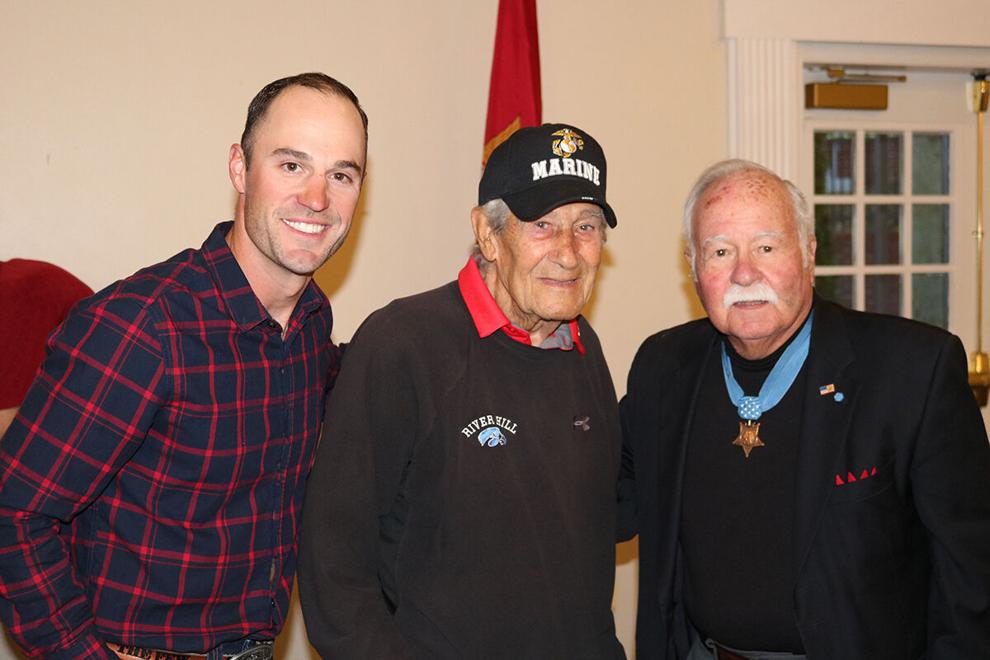 Left to right Sgt. Philip Buhler, the youngest Marine present, Sgt. (Retired) Nicholas Garito, the oldest Marine present, and Medal of Honor winner Retired Col. Harvey Barnum Jr. attended the Marine Corps Birthday ceremony Nov. 10, at American Legion Post 177 in Fairfax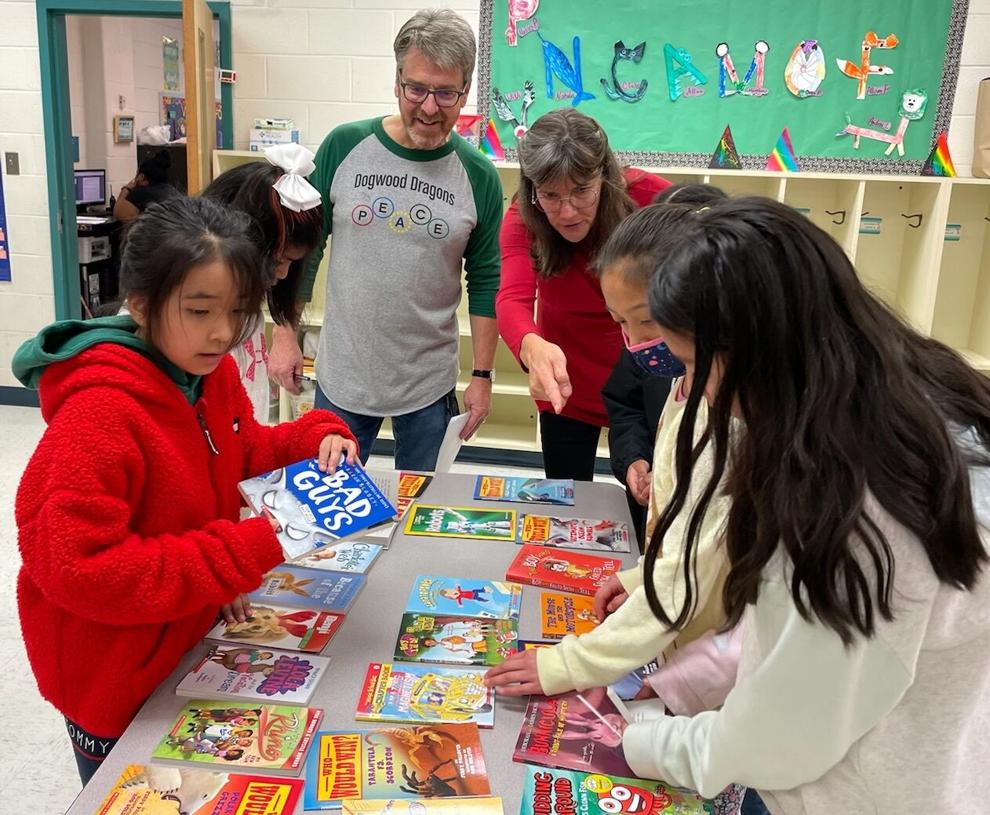 Local nonprofit Assistance League of Northern Virginia provides one-on-one reading tutoring at several schools each week and donates new books to students at select schools as part of its Literacy for Kids Program. Twice this month, the nonprofit held book fairs that it calls Build-a-Child's Library where every student selected a book on a topic that interested them.  About 1,000 new books and bookmarks were distributed to students.
Springfield District Supervisor Pat Herrity speaks at a ribbon-cutting event a new purple bin at the Saratoga Park and Ride.
Fairfax County added two more receptacles to its Purple Can Club. 
The latest glass recycling dumpsters are in the Braddock and Mount Vernon districts located at the Saratoga Park and Ride and the Burke VRE station.
On Nov. 15, which the Board of Supervisors proclaimed as Fairfax Recycles Day, Springfield District Supervisor Pat Herrity and Mount Vernon District Supervisor Dan Storck attended ribbon cuttings along with other officials and members of the public at both locations. 
The Purple Can Club (PCC) started in 2019. With the addition of the new receptacles there are now 20 dumpsters positioned throughout the county where glass can be disposed of for recycling. To find locations visit https://bit.ly/33sakHc. Glass also can be dropped off at the I-66 Transfer Station and the I-95 Landfill Complex.
Since the PCCs inception, there has been a marked increase in glass recycling throughout the county. In 2021 at the I-95 Landfill Complex alone more than 7,200 tons of glass was brought in for recycling.
This year, Fairfax Recycles Day was held in conjunction with America Recycles Day (ARD), which has taken place on November 15 for 26 years. The goal of ARD is two-fold, to broaden awareness of the environmental and economic importance of recycling, and to increase consumer demand for recycled products.
FCPD announces director of incident support services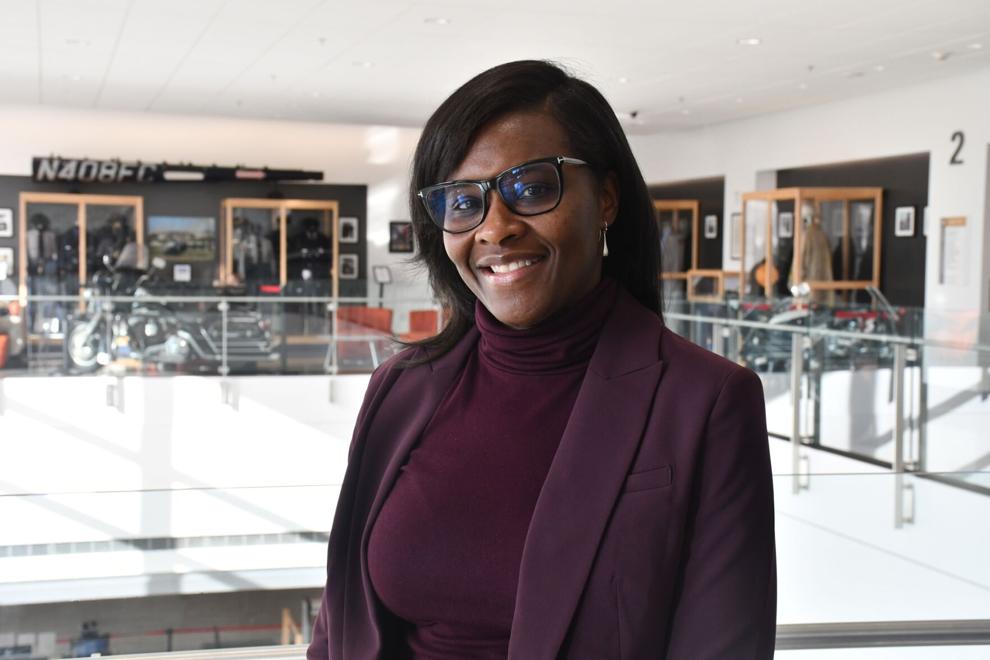 The Fairfax County Police Department announced the appointment of Vera Daniel as director of FCPD's Incident Support Services.
In this role, Daniel will work with Maj. Greg Fried to develop prevention strategies, techniques, and training aimed at supporting officers who may have been impacted by traumatic events. She will be responsible for exploring specialized studies and research to support the departmental mission as it relates to behavioral health and wellness for law enforcement officers.
Prior to joining the FCPD, Daniel worked with the Fairfax-Falls Church Community Services Board in various roles with Diversion First Programs such as the Compliance and Competency Docket, Court Assessment Team, and supervised Jail Based Services team within the Adult Detention Center. Prior to joining Fairfax County, she worked with Hampton-Newport News Community Services Board for 12 years providing oversight to case management programs, assisted with the development and implementation of the first Veterans Treatment Docket in Hampton, participated in the first Family Drug Treatment Docket in Newport News, Virginia, and worked as the Not Guilty by Reason of Insanity (NGRI) Coordinator for the agency.
Daniel graduated from George Mason University with a Bachelor of Arts in Psychology, received her master's degree in Social Work from Norfolk State University, and is a Licensed Clinical Social Worker. She has more than 16 years of experience of working in the field of mental health, substance use, intellectual disability, and developmental disabilities, along with law enforcement, and the justice system.
Daniel is Trinidadian-American, and comes from a military family, where her parents retired from their service in the U.S. Army. In her free time, she enjoys reading, and spending time with her family.
Transurban donates to NOVA Foundation
Transurban, the operator of the 495, 95 and 395 Express Lanes, announced it will contribute $25,000 to the Northern Virginia Community College Educational Foundation (NOVA Foundation), the non-profit arm of Northern Virginia Community College (NOVA), to create a dedicated military and veteran fund as part of the Student Success Fund. 
NOVA is among the largest community colleges in the nation with six campuses serving more than 4,000 enrolled veteran and military students across Transurban's Express Lanes system. 
The NOVA Foundation provides financial support in the form of emergency grants and scholarships for academically successful students facing financial hardship stemming from healthcare, transportation, housing, and other basic needs. Transurban's financial contributions to the fund will specifically support veteran and military-affiliated students who face financial challenges while working towards graduation, reducing disruption to their continuous education. 
"For more than 10 years Transurban's focus has been to strengthen the communities along the corridors in which we operate," said Mike Discenza, chief financial officer for Transurban North America. "With one of the largest populations of veteran, military and government families in the nation calling Northern Virginia home, Transurban honors their service to our country and is committed to supporting their education and transition to the civilian work force." 
"This partnership and investment are a testament to recognize the sacrifice of NOVA's veteran and military-affiliated students during National Veterans and Military Families Month," said Kelly Persons, executive director of the NOVA Educational Foundation. 
Transurban's latest donation to the NOVA Foundation builds upon a decade of investing in local communities, as NOVA joins more than 350 non-profit organizations across Northern Virginia that have received grants including the 9/11 Pentagon Memorial Fund, Virginia Star Quilts for Valor, and Workhouse Arts Center arts programs for wounded soldiers. Celebrating the 10th Anniversary of the Express Lanes on November 17, Transurban will release a report detailing the impact the 495, 95 and 395 Express Lanes have had on the region and how customers continue to use the Lanes as a valuable travel choice. 
ARC of NOVA announces new director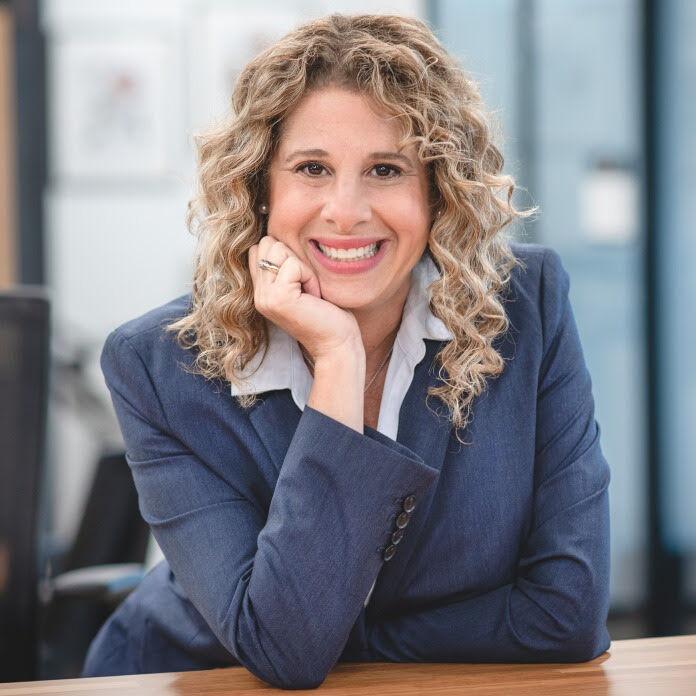 The ARC of Northern Virginia announced the selection of Melissa Heifetz as the next executive director. She will assume her new duties on Jan. 1, upon the retirement of Rikki Epstein.
Heifetz's proven executive leadership, her exemplary success generating support and affinity for causes, demonstrated skill in building strong relationships and collaborations, and enthusiastic passion for the  mission make her the ideal leader for The Arc of Northern Virginia at this exciting and important moment, according to Mark Albert, president of the Board of Directors. "We are looking forward with optimism to Melissa's leadership of our organization," he said.
Heifetz previously served as the executive director of The Arc of Loudoun and at Congregation Beth Emeth in Herndon. In 2018, the Loudoun County Chamber of Commerce awarded her their Non-Profit Leadership Award.
She founded Advocacy Partners, LLC in 2020 to provide advocacy services to individuals with disabilities and their families. In her role at Advocacy Partners, she contracted with The Arc of Virginia to represent the state chapter on General Assembly-created state policy workgroups, conducted numerous training programs, and has been an invited guest speaker at disability conferences throughout the Northern Virginia community, and at state and national conventions.
Heifetz received a Bachelor of Arts in Government and Politics from the University of Maryland, and her Juris Doctor from the University of Baltimore School of Law.
"I have very big shoes to fill, but I am thrilled to be joining the talented and dedicated team at The Arc of Northern Virginia," said Heifetz. "I am looking forward to leading this organization that shares my same values of advocacy for human rights, full inclusion, equal participation in the community, fairness, and justice for those with intellectual and developmental disabilities."
Heifetz takes the reins of the organization from Epstein, who was named Executive Director in October 2011. 
Park Authority names new Golf Division director

The Fairfax County Park Authority (FCPA) named Ryan Carmen to serve as its new Golf Division director. Carmen will oversee the seven golf sites operated by the Park Authority. 
Carmen has been involved in the golf industry since 2002. He earned a bachelor's degree in sports management from Slippery Rock University of Pennsylvania. Before joining the Park Authority as the general manager at Laurel Hill Golf Club in 2016, he served as the director of golf at a nationally acclaimed resort, where he managed two resort courses, one being a former host of the PGA Tour.
In February 2022, Ryan was promoted to assistant director of golf for FCPA. More recently he served as acting division director following the departure of the golf division director in June.
Enjoy a Thanksgiving event at your local community center
This Thanksgiving, join the Fairfax County Department of Neighborhood and Community Services for special events at our community centers located throughout Fairfax County. Mark your calendars for these Thanksgiving meals and other events taking place.
Holiday Celebration at Bailey's Senior Center in Falls Church, Nov. 18 from noon-2 p.m.
Annual Thanksgiving Dinner at Reston Teen Center in Reston, Nov. 22 from 4-6 p.m.
Thanksgiving Event at Bailey's Community Center in Falls Church, date and time TBD. Thanksgiving food will be provided for families to take home and cook.
Thanksgiving Feast at South County Teen Center in Alexandria, date and time TBD.
Local woodworker recognized
Springfield Woodworker Michael Jury was recognized at the 27th Annual Fine Furnishings Show held earlier this month in Providence, R.I. 
Jury, principal designer and craftsman at M. Jury Woodworks was awarded best in show for furniture design for his cherry Asa-no-ha Sideboard. 
Thousands of items were judged from more than 80 artists, craftsmen and students.
The winning sideboard is built from solid cherry and inspired by Shaker and Japanese designs. 
Area hospitals receive A ratings
Reston Hospital Center, Inova Fair Oaks, Inova Mount Vernon, Inova Fairfax and Inova Alexandria hospitals were awarded an 'A' in the Fall 2022 Leapfrog Hospital Safety Grade, the top score in a national distinction recognizing the hospital system's achievements protecting patients from harm and providing safe healthcare. 
"The care that our team provides our community is extraordinary," said J. Stephen Jones, MD, president and CEO, Inova. "I am exceedingly proud of their remarkable, continuous focus on high-reliability care, patient safety, and ensuring our patients remain at the center of everything we do." 
"There is no more important part of our job than vigilantly protecting patient safety," said Elizabeth Mikula, HCA Healthcare Capital Division vice president of quality. "We value the outside review of our patient safety programs to ensure we are providing world-class care to our patients and their families."
The Leapfrog Hospital Safety Grade is the only hospital ratings program based exclusively on hospital
prevention of medical errors and harm to patients. The grading system is peer-reviewed, fully transparent, and free to the public. Grades are updated twice annually, in the fall and spring.
"An 'A' Safety Grade is a tremendous achievement of which this community should be extremely proud," said Leah Binder, president and chief executive officer of The Leapfrog Group. "I applaud the hospital leadership and workforce for their strong commitment to safety and transparency."
Leapfrog assigns an 'A', 'B', 'C', 'D' or 'F' grade to general hospitals across the country based on their performance in preventing medical errors, injuries, accidents, infections, and other harm to patients in their care.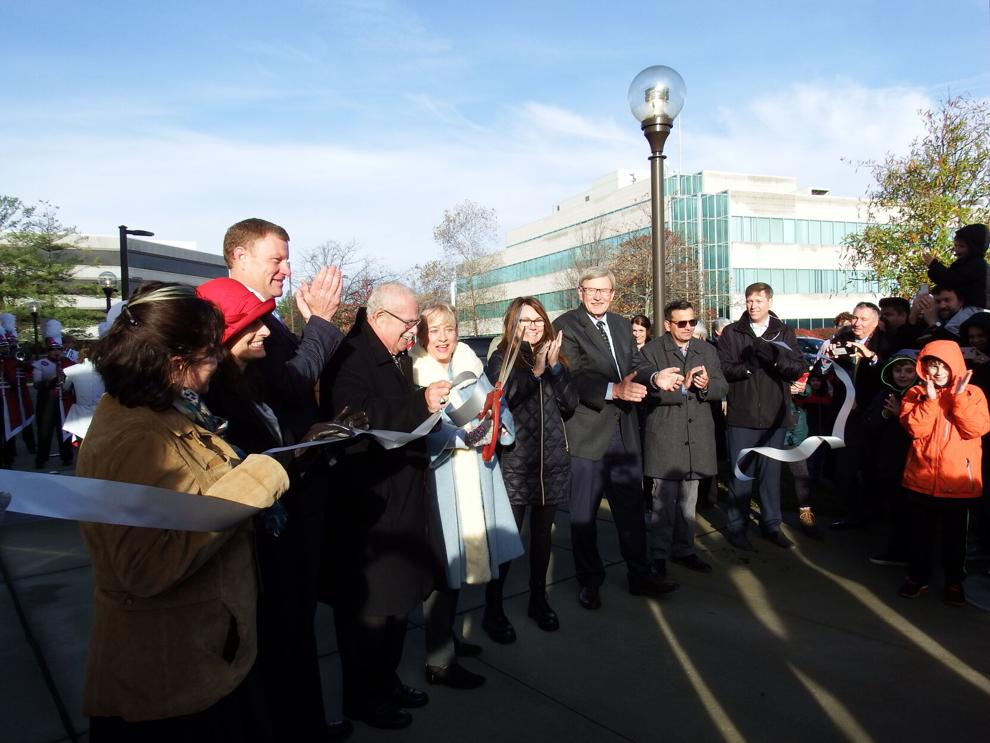 Herndon residents, business owners, and long-time supporters of Metrorail to Dulles celebrated at the Nov. 15 official opening of the first full day of service at the Silver Line's Herndon Station ribbon cutting, L-R:  Herndon Councilmember Signe Friedrichs; State Senator Jennifer Boysko; Fairfax County Board Chair Jeff McKay; Congressman Gerry Connolly; Herndon Mayor Sheila Olem; former Herndon Mayor Lisa Merkel; Dranesville District Supervisor John Foust; and Herndon Councilmember Pradip Dhakal.