Dewberry welcomes two to legal team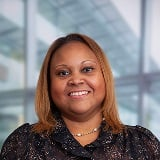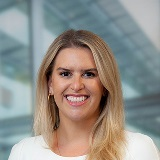 Dewberry, a privately held professional services firm, has announced that Nadia Sangster and Meagan Roach have joined the firm's legal department in Fairfax.
Sangster joins the firm as director of contracts and has more than 15 years of legal experience. Her background includes leadership roles and subject matter expertise in construction and procurement contracts. Prior to joining Dewberry, she managed capital construction contracts and oversaw operating contracts for a higher education institution as a legal procurement advisor.
Sangster earned her master's in procurement and acquisitions management from Webster University (2014), Juris Doctor from Tulane University Law School (2005), and her bachelor's in classical languages from Hamilton College (2000).
Roach has been hired as corporate counsel and has more than seven years of experience. In her new role, she will be responsible for assisting with claims, collections, contracts, compliance, construction and employment law, insurance, surety, risk management, and corporate governance. Prior to joining Dewberry, Roach worked as a litigation associate for a private law firm, providing litigation for civil, commercial, and real estate disputes.
Roach earned her Juris Doctor from William & Mary Law School (2014) and her bachelor's in Spanish from the College of Charleston (2011). Roach is a member of the Maryland State Bar, Virginia State Bar, and the District of Columbia Bar.
"As our firm continues to grow, adding new staff and clients, we are thrilled to welcome Nadia and Meagan to the organization," says Dewberry General Counsel Craig Thomas. "Their backgrounds in corporate law are critical to the functionality of our team, and we're looking forward to their contributions."
Cornerstones launches 2021 Gift for Kids drive
For many lower-income families struggling with economic instability, particularly due to the lingering impact of the pandemic, this time of year is difficult. Already stretched home budgets don't allow for extras like gift giving and celebrations. As one of the region's leading safety-net and human services organizations in Northern Virginia, Cornerstones is rallying the community this holiday season to help provide extra support through our annual Gifts for Kids Drive.   
Through November 12, the public is encouraged to register as a Gifts for Kids donor. 
As with last year's successful drive, donors are asked to purchase retail gift cards only (no toys will be accepted) – such as Amazon, Target, Walmart, TJMaxx, Kohls, etc. - in $25, $50, or $75 increments. Gift cards should be delivered to Cornerstones November 15-17, from 9 a.m. to 3 p.m. at St. John Neumann Catholic Church, located at 11900 Lawyers Road in Reston. Donors may also coordinate with the Cornerstones team to provide gift cards in an amount that will cover a specific request from a child's wish list.  
"The Gifts for Kids is one of Cornerstones' most highly anticipated community drives," said Nate King, coordinator of In-kind Donations and Drives. "We have more than 800 wish lists from children to fulfill this year. Every donation is critical to helping us meet this ambitious goal. Our Gifts for Kids drive is a rewarding and meaningful opportunity for donors and volunteers to help ensure our youngest neighbors celebrate a meaningful and memorable holiday with their families."
Due to the ongoing impact of COVID-19, Cornerstones' Gifts for Kids drive runs concurrently this year with their Thanksgiving Food drive to help reduce the number of interactions for everyone involved and give families time to purchase gifts for their children. All registered families will receive gift cards in lieu of physical gifts to ensure the safety of volunteers, donors, donation recipients, and staff.
For more information about Cornerstones' Gifts for Kids Drive, please visit https://bit.ly/3jE3bgA.
New synthetic turf field opens in McLean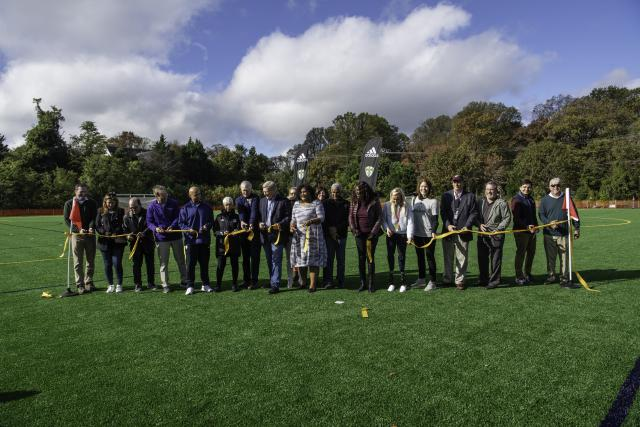 The Fairfax County Park Authority, in collaboration with the Fairfax County Board of Supervisors and McLean Youth Soccer Association (MYS), held a ribbon-cutting ceremony to mark the grand opening of Holladay Field in McLean, Virginia. The celebration was held October 30.
This is a unique project with several key partners, each instrumental in helping to make this project possible and providing funding for this synthetic turf field conversion. Funding for the $1.56 million project came through voter-approved park bonds, as well as contributions from MYS, the Embassy and Ambassador Yousef Al Otaiba of the United Arab Emirates, and Roger Krone, CEO of Leidos. Private contributions tallied $725,000.
The project included the design of a full-sized rectangular soccer field with options to use the field for football, men's lacrosse, women's lacrosse, field hockey and mini soccer. The project also included landscape improvement, two underground stormwater management facilities, a bleacher pad, and access trail. The MYS also donated a bench to honor the Embassy of the United Arab Emirates and Leidos for their very generous donation that helped build the field.
KTGY communities recognized at 2021 Great American Living Awards
Three local KTGYcommunities were recognized at the 2021 Great American Living Awards (GALA) program, the most prestigious residential design, sales and marketing competition in the metro Washington, D.C. market for more than 50 years.
Robinson Landing in Alexandria received the Grand Award for Community of the Year
Design and Architecture Awards for Innovative Land Planning (Residential) and Multi-Family New Construction.
Willard at the Braddock, Commonwealth Place at Westfields in Chantilly received the Design and Architecture Award for Attached Home, Including Townhouses, Two-over-Two's, Back-to-Back Townhouses and Duplexes, Fee Simple and Condo-Ownership - $700,001-$850,000.
Walney at the Fairfax Collection, Commonwealth Place at Westfields received the Design and Architecture Award for Multi-Family - Condominium or Apartment Unit.
The awards, which were presented by the Maryland Building Industry Association, the Northern Virginia Building Industry Association and the Washington Metropolitan Sales and Marketing Council, recognized KTGY's wide range of capabilities, excellence and innovation in the design and planning of attached and detached single-family and multifamily residential communities. 
McLean Community Center invites district residents to participate in a community listening session
McLean Community Center is seeking residents of Small District 1A—Dranesville to participate in upcoming community listening sessions hosted by consultant AMS Planning & Research. The first session will be held in person from 6-8 p.m. November 18, at MCC, which is located at 1234 Ingleside Ave.
These sessions will inform the center as it works to improve the programs and services it provides to district residents. This is an opportunity for MCC district residents to give valuable input and express their ideas about the future programming and strategic priorities of the center. An agency of Fairfax County Government, MCC is funded by a real estate surcharge paid by residents of Small District 1A-Dranesville. District residents' input will shape the center's three-year strategic plan, which will dovetail with MCC's 50th Anniversary in 2025. 
Adults and high school students in grades ninth through 12th who reside in the district are invited to come to the session to share their ideas whether they are regular participants in MCC-sponsored activities or have never or rarely come to MCC. As a thank you for their help, all participants will receive a $25 voucher that can be applied towards a future performance at The Alden Theatre or MCC class and/or camp registration fees. 
A number of COVID-19 safety practices will be in place at the session. A mask that covers both nose and mouth must be worn by all participants throughout the evening and appropriate social distancing and sanitation protocols will be utilized. 
To register for the session or for more information, visit the website, www.mcleancenter.org, or call 703-790-0123, TTY: 711. 
County residents sworn in at the Merchant Marine Academy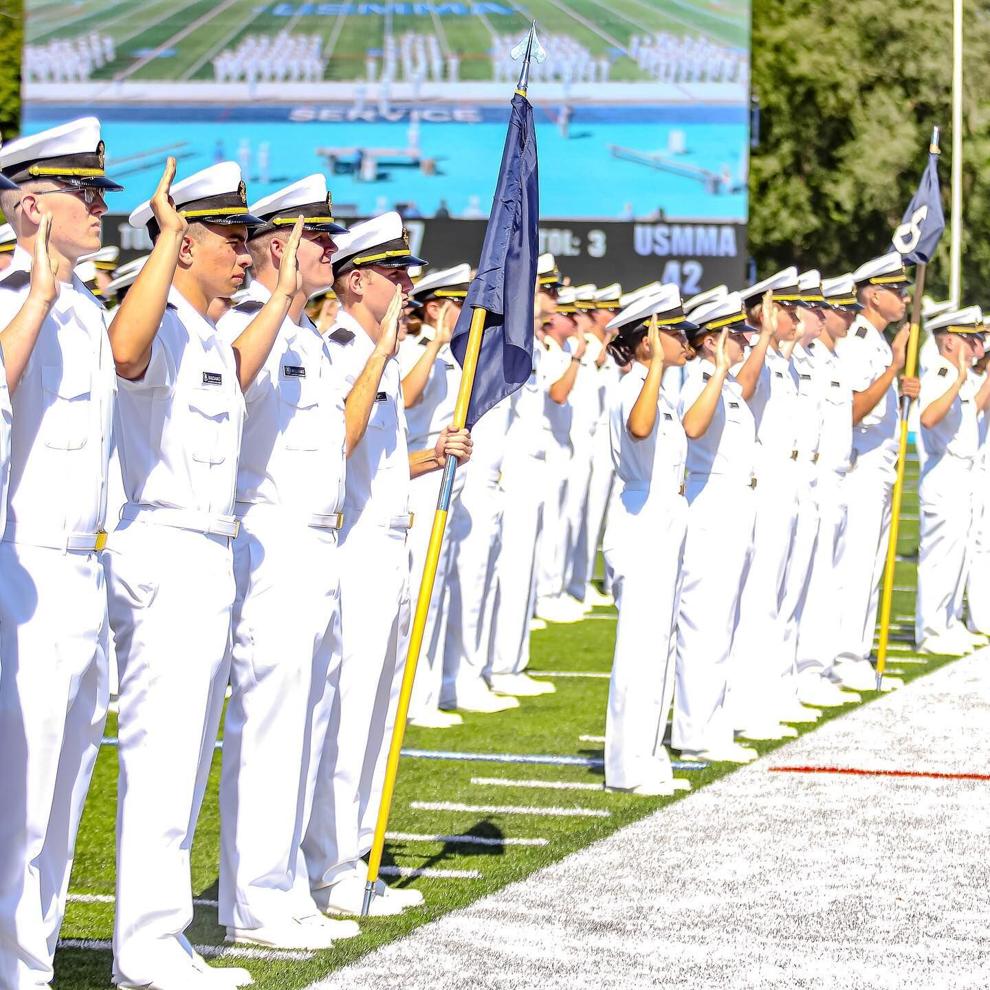 Alexander Burita of Annandale and Christopher Cipolla of Cliftonwere recently sworn in as a Midshipman at the U.S. Merchant Marine Academy (USMMA) and as a member of the U.S. Naval Reserve. Burita was nominated by Senator Tim Kaine and Congressman Don Beyer to attend USMMA, located in Kings Point, NY and one of the nation's five federal service academies. Cipola was nominated by Congresswomen Jennifer Wexton and Abigail Spanberger
The United States Merchant Marine Academy is a federal service academy that educates and graduates licensed Merchant Marine officers. In addition to the rigorous academic and physical requirements for admission, applicants must be nominated by their Congressman or Senator.
It is one of five federal service academies, which include the Military Academy at West Point, the Naval Academy at Annapolis, the Air Force Academy in Colorado Springs and the U.S. Coast Guard Academy in New London, Connecticut. 
All USMMA graduates earn both a Bachelor of Science degree and a Merchant Marine Officer license, and incur an obligation to serve the country as an active or reserve officer in the U.S. armed forces.
The U.S. Flag Merchant Marine – manned by U.S. merchant mariners – is essential for securing the country's commerce in peacetime and delivering warfighters, weapons and military supplies in times of conflict. The majority of "Kings Pointers" will serve as Navy reservists in the Strategic Sealift Officer Force while working aboard U.S. flag vessels; others will serve on active duty in our nation's armed forces.
As part of their four-year education, Burita and Cipolla will spend one year training as a cadet aboard ocean going vessels. USMMA is the only federal academy where students train on commercial vessels traveling around the globe.
Herndon budget recognized for excellence
Government Finance Officers Association announced that Town of Herndon has received GFOA's Distinguished Budget Presentation Award for its budget. This is the 30th consecutive year that the Town of Herndon has received this award.
The award represents a significant achievement by the entity. It reflects the commitment of the governing body and staff to meeting the highest principles of governmental budgeting. In order to receive the budget award, the entity had to satisfy nationally recognized guidelines for effective budget presentation. These guidelines are designed to assess how well an entity's budget serves as:
a policy document
a financial plan
an operations guide
a communications device
Budget documents must be rated "proficient" in all four categories, and in the 14 mandatory criteria within those categories, to receive the award.
When a Distinguished Budget Presentation Award is granted to an entity, a Certificate of Recognition for Budget Presentation is also presented to the individual(s) or department designated as being primarily responsible for having achieved the award. This has been presented to the Finance Department.
There are more than 1,700 participants in the Budget Awards Program. The most recent Budget Award recipients, along with their corresponding budget documents, are posted quarterly on GFOA's website. Award recipients have pioneered efforts to improve the quality of budgeting and provide an excellent example for other governments throughout North America.