New tourism brand announced for South County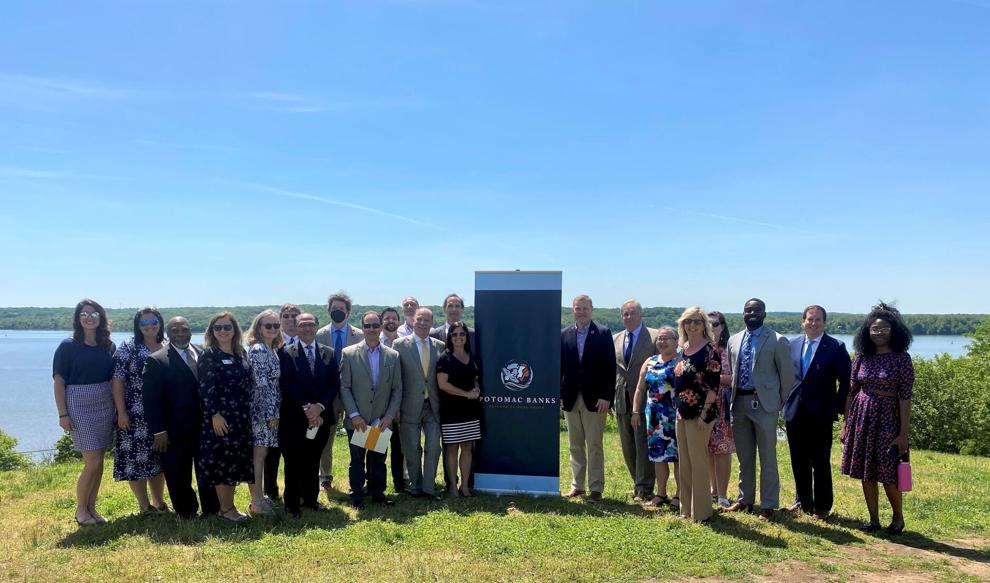 A new tourism branding initiative for the southeastern portion of Fairfax County was announced May 18 by local leaders and elected officials during a press conference at George Washington's Mount Vernon. 
The new brand, Potomac Banks: Explore Fairfax South, creates a cohesive synergy between the vast collection of historic attractions, museums, parks, arts, and cultural venues, local wine and beer makers, and agritourism businesses located in this historically significant section of Fairfax County.
The branding, which plays off of the area's location on the banks of the Potomac River, was a result of a multi-year destination development assessment by the Mount Vernon Tourism Task Force (TTF), a group spearheaded by Mount Vernon District Supervisor Dan Storck, in collaboration with Fairfax County's official tourism organization, Visit Fairfax. The brand creative, developed by digital marketing agency Streetsense, illustrates the diverse culture and experiences found in Fairfax South through design elements that include art, nature, water, and silhouettes of the people who shaped the area into what it is today.
"As a lover of history, nature, arts and recreation, I have been focused for decades on helping others around the world to come see what we have, while helping us grow more jobs, opportunities and experiences. Attracting more visitors to our community helps our attractions stay open, our eating choices be broader, our experiences be richer and further develops the music, drama and arts opportunities for residents and visitors, alike," said Storck. "In 2019, I started the Mount Vernon Tourism Task Force to connect our tourist destinations to grow collaborations, partnerships and visitation to the Potomac Banks. This new Fairfax South branding increases awareness of our area's rich natural, cultural and historical resources, creating greater pride and desirability for our communities, helps finance community infrastructure and drives economic opportunities."
Potomac Banks, the first joint destination-focused tourism branding strategy in Fairfax County, aims to help grow opportunities for new tourism infrastructure – such as creating a Tourism Improvement District (TID) for the area that will generate income to sustain and grow the tourism economy – as well as enhance the visitor experience to the area and enrich the quality of life for residents.
"Tourism is one of the top drivers of Fairfax South's economy, which is a major contributor to Fairfax County's overall tourism impact of more than $3 billion [2019], so the development of an exclusive brand was a natural next step, especially now, as the industry continues to recover from the devastating effects of the global pandemic," said Barry Biggar, president & CEO of Visit Fairfax. "The future of Potomac Banks is bright with the opportunity to create a Tourism Improvement District, which will immensely grow tourism infrastructure and visitation to this vibrant area of Fairfax County."
Potomac Banks partners will utilize collaborative marketing tools meant to complement each business's own promotion strategy to tout the region's highly eclectic visitor experiences. The group will work together to showcase the brand on owned media, at community events, and through other packaging opportunities that resonate across common theme lines and help tell the unique and diverse stories of America's roots.
In addition to the new branding, officials also announced the launch of the Potomac Banks Savings Pass, one of the first collaborative efforts of this new collective. The Savings Pass offers visitors discounted admission to Potomac Banks partner sites, including George Washington's Mount Vernon, George Mason's Gunston Hall, Woodlawn & Pope-Leighey House, as well as deals on tours, gifts, and activities at sites like the National Museum of the United States Army, the Workhouse Arts Center, G34.3 Brewing Co., Woodlawn Press Winery, and Historic Huntley. The Potomac Banks Savings Pass can be purchased at FXVA.com/PotomacBanks.
Local students named Presidential Scholars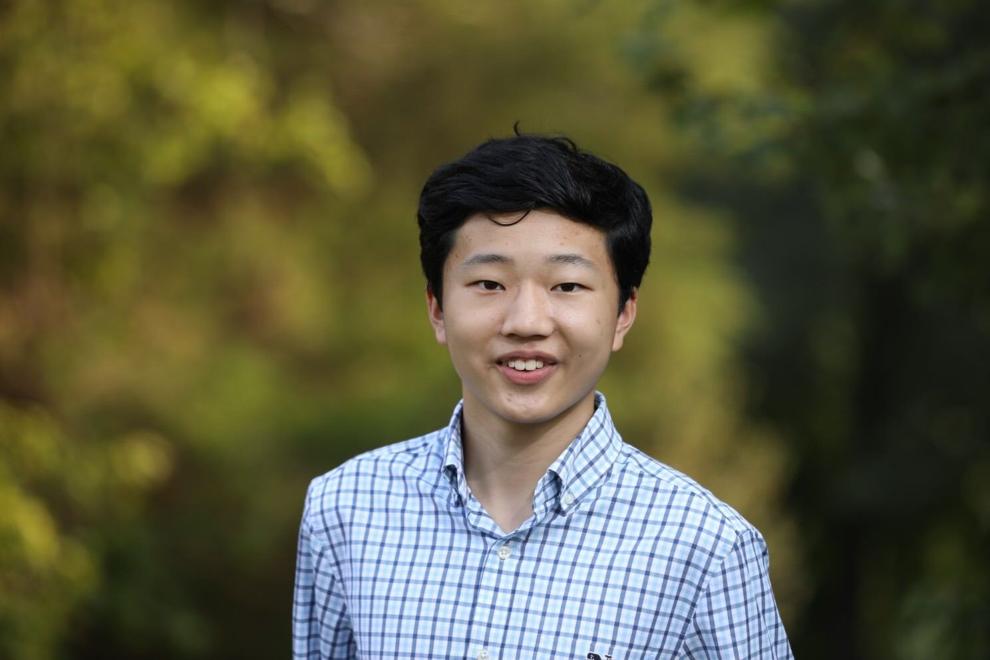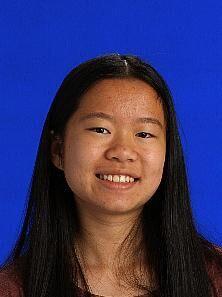 U.S. Secretary of Education Miguel Cardona today announced May 12 the selection of Benjamin Choi of McLean, and Helen J. Dunn of Falls Church, as 2022 U.S. Presidential Scholars.
Choi attends The Potomac School in McLean and Dunn is a student at Thomas Jefferson High School for Science and Technology. They are among 161 outstanding American high school seniors who have demonstrated outstanding academic achievement, artistic excellence, technical expertise, leadership, citizenship, service, and contribution to school and community.
"Our 2022 Presidential Scholars represent the best of America, and remind us that when empowered by education, there are no limits to what our young people can achieve," said Cardona.
"Today, I join President Biden to celebrate a class of scholars whose pursuit of knowledge, generosity of spirit, and exceptional talents bring our nation tremendous pride. Throughout one of the most trying periods in our nation's history and amid our recovery from the pandemic, our students have once again demonstrated their strength and that they have so much to contribute to our country. Thanks to them, I know America's future is bright."
The White House Commission on Presidential Scholars selects scholars annually based on their academic success, artistic and technical excellence, essays, school evaluations and transcripts, as well as evidence of community service, leadership and demonstrated commitment to high ideals.
Of the 3.7 million students expected to graduate from high school this year, more than 5,000 candidates qualified for the 2022 awards determined by outstanding performance on the College Board SAT or ACT exams or through nominations made by chief state school officers, other partner recognition organizations and YoungArts, the National Foundation for the Advancement of Artists.
As directed by Presidential Executive Order, the 2022 U.S. Presidential Scholars are comprised of one young man and one young woman from each state, the District of Columbia and Puerto Rico, and U.S. families living abroad, as well as 15 chosen at-large, 20 Scholars in the arts and 20 Scholars in career and technical education. Created in 1964, the U.S. Presidential Scholars Program has honored approximate 7,900 of the nation's top-performing students. The program was expanded in 1979 to recognize students who demonstrate exceptional talent in the visual, literary and performing arts. In 2015, the program was again extended to recognize students who demonstrate ability and accomplishment in career and technical education fields.
Since 1983, each U.S. Presidential Scholar has been offered the opportunity to name his or her most influential teacher. Each distinguished teacher is honored with a personal letter from the Secretary of Education. The teacher chosen for recognition by Choi was Nicholas Tkach. The teacher selected by Dunn was Stephen Ballard. 
The Presidential Scholars Class of 2022 will be recognized for their outstanding achievement this summer with an online recognition program.
Ninety-one students graduate Global Leaders program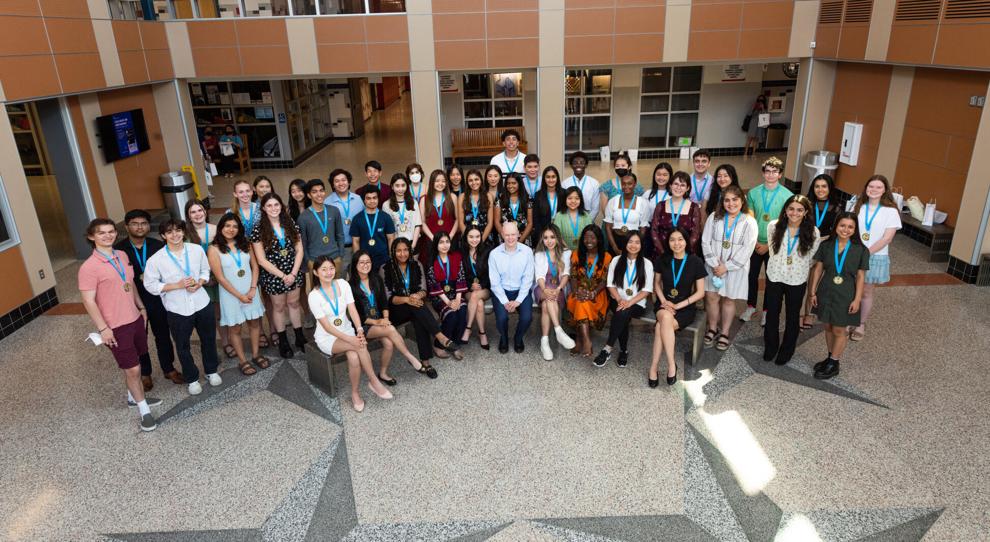 The second year of the Global Leaders of Fairfax County program concluded with a ceremony held on May 22 at George C. Marshall High School that recognized 91 Fairfax County high school seniors for successfully completing the program.
In opening remarks, Managing Director Ryan McElveen recognized the hardships the program graduates have faced "during a challenging time for our community and the world." "If there was ever a time for the next generation to step up and speak out, it is now," he said.
"I've spent much of my life trying to figure out how to be a good leader. Leadership is the art and science of getting things done through other people," said Congressman Don Beyer (D-8) one of the keynote speakers.
Quoting the historian James MacGregor Burns, Beyer explained that "Leadership is vision and agenda. You have to know where you are going, or you can't lead people there…and you have to have an agenda to make sure that vision comes true."
"By participating in this program, you have had access to what most people don't have access to until college," said Fairfax County Public Schools Superintendent Scott Brabrand.
"My secret in life has been to find something you love, and then stay in love. If you find something you like, but you don't love it, it's OK to change," said Brabrand, recalling his start in the education field 30 years ago. "I thought I wanted to be an international businessman, but I realized that I didn't have to travel around the world to be a businessman. The world is right here in our backyard.
"As Global Leaders, we cannot stand silent and let others throw stones," said Brabrand. "We have people throwing stones across the world, across our country, and even locally. We can all agree to disagree sometimes and have differences of opinion. But destroying individuals or destroying institutions is not how we're going to keep a strong Democracy."
Global Leaders of Fairfax County, founded in 2020 by McElveen, a former Fairfax County School Board At-large member. The program aims to prepare fellows to be global citizens and change agents in their local community and the world. Fellows undergo a rigorous application process for admission, and throughout their senior year of high school they have opportunities to engage with leaders from various fields and undertake field trips to civic institutions to advance their understanding of international affairs and global issues.
For a full list of the graduates, visit https://bit.ly/3GiGNDj.
McLean Citizens Association presents Teen Character Award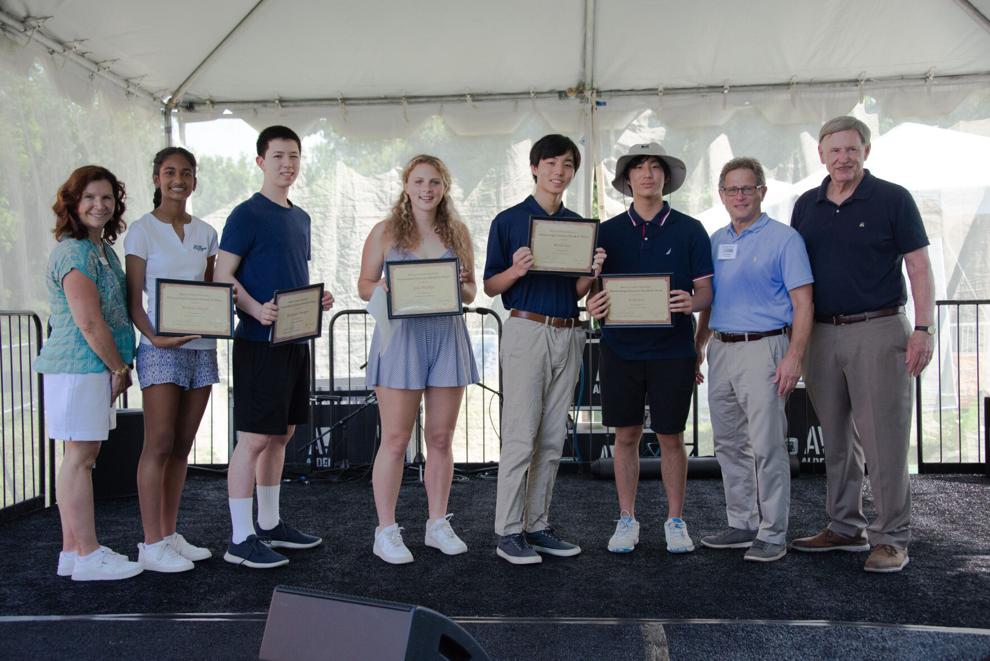 The McLean Citizens Association awarded nine Teen Character Awards in the 24th annual award ceremony at McLean Day, May 21.  
The award is to honor teens who demonstrate outstanding character. Teens who have, on their own and without compensation, helped out in their neighborhood or community, are being recognized not only for themselves but as an example to others.
This year's nine awardees are:
Max Blacksten – junior at McLean High School, serves on the McLean Community Center Governing Board. By raising the concerns and interests of his fellow peers, he makes sure that MCC's program offerings are effectively marketed to teen demographic and that programs are nuanced to what teens are interested in.
Ivy Chen – senior at Langley High School, has served two consecutive years on the McLean Community Center Governing Board as a Youth representative for her school. With outstanding creativity, she designed a colorful infographic in 2021 explaining details of the annual Governing Board election process. It was so well-received that it was requested to be updated and repeated in the current 2022 Governing Board election. She articulates student needs and helps to establish goals for meaningful programming that addresses the needs and interests of her student peers.
Caroline Klein – junior at McLean High School, took on additional responsibilities during the pandemic so her parents could continue working outside the home. In addition to caring for her younger sister and preparing some household meals, she helped make sure her sister was ready for virtual school each day. She initiated activities with neighborhood children, helping students stay engaged and giving other parents a much-needed break. She continued to help neighborhood children after restrictions were lifted. 
Kevin Lee - sophomore at Langley High School, is a volunteer at Inova Fairfax Hospital gift shops. He was very enthusiastic and eager to learn about the shop. His father notes that his volunteer work at the hospital is his priority activity because he thoroughly enjoys helping people. Activities like helping visitors select special gifts in the gift shop for a patient they are visiting or helping to discharge a patient who has recovered from a serious illness make him feel grateful about his volunteer work at the hospital. 
Sean Lee - sophomore at Langley High School, and Kevin's twin brother, volunteers weekly for Global Co Lab where he works on climate change issues. His projects focus on climate education efforts, including environmental documentaries, movie screenings, Podcasts, and an Eco-Anxiety Webinar. 
JoJo Philipps - junior at McLean High School, has parents who both work and often travel, so a couple of years ago she started cooking dinner one night a week. She completes the whole process from planning to cleaning. She also helps out in the neighborhood. One neighbor wrote that, when her husband died three years ago, Philipps began mentoring her three young children, even secretly taking them shopping to buy their mother a Mother's Day present. Since then she has taken the children to buy Christmas, birthday, and Valentine's presents for their mother. 
Alexander Pomper – junior at Langley High School, launched a children's book drive in January 2022, Give a Kid a Book, which so far has collected more than 4,500 books that have been donated to more than a half a dozen area organizations. He also created an Amazon wish list for bilingual books that he thinks would appeal to the families he wants to help. His books provide families with books they might not otherwise be able to afford and help instill a love of reading, which is critical for kids' success in school.
 Sam Rakowski – freshman at McLean High School, led a project with an organization called Shoes That Fit to deliver brand new shoes to underserved children at Cora Kelly Elementary School in Alexandria. He has distributed more than 250 pairs of shoes and wants to help close the gap between socio-economic groups by gifting brand new and very cool brand name shoes that children are proud to wear. The kids have been very excited to receive their shoes each season and better yet, it enables them to participate in school and sports fully.  
Rishika Singh – freshman at Thomas Jefferson High School for Science and Technology,designed, produced, and delivered seven IV Lily Pads to Inova's Schar Cancer Institute's Pediatric Infusion Unit. An IV Lily Pad is a structure that fits on top of the base of an IV pole, providing a platform for a child to stand or sit while they are attached to the IV. The Lily Pads allow the patients the freedom to safely ride on the IV poles while their parents push them through the halls during their treatments. 
Wesley Housing CEO to retire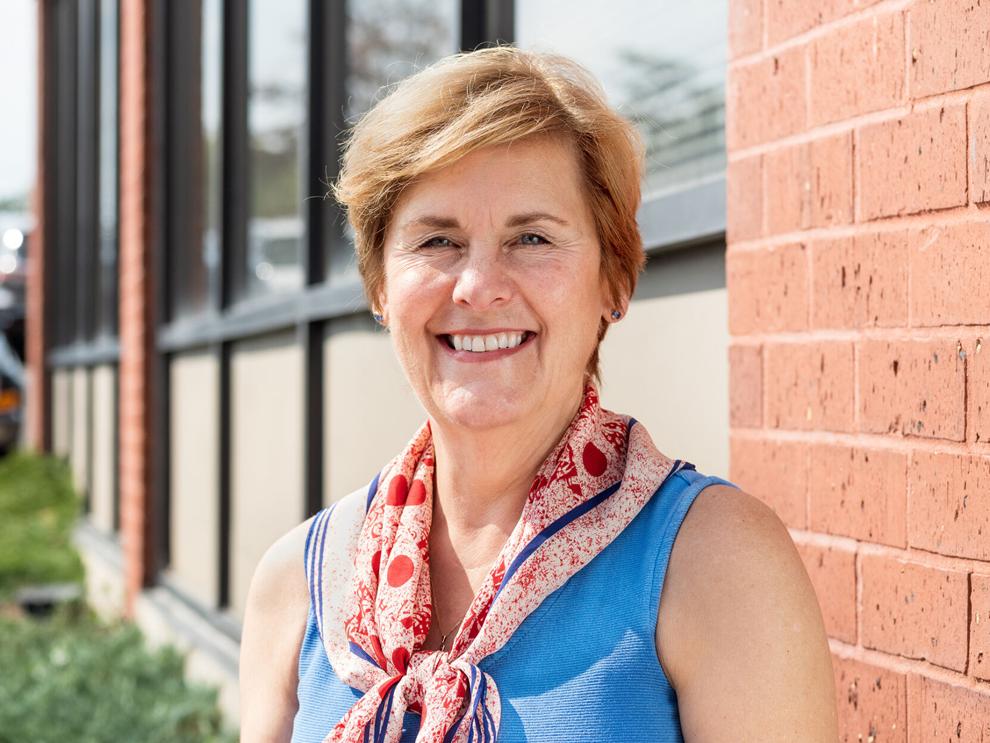 Longtime President/CEO of Wesley Housing Shelley S. Murphy announced her intent to retire at the end of the year, after a remarkable 15-year tenure leading the organization. 
Under Murphy's leadership, the organization has grown its total assets from $107.8M to $303.3M, owned unit count from 1,139 to 1,834, and employee headcount from 40 to nearly 100. The organization is well-positioned to have an even greater impact in the years ahead by providing affordable housing and supportive services to the community.
In 2019, in collaboration with the Board of Directors, Wesley Housing adopted a five-year strategic plan designed to respond to the expanding and changing housing market in the greater Washington, D.C. metropolitan region. Implementation of the plan is ahead of schedule and the financial and organizational infrastructure is in place to ensure Wesley's ongoing and continued support of its mission and vision.
"The Board of Directors is tremendously grateful to Shelley for her leadership and looks forward to working with her to ensure a seamless transition," said Wesley Housing Chairman of the Board of Directors John Gibb.
Under Murphy's leadership, the pace of Wesley's growth will continue through 2022, with the completion of 367 new construction units, 124 units rehabilitated, and at least 200 new units acquired. The future pipeline is over 600 units for projects where Wesley currently has site control.
Wesley Housing's success would not have been possible without the innovative partnerships forged across its various lines of business. For instance, the real estate development team is collaborating with four different local faith-based organizations (FBOs) on four different projects—all in different stages of the development process.
At the same time, Wesley Housing's wholly-owned subsidiary, Wesley Property Management (WPM), sustained its commitment to maintaining quality communities by tending to each of its 22 owned and managed properties. The property management and resident services teams provide support to the over 3,200 residents living in its communities, addressed all concerns during unprecedented times, and ensured its properties met the highest safety standards.
Wesley Housing's efforts have been recognized by peers and residents alike. For example, last month Wesley Housing was selected by the Housing Association of Nonprofit Developers (HAND) as the Developer of the Year; previously also received the same honor in 2017 and 2006. In 2021, Affordable Housing Finance named Wesley in its "Top 50 Affordable Housing Developers of 2020", one of only nine non-profits to make the list. In 2019, Wesley Housing was recognized by the Stewards of Affordable Housing for the Future (SAHF) as a Certified Organization for Resident Engagement & Services (CORES), which identifies owners of multifamily affordable properties and service organizations working in multifamily affordable properties that provide resident services provision in line with a robust coordination system. The organization has become one of the most far-reaching developers, owners, and operators of affordable housing in the DMV and remains committed to building up lives.
"While I will miss working directly with the Board, staff, and other industry stakeholders, I feel it's the right time for the organization to transition to a new leader who can take the organization to the next level. My departure comes at a time when Wesley is strong financially, with the resources necessary to continue to build up the lives of the residents we serve in the DMV," said Murphy. "I'm fully committed to collaborating with my successor for as long as needed to ensure a successful transition, and I will continue to be a fierce advocate for affordable housing," added Murphy.