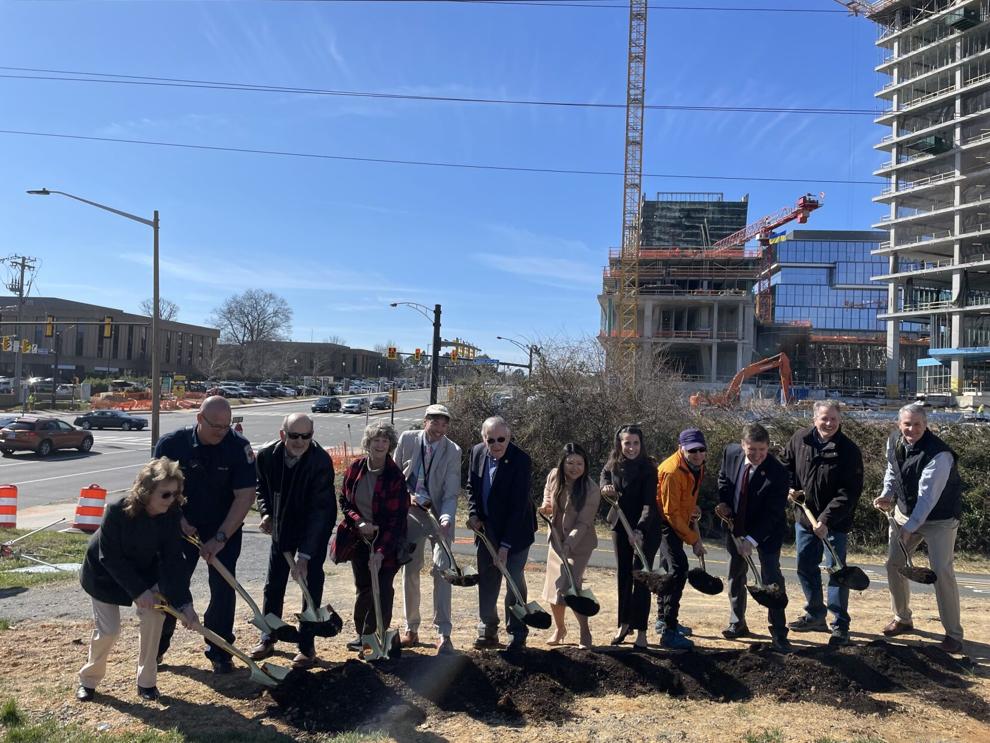 County officials and external stakeholders recently broke ground to kick off construction on the W&OD Trail Bridge over Wiehle Avenue in Reston.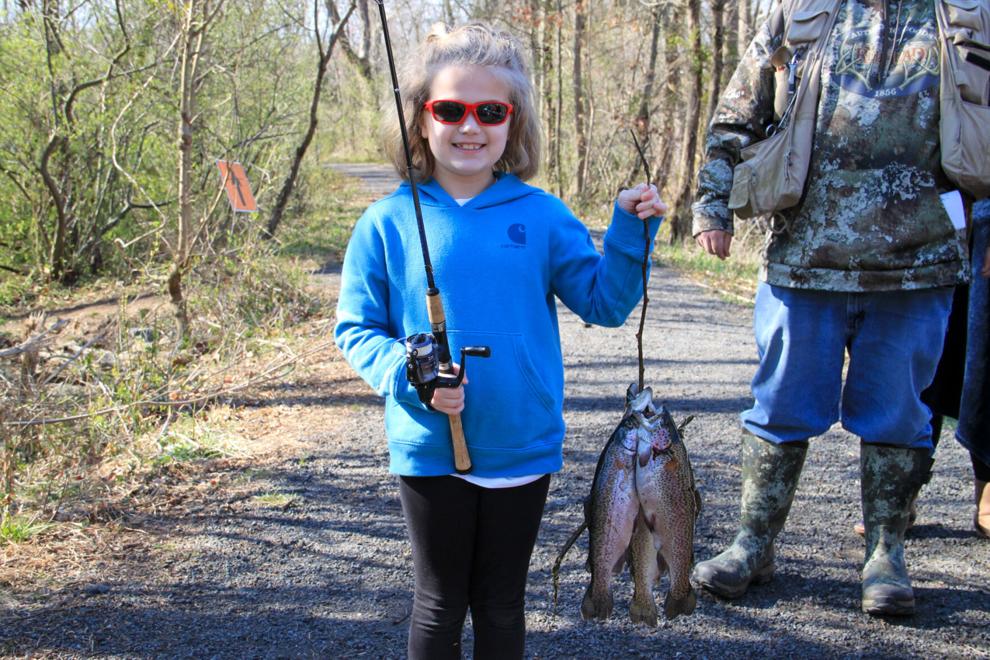 A young girl shows off her catch after the Kids' Fishing Derby which was held at Runnymede Park in Herndon on March 18. The derby is an annual event held by the Town of Herndon Parks and Recreation Department.
Fairfax resident in group awarded the Jackson Award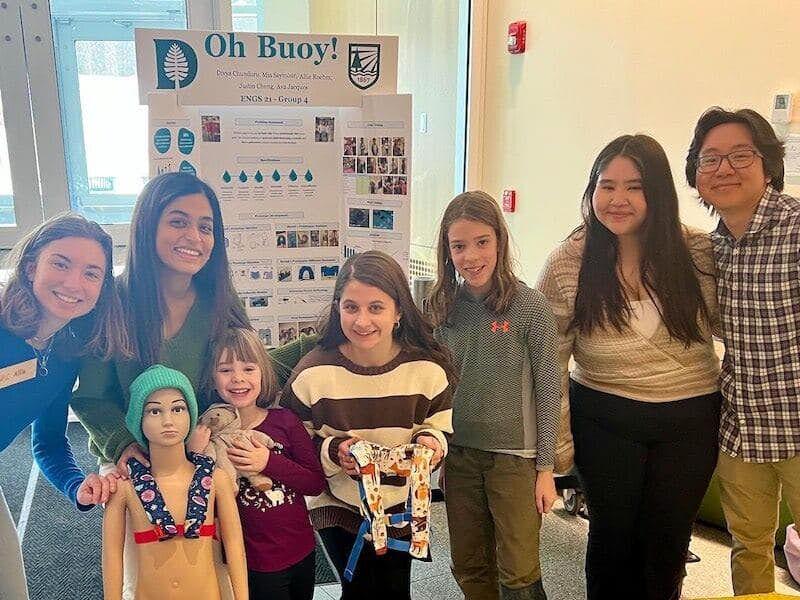 A graduate of Fairfax Baptist Temple Academy is among a team of Dartmouth undergraduates who developed a device to protect small children from accidental drowning and won this term's Phillip R. Jackson Award for best overall performance in ENGS 21: Introduction to Engineering.
Ava Jacques '25, of Fairfax City and her teammates Justin Chong '24, Divya Chunduru '23, Allie Roehm '25, and Mia Seymour '23—pursued this invention after learning that drowning is the leading cause of accidental death for young children ages one to four, with a majority of incidents taking place under adult supervision. The team's final prototype, "Oh Buoy!" is a lightweight harness that rapidly transforms into a flotation device when submerged in water.
With the support of MShop technical instructor Izzy LaBombard and teaching assistant Emily Lukas '24, and after multiple prototypes underwent rigorous user-testing, the team was able to build a comfortable, flexible device that young children are more likely to wear than a bulky life jacket.
"The evolution of this design—the research and iterations to the point where it's streamlined and adorable—this is the gold standard for ENGS 21 projects," said Lukas.
The Jackson Award, named after a former member of Thayer's Board of Advisors, is awarded each term based on the following criteria: Societal importance of the selected problem; User-centered design considerations; Sophistication of the design and degree of difficulty; Functionality and testing of the prototype; Holistic approach to the engineering design process; and Consistent outstanding performance on both written and oral milestones.
"I am inspired by the tremendous creativity and hard work that all of the students put into this class, and I am grateful for their efforts and for those of everyone who contributed to ENGS 21 this winter," said Scott Snyder, adjunct assistant professor of engineering, who taught this term's course.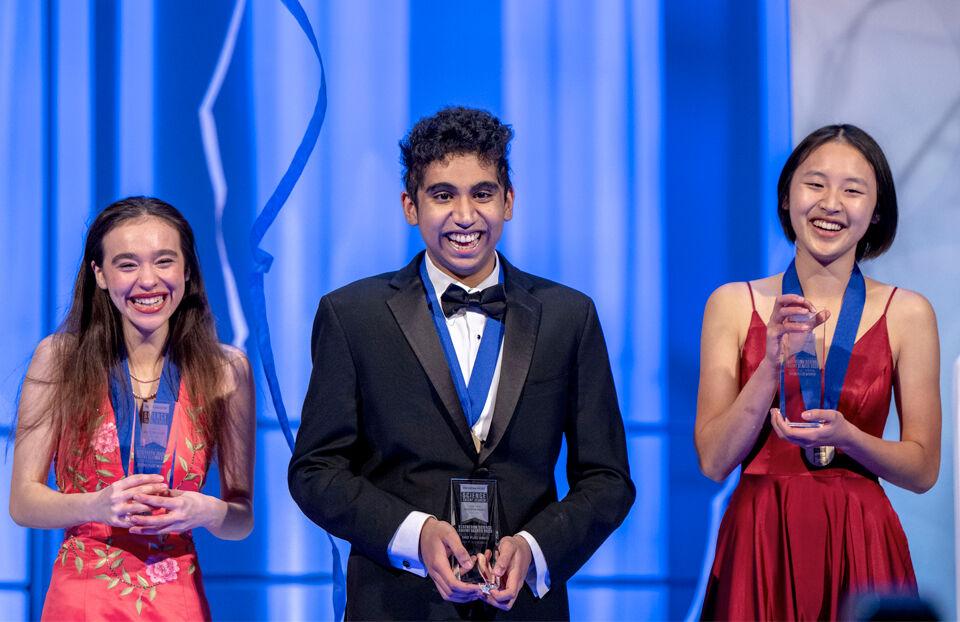 The top three winners in the Regeneron Talent Search include Neel Moudgal of Michigan, Emily Ocasio of Fairfax, and Ellen Xu of California.
Fairfax students place in Regeneron Talent Search
Regeneron Pharmaceuticals, Inc. and Society for Science (the Society) announced that Emily Ocasio, 18 of Fairfax took the second place $175,000 award in the 2023 Regeneron Science Talent Search, the nation's oldest and most prestigious science and math competition for high school seniors.  
Ocasio used artificial intelligence to determine whether humanizing language was used by the Boston Globe in the years spanning 1976-84 when describing homicide victims. She found that Black victims received less humanizing coverage than white victims.  
Ethan Zhou, 18, of McLean received a $70,000 award for studying the theory behind a machine learning model in which the learning program receives training data gradually. His math research could be especially useful for algorithms that predict and learn from events that are revealed over time, like the weather. 
"Congratulations to the winners of the Regeneron Science Talent Search 2023," said Maya Ajmera, President and CEO, Society for Science and Executive Publisher, Science News. "These young leaders are the stewards of our future. I am in awe of their creativity and conviction." 
The Regeneron Science Talent Search empowers young people who are passionate about innovation and using scientific discovery to contribute to improving our world. By providing a national stage to present new ideas and challenge old ways of thinking, the competition encourages and rewards a culture of idea sharing, critical thinking and continuous improvement. It also serves as a catalyst for discovering sustainable solutions to the world's most pressing challenges. The judging panel considers how these research efforts, innovative thinking and leadership qualities demonstrate the students' potential to become future leaders in critical STEM fields. 
"Congratulations to the Regeneron Science Talent Search 2023 winners, and to all our impressive finalists," said George D. Yancopoulos, M.D., Ph.D., co-founder, President and Chief Scientific Officer of Regeneron, and a 1976 Science Talent Search finalist and top winner. "My experiences participating in the Science Talent Search changed my life, helping convince me to devote my life to trying to use science to cure disease. I can only hope this year's students will be similarly inspired to become the next generation of scientists, engineers and innovators that will develop and advance solutions for the world's greatest challenges."
Residents participate in nationwide cleanup drive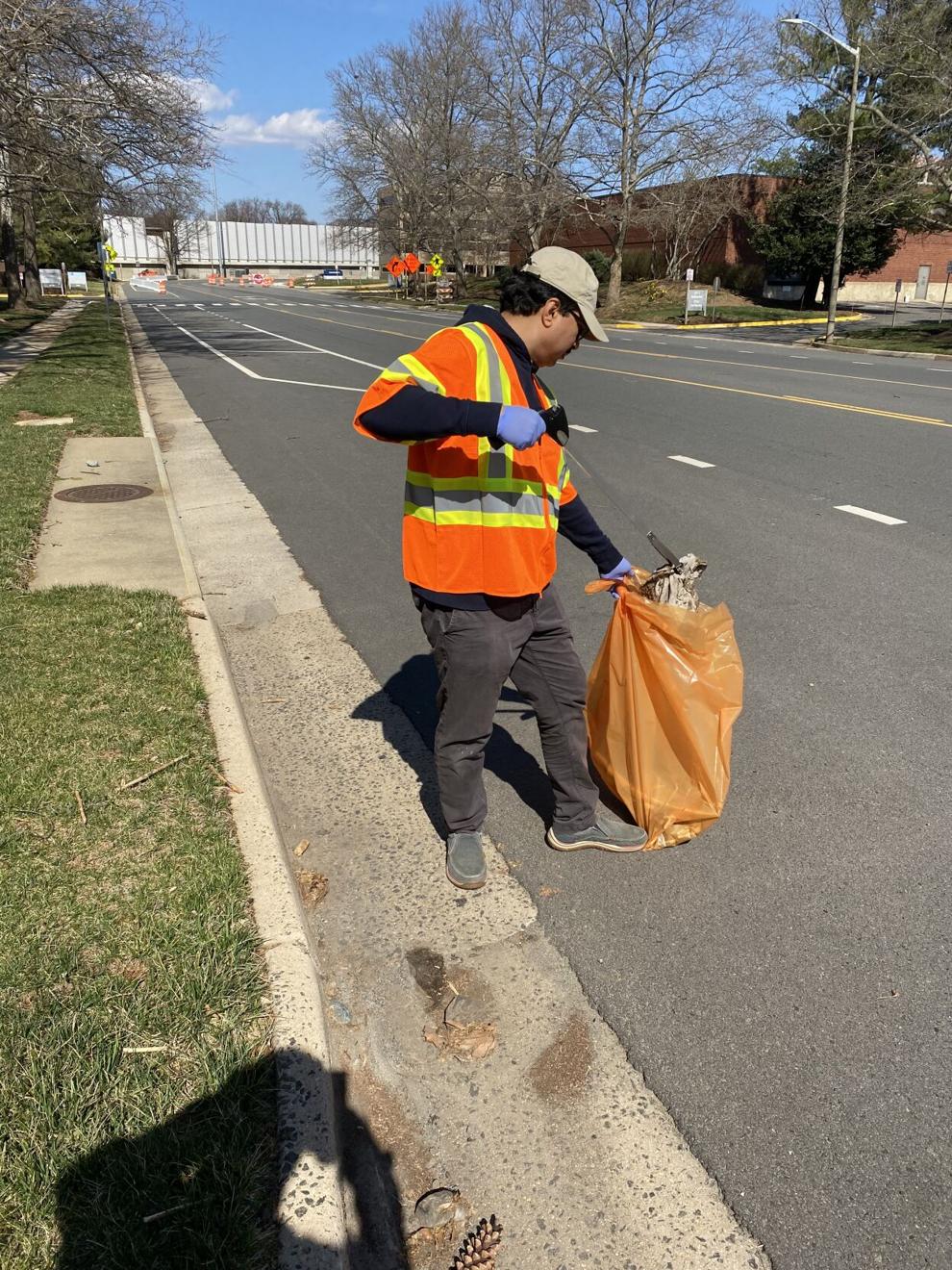 Residents and volunteers of the non-profit organization Dr. Shri Nanasaheb Dharmadhikari Pratishthan (DSNDP) on a one-mile stretch of Prosperity Ave. earlier this month.
These events were organized by DSNDP in collaboration with the Virginia Department of Transportation. 'Adopt-A-Road (AAR)' program is part of a year-long Nationwide Cleanup Drive undertaken by DSNDP across 14 states and 19 cities in the U.S.
More than just a cleanup campaign, this innovative program works to educate citizens of all ages about the responsibilities of land stewardship-the care and repair of our environment. Ultimately, the AAR Program is about people caring enough to make a difference, said DSNDP officials.
The non-profit DSNDP is driven by more than a million volunteers worldwide, who strive to keep the legacy of Dr. Shri Nanasaheb Dharmadhikari alive by running massive blood-donation drives, cleanliness drives, tree plantation & conservation drives, conserving natural water reservoirs, assisting hearing-impaired children with free hearing-aids, free adult, and children's literacy classes, among other activities.
Vienna teen will travel with National Youth Orchestra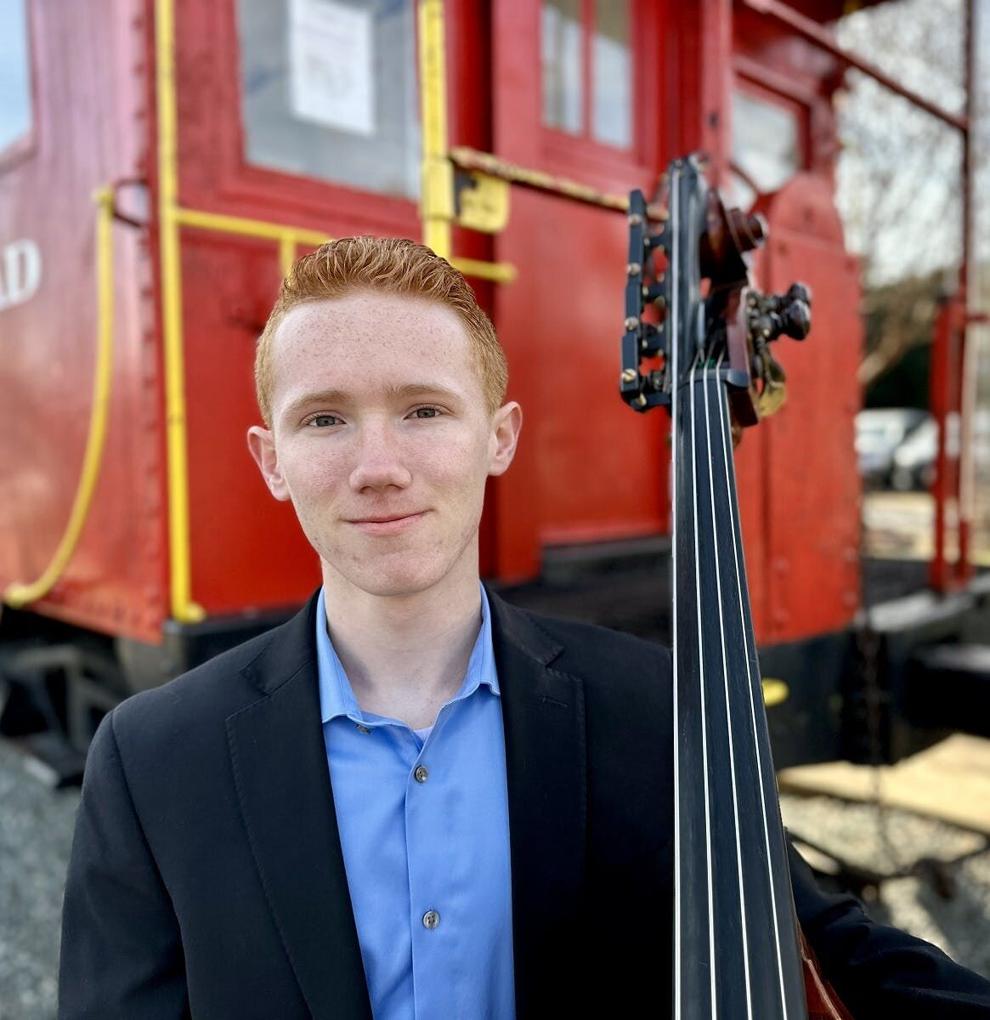 A Vienna teen was one of 89 young musicians selected by Carnegie Hall for NYO2, an intensive summer orchestral training program for outstanding American instrumentalists, ages 14-17.
Joshua Thrust, of Vienna, was selected to play bass. He is one of three Virginia musicians selected to participate.
The members of NYO2 2023—coming from 30 US states plus Puerto Rico—have been recognized by Carnegie Hall as exceptionally talented musicians who not only embody a very high level of artistry, but also come from a wide range of backgrounds including communities that have often been underserved by and underrepresented in the field. Ten musicians are returning to NYO2 from previous seasons. In addition, 35 musicians who previously took part in NYO2 have been accepted to the 2023 edition of the National Youth Orchestra of the United States of America (NYO-USA) this summer.
After performing at Carnegie Hall on July 15, the NYO2 musicians will travel to the Dominican Republic for the ensemble's first-ever international residency and concerts.
"We are thrilled to congratulate the remarkable teen musicians who will come together as NYO2 this summer as the ensemble embarks on its first-ever international residency," said Clive Gillinson, Carnegie Hall's executive and artistic director. "These excellent young players will have the opportunity to share their talents with audiences at Carnegie Hall and in the Dominican Republic where they will serve as musical ambassadors for their country. It's also exciting to us that Joseph Young joins this year as guest conductor after many years playing a major role in mentoring and preparing these bright young musicians for their concerts."
The NYO2 program begins in early July with an intensive two-week training residency at Purchase College, State University of New York, located just north of New York City. James Ross, music director of the Alexandria Symphony Orchestra in Virginia, returns for the tenth year as orchestra director and, for the first time, will work closely with NYO2 to prepare its 2023 program. The faculty will oversee rehearsals during the orchestra's residency in Purchase, also working with the musicians in master classes and sectionals, in preparation for the culminating concerts in New York and the Dominican Republic.
Aviation Art Contest winners announced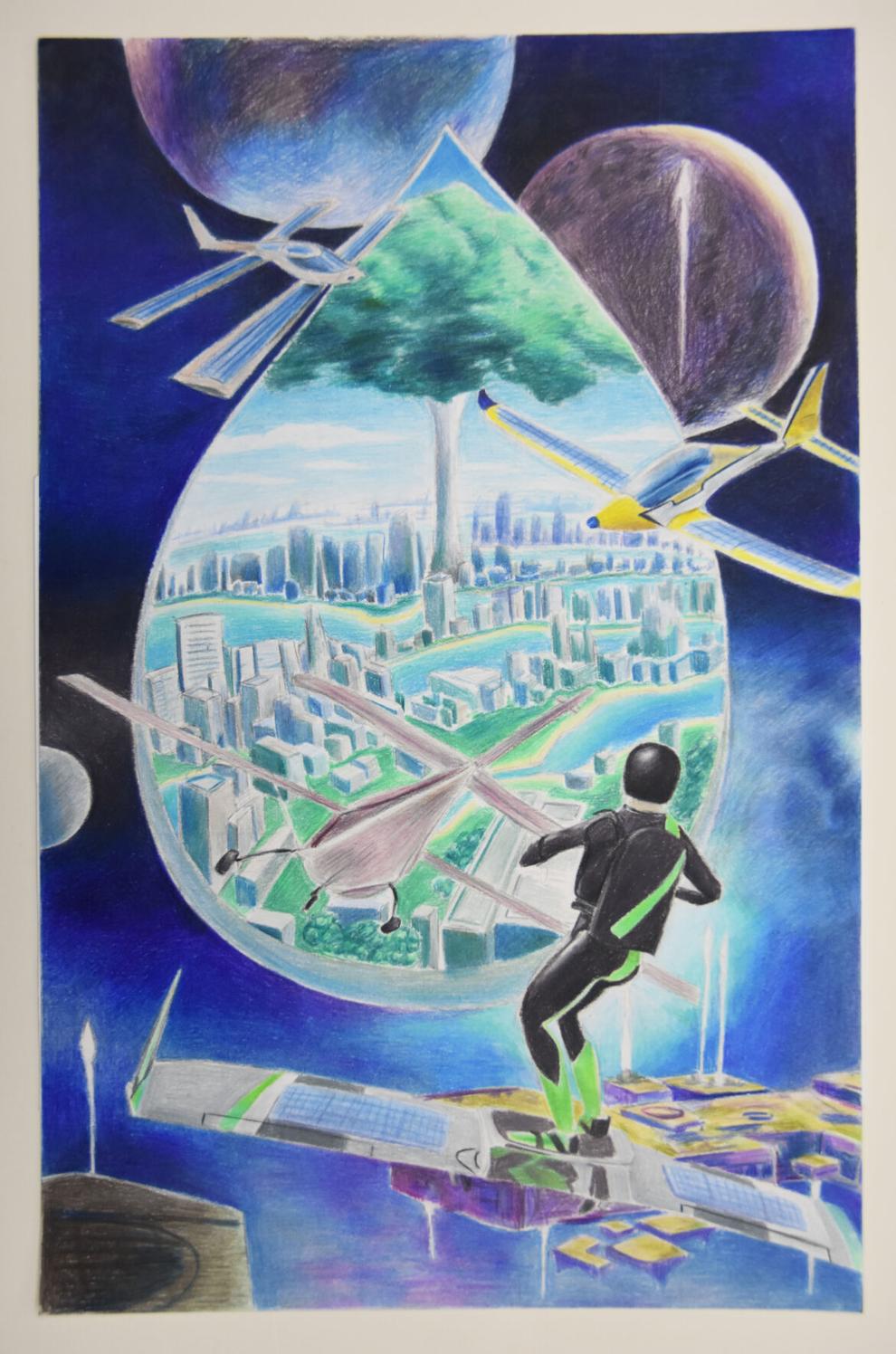 Two Fairfax County students won awards in the national aviation art competition sponsored by the National Association of State Aviation Officials (NASAO). 
Callie Hu of Great Falls, took second place in the Junior category, and Tongfei Karen Ji of Vienna, earned second place in the Intermediate category.
As national winners, they will progress onto the International Aviation Art Contest sponsored by the Fédération Aéronautique Internationale (FAI) based in Lausanne, Switzerland.
The national annual art contest included more than 150 entries from 20 states.
Virginia's two national winners were among the nine students who won the state-level art contest that is sponsored by the Virginia Department of Aviation (DOAV). This year's theme was "Air Sports and the Environment" and was open to all students in the Commonwealth.
Wenyan Huang, mother of Callie Hu, was overjoyed that her daughter won second place. "She paints for herself most of the time," said Huang. More surprisingly, Callie's first-ever art award was from the DOAV for this year's state competition, and her second award was won at the national level from NASAO – for the same piece of art.
"Good luck, Callie and Tongfei!," said Tony Sotelo, of the Virginia Department of Aviation. "The DOAV and all Virginians are proud that you two are representing our country – and the Commonwealth – on the international stage."
Fairfax County students compete in spelling bee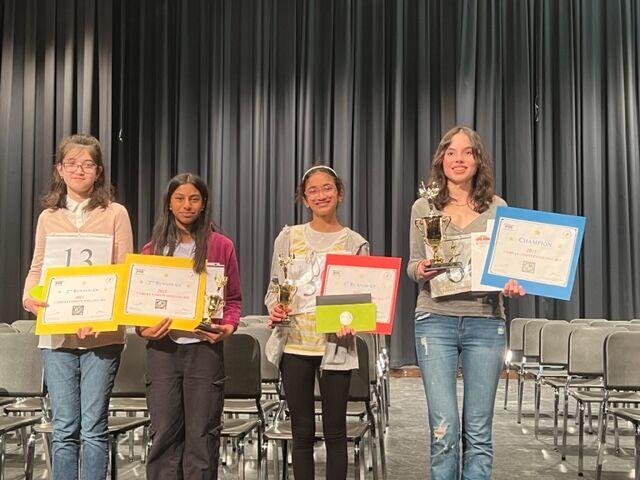 About 75 spellers competed at the Fairfax County spelling bee last weekend. The event lasted about six hours and featured hardworking students from public, private and home schools across the county.
Charlotte Walsh, of Compass Homeschool Enrichment is the champion of the event. She successfully spelled the word bocage, which is a supporting and ornamental background (as of shrubbery and flowers) for a ceramic figure.
The first runner up was Nikita Ramakrishnan of Poplar Tree Elementary School. There was a tie for second runner up that went to Nargiza Muzhapaer of Pinnacle Academy and Ankita Balaji of Floris Elementary School.
The winner will move on to compete in the Scripps National Spelling Bee, which will be held this summer at the Gaylord National Resort and Convention Center at the National Harbor. More than 200 spellers nationwide will participate in the national contest. The semifinals will air on ION on June 1, and the finals will be broadcast on June 2.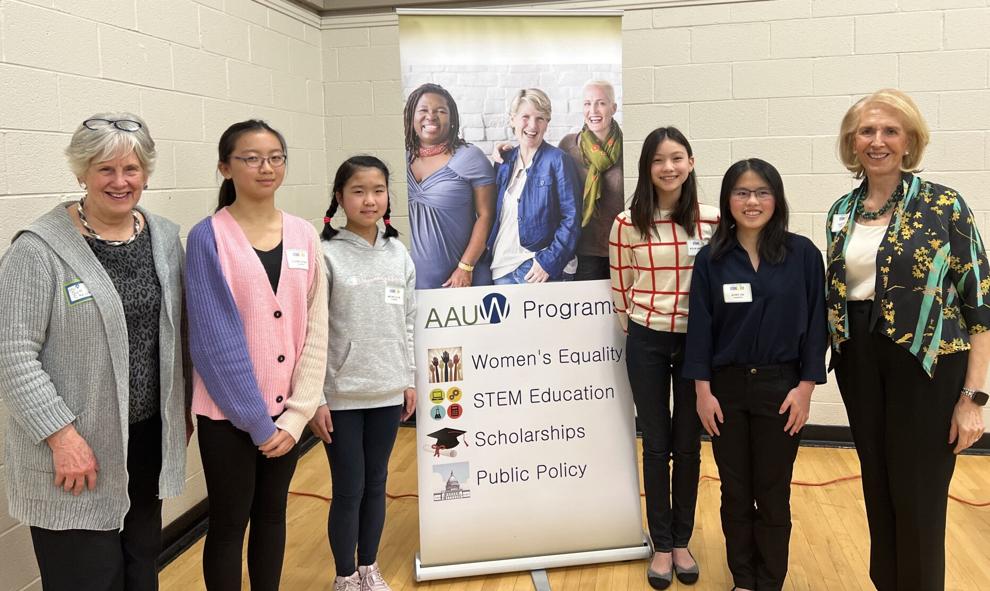 Sue Christie, Branch co-president; Elaine Zhang, Honorable Mention; Michelle Lin, Honorable Mention, Kylie Rudinsky, 2nd Place winner; Jessy Lin, 1st Place winner; and Judy Page, STEM chair.
McLean AAUW announces essay winners
The McLean Area Branch of AAUW (American Association of University Women) recently announced the winners of their 2023 STEM Essay Contest.
The winners of the contest are Jessy Lin, 8th grader from Longfellow Middle School, first place;  
Kylie Rudinsky, 7th grader from Cooper Middle School, second place; Michelle Lin, 7th grader from Longfellow Middle School, and Elaine Zhang, 7th grader from Longfellow Middle School both received honorable mention.
The contest was open to 7th and 8th grade students (girls and boys) at nine local public and private schools. The students were asked to discover and publicize women including women of color, who made a difference in Science, Technology, Engineering, and Mathematics (STEM) fields, but who received little or no recognition for their contributions while they were alive. Strong preference was given to essays about women who are not well known even today. Each essay described one woman's contribution and its impact, as well as why the student selected the woman.
As part of the awards ceremony, Lin, the first place winner, read her essay on Dr. Jane Cooke
Wright. Other women who were the subjects of the winning essays were Alice Ball, Dr. Chien-Shiung Wu, and Eunice Newton Foote. Each student received a Certificate of Merit and a monetary award.