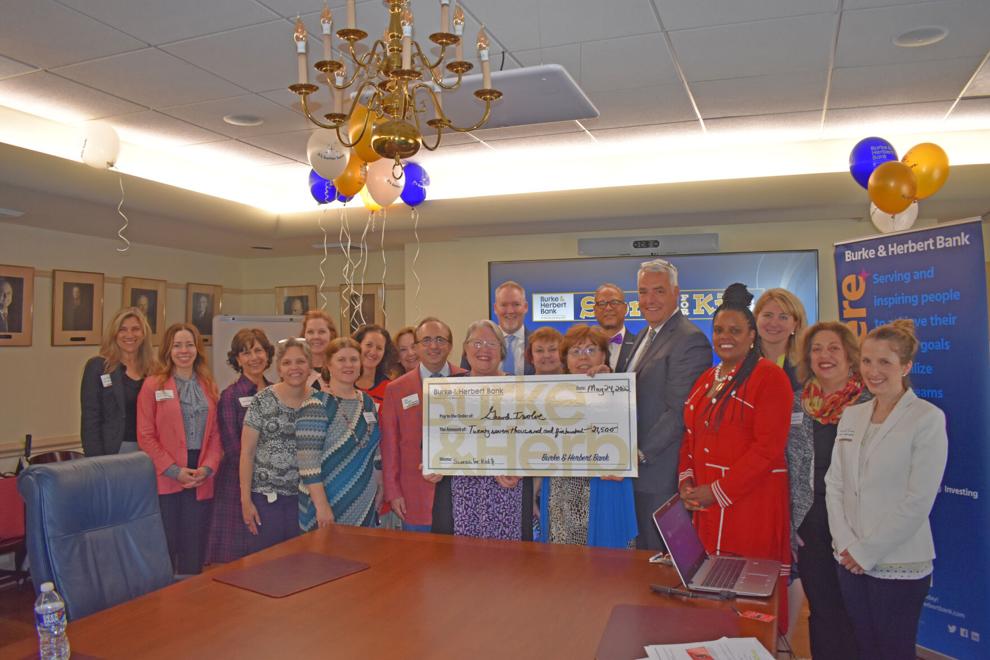 President and CEO David Boyle presented a check for $27,500 to Dorothy Keenan, executive director of GrandInvolve, citing community banks' responsibility to support their local markets. GrandInvolve, a local not-for-profit that places active seniors in Fairfax County Title I schools as classroom volunteers, will use the funds to reach more area schools and to increase its pool of volunteers.
Fairfax County housing director recognized for public service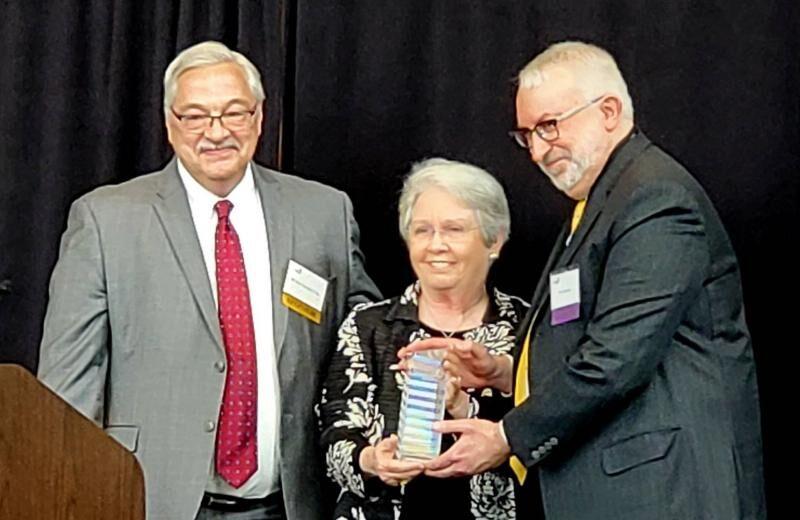 Leadership Fairfax presented its 2022 Katherine K. Hanley Award for Public Service to Tom Fleetwood, director of the Fairfax County Department of Housing and Community Development (HCD). The award recognizes individuals who have left an indelible mark on Fairfax County through public services as an employee or volunteer.
Fleetwood, joined by his family and colleagues from HCD and the Fairfax County Redevelopment and Housing Authority (FCRHA), received high honors from Kevin Greenlief, a former FCRHA commissioner, and Katherine Hanley, former chairman of the Fairfax County Board of Supervisors for whom the award was named. The pair paid tribute to Fleetwood's focused commitment to public service and how he "always leaves things better than he found them," and has "transformed the way the department works with nonprofits and the community" in finding new and innovative ways to provide housing opportunities for low- and moderate-income households.
"There is simply no way that Fairfax County would be where it is today in terms of affordable housing without Tom Fleetwood at the helm," said Chairman Melissa McKenna, Fairfax County Redevelopment and Housing Authority. "Under his leadership, HCD and the FCRHA have blazed new trails, innovated policies and processes, and utilized the county's Moving-to-Work authority to maximize the benefit of federal programs, resources, and services to meet the county's unique needs at the neighborhood level. It is such a pleasure to work alongside him."
Under Fleetwood's leadership, the FCRHA, HCD, and development partners have created a development pipeline that includes more than 3,000 units with many more on the way within just the first three years since establishing the county's housing goal. Fairfax County has also become a recognized leader in the development of affordable housing on dedicated public land through public-private partnerships.
In acknowledgement of his distinguished recognition, Fleetwood recognized the unwavering support of his family, the Fairfax County Board of Supervisors and the FCRHA. He also recognized the outstanding contributions of HCD staff and the county's network of development partners in tackling the issue of affordable housing.
"Affordable housing is a team sport that can only be accomplished with the support of excellent leadership, a great team of dedicated professionals, and a strong network of partners who share a common vision," said Fleetwood. "Together we are making miracles every day and I am proud to lead such a distinguished group."
Reston Hospital Center CEO recognized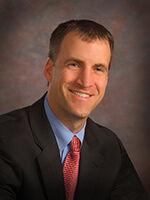 John Deardorff, president and CEO of Reston Hospital Center and HCA Northern Virginia Market has been named a Community Hospital CEO to Know. 
Deardorff was one of 83 CEOs recognized by Becker's Hospital Review. 
He has more than 20 years of healthcare experience and has held several executive and leadership roles. He previously worked as the CEO of several HCA hospitals in Florida and Georgia.
Deardorff received a Bachelor of Science degree from Towson University in Maryland, with a double major in business administration and health services management, and went on to earn his Master of Health Administration degree from George Washington University.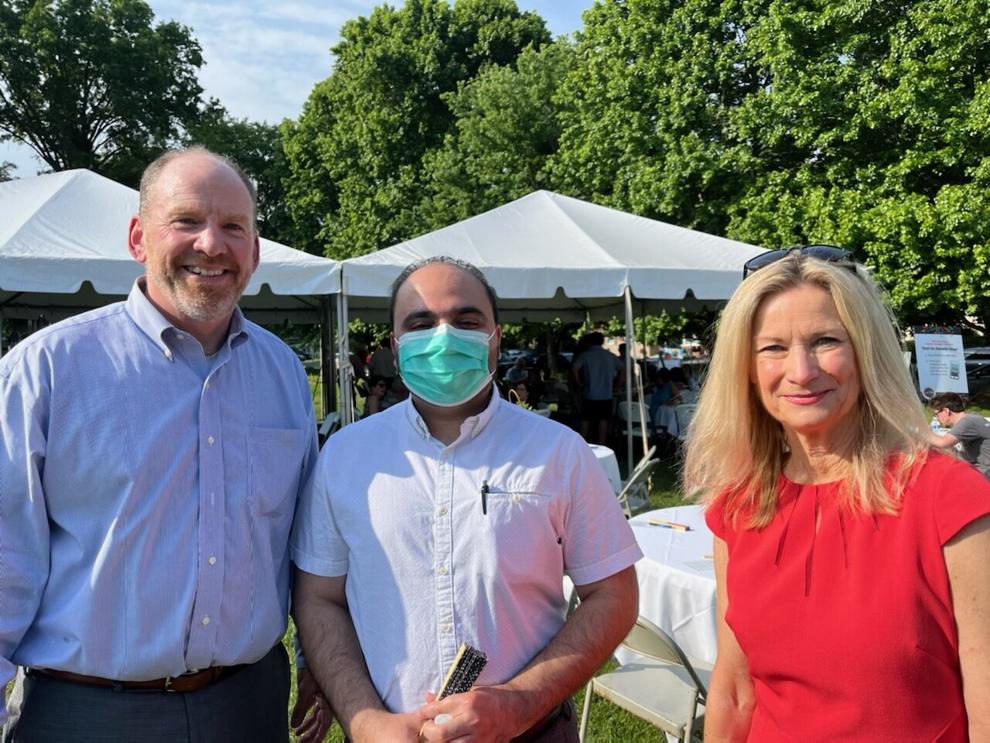 FACETS Executive Director Joe Fay, Awais Sheikh, client speaker, and NBC4's Julie Carey attend the Stronger Futures Celebration May 20 at Christ Lutheran Church in Fairfax. Stronger Futures Celebration, an outdoor community event with a few hundred people to recognize Fairfax's dedication to creating stronger futures for its most vulnerable and marginalized neighbors. Attendees were inspired as several FACETS' clients share their courageous stories about homelessness and efforts to overcome it. With the second largest homeless population in the region, homelessness is a real problem in the Fairfax County-Falls Church community where more than 1,000 people are homeless. A majority of these are in working families with children.
Board of Supervisors honors high school Shark Tank winners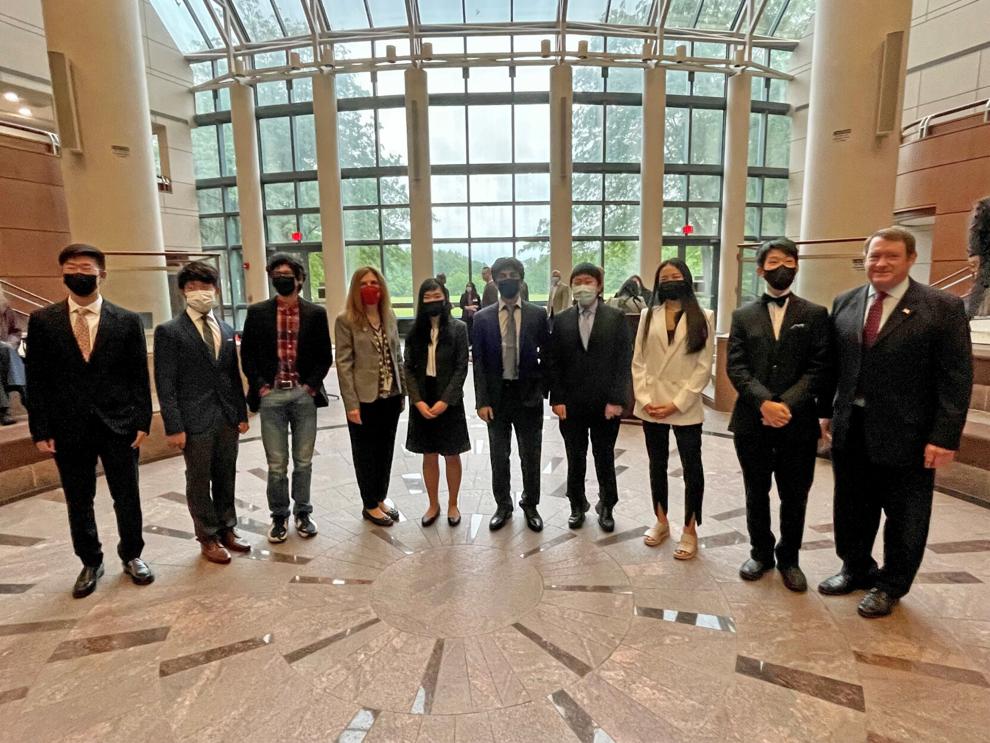 Springfield District Supervisor Pat Herrity recognized teams from Chantilly High School, Oakton HighSchool, and Thomas Jefferson High School for Science and Technology that competed in the annual FairfaxCounty Shark Tank Challenge hosted by Department of Family Services, Fairfax Area Agency on Aging, Neighborhood & Community Services, George Mason's Kellar Institute, Fairfax County Public Schools, and INTEGRITYOne Partners. 
During the May 24 Board of Supervisors meeting, the Board presented the teams with plaques honoring their teams as well as individual certificates. INTEGRITYOne Partners provided monetary awards for the winners, totaling $5,750. 
The student teams created assistive technology to help older adults age in place. Student innovations included an app interface specialized for visual and audio impairment for medication access, and an interactive web application featuring a gamified reward system to incentivize physical activity and creative activity. 
The winning team from Chantilly, with team members Akanksha Tibrewala and Kaavya Karthikeyan, created AutoTrem, a walker that can move automatically, causing less stress on the user's muscles and allowing them to gradually gain their strength and confidence back. The team was awarded $2,500 for their first place prize.
Second place team from TJHSST, with team members Andrew Choi, Grace Xiao, Samarth Bhargav, Chris Jia, Hasvika Challa and Jaydon Sun won $1,500 for APP-Pill, an app that allows older adults to access and identify medications.
In third place from TJHSST with team members Sol Song and Ryan Kim, who developed was Signterpreter, a web application that makes communications easier for deaf seniors. They earned a prize of $1,000.
Three teams were recognized with an honorable mention prize of $250 each. Mihir Kulshreshth from TJHSST for a shoe sensor which can detect a fall and notify caretakers; Sampriti Muthuswamy from Oakton High School for an Alzheimer's Activities website which helps build cognitive reserve; and Jessica Wang from TJHSST for her web application FitVibe, which incentivizes physical activity.
"This is one of my favorite events each year because our bright, young students get to engage in this intergenerational challenge where they learn about the challenges our older adults face and come up with solutions to help them," said Herrity. "During the competition, I came by to see the student innovations in person and they were truly incredible."
Herrity chairs the Fairfax County Older Adults Committee that focuses on helping residents age in place. In 2015, the first Fairfax County High School Student Shark Tank Challenge was held to help implement the Fairfax 50+ Community Action Plan initiative, "Help People Stay in their Homes with Technology". Last month, the challenge returned after being halted by the pandemic.
BASIS student receives National Merit Scholarship
A graduating senior from BASIS Independent McLean has been awarded a $2,500 scholarship from the National Merit Scholarship Corporation.
Sophie Pellnitz received the honor in the midst of putting the final touches of her senior project which studies the psychology of wealth, socioeconomic inequality, and overall attitudes toward a billionaire's tax.
For her senior project she pondered the question: if the rich make up such a small number of the American population, why isn't something like a billionaire's tax gaining more traction with the public? She is looking to answer this question not from an economic perspective, but by taking a look at the American psyche. For more information on her project visit https://bit.ly/3N4EC96.
Pellnitz was one of 15,000 finalists across the country recognized for her accomplishments, skills and potential for success in rigorous college studies. She will attend Brown University in the fall.
Vienna native receives top academic recognition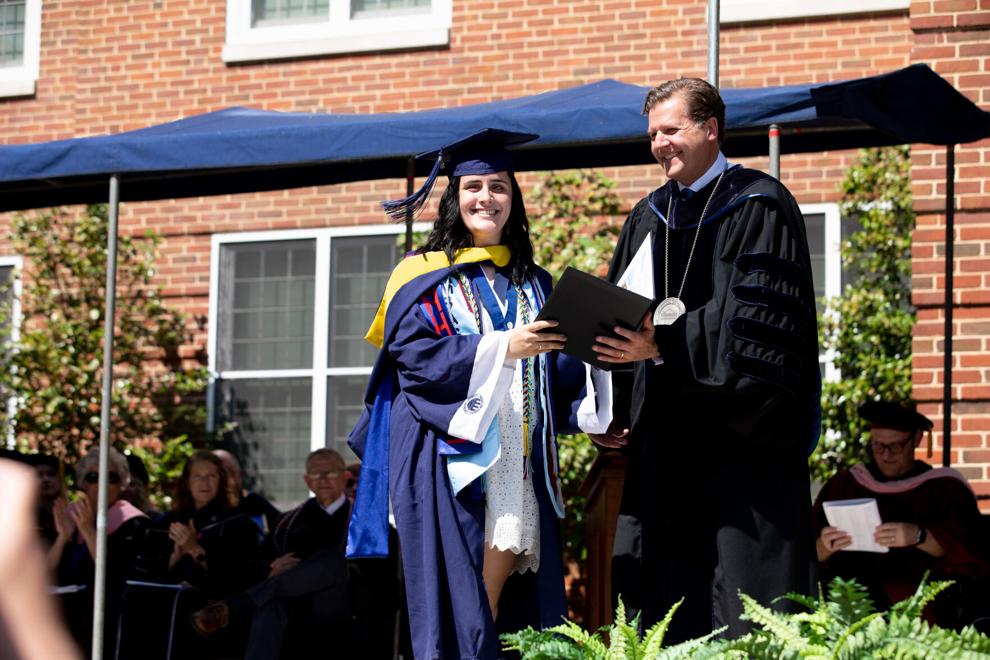 Anna Lindsay Sotelo, of Vienna, was one of four recipients of the Sally Barksdale Hargrett Prize for Academic Excellence, Longwood University's top academic award annually given out at commencement.
The award was presented at Longwood's undergraduate commencement exercises on Wheeler Mall May 21. Overall 881 undergraduate degrees were given out at the ceremony.
Sotelo, a member of the Cormier Honors College for Citizen Scholars, received a bachelors of science in elementary education and teaching.
Reston company names new COO
Trucker Tools, a Reston company that provides digital freight management, has named a new chief operating officer.
Rohit Bezewada joints the company from J.P. Morgan where he was an investment banker. Prior to that, he held several management positions with Uber, leading global business development efforts and progressing through strategic planning and operations roles. He succeeds Kary Jablonski, who earlier this year was named Trucker Tools chief executive officer.
"Rohit is an accomplished executive who brings over 10 years of cross-functional experience across engineering, product, strategy, business development, and finance to Trucker Tools," said Jablonski. "We are excited to welcome him to the Trucker Tools team and look forward to his leadership and expertise as we continue to scale the company and provide sustained value for our customers."
The Trucker Tools platform, founded in 2013, deploys a suite of mobile-based, highly collaborative, and intuitive digital freight management tools used by freight brokers, logistics providers, and truckers to automate and streamline common business processes in truckload freight transportation.
Vienna native receives top academic recognition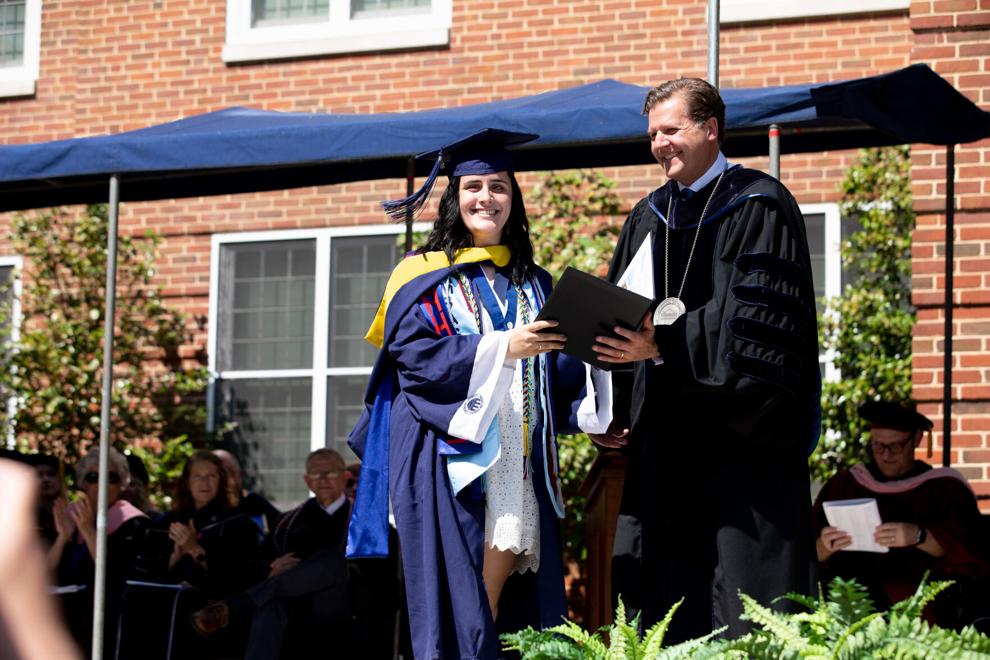 Anna Lindsay Sotelo, of Vienna, was one of four recipients of the Sally Barksdale Hargrett Prize for Academic Excellence, Longwood University's top academic award annually given out at commencement.
The award was presented at Longwood's undergraduate commencement exercises on Wheeler Mall May 21. Overall 881 undergraduate degrees were given out at the ceremony.
Sotelo, a member of the Cormier Honors College for Citizen Scholars, received a bachelors of science in elementary education and teaching.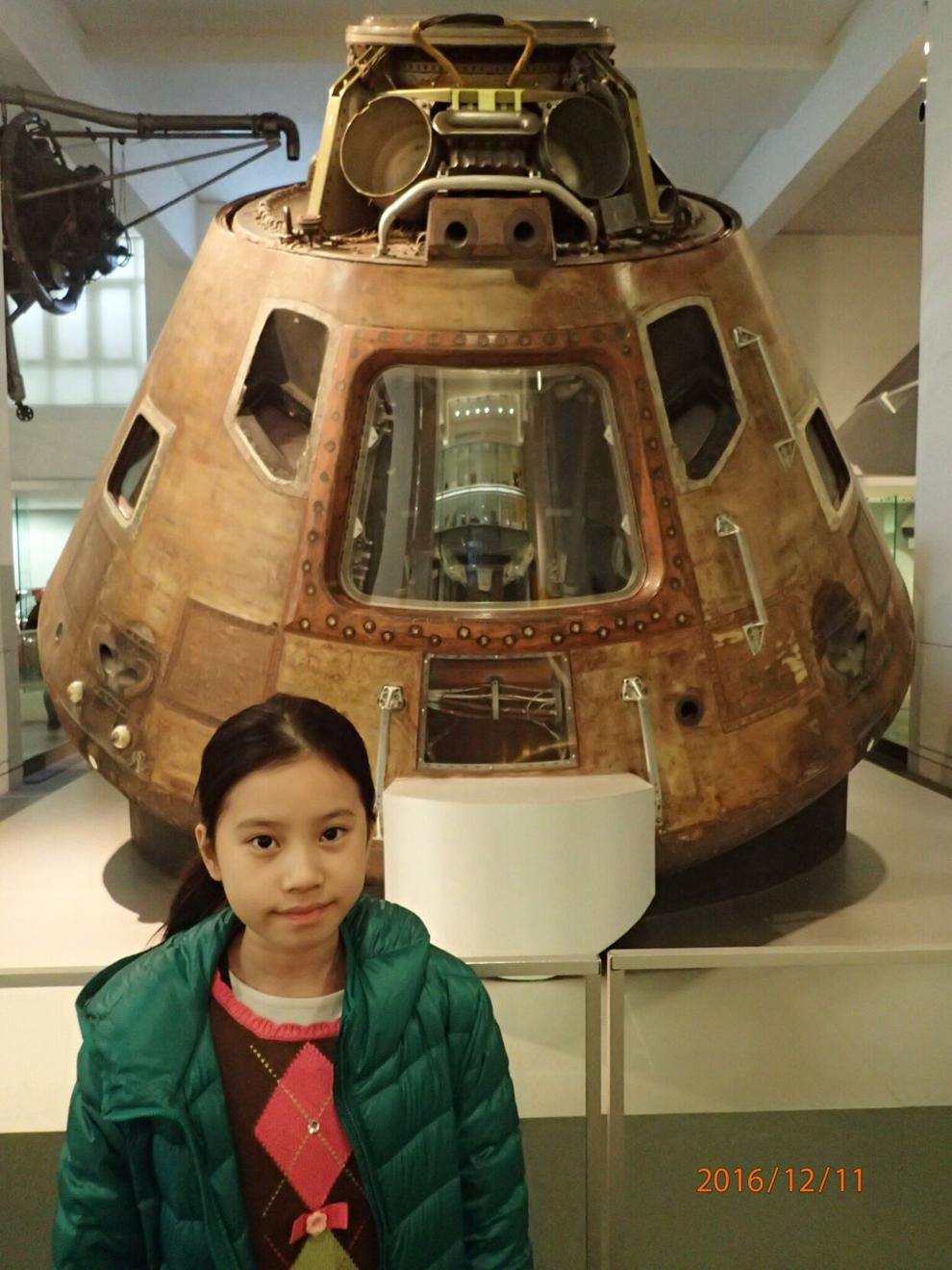 McLean student wins NASA essay contest
A McLean student's essay has been selected as a winner in the Power to Explore Student Challenge.
One of these winners is Jenn Yin Tay of McLean, who submitted this entry https://bit.ly/3m5HE14.
Tay's essay was one of  45 student essays selected by NASA as a winning entry of the national competition for K-12 students featuring the enabling power of radioisotopes. Contestants were challenged to explore how NASA has powered some of its most famous missions across the solar system while sharing their own unique "super" powers.
Fifteen national winners in each grade category (45 winners total) were selected. These eligible winners will also receive a NASA RPS prize pack.