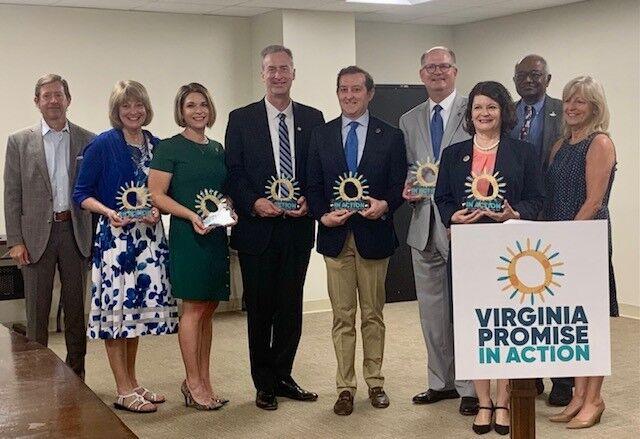 From L to R Paul Koonce, VPiA board member, Delegate Roxann Robinson, Delegate Carrie Coyner, Delegate David Bulova, Senator Todd Pillion, Senator Monty Mason, Senator Barbara Favola, Jim Dyke, VPiA board chair, and Sherrie Armstrong, VPiA board secretary.
Virginia nonprofit names 2022 Child Care Champions
Virginia Promise in Action named a bipartisan group of six Virginia legislators: Delegate David Bulova, Delegate Carrie Coyner, Senator Barbara Favola, Senator Monty Mason, Senator Todd Pillion and Delegate Roxann Robinson as inaugural Child Care Champions of the Year.
Child care plays a vital role in the well-being of our families, communities, and economy, but countless families across Virginia struggle to find affordable child care options that fit their needs. Child care providers face a business with challenging cost structures. The award recognizes legislators who show an exceptional commitment to early education and care and help increase Virginia families' access to quality, affordable child care.
"We are excited to announce our six Child Care Champions of the Year and recognize them for their outstanding work to expand access to quality, affordable child care for all Virginians," said Virginia Promise in Action Board Chair Jim Dyke. "The COVID pandemic has only worsened the existing child care crisis. There is a growing need for champions in the legislature to help Virginia families access quality child care that meets their needs and strengthens Virginia's workforce."
Bulova (D-Fairfax) is a fierce champion of strengthening our early care and education system. He was the chief patron of HB 389, which codifies Ready Regions, strengthening Virginia's child care and early education system through more robust regional infrastructure and resources. In 2020 he also carried the School Readiness Act legislation which unified our early childhood system.
Coyner (R-Chesterfield) served as the first chair of the newly formed House Education, Early Childhood/Innovation Subcommittee which has jurisdiction over bills impacting early learning policy. She also patroned the Virginia Literacy Act (HB 319), a comprehensive, multi-pronged approach for ensuring that evidence-based literacy instruction is implemented in all public school classrooms, which passed unanimously out of the 2022 General Assembly.
Favola (D-Arlington) has been a long-standing champion of early care and education throughout her career. In the 2022 General Assembly session, she was the chief patron of SB 69, which would expand the supply of child care in Virginia by permitting rental agreements to allow for the operation of properly licensed and authorized child care services on the rental property. Favola also sponsored a budget amendment extending (through 2024) expanded child care subsidy eligibility to families earning up to 85 percent of the state median income.
Mason (D-Williamsburg) has been a vigorous supporter of early education providers this year. He patroned legislation and sponsored a budget amendment improving and streamlining the background check process in an effort to address ongoing child care staffing shortages while upholding the safety of Virginia's children.
Pillion (R-Abingdon) has become a champion for ensuring Southwest Virginia has a strong early care and education system. The economic downturn forced the closure of several childcare centers in Southwest Virginia, and in response, Pillion sponsored a budget amendment which would allocate funding under the American Rescue Plan Act to increase childcare capacity in southwest Virginia.
Robinson (R-Chesterfield) is a long-standing supporter for early learning, and her leadership has helped Virginia make significant investments for our youngest learners. In 2022, Robinson sponsored budget amendments extending (through 2024) expanded child care subsidy eligibility to families earning up to 85 percent of the state median income and allocating funding to the 21st Century Community Learning Centers Program to support after-school, before-school, and summer learning programs for school-age children.
Virginia Promise in Action is working to build the leadership of Child Care Champions to advance effective policy improvements and increase investments that will benefit Virginia children, families, businesses, and communities more broadly.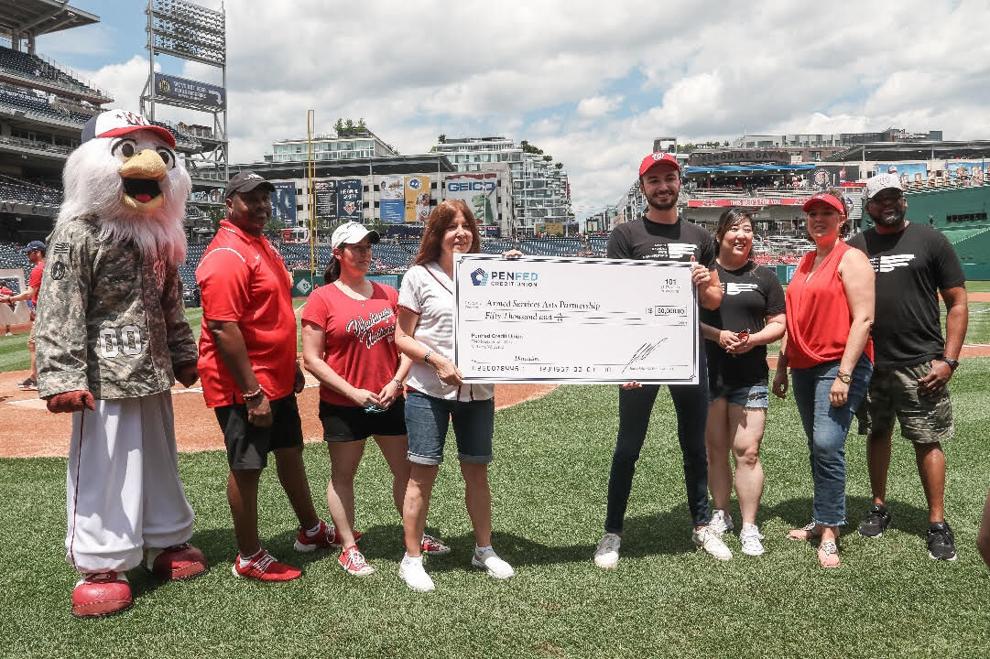 PenFed Credit Union and PenFed Foundation Board of Directors Treasurer Sandra "Sam" Patricola (left) presents a $50,000 donation to ASAP Executive Director Brian Jenkins and graduates of the ASAP program.
Fairfax credit union donates to Armed Services Art Partnership
Fairfax County-based PenFed Credit Union furthered its commitment to the military community with a $50,000 donation to the Armed Services Arts Partnership (ASAP) to help veterans thrive through the arts. 
PenFed Credit Union and PenFed Foundation Board of Directors Treasurer Sandra "Sam" Patricola presented the check to ASAP Executive Director Brian Jenkins May 29.
To date, PenFed has donated over $200,000 to support the over 1,800 veterans in the ASAP community.  
"We cannot underestimate the healing power of the arts," said Patricola. "I'm really proud of this partnership and that PenFed can support a community that is not only transforming lives through comedy, improv and storytelling, but saving them."
"We're so grateful for PenFed's deep commitment to the well-being of veterans and military families," said Jenkins. "This generous contribution will impact hundreds of veterans' lives, and it's just a part of what PenFed has done to give veterans the opportunity to build skills, grow their confidence, and join a supportive community through ASAP."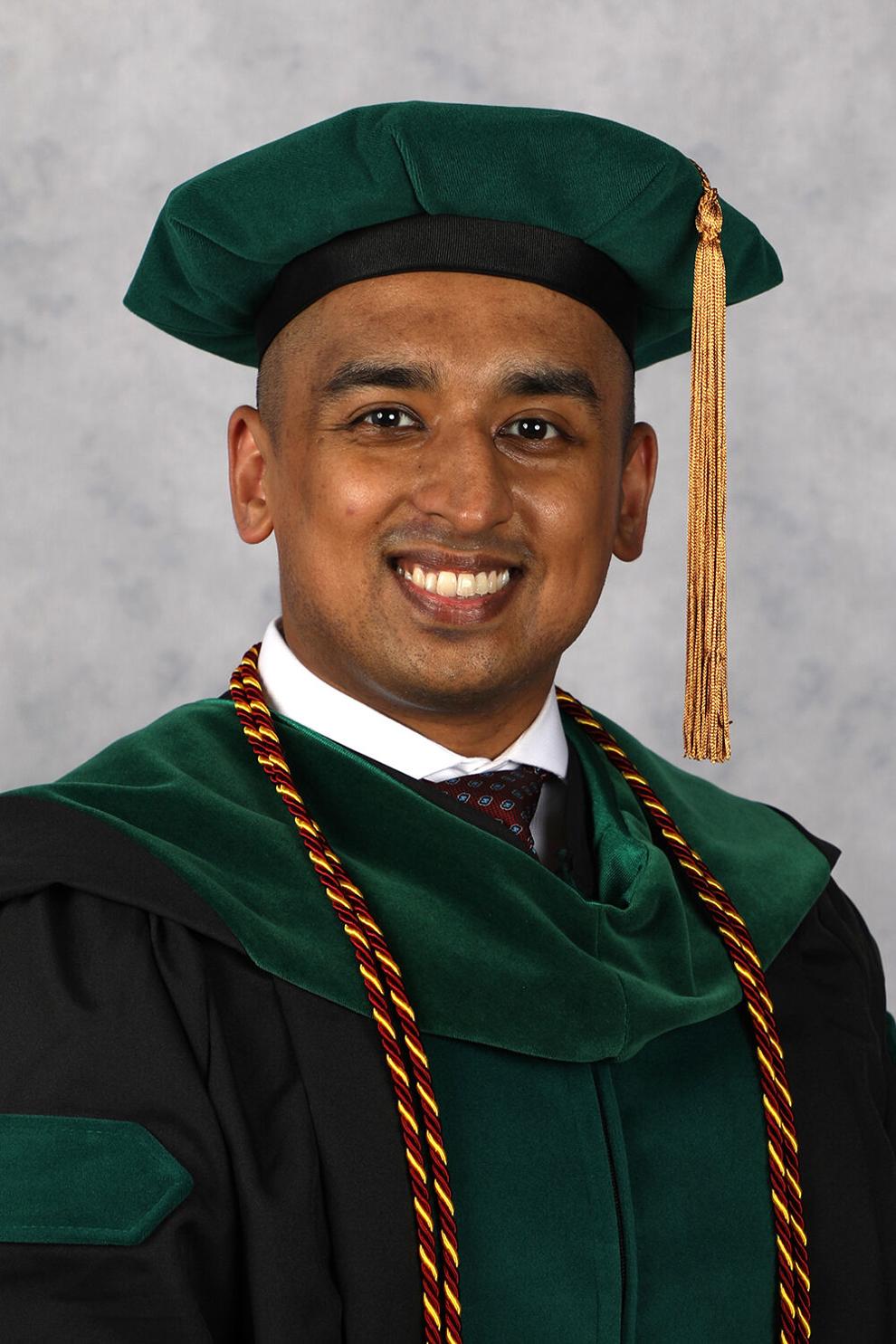 Local earns medical degree from WVSOM
Prashant Yadav, D.O., graduated from the West Virginia School of Osteopathic Medicine (WVSOM) with a Doctor of Osteopathic Medicine degree on May 28.
While at WVSOM, Yadav was a member of Sigma Sigma Phi, a national honorary osteopathic service fraternity.
Yadav earned a Bachelor of Science degree from George Mason University and a Master of Science degree from Virginia Commonwealth University School of Medicine. He is a graduate of Oakton High School.
Yadav is the son of Premnarayan Singh Yadav and Deepmala Yadav of Oak Hill. He plans to enter an internal medicine residency at MedStar Union Memorial Hospital in Baltimore.
McLean student fights human trafficking, awarded scholarship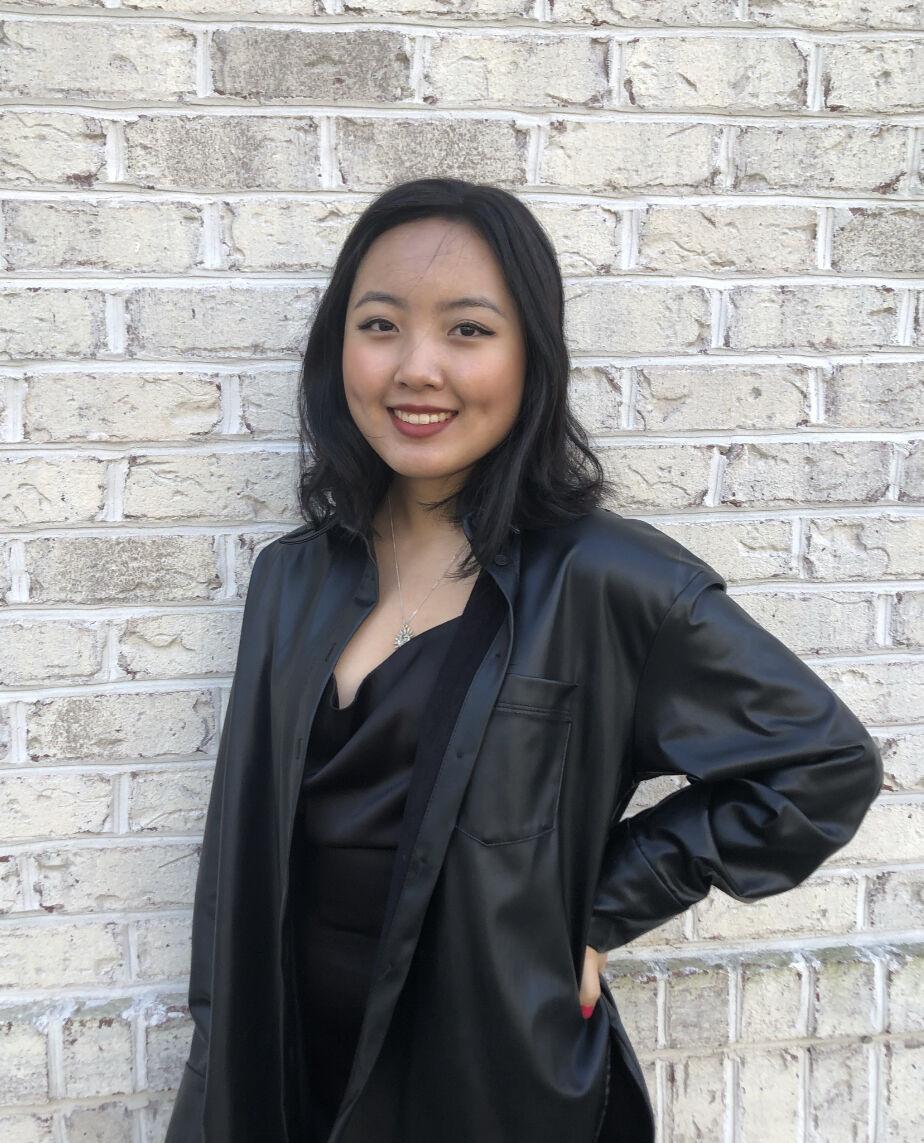 Annie Zhang was awarded the 2022 Claes Nobel Future Female Leader Scholarship by the National Society of High School Scholars (NSHSS). 
This scholarship was established to empower young women to assume future leadership roles in their higher education, careers, and communities, and to become mentors for the young women following in their footsteps. Of nearly 500 applications, Annie was one of 10 students who were selected to each be awarded a $1,000 scholarship. 
As president of the Anti-Trafficking International (ATI) Student Advisory Council (SAC), Zhang has spearheaded many youth campaigns against human trafficking: a video miniseries, bi-monthly articles for the ATI newsletter, and social media showcases of council members. Her efforts have reached more than 250,000 youth around the world. She started by organizing freedom sticker distributions within the council. Stickers had trafficking hotline info, in case survivors walk into a bathroom and need help. She's also worked on two of ATI's annual human trafficking conferences, leading the planning for youth tracks and providing social media insight for their main team. 
Through the SAC, Zhang has been able to bring together many students from around the world to work against human trafficking, not just in her community, but beyond. In college, she plans to learn computer science skills to be able to create programs that prevent human trafficking. And beyond, she will continue her efforts against trafficking and use her leadership skills to be a voice for the voiceless. Beyond her work at ATI, Annie has also worked with the Advancement of Student Accessibility Project, contacting various companies and organizations around the county that could provide resources for underprivileged students. When the project expanded, she led the website design and organized all the resources so they were accessible. Her efforts helped many discover and utilize resources they didn't previously know about and helped them in their academic endeavors. 
"As I prepare to enter adulthood, my leadership and service will only expand," said Zhang. "I will continue to advocate for those who have no voice and intertwine my passion for advocacy with my academic studies. I know I have the power to do so much good in my community, and in the world."
Greenspring residents help pave a path to success for high school seniors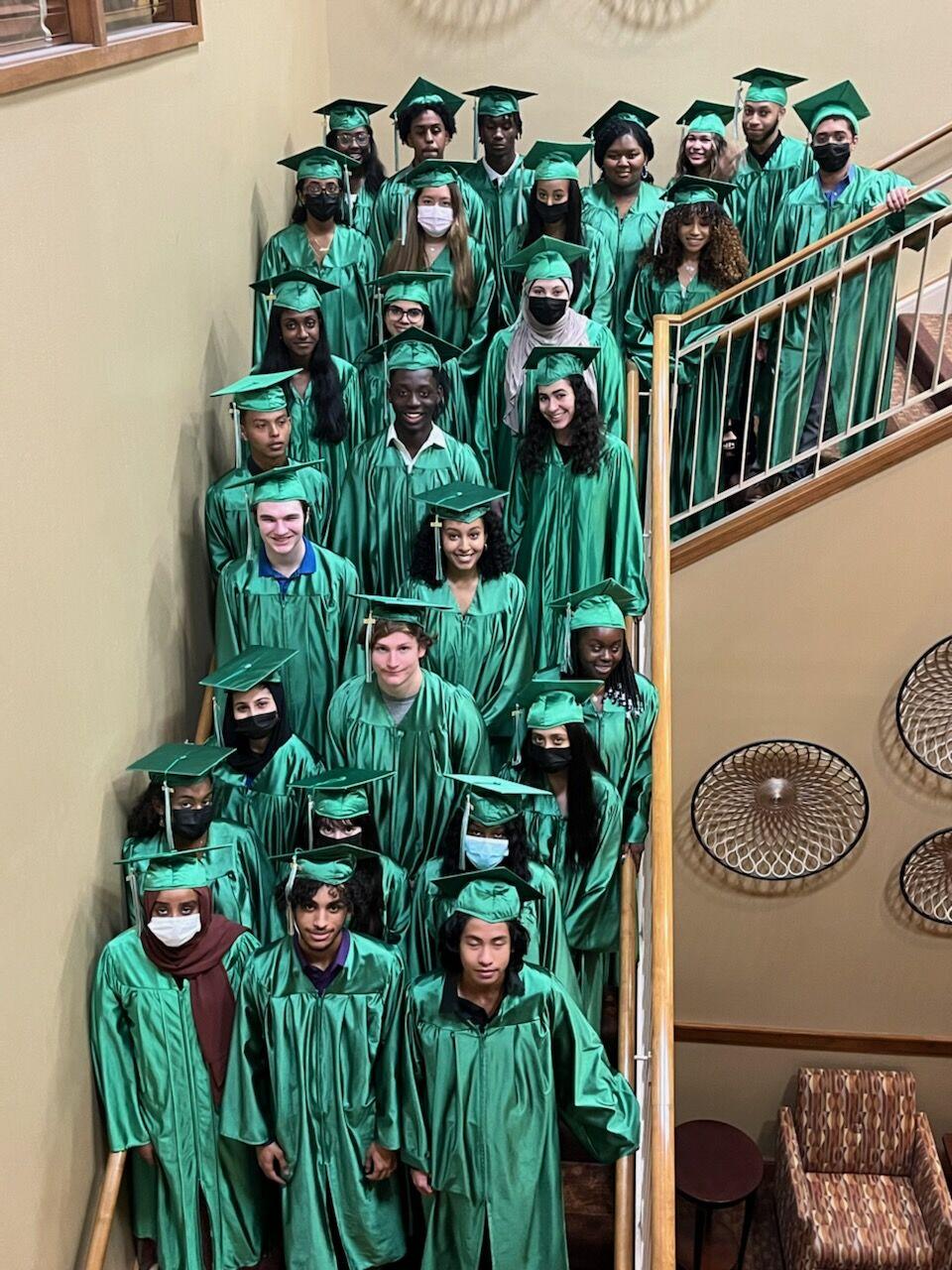 For high school seniors approaching graduation, these last few weeks are a time of reflection—to commemorate academic achievements and appreciate the value of relationships formed with teachers, coaches, friends, and mentors. 
For student workers at Greenspring, a senior living community in Springfield, it also represents a chance to be recognized for their hard work and set up for success through four-year scholarships, funded by generous donations from community residents. 
At the Student Scholars' Award Ceremony last month, 31 student workers were granted scholarships through the Student Scholars' Fund at Greenspring, which awarded a total of $325,000. Since 1999, the Greenspring Scholars' Fund has raised more the $5.5 million to support student workers in the pursuit of trade school and higher education.
The Greenspring Scholars' Fund provides recipients with $10,000 to help offset academic tuition expenses, paid directly to the trade school or college over four years. An additional $1,000 scholarship was awarded to students who worked through the pandemic.
The following Fairfax County students are scholarship recipients: Jenna Abed, Rania Abu-Irshaid, and Anushah Ahmad of West Springfield High School; Papa Asamoah, Lillian Collins, Brenda Fabela, Rana Ibrahim, Gibriel Kamara, Loay Osman, and Rugiatu Sesay ofSouth County High School; Madora Bangura, Sophie Gideon, Ali Idris, Liaba Tariq and Maya Yonas of Hayfield Secondary School; Mercy Belay, Niya Kedir, Fieruda Michael and Jessica Yorke of West Potomac High School; Mordecai Christensen, Martha Garcia, Angie Guevara-Banegas, and Yaseen Noori of John R. Lewis High School; Ahmed Hedia, Mount Vernon High School; Yosana Mengestu, Thomas A. Edison High School; Connor Shea, and Trevor Stuart Lake Braddock Secondary School; Jocelyn Teran-Montero Alexandria City High School; and Vanessa Velasco Campos, Annandale High School.
Of primary importance to the Greenspring community is the ability to award all eligible students who apply with a scholarship. Eligibility for the Class of 2022 requires at least 750 hours of service during the student's junior and senior years of high school. They must achieve satisfactory grades and maintain a disciplinary record free of adverse actions at their high school.
"We couldn't have put this together without our residents' generous donations. They're so supportive of our students in the Dining Services Department," said Philanthropy Director Kimberly Nelson.
Local student chosen as state winner in Doodle for Google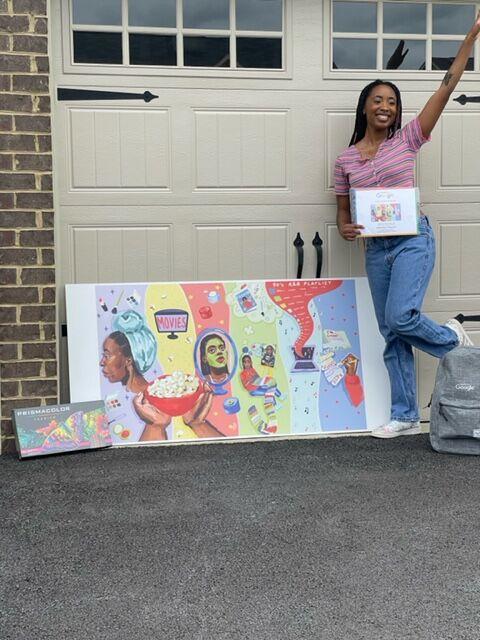 Kennedy Ferguson, a senior at The Potomac School, has been selected as the Virginia state winner in the 14th annual Doodle for Google contest. 
Her artwork is now eligible to be included on the Google homepage for hundreds of millions to see. Doodle for Google is an annual contest where K-12 students create their own versions of the Google logo, and Ferguson is one of the 54 state and territorial nominees whose work was selected. This year the theme for the competition was "I care for myself by..."
"My Doodle represents the ways I care for myself," explained Ferguson. "My self-love language is self-expression, pampering, and indulging in things that make me the most happy and hopeful version of myself."
Ferguson is a student in the Potomac School's selective Visual and Performing Arts Concentration program's fine arts track. "I have been fascinated with art since I was a child, and my passion has pushed me to always study, watch art tutorials, fill sketchbooks, and make insultingly bad crayon portraits of my family," she said. "This recognition means so much to me, and I am thankful for the opportunity to share my art with a larger audience."
The national winner will take home a $30,000 college scholarship, and their school will receive a $50,000 tech package toward the establishment or improvement of a computer lab or technology program.
Google has postponed public voting because of the tragedy in Uvalde, Texas. Once it resumes, this link (https://doodles.google.com/d4g) will direct voters to all the state and territory winners. Five national finalists will be announced once the voting closes, and the winning Doodle will be featured on the Google homepage for one day.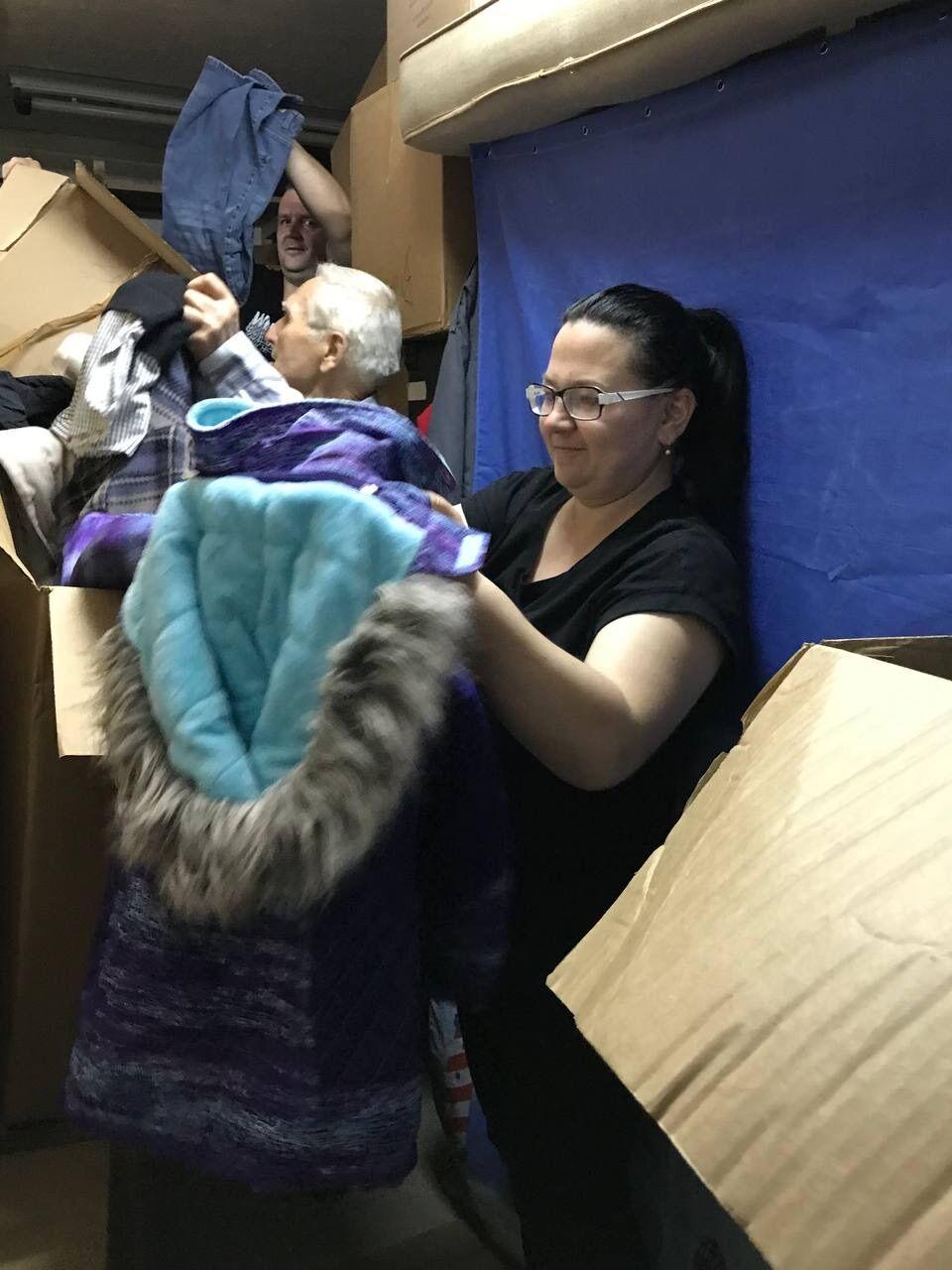 Residents of Fastiv, Ukraine receive donations. Fastiv is located near Kyiv.
Area donations arrive in Ukraine
Donations from Northern Virginia have arrived in Ukraine.
The Northern Virginia community came together from mid-March to mid-April in an effort to assist the refugees of Ukraine. 
Coordinated by the Northern Virginia Regional Commission along with its local government partners, the Paxton Companies and the Oakton Stake of the Church of Jesus Christ of Latter Day Saints more than 100,000 pounds of coats, blankets, socks and gloves were collected. The Paxton Companies donated all of their services as did a shipping company located in Wilmington, N.C. More than 400 volunteers were coordinated by the Oakton Stake and in one and a half days all of the donations were separated and boxed for shipping.
An email from the Ukraine with the following message was received recently: "We are so grateful to you and the wonderful folks who have provided this tremendous blessing.  We will eventually get an official letter of thanks from this church which we will share with you."
Students named 2022 National Merit College-sponsored scholarship winners
Fifteen Fairfax County Public Schools (FCPS) students from six high schools have been named winners of 2022 Merit Scholarship awards by the National Merit Scholarship Corporation (NMSC). The students are part of a group of more than 2,600 National Merit® finalists chosen to receive scholarships financed by higher education institutions. 
Winners of the scholarships, with their probable career fields in parentheses, are:
Harold Margeta-Cacace of Thomas Jefferson High School for Science and Technology (TJHSST) (mathematics). Anuj Khemka of TJHSST (computer science). Benjamin Trey Cho of Westfield High School (undecided). Nitin Kanchinadam of TJHSST (computer science). Ilse Helene Eskelsen of Woodson High School (writing). Candace Sun of TJHSST (computer science). Pratyush Jaishanker of TJHSST (environmental science). Adithi Prasad of Westfield High School (business administration). Juliana Toro of McLean High School (undecided). Nathan Ho of Herndon High School (computer engineering). Jillian Schmid of Herndon High School (industrial design). William Jiang of TJHSST (computer science). Anna Hsu of TJHSST (computer engineering). Zion Kim of Marshall High School (law).Elena Rangelov of TJHSST (computer programming).
Each scholarship winner was evaluated on his or her academic record; an essay and information about extracurricular activities, awards, and leadership positions; SAT scores that confirmed outstanding test performance; and a recommendation and endorsement from a high school official. Each award provides between $500 and $2,000 annually for up to four years of undergraduate study at the institution financing the recipient's scholarship.
The final group of NMSC scholarship recipients from the class of 2022 will be named in July.