Officers elected to county Park Foundation Board

The Fairfax County Park Foundation Board of Directors elected officers to lead the fundraising arm for the Park Authority from July 1 through June 30, 2024. The action took place at the annual meeting in mid-May. 
The Park Foundation supports the Fairfax County Park Authority by raising private funds, obtaining grants and creating partnerships that supplement tax dollars to meet the community's needs for park land, facilities and services.
Anita Herrera was elected chair. Herrera is the general counsel for Nodal Exchange LLC and Nodal Clear LLC and has more than 20 years of legal experience. She has been a resident of Fairfax County for more than 20 years. She is a golf enthusiast and enjoys the Fairfax County golf courses.
Laura Eakin Erlacher will serve as vice chair. She is the director of Government Affairs & Policy for GE Power. Erlacher was the first member to represent the Eakin Family, donors of the first land parcels that became a Fairfax County park. She continues the family tradition through active service on the Park Foundation Board.
Rich Harpe, CPA, will be the board treasurer. He is a principal at Matthews, Carter & Boyce CPAs and Advisors, with more than 30 years of diversified experience in tax consulting and compliance engagements. Harpe lives in Oak Hill with his family, who enjoy biking and visits to Frying Pan Farm Park.
Harrison A. "Harry" Glasgow was elected to serve as secretary. He is the founder of the Federation of Friends Groups and served on the Park Authority Board. Glasgow seldom passes up a walk in the park, especially Huntley Meadows Park, where he leads Monday morning bird nature walks.
Michael Gailliot completes two years as chair with many pivots due to the pandemic. He is a real estate professional with Century 21 New Millennium in Alexandria. Gailliot supports Lee District Park through the Park Foundation, as he has for many years, and continues as a Park Foundation director.
John Osborn, principal vice president and credit officer, completes his maximum three terms of board service. During his tenure as chair, the Park Foundation raised more than a million dollars annually in voluntary donations. Osborn was instrumental in initiating the Park Foundation's long-term investment initiative to endow Fairfax County parks.
"I'm honored to join fellow Park Foundation board officers and directors to enrich Fairfax County's 420 parks, which are critical to the physical and mental health of our community," Herrera said. "Whether supporters contribute time and talent as a volunteer, plant a tree, sponsor a bench, give a car or make a monetary gift, or leave a legacy in your will, this generosity helps fund the Sully Woodlands Stewardship Education Center, Summer Entertainment Series, local camps and classes, and programs which align with the One Fairfax Policy affirming that all deserve an equal opportunity to participate and succeed through the Fairfax County parks that you love!"
Clifton nonprofit announces rebrand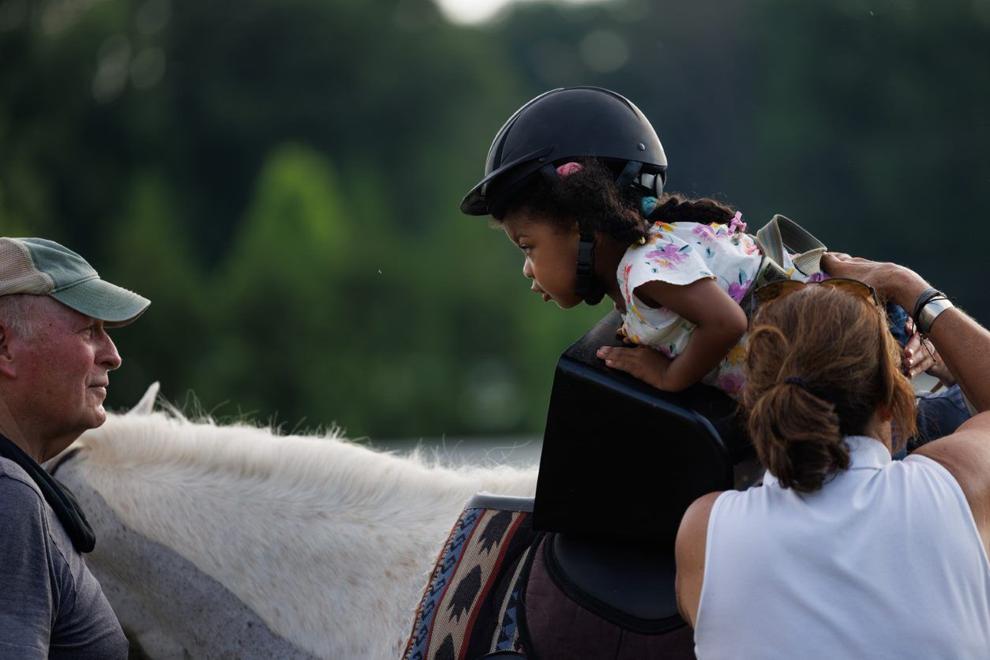 The Northern Virginia Therapeutic Riding Program, provider of equine-assisted services to children and adults with disabilities, youth from marginalized communities, recovering military personnel, and others in need, has completed an extensive rebrand effort in response to organizational growth and future expansion. 
At the heart of the rebrand is a change of the program name to Cloverleaf Equine Center – representing services offered extend beyond the Northern Virginia area – and an update to the center's logo. 
Founded in 1980, the organization began as a small operation in Clifton with a couple borrowed horses and a handful of clients and volunteers. Today, Cloverleaf Equine Center serves more than 100 weekly clients from the D.C. Metro area with the help of more than 250 active volunteers and a herd of 18 horses on a 17-acre farm in Fairfax County. In addition to therapeutic riding, Cloverleaf's services include physical therapy incorporating horses, equine-assisted learning and psychotherapy incorporating horses.
"This is a major milestone for the organization. We have grown so much in the last 20 years and are excited that our brand now reflects all we do," said Kelsey Gallagher, executive director. "We are looking forward to the unlimited potential equine-assisted services brings to our clients and our community now and for many years to come." 
A cloverleaf symbol already had great significance to the organization: The Cloverleaf name is a nod to the center's early beginnings as the Fairfax County 4-H Therapeutic Riding Program. The property is also located in an area that is called Cloverleaf Farm Estates, honoring the organization's historical ties to the town of Clifton. Each leaf of a clover represents the different programs offered and the populations served through equine-assisted services. 
In addition to the name and logo change, a new website – cloverleafequinecenter.org – will launch later this summer.
Fairfax students are National Merit Scholarship recipients
Seven Fairfax County Public Schools (FCPS) 2022 graduates have been named winners of college-sponsored scholarships by the National Merit Scholarship Corporation (NMSC).
Recipients, with their probable career fields in parentheses, are:
Geoffrey Dubay of West Potomac High School (law), National Merit University of Alabama Scholarship.
William Graf of Thomas Jefferson High School for Science and Technology (TJHSST) (undecided), National Merit Bowdoin College Scholarship.
Hai Lun Bian of TJHSST (computer science), National Merit University of Maryland Scholarship. 
John Kim of TJHSST (computer science), National Merit University of Maryland Scholarship.
Arjun Jagdeesh of TJHSST (medicine), National Merit Virginia Commonwealth University Scholarship.
Nathaniel Garcia of McLean High School (psychology), National Merit Pomona College Scholarship. 
Kelvin Yan of McLean High School (computer science), National Merit University of Florida Scholarship. 
College-sponsored Merit Scholarships provide between $500 and $2,000 annually for up to four years of undergraduate study at the institution financing the scholarship. Nationwide, more than 7,200 students have won Merit Scholarship awards in 2022. This is the final group of scholarship recipients for the class of 2022.
Each September, National Merit Semifinalists are selected on a state-representational basis in numbers proportional to each state's percentage of the national total of graduating high school seniors. Semifinalists for 2022 are students with the highest scores on the 2020 Preliminary SAT-National Merit Scholarship Qualifying Test (PSAT-NMSQT®), which serves as an initial screen of program entrants. Winners are chosen by the National Merit Scholarship Corporation, which administers the program.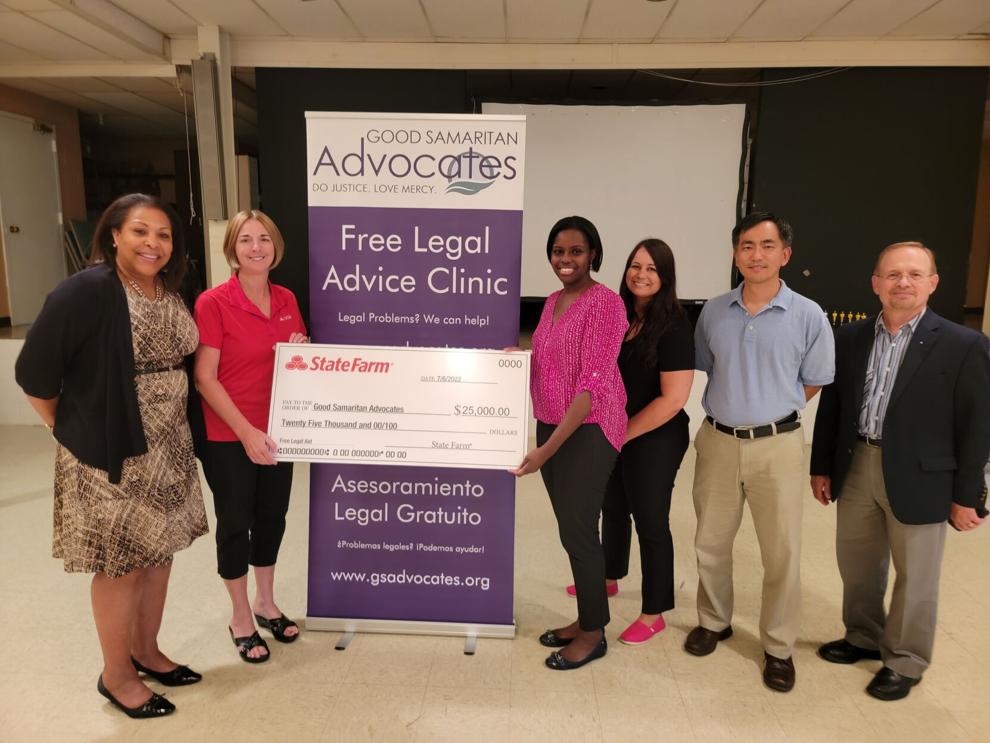 Zandra Hare and Agent Jonna Wooten of  State Farm Insurance present a check to Eka Fleming, Good Samaritan Advocates/Columbia Baptist Church Clinic director and GSA board treasurer, Elizabeth Ranade Janis, Good Samaritan Advocates executive director and Kenneth Liu, Good Samaritan Advocates board president, and Gregory Loewer, pastor of Columbia Baptist Church in Falls Church.
Fairfax County nonprofits win State Farm Neighborhood Assist® grants
In just 10 days this spring, 88,000 people cast more than 2 Million votes in support of their favorite causes. As a result, 100 communities, in 34 states, including Virginia, will be getting an assist from State Farm®. State Farm is proud to announce the Top 100 vote-getting causes that have won $25,000 grants to improve their communities.
State Farm Neighborhood Assist is a crowd-sourced philanthropic program that empowers communities to identify issues in their neighborhoods. Non-profits affiliated with each of the Top 100 causes receive grants to address them.
Two Fairfax County nonprofits are recipients of grant money, Passion for Community, which helps those seeking to overcome homelessness and domestic violence, and Good Samaritan Advocates, which provides free legal aid.
"State Farm is happy to celebrate its 100th anniversary by providing these 100 causes with grant money to help them address the needs in their communities," said State Farm Agent Jonna Wooten of Vienna. "We look forward to seeing the impact this $25,000 grant will have."
Four thousand cause submissions were accepted in February at www.neighborhoodassist.com. The State Farm Review Committee selected the Top 200 finalists and public voting determined the Top 100. In the 11 years of the program, nearly 500 causes have received a total of $12.5 million to enact change in their communities.
For a complete list of this year's 100 winners, please visit: www.neighborhoodassist.com.
Fairfax accounting firm recognized
Thompson Greenspon, a Fairfax accounting firm, announced last week that they have won the Best of Accounting® Award for providing superior service to their clients.  
ClearlyRated's Best of Accounting® Award winners have proven to be industry leaders in service quality based entirely on ratings provided by their clients.  On average, clients of 2022 Best of Accounting winners are 60 percent more likely to be satisfied than those who work with non-winning firms.
Thompson Greenspon received satisfaction scores of 9 or 10 out of 10 from 85.6 percent of their clients, significantly higher than the industry's average of 50 percent in 2022.  In addition, the firm received a Net Promoter® Score of 82.2 percent, more than double the industry's average of 39 percent in 2022.
"It is an honor to win the Best of Accounting® Award once again this year," said Chip Helme, managing principal of Thompson Greenspon. "Our firm is always aiming to exceed client service expectations and we are proud to state that our Net Promoter® Score for 2022 was our highest yet."
"Winners of the 2022 Best of Accounting® Award for client satisfaction have demonstrated their commitment to delivering exceptional client service, even as COVID-19 has forced them to reimagine and rebuild their approach to business," said ClearlyRated's CEO and Founder Eric Gregg. "These service leaders have kept the client experience at the heart of their business strategy, and it's my honor to celebrate and showcase the 2022 Best of Accounting® winners alongside feedback from their actual clients on ClearlyRated.com."
FCPS names ombudsman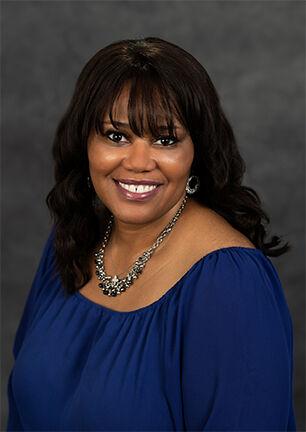 Dawn Clements, formerly the assistant ombudsman for special education, has been named as the new ombudsman for Fairfax County Public Schools (FCPS). Her official start date was July 1.
Clements has been the assistant ombudsman for special education since 2019. Prior to her serving in this role, she was a procedural support liaison in the Office of Special Education Procedural Support from 2009-2019. During her tenure with FCPS, Clements has also served as a LEAD Fairfax administrative intern at Fairfax High School as well as Carl Sandburg Middle School, and as a special education department chair and teacher at Hayfield Secondary School.
In her current role in the Office of the Ombudsman, she has been able to serve as a resource and provide support to families, employees, students, and community members in partnership with the ombudsman. She has fostered many relationships, both internal and external, and has been able to build trust with all stakeholders. Clements has been instrumental in tracking and analyzing data disseminated in the quarterly Ombudsman reports as well developing and delivering presentations to various stakeholder groups around the outreach work of the Ombudsman's Office. Clements firmly believes that all stakeholders should be heard and valued and treated with respect. She also makes sure that each inquiry and stakeholder is viewed through the lens of equity.
"Dawn Clements has a proven track record of success and her inclusive and respectful approach make her an ideal match to be the next ombudsman of Fairfax County Public Schools," said Nardos King, interim chief equity officer. "She has a warm, caring, and friendly approach that will be an asset to all the stakeholders in our community." 
Clements holds a bachelor of arts degree in psychology from the University of North Carolina at Chapel Hill and has earned a master of special education from North Carolina State University. In addition, she has attained an administrative endorsement in educational administration from George Mason University.  
Tractor Supply awards Centreville veteran grant
Tractor Supply Company, the largest rural lifestyle retailer in the United States, and the Farmer Veteran Coalition (FVC), has awarded Centreville veteran Linda Miralles $1,000 for her business, Farmer Louie.
The grant will help Miralles establish a farmstead with a sustainable greenhouse and apiary to educate veterans and the community.  She served in the Air Force as an emergency medical technician.
This award is part of a nationwide campaign with Tractor Supply donating $100,000 to the FVC, including awarding $1,000 gift cards to 50 military veterans nationwide to support their agriculture businesses and $50,000 from the Tractor Supply Company Foundation to support additional programming and grants.   
"The freedoms we enjoy in America have been made possible by our active military, veterans and their families. We are honored to thank them for their sacrifice by contributing to causes that support the military community," said Colin Yankee, executive vice president and chief supply chain officer at Tractor Supply and former U.S. Army captain. "It's a privilege to assist the Farmer Veteran Coalition, as they provide this resource to our nation's heroes. And on behalf of our 47,000 Team Members, many of whom are veterans themselves, we thank the men and women in the Armed Forces for their service."
Each year, Tractor Supply partners with FVC to assist farmer veterans from all branches of service. In the last four years, Tractor Supply has donated a total of $350,000 in gift cards and monetary funds, assisting more than 260 farmer veterans. This year's 50 gift-card recipients were selected based on need to support their agriculture projects and businesses and represented four branches of the military across 32 states. The supplementary $50,000 donation from the Tractor Supply Company Foundation will provide grants to seven additional farmer veterans and support FVC's diversity, equity and inclusion initiatives to support the journey toward racial equity in agriculture.  
The FVC is a national nonprofit organization that assists active duty and veteran members of our Armed Forces embarking on careers in agriculture by providing them with education, resources and small grants to launch their own farming operation or find employment in farming. The group serves more than 30,000 members nationwide.
The rural lifestyle retailer supports military members year-round with programs such as Dogs on Deployment and by offering military discounts on select holidays like Fourth of July and Veterans Day.