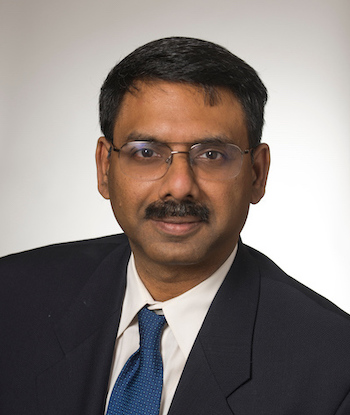 Mason professor honored with Council on Undergraduate Research Inclusivity Award
George Mason University's Padmanabhan Seshaiyerwas recently named the winner of the 2022 Inclusivity Award presented by the Mathematics and Computer Sciences Division of the Council on Undergraduate Research (CUR).
Seshaiyer, a professor of mathematics within the College of Science, called the recognition of his efforts to achieve greater inclusion in STEM "very satisfying."
"This award helps to recognize my commitment to continuously drive forward and practicing positive change across all teams and organizations I work with, bringing inclusion to the next level for ourselves and the students we serve," he said. "I am happy that I am able to continue to create inclusive and equitable opportunities that help to contribute to both Mason's inclusive mission and purpose as well as the broader Mathematics and Computer Science Community."
The Inclusivity Award is bestowed annually to a member who has shown excellence and sustainable work to broaden access to mathematics and/or computer science, with a focus on implementation of real-world research projects for undergraduate students, according to the CUR website. A desirable contribution would be one that influences the community in a significant and positive way on a national scale, or has the potential to do so, especially engaging a wider audience, similar to the National Science Foundation's broader impacts.
"Dr. Seshaiyer is such a distinguished researcher and an outstanding scholar," said Haseeb A. Kazi, the chair of the CUR's mathematics and computer science division. "We are so very much proud and fortunate to have him as a worthy colleague in our division!"
Seshaiyer has long worked to promote inclusion efforts in STEM that create safe environments where students and faculty can contribute diverse perspectives.
His Project MOST (Mason Outreach in STEM for Teachers) helped establish a new generation of K-12 teacher leaders who help disseminate best practices in integrated STEM education to improve student learning. The program educates teacher participants about the learning characteristics of underrepresented populations, awareness of cultural differences, understanding of students with multiple learning styles, and the use of equitable and non-biased assessments. It also has helped teachers to recognize their own biases, enlightening them about local communities, and recognizing how talents appear in various cultures. Project MOST also helped create an inclusive STEM curriculum to provide effective pedagogical and instructional approaches through culturally responsive teaching, learning materials, STEM-lab activities to support the learning by doing, performance-based assessments that are both formative and summative.
"This helps to increase innovation, productivity, higher likelihood of STEM success, which in turn helps to promote economic growth and STEM competitiveness," Seshaiyer said. "While the number of people from under-represented groups in the STEM workforce has grown over the past decade, I strongly believe that STEM programs that are designed to be inclusive will help with much faster increases that are greatly needed for the STEM workforce to be representative of the U.S. population in the next decade."
Fernando Miralles-Wilhelm, the dean of the College of Science, lauded Seshaiyer for his efforts.
"The work of promoting social justice is not easy," said Miralles-Wilhelm, "yet it is vitally important and we appreciate Padhu for his efforts to establish a number of the college's access, justice, equity, diversity and inclusion-focused outreach efforts."
The Mathematics and Computer Sciences Division of the Council on Undergraduate Research supports research in mathematics, computer science, and associated disciplines of informatics, cybersecurity, data science, statistics and actuarial science.
FCPA, Go Ape celebrate Top 5 ranking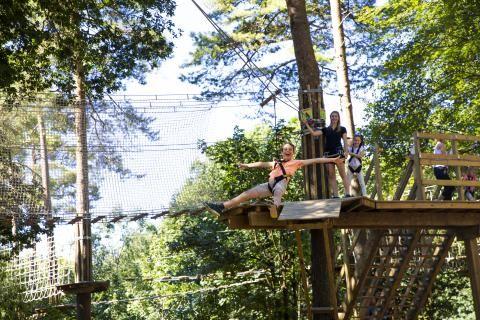 Just like Tarzan and Jane, the partnership between Go Ape and the Fairfax County Park Authority is one of those perfect unions.
If you love swinging through the trees, there is great news: Go Ape was recently selected as one of the top aerial adventure parks in North America in USA Today's 10Best. Readers ranked Go Ape Zipline & Adventure Park in the top five best aerial adventure operators for the second year running earlier this month.
That means stepping out of your comfort zone and adding a bit of treetop adventure just got better than ever for Fairfax County residents.
One of Go Ape's most popular locations is Go Ape Springfield, situated in the wooded area next to South Run Rec Center. To continue improving on our adventurous activities, Go Ape has recently upgraded the treetop course flow and experience, including dual zip line options on the Treetop Journey and new crossings on the Treetop Adventure.
Take the adventure to new heights at 7550 Reservation Drive, Springfield.
Candidates set for Herndon Town Council election
Candidates for the Town of Herndon office of mayor and town council for the 2023-2024 term are as follows:
Sheila A. Olem, Sean M. Regan and Jasbinder Singh are running for the office of mayor.  Olem is currently the town's mayor; Regan and Singh currently serve as council members.
Candidates for the six town council seats for the 2023-2024 term include Naila Alam, Cesar A. del Aguila, Clark A. Hedrick, Signe V. Friedrichs, Stevan M. Porter, Keven J. LeBlanc, Jr., Pradip Dhakal, Donielle B. Scherff, and Roland B. Taylor. Alam, del Aguila, Dhakal, and Friedrichs serve on the current Town Council.
Election day is Nov. 8. Polling locations for town elections correlate with locations for national elections, which are also held that day. Elections in the Town of Herndon are administered by Fairfax County; visit the county online at https://bit.ly/3OsTu1X and the Virginia Department of Elections at https://bit.ly/3OLbqUZ for additional information.
McLean Rotary Club installs new officers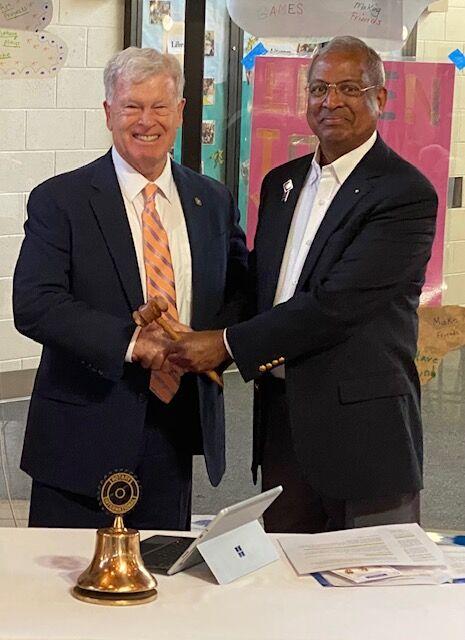 Sarvendra (Sam) Agarwal was installed as president of the Rotary Club of McLean, for the Rotary Year 2022-2023, on June 21.  Agarwal previously served as the President of the McLean Rotary Club Foundation in 2021-2022. 
Agarwal received a B.E. in Electrical and Communications from I.I.T. Roorkee, and a Masters in E.E. from Clemson University. He also has an MBA from Renselaer Polytechnic Institute. He worked for Telenet Communications (now Orange Business Services), travelling extensively in Europe and South America. After 25 years, he decided to join the family business, providing historical arms and armor to the Hollywood movie industry. His firm provided equipment for the movies "Gladiator", "Pirates of Caribbean'', '' Night at the Museum'' and others.
Rotary District Governor Sheila Brennan inducted Agarwal and the Club's new officers including Courtney Nuzzo, vice president, Carmen Wu, president-elect, Cecilia Duran Closs, president-nominee/secretary, John McEvilly, immediate past president, Michael Arietti, treasurer, and Paul Sawtell, sergeant-at-arms.
Club Board directors include Carol King, administration, Deborah Jackson, membership, Joann Berkson public image, Marshal Hyman, service projects, Bob Jansen, youth services, Barry Byer, grants, and LoisWilson, international service.
In his address to the Club, Agarwal mentioned increasing the membership is the highest priority. Rotary International no longer mandates weekly in-person meetings.  "I would like us to reduce the weekly meetings to three and do a fellowship/service project for the fourth meeting," he said. "My ultimate goal is to meet twice a month and perform a community service for the other two. Fundraising is essential to our efforts to support non-profit and charitable organizations. I would like to see if we can expand our fundraising events."
The Rotary Club of McLean is part of a global network of more than 46,000 clubs with more than 1.4 million members around the world. Rotary International's mission is to provide service to others, promote integrity, and advance world understanding, goodwill, and peace through fellowship. Rotarians, whose motto is "Service above Self," undertake action and service projects in their local communities and overseas that help promote peace, fight disease, provide clean water, save mothers and children, support education, grow local economies, protect the environment, and respond to disasters.
Since March 2020, the Rotary Club of McLean, through its Foundation, has awarded grants, many addressing Covid-19 related issues, to several organizations, including Chesterbrook Residences, EduTutor VA, Every1Can Work, Falls Church-McLean Children's Center, Homestretch, Global Woman P.E.A.C.E., Foundation (Liberia), Indego Africa (Rwanda), Langley Residential Support Services, Literacy Council of Northern Virginia, McLean Cares, McLean Project for the Arts, MicheLo (eSwatini), Rebuilding Together, Share of McLean, Safe Community Coalition, Strategic Water Alliance (Honduras and Zambia), Timber Lane Elementary School, and Virginia Hospital Center Medical Brigade (Honduras). It has also awards annual college scholarships to local high school students.
In addition to providing financial support through grants and other donations, McLean Rotary's members are usually involved in volunteering with service projects in the community. McLean Rotary participates in McLean Day and organizes the annual McLean Chocolate Festival, held most recently in April 2022 at the McLean Community Center. This well-attended and enjoyable community event raises funds to benefit local nonprofits and charitable organizations through McLean Rotary's grants program.
Members of the community who are interested in learning more about the Rotary Club of McLean are welcome to participate in its current in person and virtual meetings held on Tuesdays, from noon to 1:15 p.m. in the Fellowship Hall of the Lutheran Church of the Redeemer at 1545 Chain Bridge Road, in McLean. Most meetings feature a speaker on an interesting topic. 
Greenspring Senior Living announces new executive director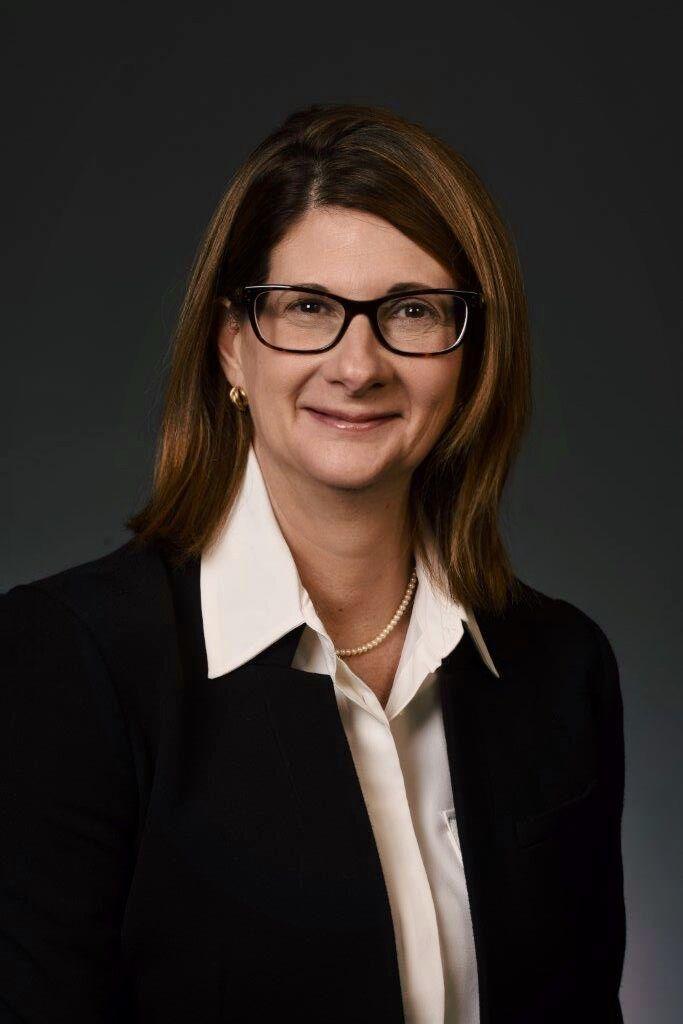 Erickson Senior Living, a national leader in developing and managing continuing care retirement communities, has named Melissa Robson as executive director of Greenspring in Springfield. 
Robson has served as associate executive director of Greenspring since 2018.
"Melissa's passion for and commitment to the community is evident, making her the ideal choice for filling this all-important leadership role," says John Mann, Erickson Senior Living's vice president of regional operations. "Her proven leadership and expertise in senior living and integrative health-care services will ensure Greenspring continues to be one of Northern Virginia's premier retirement destinations."
Robson, a registered nurse, has more than 25 years of experience working in various health care settings. She holds a bachelor's degree in nursing from Gardner-Webb University and a master's in health administration from Pfeiffer University.
"What a great honor and opportunity to continue to work with and serve Greenspring's talented team members, who are committed to providing residents with an exceptional experience," said Robson. "I look forward to continuing our community's caring culture and growing our reputation as an outstanding place to live and work."
Transurban launches new community grant program
Transurban, developer and operator of the 495, 95 and 395 Express Lanes, is launching a new competitive grant program to benefit the local community as part of the 495 Express Lanes Northern Extension (495 NEXT) project in Fairfax County.
The 495 NEXT Community Grant program will award multiple grants each quarter worth up to $3,000 to non-profit organizations, educational institutions and other entities that sustain, enhance or protect the local environment and neighborhoods in proximity to the 495 NEXT project corridor.
"The launch of this important new grant program demonstrates our continued commitment to give back to the communities we serve," said Jeff Taylor, vice president of Project Delivery, Transurban North America. "By investing in organizations that serve a variety of critical needs, we are working to improve residents' quality of life across the region to ensure they thrive not just during construction, but well into the future."
Along with the travel benefits, the project's Community Grant program will bolster the efforts of organizations throughout the corridor. Over the past decade, Transurban's Community Grant programs have contributed more than $2.3 million to more than 350 organizations, creating healthier communities across the region, including those providing educational programming, support to the vulnerable, environmental sustainability, and other critical services.
The 495 NEXT Community Grant program will build on the success of these existing grant programs to deliver funding to organizations that meet the criteria. Successful grant applications will support an organization or neighborhood; provide benefits to a directly affected community near the 495 NEXT corridor; or demonstrate social, environmental or safety benefits within the corridor.
Deadlines to apply for a community grant program occur quarterly. To learn more about Transurban's Express Lanes Community Grant programs and how to apply, visit https://www.expresslanes.com/about
Nativity's Operation Starfish gift to FFTP will build 13th village in Haiti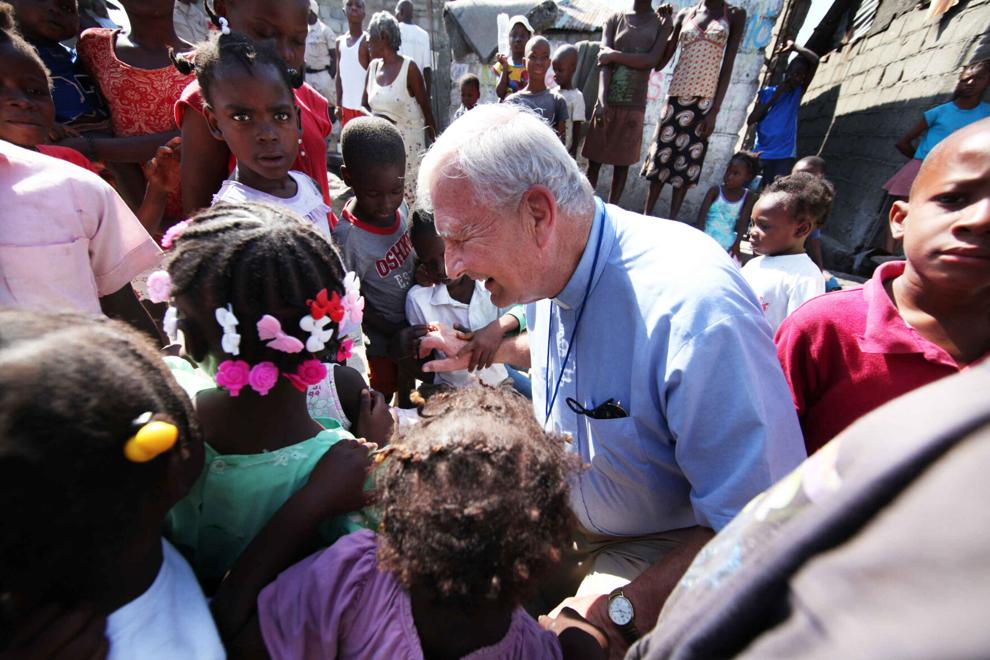 Nativity Catholic Church Pastor Fr. Robert C. Cilinski presented Food For The Poor President/CEO Ed Raine with a donation of more than $500,000 from this year's Operation Starfish® campaign to build 65 new homes in Bas Fossé, Cap-Haïtien, Haiti.
This year's gift to FFTP is for the church's 13th community, Nativity Village at Bas Fossé. Part of a commitment Nativity announced in 2021 to build 75 homes, the donation will improve the lives of almost 700 people, most of whom earn less than $1 per day. 
Nativity's Operation Starfish® campaign began with the late Fr. Richard Martin, who died from complications of diabetes in 2014. Martin's commitment to love and service continues through the efforts of  Cilinski and the sacrificial gifts made by Nativity parishioners during the Lenten season.
Since the program's inception, the church has raised more than $7.8 million, built nearly 1,500 homes and established 12 thriving villages in various regions of Haiti. Each Nativity Village starts by addressing basic needs, including shelter, sanitation and clean drinking water, followed by education, health care, schools, clinics and vocational training programs.
The project eventually will include an income-generating component, such as aquaculture, agriculture and animal husbandry, to help residents become more self-sufficient. The church also helps to support FFTP beneficiaries with relief during times of natural disasters.
In addition, the Nativity gift funds the Jamaica Medical Scholarship Program, which has so far awarded scholarships to four students in Jamaica and one student in Haiti.
Food For The Poor, one of the largest international relief and development organizations in the nation, does much more than feed millions of hungry children and families living in poverty primarily in 17 countries of the Caribbean and Latin America. For more information, please visit www.FoodForThePoor.org.