Longtime Reston tennis pro achieves USTA rankings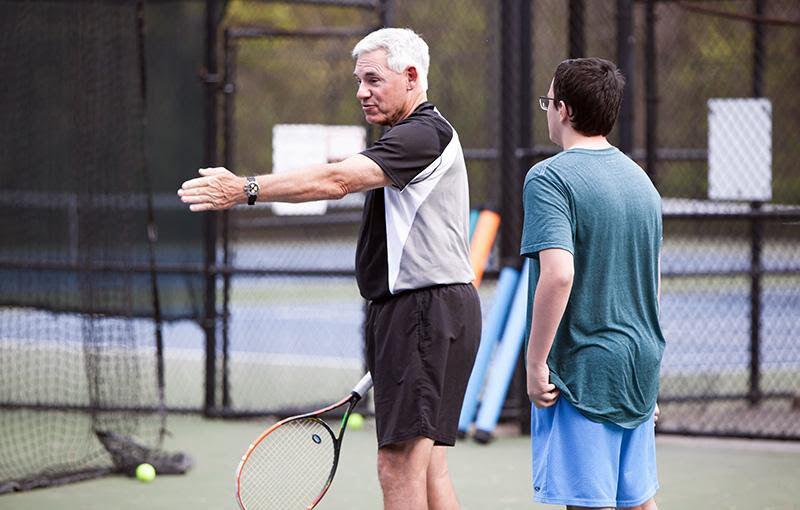 Reston tennis pro, Jim Elder, recently achieved outstanding 2021 National singles and doubles rankings from the U.S. Tennis Association in the men's 75 & over division.
In singles, he was ranked 15th and in doubles he was 10th. Elder has been a tennis pro with Reston Association for 25 years.
Elder was a singles quarter-finalist in the National Clay Court Championships in Virginia Beach this year and was third in doubles in the national grass courts tournament held in Rhode Island. He also won the Mid-Atlantic Clay Court Singles Championship in October at College Park, Md.
Elder is certified as an "Elite Professional" by the U.S. Professional Tennis Association and has lived in Reston since 1980. In 2016, he received the "Best of Reston" award for his decades of contributions to youth sports in basketball, baseball and tennis.
Fairfax nonprofit conducts direct outreach to homeless
Pathway Homes, a nonprofit providing mental health services—starting with safe, stable housing—to individuals marginalized by poverty and inequity, is working to support the region's efforts to provide services to homeless single adults who are unsheltered.
Pathway Homes is hiring an outreach specialist that will work in the field in Fairfax County and Washington, D.C. to locate chronically homeless residents and help move them into permanent supportive housing.
"People living in the woods and streets tend to be challenged with serious mental illnesses and other medical conditions," explained Pathway Homes CEO Sylisa Lambert-Woodard. "If we can gain their trust, we can help more people get housing and the services they need to reclaim their lives. In partnership with DC and Fairfax, our new outreach effort will boost the existing processes for helping people get off the streets."
With support from a $65,000 grant from Kaiser Permanente, the program's goal is to move people who are literally homeless into permanent supported housing in Fairfax and D.C. In response to a HUD mandate, Fairfax Falls Church Office to Prevent and End Homelessness (OPEH) and the D.C.Community Partnership for the Prevention of Homelessness (TCP) each have coordinated entry processes to help quickly match homeless individuals to housing and services regardless of their geographic location. Pathway's new program will coordinate between these jurisdiction processes, supplement, and ensure that available housing gets used by qualified individuals.
To do so, a Pathway Homes trained outreach specialist will go directly to where unsheltered individuals are living to help them sign up for the Homeless Management information System and navigate the process. The specialist will coordinate with OPEH and TCP to help identify people who need help and ensure they are added to the centralized permanent supportive housing referral pool. In addition, Pathway Homes will leverage its licensed clinicians to complete assessments and diagnoses of these individuals to help speed the documentation process that is required for entry into these units. Eligibility documentation is a real barrier for the chronically homeless to access services since they do not have a fixed address or other regular means of communication. In year one of the grant, Pathway Homes anticipates helping 75 people get off the streets and into housing with services.
"At Kaiser Permanente, we know that having access to safe, stable housing is a critical component to achieving Total Health and overall well-being," said George Leventhal, director of Community Health. "We're honored to partner with Pathway Homes to help remove barriers and expedite access to housing for community members across Fairfax and the DC region."
For more than 40 years, Pathway Homes has enabled tens of thousands of people in Northern Virginia with serious mental illnesses and other co-occurring disabilities to get housing and supportive services to help them recover their lives. Following the housing first model, Pathway Homes is a partner in preventing and ending homelessness, ensuring 1,553 people in 2021 had access to services and 505 permanent supportive housing units.
Park Authority Board names 2022 officers

The Fairfax County Park Authority Board has elected officers for 2022.
At its meeting on Wednesday, Jan. 26, the Board voted to return William G. Bouie, who represents the Hunter Mill District, to his 14th term as chairman. Sully District Representative Maggie Godbold will serve as vice chairman. Michael W. Thompson Jr., representing the Springfield District, returns to the post of secretary and Dranesville District Representative Timothy Hackman continues to serve as treasurer.
Bouie joined the Park Authority in 2005 and is currently the president and CEO of Sky Communications Inc. He is an active volunteer involved in many civic organizations. Service highlights include past membership on the boards of Wolf Trap Center for the Performing Arts and the Reston Hospital Center Board of Trustees. He currently serves on the boards of Public Links, Inc., the Reston Community Center Board of Governors, Public Art Reston and Leadership Fairfax.
Godbold began her board service in 2016, serving as the Sully District representative. She is a retiree and active community volunteer. Before she retired, she worked as a certified project management professional and was a consultant providing system engineering and management services for the federal government. She is an avid birdwatcher and environmentalist, and an amateur musician. She is passionate about increasing access to the outdoors and arts for all Fairfax residents.
Thompson was appointed to the Fairfax County Park Authority Board in 2012. He is the senior vice president of a local public relations firm and serves as chairman of Burke Athletic Club, is on the board of Visit Fairfax and is an appointee to the Fairfax County Athletic Council and the Fairfax County Sports Tourism Task Force.
Hackman joined the Board in 2016 and is a retired IBM executive. He served two terms as president of Friends of Riverbend Park, a nonprofit dedicated to the preservation of Riverbend Park on the Potomac River. He is the recipient of several awards for his dedication to community service and has worked with the Park Authority and the Dranesville District on multiple projects.
The Fairfax County Park Authority Board is appointed by the Fairfax County Board of Supervisors and sets policy and establishes priorities for the park agency.
Reston nonprofit celebrates 20th Anniversary
The National Spinal Health Foundation (NSHF), a nonprofit organization dedicated to industry-leading spine health education, research and advocacy, is celebrating its 20th anniversary in 2022. The NSHF is commemorating this significant milestone with a campaign titled, "Who's Got Your Back?" highlighting the ways the organization continues to support patients across the country.
The organization, founded in 2002 by spinal surgeon Dr. Thomas Schuler and philanthropist Guy Beatty, serves to advise patients who suffer from common neck and back ailments, as well as advocate for improvements in care and raise awareness about the successes of modern spinal treatments. It offers multiple free resources to educate the public, including the series Spine-Talks, which features doctors addressing popular spine-related health topics, and Get Back To It, a podcast that tells the true stories of patient recoveries.
"I helped found the National Spine Health Foundation with the intention of transforming the lives of patients across the country," said Schuler, who is also chairman of the organization's Medical and Scientific Board. "Twenty years later, I'm proud to say that the foundation has, and will continue to, achieve this goal."
Since its founding, the NSHF has become a respected authority in the national healthcare space, and in 2021 successfully petitioned the U.S. Congress to formally recognize October as Spinal Health Awareness month.
"We could not be more excited to celebrate the 20th anniversary of the foundation and renew our commitment to supporting the millions of Americans who struggle with back or neck pain each year," said Dr. Rita Roy, CEO of the NSHF. "Through continued patient education, advocacy, and research this organization will help individuals get back to the things they love most."
Nearly one-third of the population, roughly 100 million Americans, suffer from neck or back pain annually. It can lead to long-term mental and physical health complications, and its negative impact on the workforce costs upwards of $250 billion per year. The National Spine Health Foundation is the only 501(c)(3) nonprofit, patient-centered organization working to improve Americans' spine health through education, research and advocacy.
Fairfax company announces director of Cloud Solutions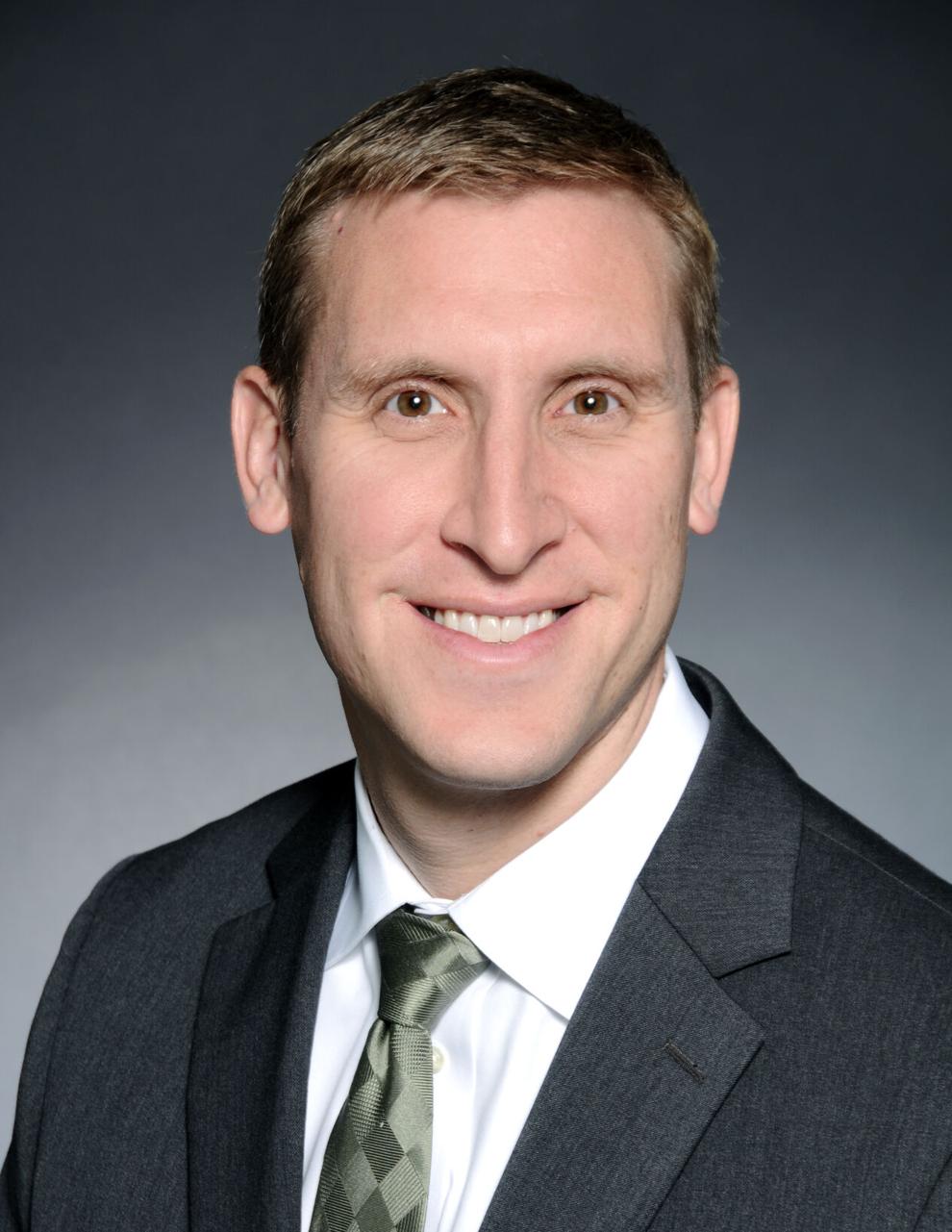 Robert (Bobby) Pantall has been appointed to the position of Cloud Solutions Director at Fairfax-based CC Pace.
In this new position, Pantall will lead CC Pace's cloud strategies and further develop its innovative software solutions.
Pantall is a seasoned information technologist with a highly successful track record. He began his tenure 20 years ago at CC Pace as a software developer within the Information Services group, then transitioned to a technology consultant. He possesses a combination of technical proficiency and a demonstrated passion for working with clients to achieve their organizational goals. Pantall and his teams have produced high-quality software solutions for clients such as The Carlyle Group, MSRB, National Student Clearinghouse, Screen Strategies, and Twisty Systems.
In his new role leading the Cloud Solutions group, Pantall will focus on developing customer success strategies, utilizing next-generation technologies and expanding the company's cloud offerings. He will lead a cross-functional team that will involve close collaboration with CC Pace's marketing, recruiting and technology groups. Pantall will be instrumental as the company grows its go-to-market cloud strategies.
"This is an exciting time for CC Pace as we enter our next phase of growth," said CC Pace President Mike Gordon. "We are confident that under Bobby's leadership we will expand our cloud footprint and bring innovative solutions that exceed the expectations of our clients."
County appoints Department of Animal Sheltering director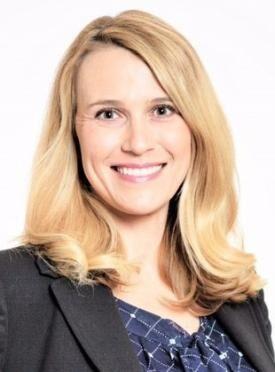 Reasa D. Currier has been appointed director of the Department of Animal Sheltering (DAS), effective January 31. She succeeds Karen Diviney, who retired in December.
Currier has more than 15 years of experience in animal welfare leadership and previously served as vice president of external affairs for the Human Rescue Alliance, one of the largest and oldest animal welfare agencies in the U.S., where she oversaw a diverse portfolio including communications and marketing and government affairs.
Currier's expertise includes organizational change management, public relations and public policy, as well as working with federal, state and local governments, corporations and diverse stakeholders.
Prior to her work with the Humane Rescue Alliance, Currier was with the Humane Society of the United States, among other animal welfare organizations, as well as in roles with the federal government, including the U.S. Department of Transportation.
DAS manages the Fairfax County Animal Shelter, the county's only open-access municipal shelter. The shelter accepts all companion animals from Fairfax County who need care, regardless of health, age, temperament or history.
Currier earned a juris doctorate from Arizona State University and a bachelor's degree in geography from the University of Arizona.
Herndon Town Council updates parking regulations
The Herndon Town Council voted unanimously to amend the town's existing parking regulation ordinance at a public hearing Jan. 25, an action that addresses safety concerns and quality-of-life issues on the town's streets and in residential neighborhoods.
Among other updates to the town's previous parking ordinance, the newly-adopted ordinance
Defines commercial vehicles by weight, width and length and clarifies definition of utility trailers; prohibits parking within five feet of a driveway; prohibits parking that prevents use of curb ramps; prohibits parking of recreational vehicles in on streets in residential areas; and defines abandoned/inoperable vehicles, procedures for removal, and payment of fines.
"These new provisions to the town's parking ordinance are designed to address issues Herndon residents have identified as detrimental to the quality of life in their neighborhoods and – more importantly – to their safety," said Mayor Sheila Olem. "They provide our parking official and the Herndon Police Department with additional tools to keep our streets safe."
The town's updated parking ordinance follows recent initiatives designed to address parking concerns, such as the hiring of an official dedicated to education about and enforcement of parking regulations and the establishment of parking permit zones in neighborhoods meeting certain criteria. The new parking ordinance is in effect immediately and will be uploaded to the town's website at Herndon-va.gov/meetings (see "approved" notes for the January 25 Town Council Public Hearing).
Fairfax Fire Department receives $7,000 grant
The Fairfax Fire Department has received a $7,000 grant award from Motiva Enterprises to purchase an innovative learning tool to each kids how to call 911 from smart phones.
The grant will be used to purchase the Next Gen Hero Project's 911edu+ system – a learning tool that will teach kids how to call 911 on smart phones. The system creates an opportunity for all ages to learn new technologies initiating emergency response using cellular phones to include special needs and the elderly population.
The Fairfax Fire Department was one of 17 emergency response organizations across six states that received a total of nearly $130,000 in funding through the Motiva First Responder Grant Program, which is designed to support first responders in communities that host Motiva assets.
Motiva Terminals & Pipelines General Manager Jason Burnett said that the grant program is an important way for Motiva to strengthen its partnership with local emergency response organizations.
"Safety is the most important aspect of our terminal and pipeline operations," said Burnett. "Partnering with first responders by providing much-needed resources is a tangible way for Motiva to demonstrate its safety commitment. We're proud to support the brave men and women who work so tirelessly to keep our communities safe."
Grants up to $10,000 per applicant are being awarded annually to eligible organizations to fund the purchase of safety equipment, professional training or safety education programs.
This is the inaugural cycle of the Motiva First Responder Grant Program. Applications for the next cycle of grant awards will be accepted from Aug. 1 through Oct. 31, 2022.