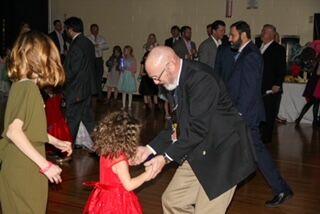 Participants dance the night away at the VIP Dance at the Herndon Community Center Feb. 11. Formerly called the Father-Daughter Dance, this semi-formal event was a chance for children ages 4-12 and a special adult in their lives to enjoy dancing to a DJ, dessert, a photo booth and more.
Fairfax County native receives AMA award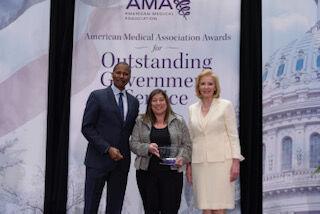 The American Medical Association (AMA) presented Debra Houry, M.D., M.P.H., chief medical officer of the Centers for Disease Control and Prevention (CDC), with the AMA Award for Outstanding Government Service.   
A practicing emergency physician for more than 20 years, Houry joined the CDC in 2014, serving as director of the National Center for Injury Prevention and Control (NCIPC) from 2014 to 2021. During her tenure, NCIPC's budget increased from $150 million to $714 million, with much of its growth focused on the opioid overdose epidemic. Because of her expertise and dedication to the issue, the number of jurisdictions that are live with RxCheck, a prescription drug monitoring program, has increased from eight in 2019 to 50 in 2022. RxCheck has helped states improve workflow, ease access for controlled substance prescribers, and supported safer prescribing. Most recently, Houry served for nearly two years (2021-2023) as CDC's acting principal deputy director, overseeing improvements to lab quality, updating global health strategy and governance, and elevating cross-cutting initiatives across the agency such as social determinants and mental health.   
"An accessible leader, mentor to many, and champion on public health, Dr. Houry has led the way on some of the most challenging issues facing her field and saved lives in the process," said AMA Board Chair Sandra Adamson Fryhofer, M.D. "A physician first, she maintains a strong connection to patients and physicians, alike, enabling her to lead the way on issues like firearm violence and the overdose epidemic, as well as burnout. It is an honor to present Dr. Debra Houry with the AMA Award for Outstanding Government Service."   
Houry previously served as vice chair and associate professor in the Department of Emergency Medicine at Emory University School of Medicine and as associate professor at the Rollins School of Public Health. She also served as an attending physician at Emory University Hospital and Grady Memorial Hospital and as the director of Emory Center for Injury Control.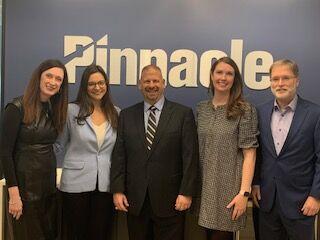 Left to Right:Carolyn Pelton, Pinnacle Financial Partners; Lauren Padgett, PRS; Joseph Getch, PRS; Lauren Shields, and Ken Ayers, Pinnacle Financial Partners.
Pinnacle Financial partners with local nonprofit
Pinnacle Financial Partners has joined PRS, a leading mental health nonprofit serving Northern Virginia, the state, and beyond, as a Hope Partner, the highest level of PRS' Corporate Partner program, which includes a minimum charitable investment of $25,000. 
"We welcome Pinnacle as our newest—and now largest—corporate partner. This means that Pinnacle and its employees will be engaging with our mission in many ways. We look forward to collaborating throughout the year to support those in need of mental health, crisis or suicide intervention services. Their generosity, leadership, and volunteers will ensure that more people in our community have access to our life-saving and life-changing programs," explained Joseph Getch, CEO, PRS.  
PRS' Corporate Partner Program provides meaningful opportunities for businesses to get involved year-round and make a lasting impact on those PRS serves. PRS relies on the support of the community to provide behavioral health, crisis intervention, and suicide prevention services. PRS offers a variety of investment levels through its Corporate Partner program, providing opportunities for corporate partner employees to engage with the PRS mission through team-building, charitable drives, and leadership.
"Pinnacle works to be a pillar of support in the communities we serve. By investing in nonprofits and initiatives that build stronger communities, we enable more people to prosper," explained Carolyn Pelton, regional president, National Capital Region, Pinnacle Financial Partners. "That's why we are proud to support PRS. It too is a pillar in our community, helping people overcome life challenges."
Last year, PRS served nearly 1,800 individuals and families through its wellness and recovery programs, helping persons served navigate the mental health system, avoid psychiatric hospitalization, find, get and keep jobs, strengthen independent living skills, and maintain housing. PRS' crisis and suicide intervention program, CrisisLink, handled more than 120,000 crisis calls, texts, and chats, providing a trained and empathetic voice for community members facing life crises. Corporate Partners provide funding and volunteers to support these efforts and ensure PRS can continue to meet the community's growing behavioral health needs.
Chantilly resident performs at Carnegie Hall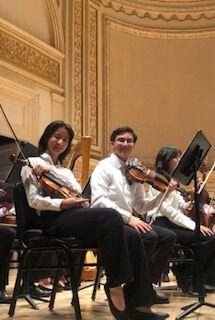 Ethan Chisholm, a sophomore at St. Paul VI Catholic High School, was selected for the High School Honors Performance Series, a program that assembles rising young musicians to perform under master conductors at world-renowned concert halls. 
Chisholm performed at Carnegie Hall in New York City on Feb. 4 with the Honors Symphony Orchestra conducted by Charles Peltz. 
Musical pieces included Symphony No. 5 Finale by Dmitri Shostakovich, overture to Candide by Leonard Bernstein, and Jesu, Joy of Man's Desiring by J.S Bach/aar. Arthur Luck.
Chisholm has been playing violin for seven years and piano for 10 years. He is a member of the Paul VI Honors String Ensemble and is a junior organist at St. Veronica Catholic Church. 
"I was thrilled to play beautiful music with high school students from across the
United States and the world who are passionate about music," said Chisholm about the Honors Performance Series. "It was an amazing experience." 
He also was accepted to the Honors Performance Series for the Royal Festival Hall, in London in 2020, and the Wiener Musikverein, Vienna, Austria in 2022.
Maximus names new senior VP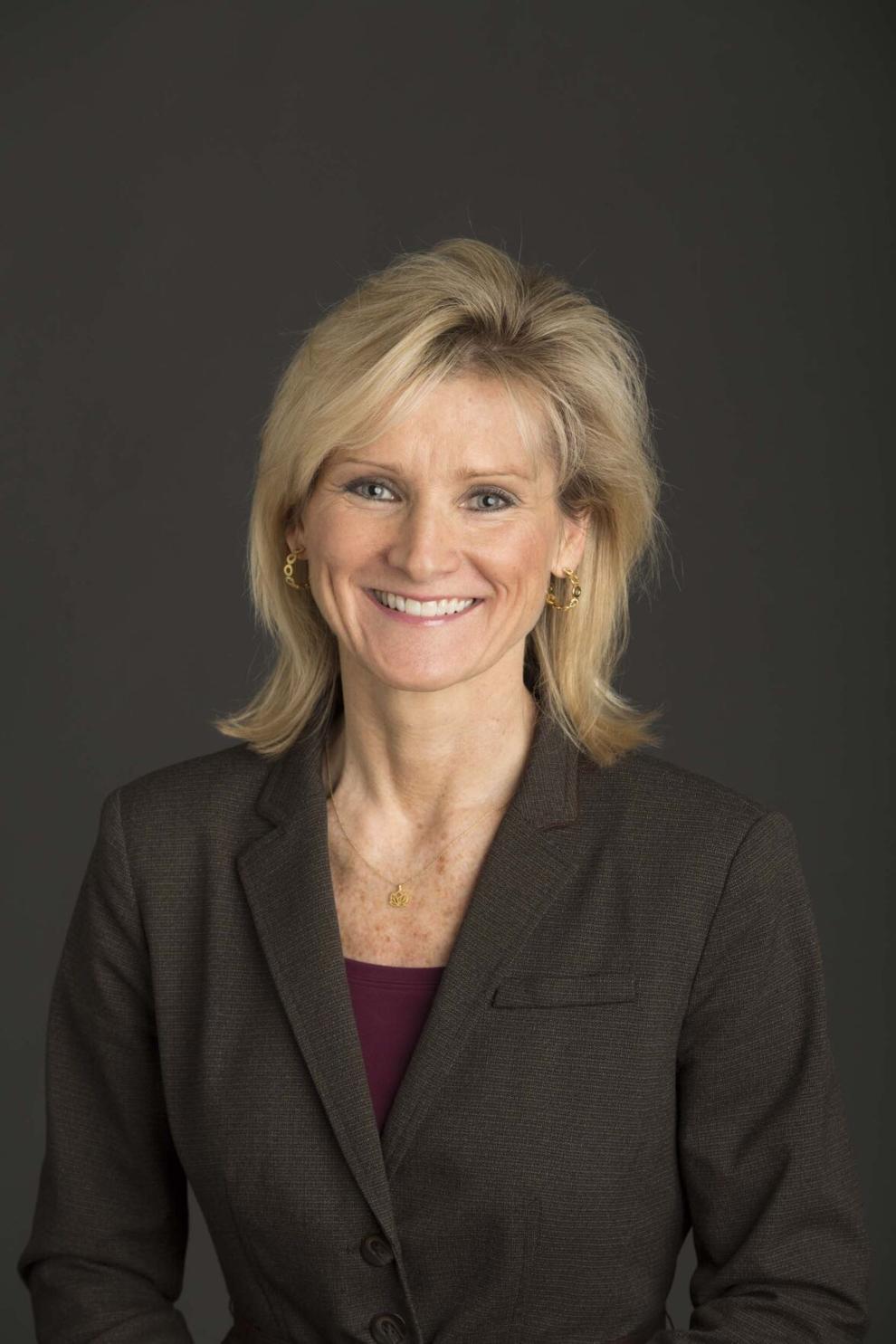 Maximus announced it has named Elisabeth Schmidt as one of the company's new senior vice presidents for Technology and Consulting Services. In this role, Schmidt will guide the company's delivery of comprehensive solutions for federal health agencies for improved citizen outcomes.
"Federal health agencies are focused on developing improved citizen experience coupled with better technology approaches that address today's biggest challenges, such as improving health equity," said Scott Barr, Technology and Consulting Services (TCS) Practice lead, Maximus. "The foundation of our success in public health is built upon aligning experienced professionals with innovative technology solutions. It strengthens our ability to address complex transformative initiatives, such as data modernization, that will reimagine how federal health agencies operate."
Schmidt has more than 25 years of consulting services experience across federal, state, and local government clients, as well as private sector companies. Throughout her career, Schmidt has specialized in complex program management and delivery across the spectrum of systems integration, application development, business process outsourcing, and transformation programs. Schmidt's previous technology consulting roles include being a managing director with Accenture Federal Services, senior director with Eagle Hill Consulting, and most recently partner with IBM Consulting.
"When it comes to federal health today, the greatest challenges include health equity and accessibility, data management, and applying advanced technologies to tackle these requirements," said Schmidt. "I joined Maximus to support our federal health agencies in their delivery of improved services and customer experience. We want to help these agencies implement technology that is driven with a human-centered design approach and is focused on improving outcomes for citizens, including veterans, patients, and providers, among others.
CDM Smith names president of federal services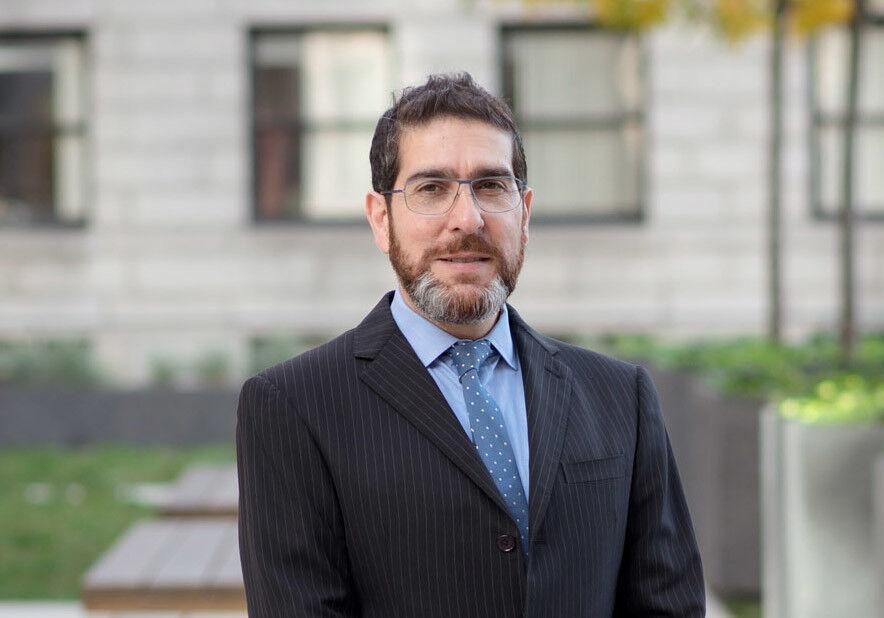 CDM Smith announced the appointment of Firas N. Makarem, CFM, as the new president of CDM Smith's Federal Services Unit (FSU). Located in the Fairfax office, Makarem will lead FSU in delivering advanced solutions to support the U.S. government in protecting lives, communities and the environment at home and around the world.   
Makarem has devoted 27 years to project and program management, sales, strategy, executive sponsor, technical advisor and subject matter expert roles. He earned national recognition in the areas of flood management, multi-hazard mitigation, as well as program and emergency management, and has managed services to the U.S. federal government, state and local agencies, specifically those agencies with water, facilities, and disaster response and recovery missions. This included oversight of several nationwide service and construction contracts with a capacity of more than $1 billion.  
Since joining CDM Smith in 2005, Makarem has advanced through a number of leadership roles for program, construction and emergency management services globally and most recently successfully served as senior vice president and Program Services Group director committed to growing CDM Smith in the program, construction and asset management markets through ingenuity, innovation, and technical luminescence.   
With a dedication to service and an integrated understanding of open communication, Makarem takes on his new role. "Our services to U.S. Government Agencies over the last 40 years demonstrates our commitment to growing and delivering for this important client globally. I'm excited to work alongside the many talented leaders and team members to build on their successes and leverage the full strengths of the CDM Smith and Trinnex organizations to drive further growth, diversification, and innovation to maximize our impact for our clients' critical missions," said Makarem.  
He has a bachelor's degree in urban systems engineering with a hydrology and hydraulics (H&H) and urban planning focus at George Mason University and obtained a master's degree in engineering management with a focus in crisis, emergency, and risk management at George Washington University. He is also a certified floodplain manager. Throughout his career, Makarem has been a key member of numerous industry boards and authored disaster management publications and presentations.    
"It was important that the candidate demonstrate a balance of technical excellence, alignment of vision, will to win, and commitment to inspiration and leadership. Makarem has demonstrated these characteristics throughout his career and is ready to lead the amazing FSU team," said CDM Smith President and Chief Operating Officer Anthony B. Bouchard. 
Cycurion appoints new CEO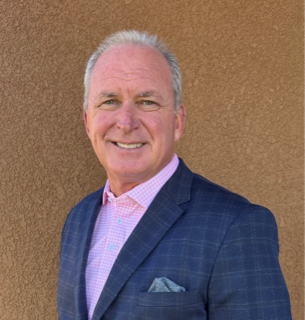 McLean-based Cycurion, Inc. announced that L. Kevin Kelly will succeed Emmit McHenry as chief executive officer effective February 14. 
McHenry will continue to serve as chairman of the Board.
"I am honored to pass the CEO baton to Kevin. His public company experience, corporate connections, and commitment to privacy and individual protections will bolster our leadership team for the journey ahead," said McHenry. "Kevin is passionate about our mission to protect and prevent cyber intrusion, and over a long and successful career, he has demonstrated strong leadership that fosters both talent and growth. With Kevin assuming the CEO role, we have an outstanding team to operate and govern our company and I can devote more time and energy to our strategic growth initiatives."
Kelly brings nearly 30 years of corporate experience, most recently as chief executive officer of Halo Privacy, a cyber security organization. Kelly began his pivotal role in leadership as CEO of Heidrick & Struggles International Inc. where he established the company as a global consulting firm operating in 60 countries. After his tenure at Heidrick & Struggles, he held several leadership and advisor roles, including as CEO and president of Asia Pulp & Paper, one of the world's largest paper companies, and executive advisor at BTS, a global professional services firm. Throughout his career, he has focused on the challenges of leadership and authored four books on the subject.
Kelly obtained a Bachelor of Science degree from George Mason University and a Master of Business Administration from Duke Fuqua School of Business where he served on its Board of Advisors.
"Emmit is a pioneer in the industry, and it is a distinct privilege to step into the CEO role as Cycurion transitions to a public company," said Kelly. "As the threat landscape continues to evolve with increasingly sophisticated cyber-attacks, Cycurion's unique platform provides companies and governments with the critical tools they need to protect their organizations. I am excited to work with such a talented and innovative team that shares my commitment to cybersecurity."