Inova Fair Oaks earns top hospital award for 2021
Highlighting its nationally recognized achievements in patient safety and quality, Inova Fair Oaks was named a Top Hospital nationally by The Leapfrog Group. 
Announced December 7, the Leapfrog Top Hospital award is widely acknowledged as one of the most competitive awards American hospitals can receive. The Top Hospital designation is bestowed by The Leapfrog Group, a national watchdog organization of employers and other purchasers recognized as the toughest standard-setters for health care safety and quality.
"In addition to all five Inova hospitals being awarded A grades for safety by The Leapfrog Group, we proudly recognize that Inova Fair Oaks and Inova Loudoun hospitals have the honor of being named Top General Hospitals," said J. Stephen Jones, MD, president and CEO, Inova Health System. "Our team members truly understand the importance of providing every patient with a safe and quality care environment and we applaud their commitment to providing world-class healthcare to our community."
More than 2,200 hospitals were considered for the award. Among those, Inova Fair Oaks received the Top General distinction. A total of 149 top hospitals nationwide were selected as Top Hospitals, including:
8 Top Children's
46 Top General
23 Top Rural
72 Top Teaching
The quality of patient care across many areas of hospital performance is considered in establishing the qualifications for the award, including infection rates, surgery, maternity care, and the hospital's capacity to prevent medication and other errors. The rigorous standards are defined in each year's Top Hospital Methodology.
"We are pleased to recognize Inova Fair Oaks and Inova Loudoun hospitals as Top Hospitals this year," said Leah Binder, president and CEO of The Leapfrog Group. "Even with the continued strain of the COVID-19 pandemic, Inova Fair Oaks and Inova Loudoun have demonstrated an extraordinary dedication to excellent health care in Northern Virginia. We congratulate the board, leadership, staff and clinicians who put their patients first."
To qualify for the Top Hospitals distinction, hospitals must rank top among peers on the Leapfrog Hospital Survey, which assesses hospital performance on the highest standards for quality and patient safety.
Freedom Foundation makes a visit to Fairfax as part of their Holiday Swing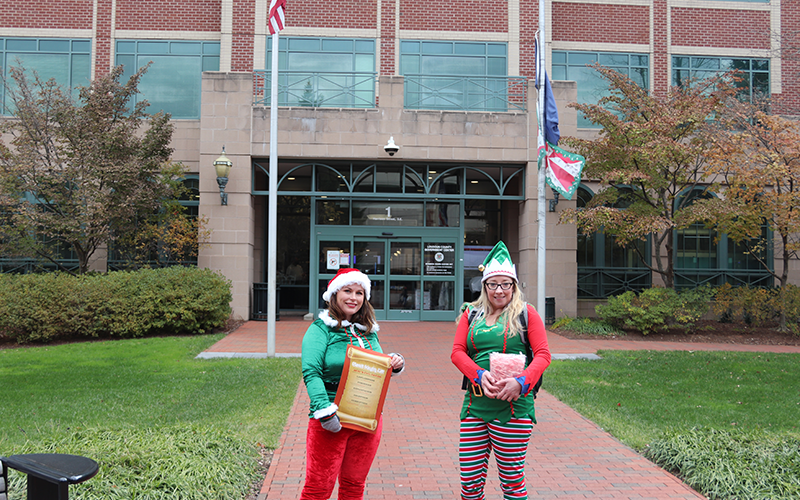 For years, the Freedom Foundation has been bringing holiday joy to government employees on the West Coast while infuriating the unions that exploit them by frequenting public office buildings to inform workers of their recently affirmed right to opt out of membership and dues.
On a brisk late-November day in Virginia and Washington, D.C., Santa's Freedom Foundation elves, Ashley Varner and Erin Volz, paid an unexpected visit to northern Virginia county buildings and Federal union headquarters to bring them Santa's "Naughty Union List" and spread Christmas cheer of paycheck savings to the workers they claim to represent. 
The Freedom Foundation Santa's helpers want state, county and municipal workers to know about the U.S. Supreme Court's 2018 ruling in Janus v. AFSCME, which recognized that forcing public employees to financially support a union as a condition of employment is a violation of their First Amendment rights.
After a stop in Loudoun County, the elves found out – just in the nick of time – that Fairfax County workers, especially law enforcement needed to be warned, so they paid them a visit too.
Then off they went to shed light on Santa's repeat offenders — Teamsters, AFSCME, LiUNA and AFL-CIO. 
"The workers need to know that the hundreds, or thousands, of dollars in dues that are deducted each year from their paychecks," Volz said, "under the guise of 'representation,' comes to these huge buildings in Washington, D.C., and is distributed to divisive politicians, organizations and causes."
"These huge, private organizations, are largely unaffected by the end results of their political and social meddling, while the workers suffer the consequences," she explained. "This year, the Freedom Foundation will bring workers some Christmas cheer and help guide their money and constitutional freedoms back to them and away from the unions."
Arts Herndon receives grant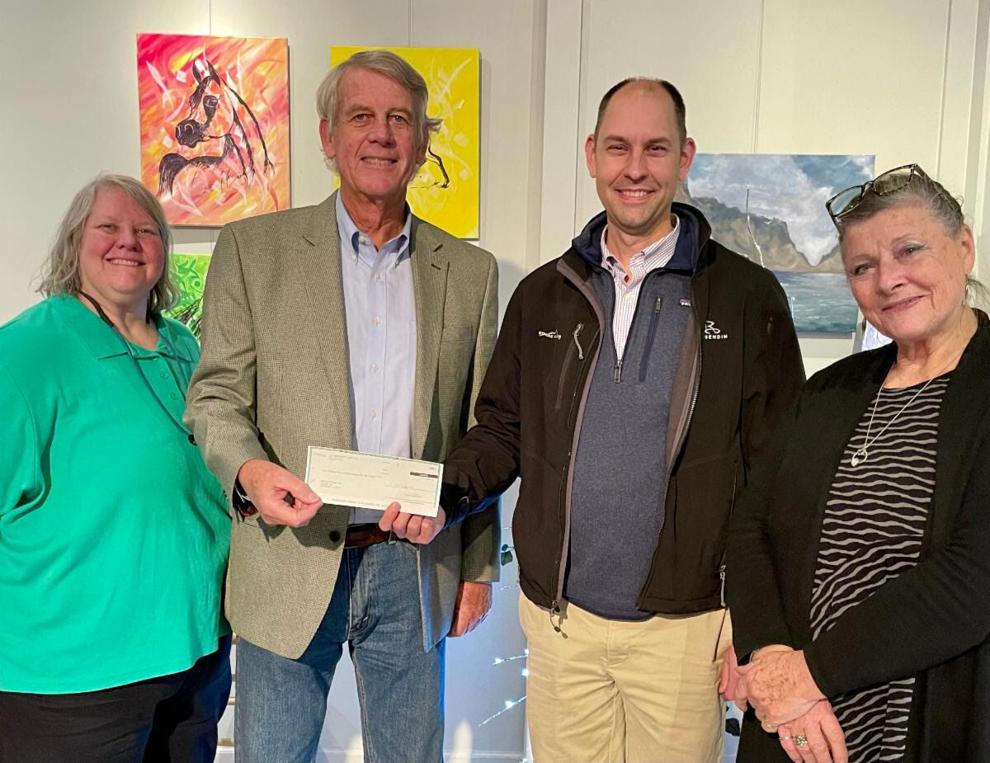 Arts Herndon is the recipient of a special grant from the Rosendin Foundation.
The grant will help them continue their work in the community with the Children's Crafts at the Farmer's Market and Skyline Freestyle "Dragones Del Freestyle".
"A huge thanks to Herndon resident and arts supporter Jeannie Donhiser. She is a long-time employee of Rosendin," said Joanna Ormesher, ArtsHerndon CEO and president.  
Springfield resident is a photo contest winner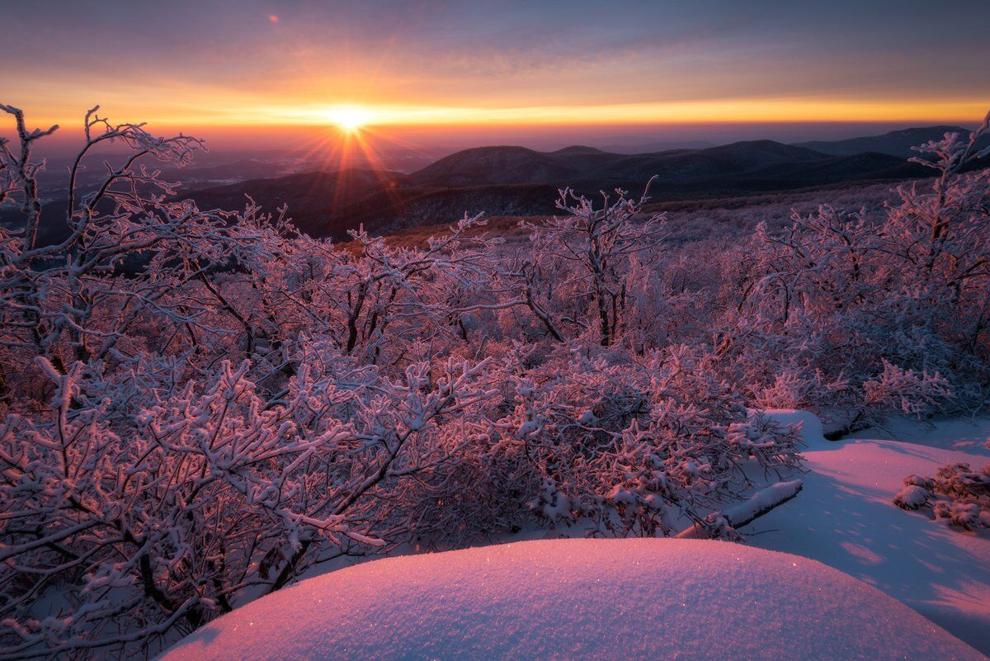 The Piedmont Environmental Council announced the winners of its 2021 Annual Photo Contest, in which professional and amateur photographers alike submit their best images of the beautiful Virginia Piedmont, from within Albemarle, Clarke, Culpeper, Fauquier, Greene, Loudoun, Madison, Orange, and Rappahannock counties and the City of Charlottesville.
Nick Palastro of Springfield, won in the category of Beautiful Landscapes for his submission "Glow Rime Glow". The photo depicts rime ice glowing during a cold sunrise in Rappahannock County.
"Part of our work at PEC is connecting people to the landscapes, communities and heritage of Virginia's Piedmont. The incredible, high-quality images that local photographers submit into this contest tell important stories and help people experience this wonderful place in new and exciting ways," said Hugh Kenny, PEC multimedia communications specialist and contest coordinator.
Finalists from among hundreds of entries are chosen by a team of professional photographers and PEC staff. The winners are selected by public vote. Winners in each adult category receive a gift certificate to a participating Buy Fresh Buy Local restaurant, and the youth winner receives an iTunes, Google Play or Amazon gift card.
Community members can learn more about the annual photo contest and see all finalists at: https://bit.ly/31UwHsJ.
Town of Herndon recognizes employees for outstanding performance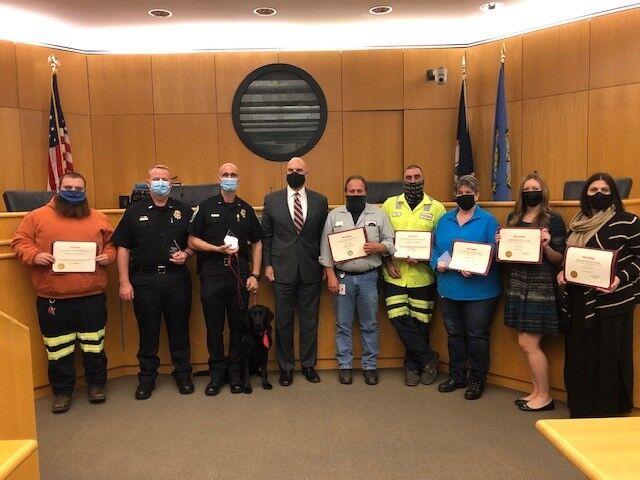 One person's extraordinary effort to enhance safety for employees working at the Town Shop. A team working together to ensure the town was in compliance with COVID regulations and was mitigating risk of infection in the workplace. A comprehensive, wholistic approach to employee wellness at the Herndon Police Department, spearheaded by two newly-hired, command level officers.
These initiatives were recognized with this year's Outstanding Performance Awards, annual awards presented by Town Manager Bill Ashton to thank employees who go above and beyond in their service to colleagues and citizens. The awards were presented at a ceremony on December 7; while attendance was limited due to pandemic protocols, the ceremony was recorded for all employees to view.
"In this challenging year, the creativity and innovation demonstrated by these employees made our workplace safer, our employees healthier and our team spirit stronger," Ashton said. "Often, leaders emerge in times of trial. Each employee recognized by these awards exemplifies leadership in the truest, best sense of the word."
The following Outstanding Performance Awards were presented in 2021:
Chris Mason, operations manager, Department of Public Works received the award for individual excellence. At her own initiative, Mason conducted a safety and compliance assessment of town facilities, which identified issues that needed correction and/or repair. Her work significantly enhanced workplace safety and has established a template for ongoing safety review.
Lindsey Jones, systems technician, Parks & Recreation; Mason; Roxann Fox Simkins, risk manager, Town Attorney's Office; and honorable mention to Lesa Yeatts, Town Attorney were recognized for team excellence. At the onset of the COVID-19 pandemic, town operations pivoted into emergency mode that, due to its unique challenges, was uncharted territory. While the roles and responsibilities of all town staff were impacted, these employees were on the front line in developing reporting systems, ensuring regulations were adhered to, keeping employees informed of protocols and – most importantly – mitigating the impact of the virus in the workplace and promoting employees' health.
Lieutenants Jay Carson and Mark Dale, Herndon Police Department were recognized for innovation and creativity. Both brought on board in fall 2020, Carson and Dale were tasked with developing a comprehensive wellness program for HPD that would help officers coping with stressful incidents as well as contribute to overall positive mental health. The resulting program, developed in just eight months, is multi-pronged and incorporates a contracted police psychologist, annual wellness checks, peer support teams, meditation training and a dedicated wellness/meditation room, development of diversion policies in lieu of discipline, and acquisition of a facility dog for the department. "These efforts have not only increased the opportunities for personnel to maintain positive mental health in an increasingly difficult and stressful profession, but it has enhanced our ability to remain safe," said Chief Maggie DeBoard.
In addition to the Outstanding Performance Awards, Ashton also presented the Customer Service of the Year Award to Matthew Ordemann, utility equipment operator in the Department of Public Works, who went above and beyond his normal duties in assisting the Herndon Police Department with lighting during a crime scene. A new award category was presented for the first time in 2021, to Timothy Whetzel, Jr., also a utility equipment operator, who referred three successful candidates for town employment. David Higgins, utility work crew supervisor, was recognized for 35 years of service to the town. "The commitment and service orientation of our employees is exemplified in these outstanding individuals," Ashton said.
The 2021 award submissions were evaluated and determined by Martin Gruszka, owner of Herndon's Office Evolution, providers of flexible shared workspace; and Miriam Liggett, owner of Soliloquy Bridal Couture in Herndon's downtown. Award recipients receive up to $1,000 for individuals and up to $2,000 for teams.
Burke Civil Air Patrol earns achievement award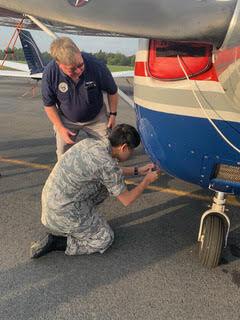 Virginia Civil Air Patrol's (CAP) Burke Composite Squadron was recognized in November for earning the 2021 Squadron Aerospace Education (AE) Achievement Award for the second time.   
The AE Achievement Award recognizes units that have vibrant aerospace education programs and have excelled in AE for the past fiscal year. CAP has both an internal and external focus for aerospace education and as a result units must complete a minimum of eight tasks which encompass both areas to qualify for the award. This year's award covered a time frame of one year from October 2020 to September 2021.  
CAP's internal focus is to promote and educate the importance of aviation, aerospace, cyberspace, and Science, Technology, Engineering, and Math (STEM) to its membership of adults and youth. Burke Composite Squadron dedicated itself to this endeavor through 
Cadets recently participated in a High-Altitude Balloon Challenge with designed experiments going to an altitude of more than 87,000 feet.  The Burke squadron was awarded the Innovative Science Award and received a $600 grant.
The unit completed the AE Excellence (AEX) Award program. The AE program is hands-on, inquiry-based learning tool that meets national academic standards and provides aerospace, aviation, space, and STEM-related activities to the unit's members.  
Cadets were introduced to model rocketry and had the opportunity to launch model rockets. The rocketry program introduced the unit's cadets to model rocketry and increased their knowledge and interest in rocketry.
Cadets participated in glider orientation flights and powered orientation flights.  For the powered orientation flights, cadets were given the opportunity to control a Cessna 182 in flight.
Additionally, the squadron provides support to local charities and civic activities, most recently the Salvation Army's 5K run in October and will support Wreaths Across America at Arlington National Cemetery this month.
 CAP's external focus is to reach out to the general public, including schools and organizations, and help society understand the importance of aerospace, cyberspace, and STEM. This was accomplished through hosting an open house displaying aerospace opportunities, including flight simulators and information about two competition programs (StellarXplorers and CyberPatriot). 
"This award exemplifies the teamwork of all our adult leaders and our cadets, said Capt. Sara Demyanovich, Burke Composite Squadron commander. "The dedication of our members towards providing leadership and aerospace education are evident in earning this award. I appreciate 2nd Lt. J. Paul Douglas serving as our squadron's aerospace education officer and Cadet Capt. Austin Martin serving as our squadron's cadet aerospace education officer whose leadership was vital to our success." 
"Earning this award demonstrates that a unit is healthy and thriving," explained Col. Liz Sydow, Virginia Wing's commander. "This past year was particularly challenging because of the COVID-19 pandemic. I look forward to membership growth across the state into the next year as we continue to safely have in-person activities again, shaping our nation's future leaders."   
Burke Composite Squadron meets on Thursday evenings at Washington Irving Middle School in Springfield at 6:30 p.m. For more information go to the Burke Composite Squadron webpage at https://bit.ly/3oQ6cNH.
Web firm moves corporate offices to Reston
Orpheus, a website design, web development and digital marketing firm, has moved its corporate offices to Plaza America in Reston. 
Represented by Edward Saa and Timothy Jacobs, Orpheus was able to trade their old, dated space while increasing their footprint by 50 percent.
"We wanted a quality experience for staff at the office when they are not working remote," said Benjamin Portman, lead developer at Orpheus. "A building complex like Plaza America has convenient access to Dulles Toll Road for employees to easily get to work and an abundance of amenities that they can enjoy making this building an ideal location."
"This was a no brainer for Orpheus" said Edward Saa. "Taking advantage of the subleasing market to secure beautiful fully furnished sublet space that can be occupied with minimal upfront costs and a rent spend well below the buildings advertised rate makes it a perfect fit for Orpheus."