Fairfax County senator recognized by the Virginia Chamber of Commerce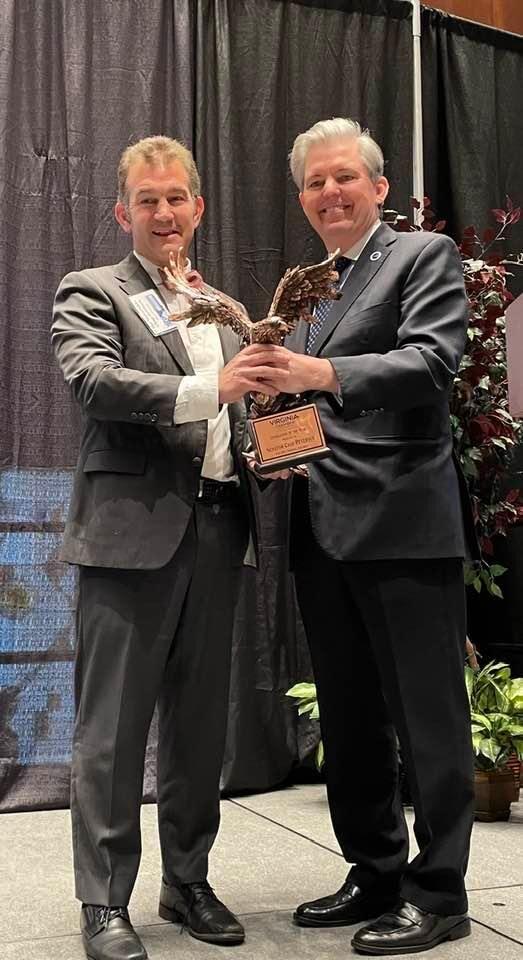 The Virginia Chamber of Commerce recognized Senator Chap Petersen, D-Fairfax, as a 2021 Legislator of the Year for his leadership and continued collaboration with Virginia's business community at the Virginia Economic Summit and Forum last week.
Petersen said in a recent newsletter that the award was unexpected. "I don't belong to a Fortune 500 company or international law firm. I have no global strategy. I'm a small business guy," he said. "Nothing wrong in business with being big – it's the ultimate mark of success – I just related to being small. But the Chamber was very kind in their recognition and you're damn right I accepted."
"In my career, I've sought to be a voice for small business," said Petersen. "I'm honored that the Virginia Chamber would recognize my team and our efforts to reopen Virginia and give small businesses a fighting chance." 
In Petersen's acceptance speech he made three promises: that extraordinary restrictions based on COVID-19 must eventually end, especially restrictions on children; to lessen the tax burden on working families in 2022 and restoring a system of checks on balances on executive power.
"Thanks to my great team Raphael Debraine, Krisin Gleichauf and Kathy Neilson for representing our senate office so well," he said.
Park Authority captures three Fairfax County GIS Excellence Awards
Teams from the Fairfax County Park Authority (FCPA) were honored with GIS Excellence Awards in three categories during the county's annual GIS (Geographic Information System) Day competition. The Park Authority was one of 19 government agencies competing for honors in six categories.
Fariss Agatone, Suzanne Holland and Andrew House won honors in the Cartographic Product or Presentation Category for "Hidden Oaks Nature Center's Nature Scorecard." This category showcases the power of GIS tools in creating accurate, instructive and visually pleasing printed maps. The Nature Scorecard was created for use in fall classes and programming. Students used this specially designed map of the park to learn about the natural and built environment.
Jasmin Kim and Justin Roberson received an award in the Data Contributor Category, which honors the agency that has created or refined the most significant spatial data for the county in the past year. Their entry, "Locating New Public Urban Parks in Reston," is an interactive web application highlighting publicly accessible urban parks in the Reston Transit Station Areas (TSAs). The application was created to inform the public where current and planned urban parks are located with detailed information of the park typology, construction status and park amenities. Daniel White, of the Department of Planning and Development, joined them on the project.
Andrew DeLuca, Karen Devor, Fariss Agatone and Justin Roberson were honored in the GIS Integration Category for "GIS Trail Assessments." This award is presented to the agencies that have integrated GIS into their operations to the greatest degree in the last 12 months. GIS Trail Assessments utilized Esri's QuickCapture solution, along with a dashboard, to both rapidly collect and report on the quality of trails throughout the FCPA's parks.
The GIS Excellence Awards recognize individual county employees, teams and departments who have demonstrated exceptional utilization of the county's GIS in the last year to improve business processes, perform geographic analysis, visualize projects, improve efficiency and communicate with the public. Winners were honored in a virtual ceremony November 17, worldwide GIS Day.
Park Board honors five county officials with Chairman's Choice Awards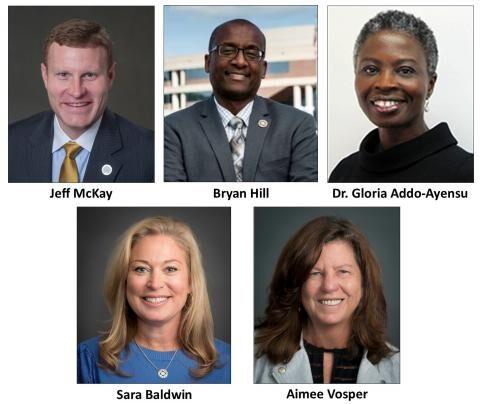 Five County leaders have been honored with 2021 Chairman's Choice Awards by the Fairfax County Park Authority Board. Two of the honorees were announced in advance of the Elly Doyle Park Service Awards ceremony November 19, but three of the winners were held as a closely guarded surprise until the ceremony itself.
Board of Supervisors Chairman Jeff McKay and the Park Authority's two deputy directors, Sara Baldwin and Aimee Vosper joined County Executive Bryan Hill and Fairfax County Director of Health Dr. Gloria Addo-Ayensu as this year's honorees. All five were chosen for their outstanding long-term support, service to and advocacy on behalf of the Park Authority.
McKay was described as "the leader the Park Authority could count on to muster support for difficult decisions of the Park Authority Board and park staff even as crowds overran our parks, and later when we began to reopen and provide programming, concerts, etc." He was praised for his financial leadership, help in securing CARES funding, and offering stalwart support for the renewal of the Park Authority's enabling Ordinance and updated Memorandum of Understanding.
Baldwin, deputy director/chief of Operations, was praised for stepping up not once, but twice in a short span of time to assume the role of acting director when the agency's former director was asked to temporarily fill a vacancy as county executive and upon the director's retirement earlier this year. The Board noted she came prepared with a sense of purpose and a dedication to improved internal and external communications. She pushed the agency toward a return to normalcy, while overseeing the search for a new director.
Vosper, deputy director/chief of Business Development, was honored as someone who was adept at resolving problems, innovating and keeping calm in the face of adversity during the daily challenges of dealing with the COVID-19 pandemic. She addressed the need for virtual governance, working tirelessly to figure out the right way to hold virtual meetings, which were compliant with all rules and regu-lations. She also was a driving force in completion of the MOU and Park Ordinance approvals.
The Board had previously announced that Hill and Addo-Ayensu were selected as recipients this year because of their outstanding leadership during the COVID-19 pandemic. They were praised for taking actions that allowed the Park Authority to continue its mission during pandemic.
The Park Board established the Chairman's Choice Award in 2019 to honor those whose efforts provide a critical contribution to the agency and help sustain and expand its nationally accredited facilities and programs. Award recipients must also support the One Fairfax policy through their actions.
Fairfax County students earn Shepherd University scholarships
Two students from Fairfax County have been awarded privately-funded scholarships from the Shepherd University Foundation.
Andrew West of Annandale was awarded the Burkhart Legacy Scholarship. Diana Cushing-Spiller of Springfield was awarded the Moler General Scholarship.
The Foundation will provide more than $2 million in student, faculty, and program support for the 2021-22 academic year. Located in West Virginia's Eastern Panhandle, Shepherd University is a regional public university accredited by the Higher Learning Commission.
Community Colleges announce expansion of credits for prior learning
Virginia's Community Colleges have launched an expanded version of the organization's Credits2Careers portal, allowing more adult learners to be aware they may be eligible for college credit based on their prior learning and experience.
Before the expansion, the Credits2Career portal only served individuals with military experience, translating their service into college credits.
The expansion of the portal, which includes statewide curriculum crosswalking, is made possible due to a generous grant from the Lumina Foundation as part of its All Learning Counts Initiative. In 2019, the Foundation awarded $3.5 million in grants to nine organizations across the nation committed to building clearer pathways to degrees and other credentials for adults.
Virginia's Community Colleges was one of the nine recipients, and the only recipient from Virginia.
"Learning can take place in all kinds of settings, especially today, as many individuals have hybrid work models allowing for increased flexibility," said Randall Stamper, assistant vice chancellor for grants and workforce programs at the community college system. "Whether it's in the military, on the job or in an exam, Virginians deserve to be credited for their learning, even the learning taking place outside of a classroom."
The grant has enabled Virginia's Community Colleges to correlate military training, professional development, work force and career certifications to courses within its course catalog, allowing all adult learners to jumpstart their paths to a college degree by earning college credit for certain life experiences without having to start the education process at ground zero.
Credits2Careers and the All Learning Counts initiative aim to make the path to a degree more easily obtained. By validating experiences and learning out of the classroom, adult learners will get their degree faster and for less out of pocket, lowering the bar for individuals to seek out and complete a postsecondary education.
"Applying and enrolling in school can be daunting, especially for adults juggling a family and a job, but the launch of the new Credits2Careers portal makes it easier to see how many credits an individual has and what they need to show to cash them in," said Jenny Carter, director of workforce partnerships and projects. "We're grateful to the Lumnina Foundation for helping make this effort a reality, and we're even more grateful that Virginia adult learners are one step closer to accessible education."
Individuals looking to explore the Credits to Careers portal can create an account at Credits2Careers.org.
Global technology and engineering company rebrands
Smartronix, a Herndon next-generation cloud, C5ISR, and advanced engineering / IT solutions company, announced the launch of its new brand, SMX, in line with the company's vision of delivering transformative technology solutions to government and commercial customers. 
SMX formed in 2019 when Smartronix and Trident Technologies joined forces, followed by the acquisition of Datastrong in 2020 and C2S Consulting Group in 2021. Moving forward, the business will be known as SMX, combining exceptional talent and industry-leading capabilities to differentiate the company, better serve the market and accelerate digital transformation for customers. The leadership team is comprised of executives from the legacy companies, as well as industry veterans who have joined the platform.
"Rebranding as one company is the next logical step in our growth," said Peter LaMontagne, CEO of SMX. "For the past year we have been hard at work harmonizing our benefits, IT systems, and strategy, empowering our talented team to deliver more value to our clients, who are at the center of everything we do. By bringing together leading capabilities from each component company and making further investments in our platform, we are able to respond to evolving market dynamics and meet the requirements of our customer base."
SMX will continue to focus on harnessing the power of modern technologies to assist clients across government and the private sector in realizing their digital transformation goals. The company's approach combines deep domain experience in mission and business areas with technical expertise and next-gen delivery models that ensure a shared vision with clients and accelerate success.
"While we will be known by a new name, SMX, what will not change is our commitment to our employees and our clients whose missions have a meaningful, positive impact on the world each day," said LaMontagne. "The company will continue to deliver innovative solutions in three primary service areas: cloud, C5ISR, and advanced engineering / IT."
SMX was recognized by Gartner as a visionary and leader in the Public Cloud Infrastructure Professional and Managed Services, Worldwide quadrant for four consecutive years and. as a visionary in this year's 2021 Gartner® Magic Quadrant™ for Public Cloud IT Transformation Services. Additionally, SMX has achieved premier status with Amazon Web Services, Microsoft, Azure and Google Cloud for its cloud platforms.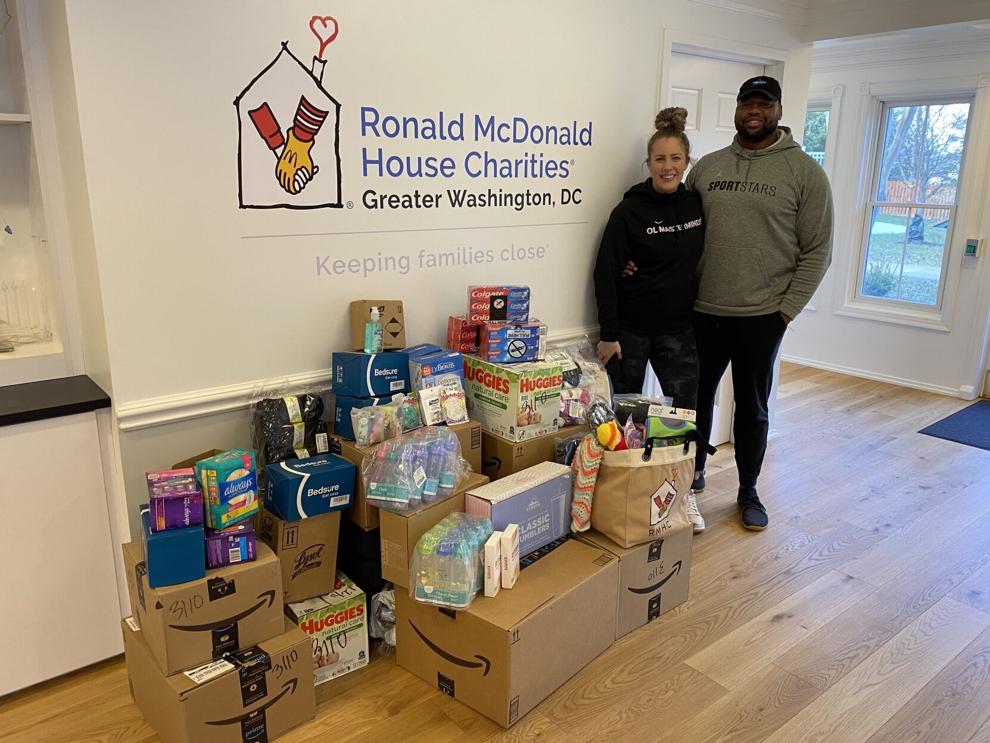 "Leno Claus" visits Ronald McDonald House

Washington Football Team tackle Charles Leno and his wife Jennifer brought their "Leno Claus" campaign of philanthropy to the Ronald McDonald House® of Northern Virginia December 7, making quite the impression on the staff and beneficiaries. The Lenos delivered several items to be added to welcome bags for families checking in to the Ronald McDonald House of Northern Virginia. 

"We wanted to come out to the Ronald McDonald House to give back and let people know we're here to help," said Charles. "We're fortunate that we have the means to give and not everyone has that.  We just wanted to put some smiles on some faces today."

After having their first child, the Lenos created a countdown to Christmas campaign called "Leno Claus" to give back to families and children in their community.

"Having children opened up our hearts and actually helped Leno Claus get started.  We were watching a Christmas special on TV with my daughter and we came up with the idea of Leno Claus and celebrating the 25 days of Christmas. That's what children do, they make you think of other kids and opening up your heart to others."

Through Beyond the Entertainer, the organization he and his wife Jennifer launched in 2019, the Leno Claus initiative is in its second year of December donations and they selected the Ronald McDonald House Charities of Greater Washington as one of their 2021 beneficiaries. 

No Kid Hungry

invests $125,000 across schools and nonprofits to address food insecurity in Virginia communities

No Kid Hungry recently distributed $125,000 in grants to Virginia community organizations and school districts to expand and strengthen food access programs for children and families. Since the beginning of the pandemic, the nonprofit has invested more than $4.1 million to help ensure Virginia's children stay nourished and ready to learn.

 The holiday break can be one of the hungriest times of year for many kids who rely on the meals they typically get at school. This year, that's exacerbated by the continuing economic impact of the pandemic. Today, as many as one in eight children in Virginia may face hunger.

 At the same time, many school districts are facing staffing and supply chain challenges that are making it even more difficult than ever to feed kids.

 The latest round of funding will help organizations purchase meal service equipment and navigate rising food costs. Grant recipients include:

• Annandale United Methodist Church – $5,000

• Community Storehouse – $5,000

• Northern Virginia Family Services – $50,000

• Virginia Hospital Center – $10,000

Thanks in part to the extension of federal waivers, schools across the state continue to offer flexible meal service options such as multiple meal pick-ups and delivery programs to help reach more kids.

Families are encouraged to contact their child's school or visit their school district's website for details about meal service.