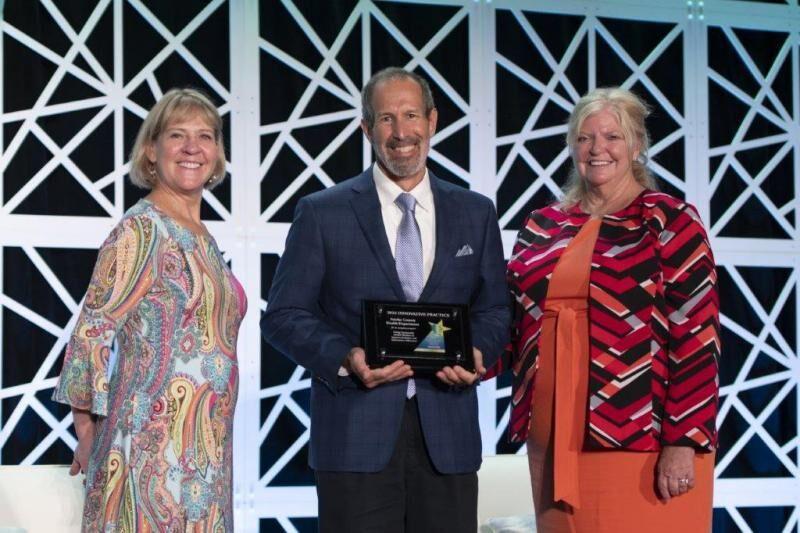 Margaret (Margy) Jahn, MS, MPH, NACCHO president (left), Christopher J. Revere, MPA, deputy director for Innovation and Planning Fairfax County Health Department (center), Lori Tremmel Freeman, NACCHO executive director (right).
Health Department honored
The Fairfax County Health Department (FCHD) was honored with the 2022 Gold Innovative Practice Award by the National Association of County and City Health Officials (NACCHO), representing the country's nearly 3,000 local health departments at their national meeting in Atlanta, last week. 
The award recognizes local health departments for developing innovative programs to meet the needs of their community during the COVID-19 pandemic. The designation as a Gold Innovative Practice demonstrates the highest level of program innovation, and reflects the collaboration, adaptability, and resilience of the program.
Leveraging Community Health Workers to Improve Isolation and Quarantine Adherence was one of only four local health department programs in the country to receive NACCHO's Gold Innovative Practice Award. 
The Fairfax County Health Department partnered with the Institute for Public Health Innovation to hire and train Community Health Workers (CHW) to support residents who needed support to successfully adhere to isolation or quarantine protocols. The CHW located and delivered resources, such as food, medications, and necessities to the residents, provided COVID-19 guidance, and made connections to human services providers in the community. Since August 2020, CHW helped more than 46,000 adults and children across Fairfax County. As one resident expressed, 'having this help was a blessing.'
"We are honored and humbled to be recognized by our peers, in receiving NACCHO's Innovative Practice Gold Award.  The award is evidence of our commitment to developing responsive and culturally appropriate public health programs that improve the health of our diverse community," said Gloria Addo-Ayensu, MD, MPH, health director, FCHD. "We saw a 73 percent reduction in the number of times residents left the home, per individual, if they were supported by a Community Health Worker during isolation or quarantine periods. This significant improvement in adherence is especially meaningful because of its impact on preventing disease transmission among residents in higher risk communities with the greatest challenges maintaining isolation or quarantine." 
"Community health workers are an essential part of the public health workforce," said Michael Rhein, MPA, president & CEO, Institute for Public Health Innovation. "We applaud the Fairfax County Health Department for understanding the value of community health workers as compassionate trusted professionals supporting the needs of residents in neighborhoods and populations most affected by the COVID-19 pandemic. We are proud to be a partner in this award-winning public-private initiative."
Samson Cares packs more than 15,000 meals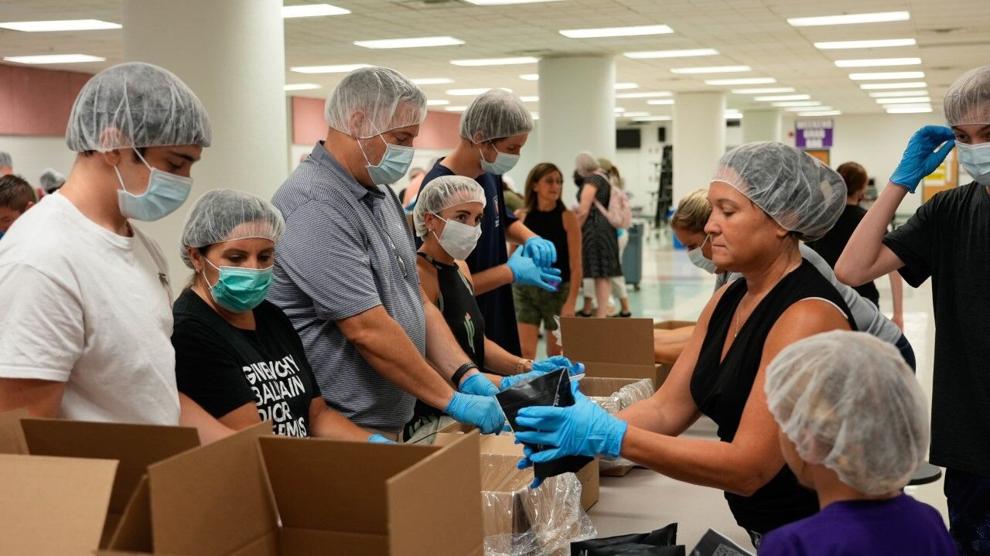 Samson Cares, the philanthropic initiative of Samson Properties, and Generosity Feeds partnered once again on July 23 for their annual meal creation event to fight food uncertainty in the community. 
Samson Properties' agents, staff, and their families came together at Chantilly High School to pack a total of 15,050 meals of fiesta black beans and rice. The meals created will be made available to local children in need throughout the DMV. Prior to the event, Samson Cares surpassed their fundraising goal of $15,000 for Generosity Feeds. 
Donny Samson, CEO of Samson Properties, said the company is built on the idea of "paying it forward" and they work to better their community without any expectations in return. 
"We are thrilled to have partnered with Generosity Feeds for another successful meal packing event," said Samson. "We are so blessed to have the ability to feed thousands of local families so they will not have to worry about where their next meal will come from." 
Since 2018, Samson Cares has helped create more than 50,000 meals for local children in the DMV through Generosity Feeds. Samson Properties had more than 300 volunteers of all ages come together for this philanthropic event and packed the meals in about two hours. 
"It is just one small way that we can give back and support the community that has helped make us successful," Samson said. "Through Samson Cares, we are committed to making the world a better place each and every day." 
Herndon-based company opens new satellite manufacturing facility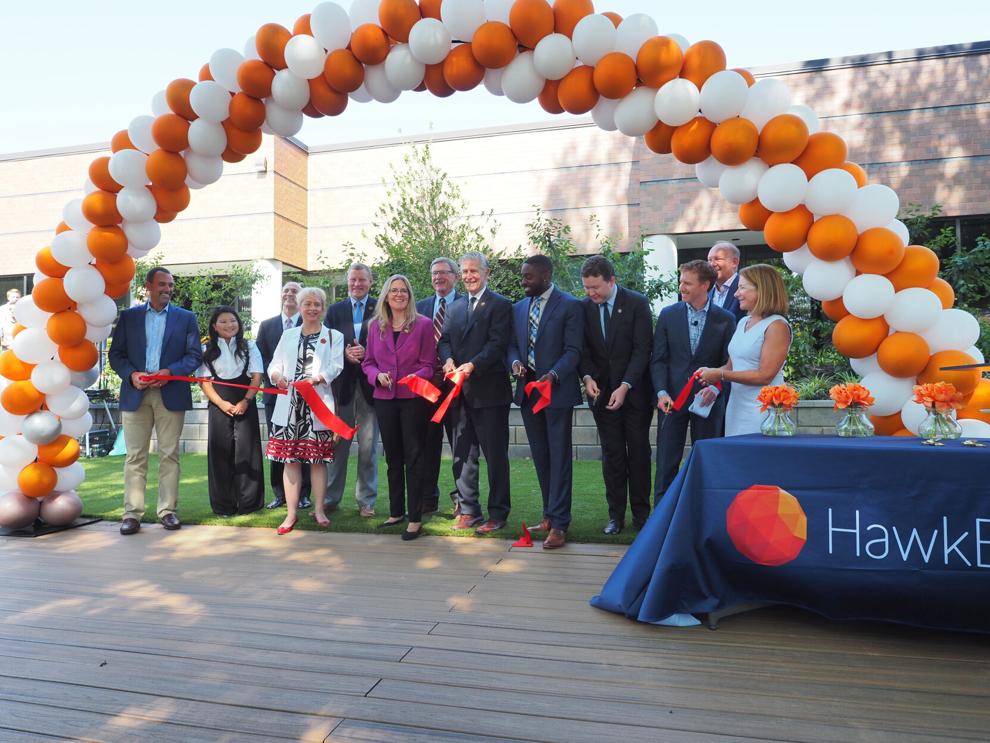 HawkEye 360 Inc. announced today the grand opening of its Advanced Technology and Development Center in Herndon, on July 22. 
The 19,000 square-foot data processing, software development, and satellite manufacturing facility continues HawkEye 360's investment in Fairfax County to support U.S. government and allied government needs.
The facility enables HawkEye 360 to have end-to-end responsibility to manufacture its commercial RF-sensing satellites for gathering geospatial intelligence. Full control of the development chain from space to ground will streamline integration, accelerate the introduction of new capabilities, and provide stronger security to satisfy the rigorous requirements for serving defense and intelligence customers.
"Our new Advanced Technology and Development Center provides our growing team of brilliant staff a dedicated facility in which they can thrive, centralizing all our data engineering and satellite manufacturing in-house," said HawkEye 360 CEO John Serafini. "This gives us more flexibility to adapt and innovate our commercial RF GEOINT technology. Our customers will benefit through our discoveries, as we place more sophisticated RF-sensing satellites into orbit and build algorithms that extract value from this important data. We are proud to be investing in the local economy with these high-paying, mission focused jobs that make a global impact."
HawkEye 360's new facility will house up to 70 employees and host constellation operations, data processing, software development, payload development, and satellite assembly. The company has built a customized clean room and electronics lab for advanced RF technology and smallsat manufacturing. This investment boosts HawkEye 360's commitment to the Commonwealth of Virginia as it continues to seek and hire advanced manufacturing, space systems, data engineering, RF engineering, software engineering, and electronics engineering employees.
HawkEye 360 anticipates launching another set of three satellites before the end of the year, which will bring its total constellation to 18 satellites to support timely defense, humanitarian, environmental, and commercial applications.
Housing Authority commissioners re-elect officers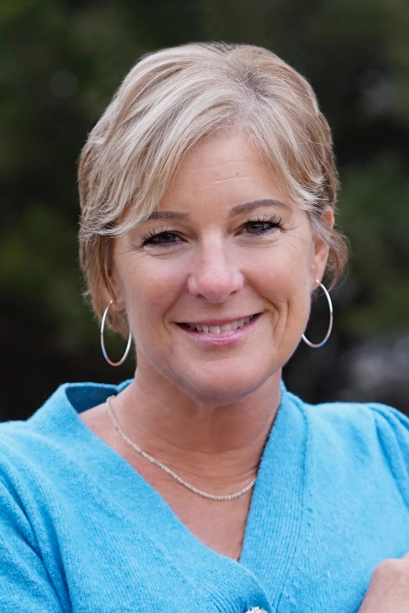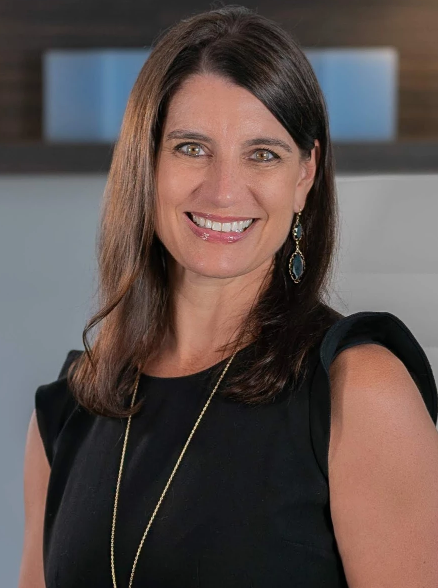 The commissioners of the Fairfax County Redevelopment and Housing Authority re-elected C. Melissa McKenna (Dranesville District) and Lenore Stanton (Sully District) to serve as chairman and vice chair of the Redevelopment and Housing Authority, respectively. 
The FCRHA is a separate political body from Fairfax County Government and is charged with affordable housing development and preservation responsibilities in Fairfax County, along with administering federal rental subsidies and housing. The authority of the FCRHA is vested in 11 commissioners appointed by the Fairfax County Board of Supervisors (one representing each district and two at-large appointees).
"Fairfax County is unique in terms of the synergy that exists between the local government and the Redevelopment and Housing Authority," said McKenna. "It is a relationship that has been built over decades and which has benefited from the tremendous leadership, thought, and passion of dozens of commissioners past and present. It's an honor to be a part of that legacy with my fellow commissioners."
McKenna and Stanton were initially elected by their fellow FCRHA commissioners in December 2020. Since then, they, with their colleagues, have continued to work tirelessly to ensure that the FCRHA's mission of affordable housing management, development and preservation has continued to advance despite the challenges of the past two years. During the pandemic, the FCRHA has broken ground on several projects – including legacy projects at The Residences at North Hill and One University – and allocated millions of local, federal, and state resources to develop, acquire, rehabilitate, and preserve affordable housing and provide programs and services to help residents towards housing stability and self-sufficiency.
"From homelessness to homeownership, the FCRHA and Fairfax County are making critical investments to provide housing opportunities and stability to individuals and families wherever they might be on the housing continuum," said Stanton. "I'm so pleased to be a part of such a committed team of housing professionals that remains dedicated to advancing our mission regardless of the obstacles or challenges presented."
Within the last three years, the FCRHA has grown the county's affordable housing pipeline to more than 3,000 units completed or in various stages of development (with many more on the way), and dozens of homes sold through the FCRHA's homebuyer programs. The recent successes have created a wave of optimism and enthusiasm which led to a doubling of Fairfax County's affordable housing goal – now to create 10,000 net new affordable homes by the year 2034.  
"As an agency, the Fairfax County Department of Housing and Community Development is proud to work alongside such dedicated, forward-thinking leaders on the FCRHA," said Tom Fleetwood, director of the Fairfax County Department of Housing and Community Development. "We look forward to continuing our work to achieve our housing development and preservation goals to enable all residents of Fairfax to have a safe, comfortable, and affordable place to call home."
Library Foundation elects new chair
The Fairfax Library Foundation announced that Miriam Smolen has been elected chair of the board of directors beginning in 2022-2023. Smolen will replace outgoing Chair Patricia Reed. She previously served as the board's special projects lead. 
Prior to joining the Foundation's Board of Directors, Smolen served as chair of the Fairfax County Public Library's Board of Trustees from 2018-2020 as the Providence District representative. 
She has a Bachelor of Arts from the University of California, Berkeley and a Juris Doctor from the University of California, Berkeley, School of Law. She is currently the senior deputy general counsel for the Federal Housing Finance Agency.
Smolen has lived in Fairfax County for more than 30 years with her husband Jerry. She has two adult sons – both graduates of Woodson High School.
Reston Association votes in new CEO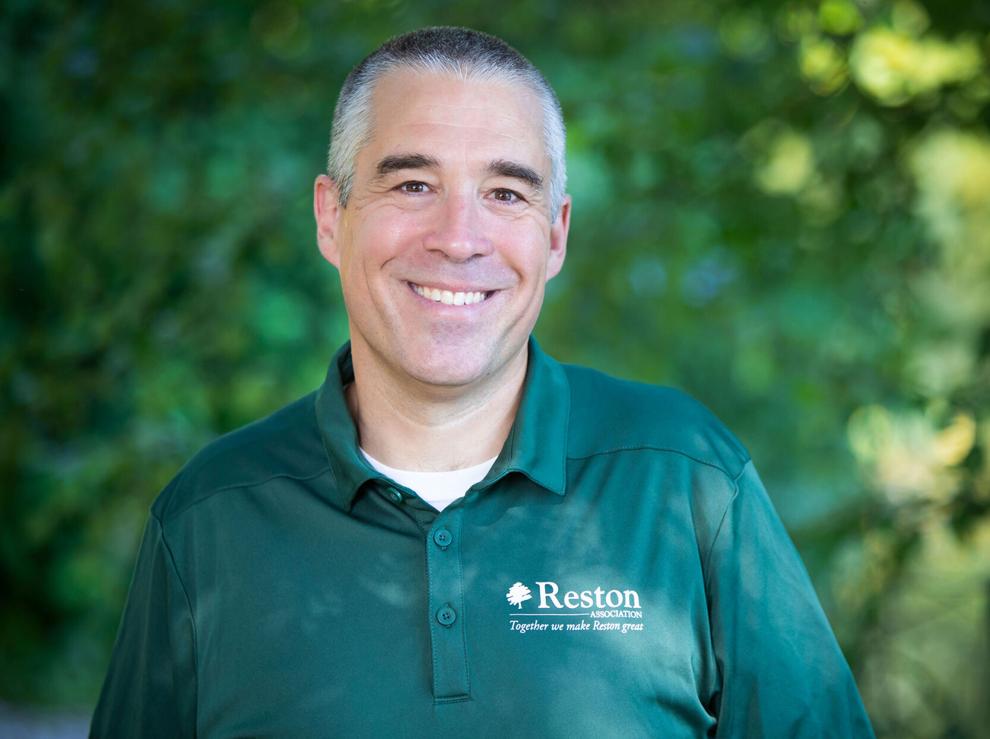 The Reston Association Board of Directors unanimously voted to hire Mac Cummins, AICP, as the association's new Chief Executive Officer. 
Cummins brings a wealth of professional experience spanning more than 20 years of municipal government service, including most recently as the director of Community Development Department of the City of Bellevue, Wash. where he was responsible for a $79 million operating and capital budget and managed economic development, planning, affordable housing, arts and culture, and citizen/neighborhood outreach services.
"We are very pleased to have Mac join our community and lead our association," said RA President Sarah Selvaraj-D'Souza. "His extensive expertise in planning and community development will provide the association with the innovative thinking and collaborative leadership needed to move us forward in our efforts to actively advocate for issues most important to our members, including recreational and sports activities, environmental sustainability, and land use."
Prior to working for the City of Bellevue for more than five years, Cummins served as a planning manager for the city of Westminister, Colo. and as the principal planner in Scottsdale, Ariz. Cummins earned master's degrees from the University of Southern California in public administration and city/urban, community and regional planning. He also obtained a bachelor of science in public policy and management, with honors, from USC.
"I have followed and studied Reston for years, starting in my collegiate studies in urban planning. I have observed the vision of Robert Simon being realized with such amazing amenities and smart planning around open space, recreation facilities, trails and housing," said Cummins. "This commitment to quality of life and community is a primary factor in my family's excitement to be a part of the Reston community. I am thankful for the opportunity to lead this dynamic, community-oriented organization. I look forward to working together with the board, members, and staff to preserve and enhance the Reston community so that Reston will continue to
be the model community where all can live, work, play, and get involved."
GOP elects 11th District vice chair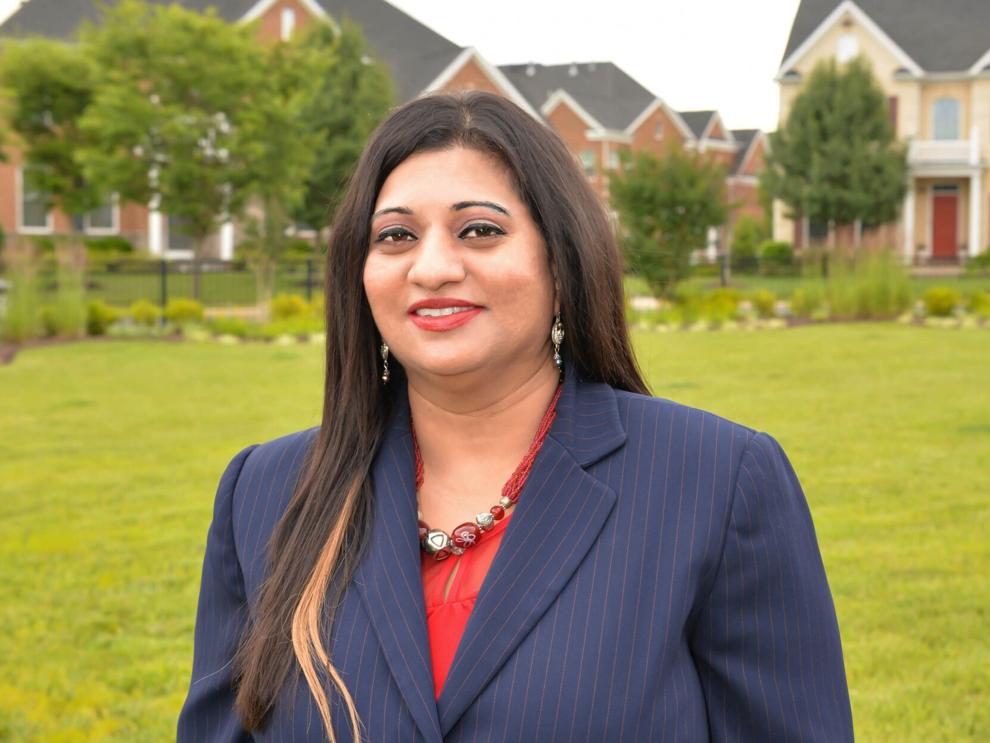 Srilekha Palle was recently elected vice chairwoman of the 11th District Republican Committee. 
"I am honored and excited to take on this new role," Palle said. "Virginia's 11th Congressional District is absolutely vital to the long-term health of the GOP statewide. We are fortunate to have a great candidate in Jim Myles; I look forward to getting out the vote for Jim this November."
District GOP Chairman Mike Ginsberg welcomed the news of Palle's election. 
"She has been a candidate, a senior leader in the Fairfax GOP, and a driving force behind the party's outreach efforts," Ginsberg noted. "I am thrilled she is willing to serve as 11th District GOP vice chairwoman and bring this experience to bear in the committee's efforts this year and in election cycles to come."
In addition to her new role in the 11th District GOP, Palle will continue to serve as vice chairwoman of the Fairfax GOP, where she leads efforts to engage voters who traditionally have not voted Republican. As part of the Fairfax GOP's outreach, Palle regularly hosts a Facebook interview series known as "Conversations that Count." Palle's recent guests have included legendary educator Vern Williams and even Lt. Gov. Winsome Sears.
"Srilekha has been a tremendous asset to the Fairfax GOP," Knotts said. "I have no doubt that she will help revitalize and expand our party across the 11th Congressional District as well."
Virginia's 11th Congressional District includes all of Fairfax City and most of Fairfax County.
FSO mourns longtime maestro 
The Fairfax Symphony Orchestra (FSO) mourns the loss of, and honors, former, longtime, and legendary conductor, William Hudson. 
Hudson served as music director and conductor of the Fairfax Symphony from 1971 to 2007 and was instrumental in the organization's significant growth. 
In 2007 during the FSO's 50th Anniversary year, Hudson wrote about what stood out to him as he looked back at his 35-year tenure. "As I think back about this curious passage of time, two things stood out: one is the steady artistic progression of the orchestra, and the other is our large, enthusiastic, and loyal audience. Among all the memories and high points over the years, these two things emerge as the most gratifying."
"Maestro Bill Hudson was a great musician, who never tried to be bigger than the music he interpreted," said Jose (Pepe) Figueroa, Fairfax Symphony Board chairman and founder & CEO of Priority One Services, Inc. "I learned something, not only about music, but about life, every time we spoke. I still miss his signature 'hop' onto the podium to conduct the Fairfax Symphony!"
"I and everyone connected with the FSO are saddened by the recent news of the death of Bill Hudson," said Christopher Zimmerman, FSO music director and conductor. "Maestro Hudson's 36 years as music director of the FSO is an astonishing legacy and commitment by any standard, and what Mr. Hudson achieved was immense; namely, building an orchestra from extremely modest beginnings into one of the highest quality regional orchestras in the country. We are all grateful to have been the recipients of the Maestro's accomplishments; I personally feel very fortunate to have been chosen to lead an orchestra which he had left in such fine shape."
Hudson always strove for the highest level of playing possible, according to an FSO news release. Under his tenure, the orchestra grew in prominence and skill as a professional orchestra performing with notable guest conductors including Leonard Slatkin and famous guest soloists including Jean-Pierre Rampal, Jorge Bolet, Ella Fitzgerald, Daniel Heifetz, Leonard Pennario, Peter Serkin, Janos Starker, Ronnie Wells and the Roy Ellison Trio, and many more.
"As we look back on the extraordinary contributions of Maestro William Hudson to the Fairfax Symphony Orchestra, we honor his legacy by looking to the future…and celebrating our audiences, our students served, and each performance to come," said Zimmerman. "As Bill often said, "a conductor's work is never finished."