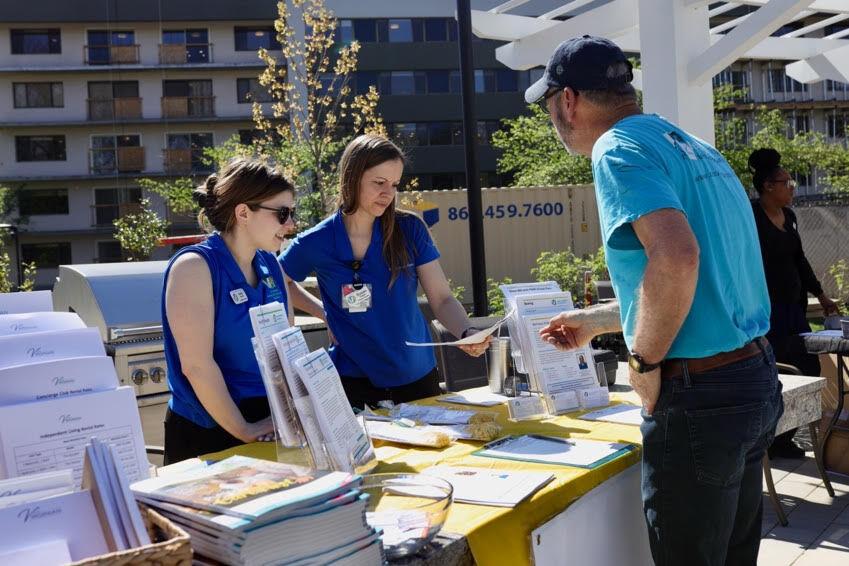 Hundreds of Northern Virginia residents gathered for the Spring Health and Wellness Fair hosted by VHC Health, Inova, and Capital City Nurses April 13.  More than 60 health organizations and vendors provided free health screenings and access to health education for seniors in Fairfax. Pictured (left to right) Virginian Rehabilitation and Wellness Occupational Therapist Emily Parrell and Physical Therapist Susan Geiger share information with a participant.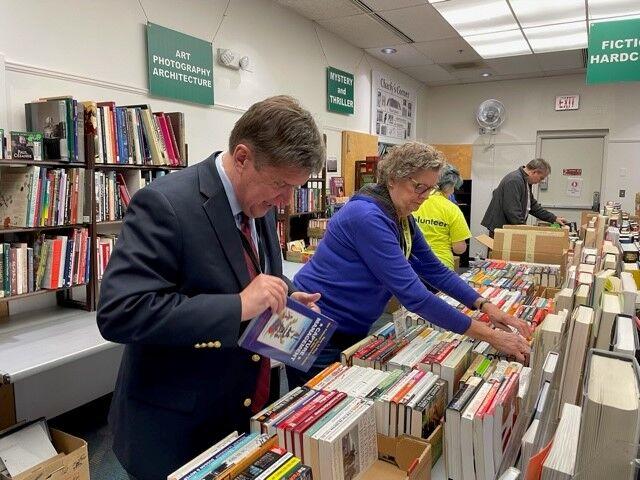 Hunter Mill District Supervisor Walter Alcorn helps Reston Library Friends get ready for their big spring book sale at the Reston Regional Library which began Wednesday and runs through the weekend. For more information visit https://bit.ly/3LspJza.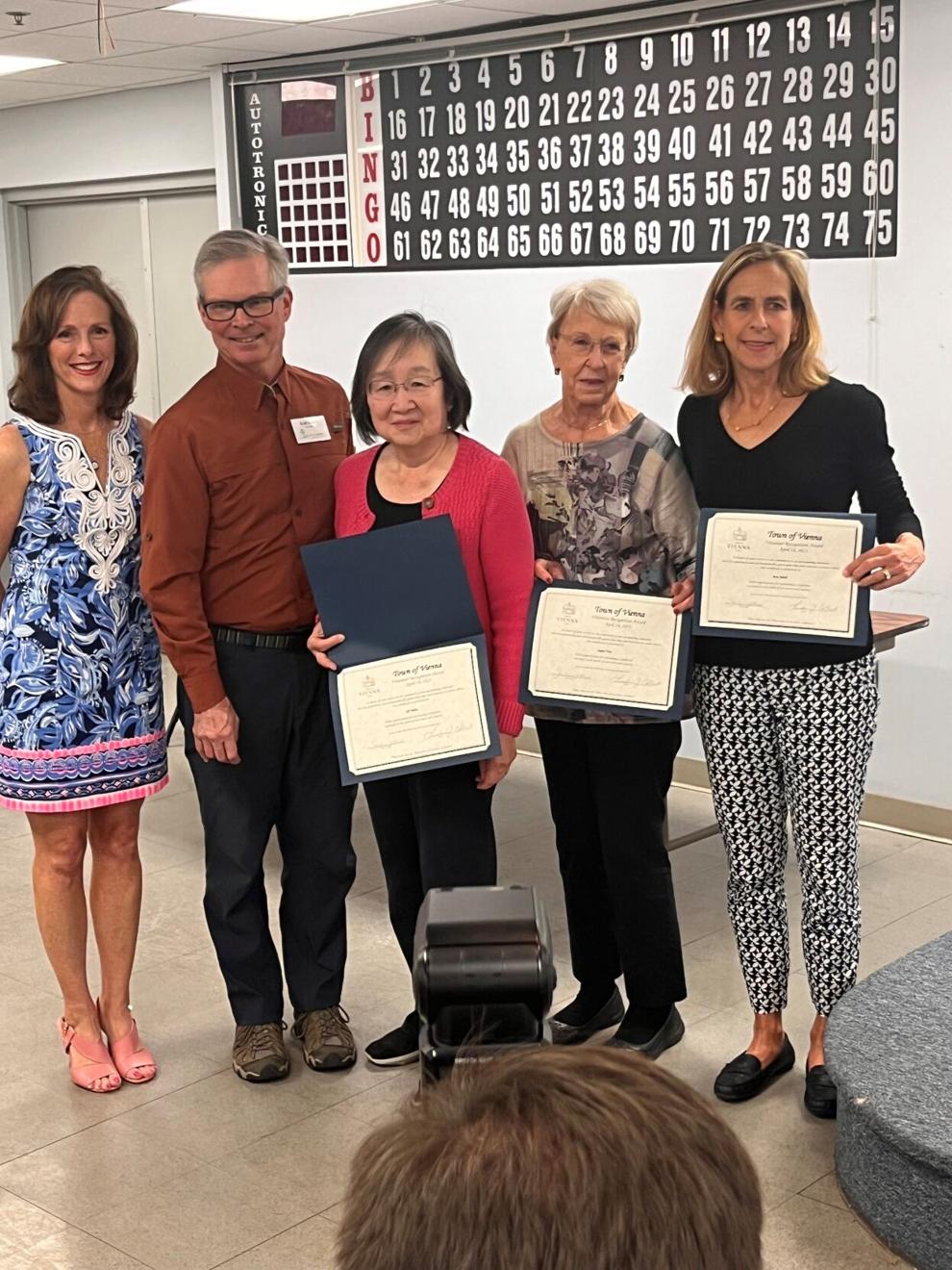 Shepherd's Center of Northern Virginia (SCNOVA) volunteers were recognized by the Town of Vienna recently during their Volunteer Recognition Day. From left to right: Town of Vienna Mayor Linda Colbert, Scott Schroth SCNOVA board chairman, Jill Miller, volunteer, Susan Voss, Volunteer, and Ann Smith volunteer.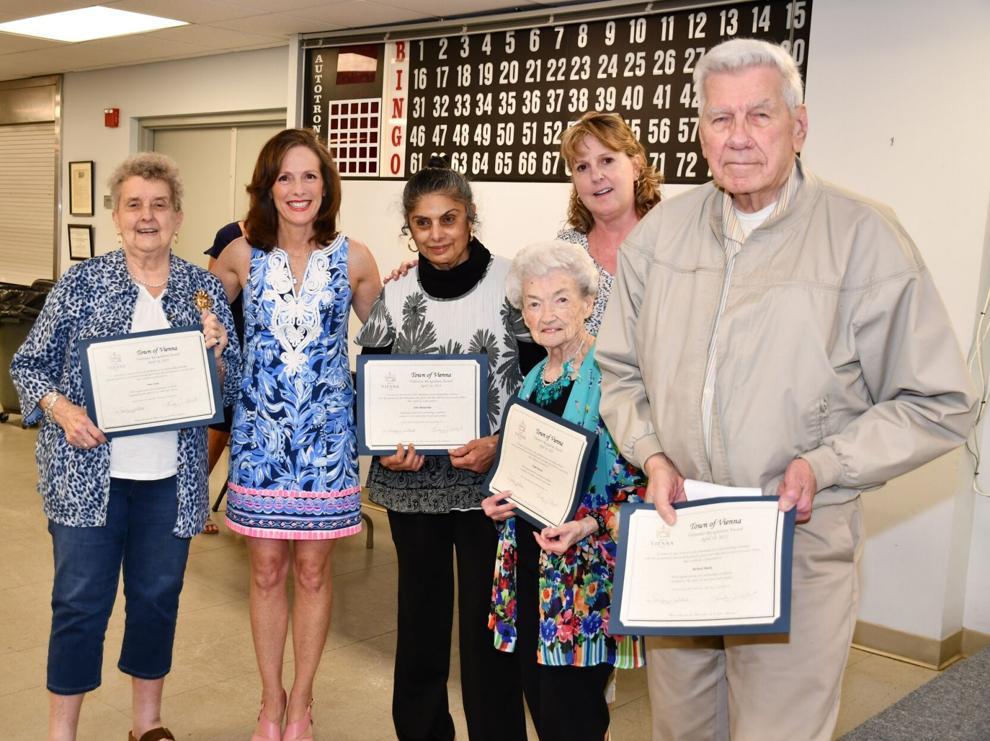 From left to right: Irene Coyne, volunteer, Town of Vienna Mayor Linda Colbert, Asha Bhandarkar, volunteer, Estelle McNeil, volunteer, Kathy Blevins, Vienna Community Center recreation coordinator, and Richard Blank, volunteer.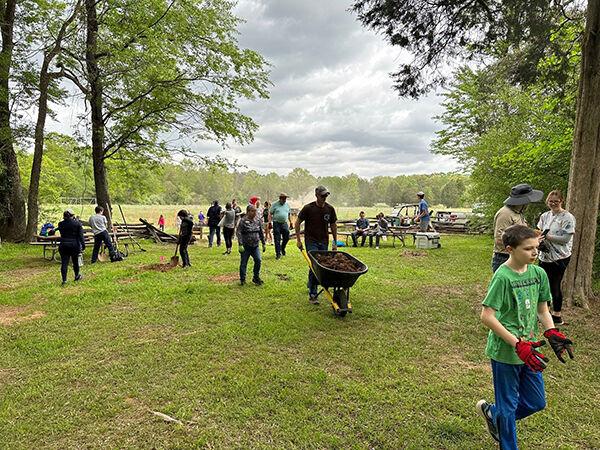 Fairfax County NAACP partners to improve cemetery site
NOVA Parks partnered with the NAACP Fairfax County Branch to improve trails to access a historic African American Cemetery and Baptist Church site located at Bull Run Regional Park in Centreville on April 22. The on-going partnership includes multiple planned trail workdays and events at the site, including an upcoming Juneteenth commemoration.
Recent discoveries on this land showed more than 90 mostly unmarked graves at the cemetery of Old Bull Run Church, a Baptist Church which had been open to both Black and white people. Those buried are believed to be descendants of the enslaved people who were set free in the 1790s by Robert Carter III, one of the wealthiest people in America at the time. After a religious and conscience awakening, Carter emancipated more than five hundred of his family's enslaved workers, which resulted in a thriving Freedmen's community at the site of Bull Run Regional Park 70 years before the Civil War and Emancipation Proclamation. 
Groups from nearby churches and individuals assisted with trail maintenance to improve access to this recently discovered historical site. Volunteer responsibilities included clearing sticks, pruning bushes, raking, and marking the trail. The next volunteer workday is scheduled for June 10 at 10 a.m. Those interested volunteers can learn more at https://bit.ly/41E6sQK and sign up at https://bit.ly/41CbWM3.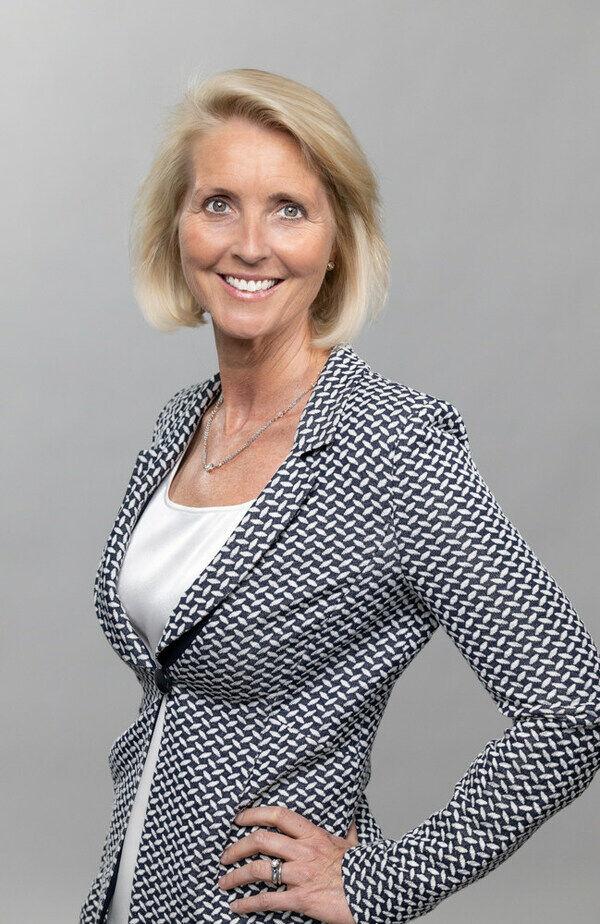 McLean-based firm names chief growth officer
McLean-based technology company, Epirus, announced the appointment of Mara Motherway to the company's executive leadership team as Chief Growth Officer. Reporting to Chief Executive Officer (Ken Bedingfield, Motherway will lead all aspects of growth for the company's portfolio, including business development, corporate campaigns, marketing, communications, and government relations.
"Mara's unique blend of industry and military experience and decades-long track record of strategic foresight and driving results is the perfect addition to Epirus as we embark on our next phase of growth," said Bedingfield. "Mara is a highly effective business leader who has deep expertise building powerful teams to shape the delivery of innovative technology solutions for national security customers."
Motherway joins Epirus from Peraton, where she served as senior vice president of Government and Customer Relations. She has also held positions at Booz Allen Hamilton and BAE Systems.
Before joining industry, Motherway served as a U.S. naval officer for more than two decades. Her diverse military experience spans combat operations in the Middle East, acquisition oversight for U.S. government satellite and special communications, and legislative affairs director for the Defense Intelligence Agency.
"I am thrilled to join Ken and the team at Epirus. America's lifeblood is innovation – our society benefits and our nation is more secure when government stakeholders have the opportunity to adopt cutting-edge commercial technology," said Motherway. "Epirus brings this breakthrough technology to market at record pace. I look forward to driving value and advancing mission success of the company."
She holds a Bachelor of Science degree in political science from the U.S. Naval Academy, a Master of Public Administration from the Harvard Kennedy School, and a Master of Science degree in national resource strategy from the National Defense University. She currently serves on the Board of Directors of Orion Talent, the Stimson Center, the International Spy Museum, and the National Defense Industrial Association (NDIA). She is also a member of the Atlantic Council Commission on Defense Innovation Adoption. 
AAFMAA names new CIO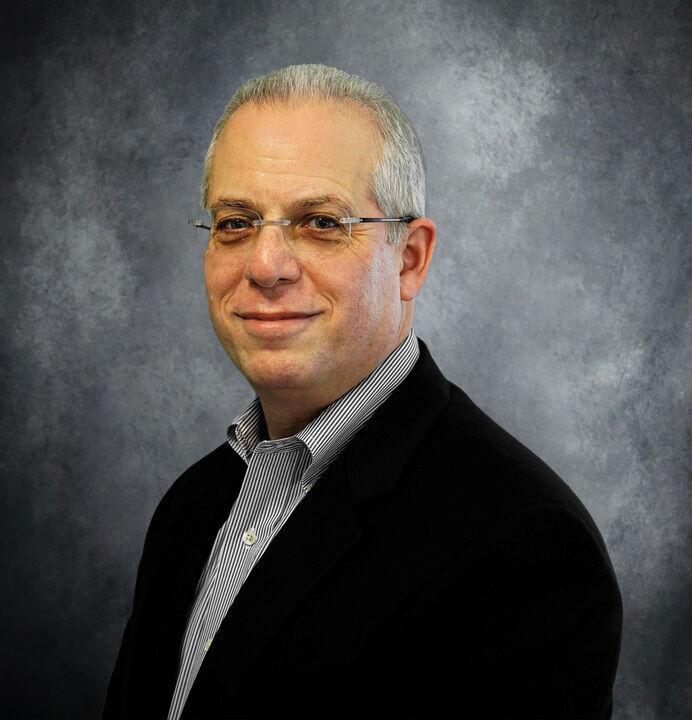 AAFMAA Wealth Management & Trust LLC (AWM&T) announced that Paul Jablansky has been appointed as Chief Investment Officer. 
The financial industry veteran brings 40 years of experience including roles in research, trading, portfolio management, and investment banking. In his new role as CIO, Jablansky will be responsible for setting investment strategy, managing client portfolios, and regularly providing clients with timely market updates and outlooks.
Jablansky embraces his new role with AWM&T and is pleased to focus on financial services for the military community. "I have tremendous respect for the military," he explained.
"My dad worked for the Department of the Army as a civilian for 20 years designing rockets, and my father-in-law was a major in Vietnam. This is a way for me to give back a little bit."
Jablansky previously held a variety of roles at companies including Salomon Brothers, Goldman Sachs, Banc of America Securities, Western Asset Management Company, and Guardian Life Insurance. While at Banc of America, he was an advisor to the House Financial Services Committee and Senate Banking Committee on issues related to mitigating foreclosures during the Great Financial Crisis.
 "The next chapter for me at AAFMAA Wealth Management & Trust is about two things. One is moving from a role managing money for a large mutual life insurance company to something more hands-on," said Jablansky. "Even though AAFMAA has been around a long time, AWM&T feels like a startup, and I look forward to helping grow the business. Even more importantly, I'm doing something late in my career that's very meaningful. By that I mean the purpose, focus, and nature of the institution."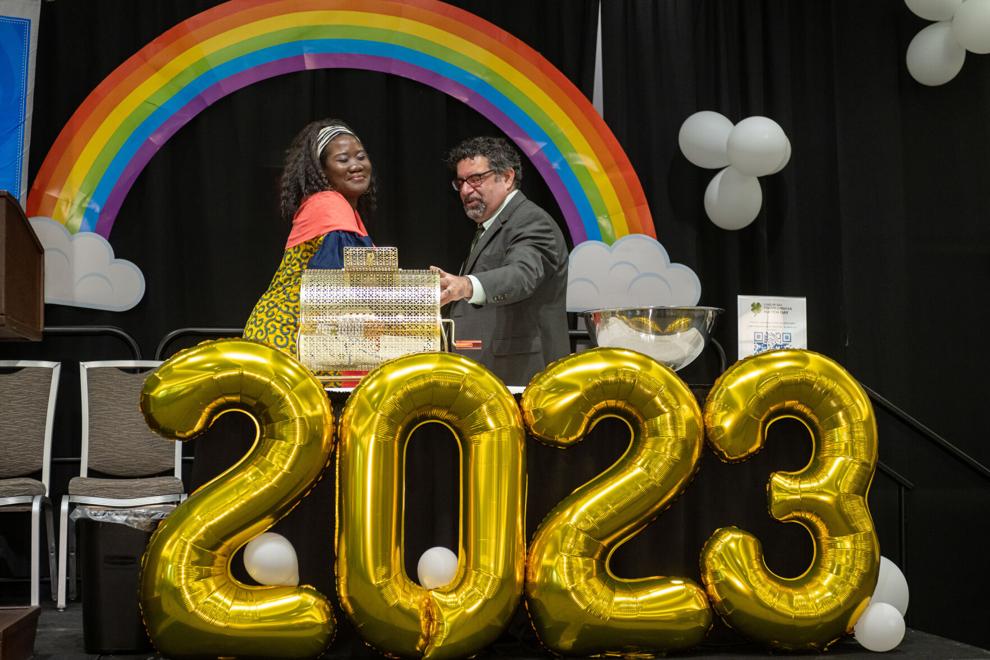 College of Medicine interim dean Eugene Mowad, M.D., congratulates Phoebe Otchere from the Class of 2023 on-stage following the announcement of their residency matches.
Alexandria student earns medical residency
Phoebe Otchere of Alexandriawas among the 141 Northeast Ohio Medical University College of Medicine students to learn their medical residency match during a celebration for National Residency Match Day, held last month.
Otchere learned they will be serving a general surgery residency at Boston University in Boston.
Otchere is currently a fourth-year medicine student at NEOMED, and will move on to their residency following graduation this spring. A Commencement celebration will be held May 6.
The residency match is a culmination of four years of hard work and dedication to train to become a physician and transformative leader in the field of medicine.
Overall, 141 fourth-year students matched with residencies throughout the U.S. - for a 100% match rate of all students who applied for a match.
Herndon student in classic Greek tragedy play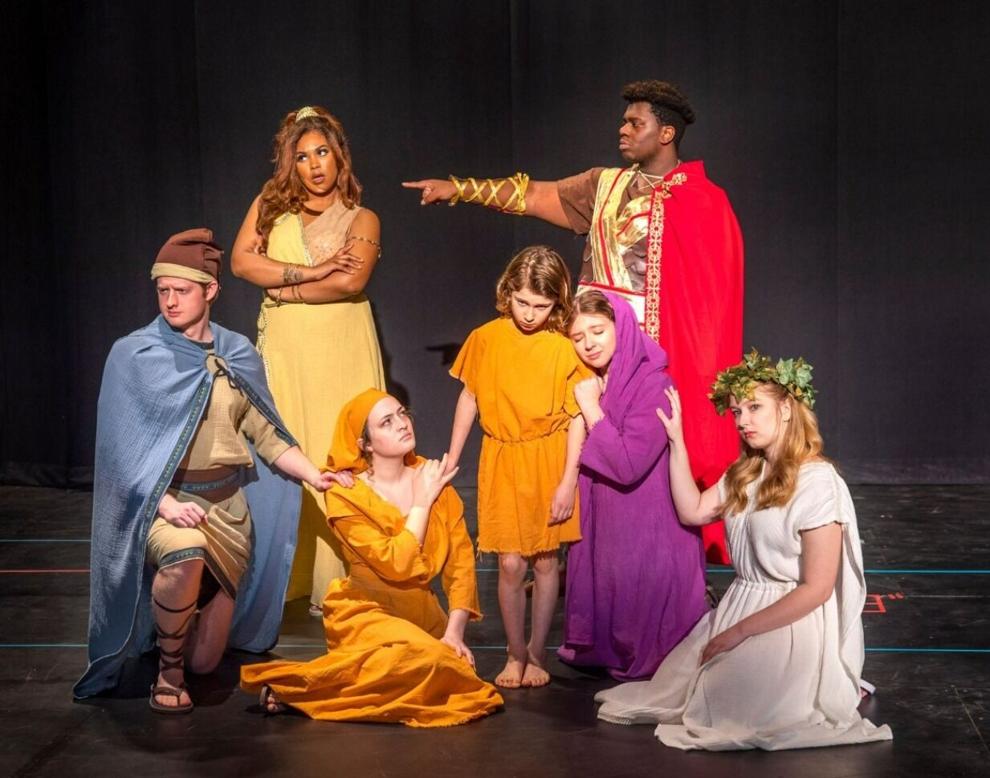 Earlier this month, Herndon resident Krystal Anderson participated in the production at PennWest California, Eupipides' Greek Tragedy Tragedy.
The play focused on the darker aspects of humanity, including moments of death, destruction, and unspeakable acts of inhumanity. 
"The unfortunate realization is that after 2500 years, a story such as this still mirrors the reality of modern day warfare; death, destruction and human carnage," said Show Director Dr. John Paul "JP" Staszel. "Euripides highlights that war has no preference. It will consume men, women, and children without thought or care."
Local TMU business student earns award
Truett McConnell University's Hans Hut School of Business hosted its first annual TMU Idea Labs – a SHARK TANK™ themed contest open to Truett McConnell University (TMU) business students April 20. 
Fairfax resident Gracie Braunschneider was the grand prize winner and won a $1,500 scholarship and a $10,000 prize for start-up capital for her business. 
"This was a fun event and I'm so impressed by the work our students put into their business plans and subsequent presentations," said Dr. Stacy Hall, associate professor of Business and program director of Strategic Partnerships for TMU's Hans Hut School of Business. "The intent of the contest was to facilitate entrepreneurialism and creativity and that goal was certainly attained."
"This competition was a formative and encouraging experience for me as it gave me the opportunity to share something that I find precious with others," said Braunschneider. "Every element of the contest was beneficial – from requiring me to put my ideas on paper and create a detailed business plan to removing me from my comfort zone with public speaking. This was not a comfortable experience, but it proved to be a worthwhile one, and will remain to be an event that I will hold in my heart forever. I am endlessly grateful for those who have believed in me, my ideas, and my vision, and I am abundantly thankful for the opportunity to make this business a reality." 
Local student nominated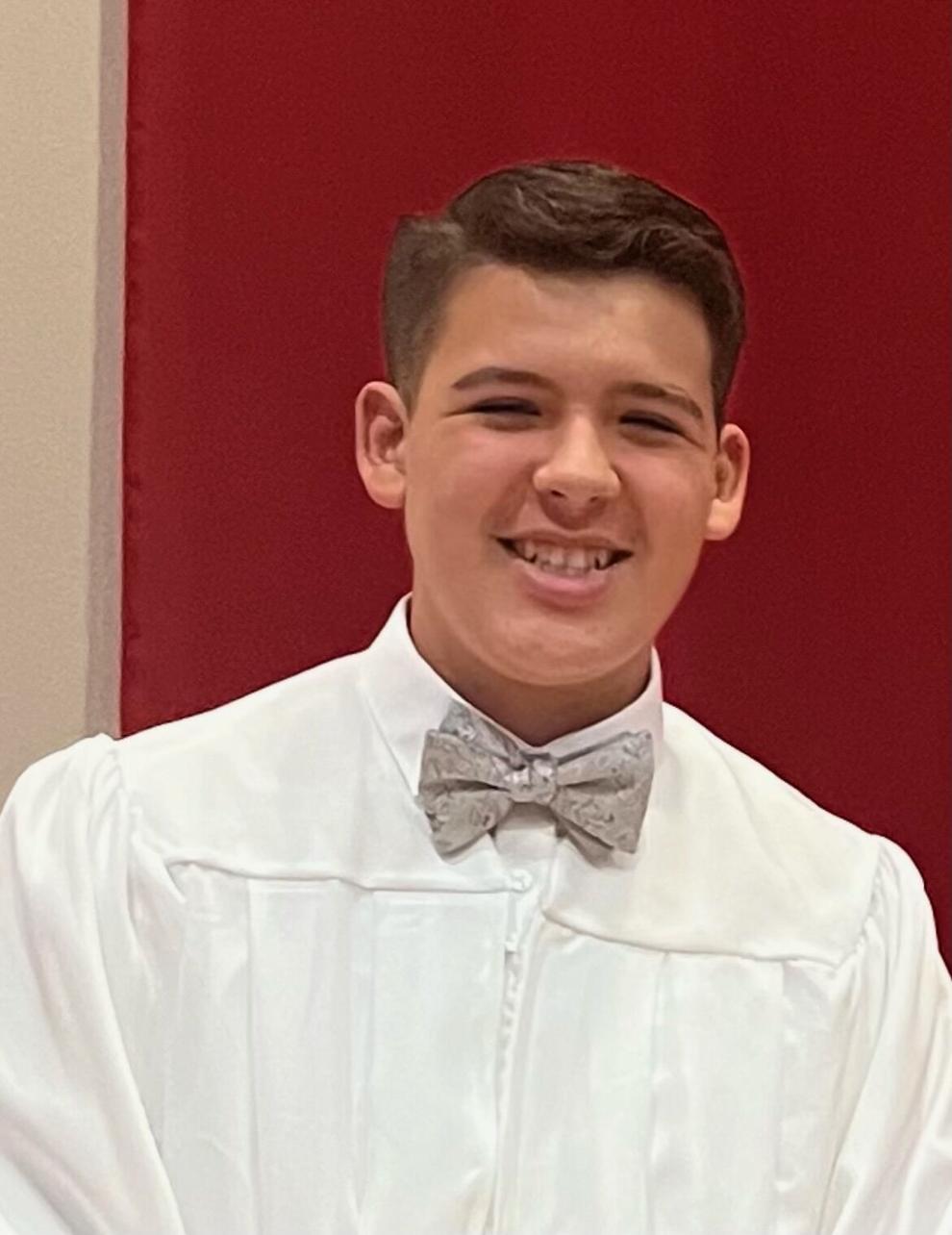 Patrick Bowers, a 9th grader at Lake Braddock Secondary School of Fairfax is a Delegate to the Congress of Future Medical Leaders to be held June 21-23, just outside Boston, on the University of Massachusetts Lowell campus. 
The Congress is an honors-only program for high school students who want to become physicians or go into medical research fields. 
Bowers' nomination was signed by Dr. Mario Capecchi, winner of the Nobel Prize in Medicine and the Science Director of the National Academy of Future Physicians and Medical Scientists to represent Virginia based on his academic achievement, leadership potential and determination to serve humanity in the field of medicine. 
During the three-day Congress, Bowers will join students from across the country and hear Nobel Laureates and National Medal of Science recipients discuss leading medical research; be given advice from Ivy League and top medical school deans on what to expect in medical school; witness stories told by patients who are living medical miracles; be inspired by fellow teen medical science prodigies; and learn about cutting-edge advances and the future in medicine and medical technology.