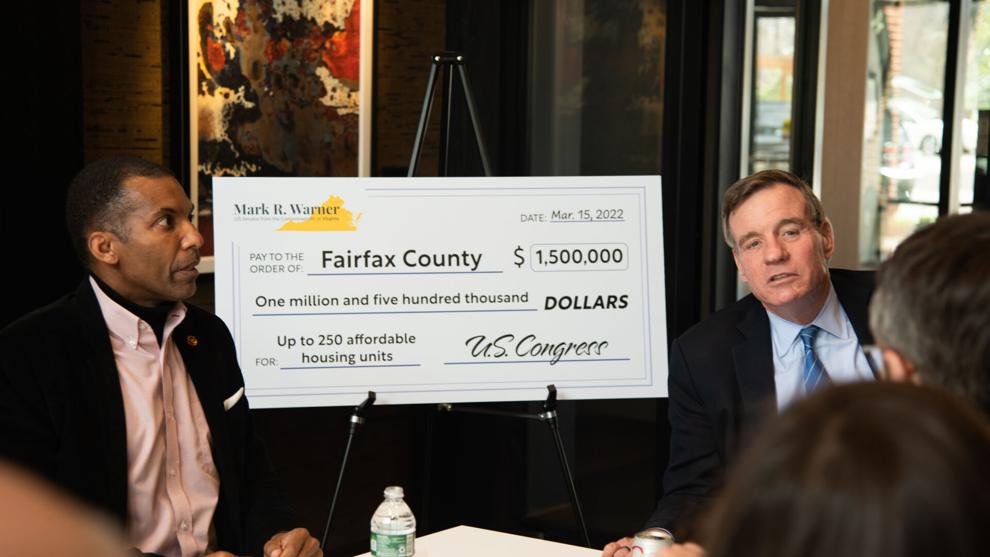 Lee District Supervisor Rodney Lusk and Senator Mark Warner (D-VA).On Monday, Warner delivered $1,500,000 to Fairfax County for the planning and development of up to 250 new affordable housing units at Residences at Government Center II, an affordable housing project sponsored by the Fairfax County Redevelopment & Housing Authority. During the event, Warner got a tour of a residential unit at Residences at the Government Center I, which will serve as a model for the 250 new units. After the tour, the senator was joined by minority developers and members of the Fairfax County Board of Supervisors in a conversation about the need for increased affordable housing in Northern Virginia.
Deltek Scholars Program created to fund GMU computer science graduates
Computer science students at George Mason University will benefit from a new donation by Deltek, the leading global provider of enterprise software and information solutions for project-based businesses, headquartered in Herndon. A $100,000 investment from the company, establishing the Deltek Scholars Program, will provide scholarship support beginning in fall 2022 to as many as eight graduate students pursuing their master's degree in software engineering.
"We are honored that Deltek has chosen to invest in Mason students, and are eager to put these funds to use to advance our mutual goal of training a world-class tech workforce here in Northern Virginia," said Mason President Gregory Washington.
The scholarship recipients can also gain access to internships at Deltek, networking and career-building opportunities, and funding for capstone projects. Recipients must be among the first generation in their family to attend college, thus contributing to the goal of bringing diverse talent to the tech workforce.
"Mason is a proven talent incubator for the Northern Virginia region," said Mike Corkery, president and CEO of Deltek. "We're looking forward to hosting interns from Mason, hiring more Mason graduates, and collaborating to advance Northern Virginia as a world leader in information technology."
Deltek's investment advances Mason's participation in the Tech Talent Investment Program launched by the Commonwealth of Virginia in 2019. That agreement calls for Mason to raise matching funds in order to receive up to $125 million in state funding to produce a cumulative total of more than 7,500 master's graduates in technology fields by 2039.
Deltek's founder, the late Donald de Laski, was a board member and a leading supporter of George Mason University for many years. The de Laski Performing Arts Building on the university's Fairfax Campus is named in honor of him and his wife, Kathleen.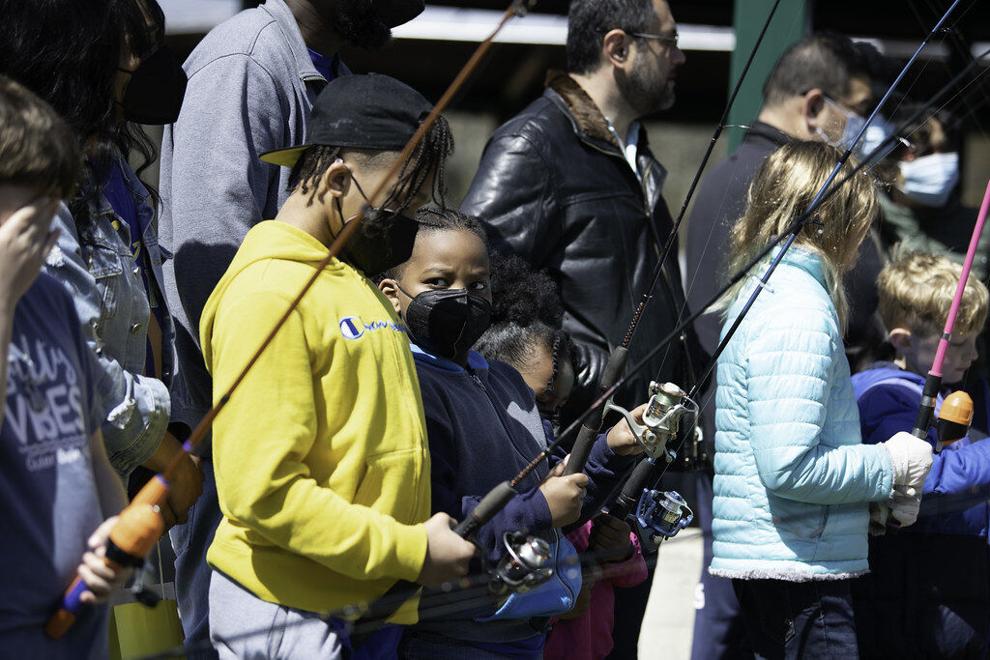 Local anglers celebrate World Autism Day
Youth with autism and their families celebrated World Autism Awareness Day at Lake Fairfax Park with a day of fishing on April 2. 
Anglers with Autism is for families to learn how to fish together and identify a variety of accessible fishing opportunities the Park Authority has to offer. The Park Authority welcomed several anglers with autism who participated in a basic fishing lesson and a guided fishing opportunity, with all equipment provided.
The inaugural event drew a nice crowd according to organizers. "It was a wonderful opportunity to bring so many different families together to learn a new skill like fishing on World Autism Awareness Day," said Monica Klock, adapted program specialist for the Fairfax County Park Authority. "The memories made and the smiles on everyone's faces solidified for us that we will be bringing this event back in April 2023."
Comstock wins CoStar impact award for Reston Station
Comstock Holding Companies, Inc. announced last week that Reston Metro Plaza was named as the recipient of CoStar's Impact Award for Best Finance Transaction. 
The first annual CoStar Impact Awards recognize exemplary commercial real estate transactions completed in 2021 with significant influence in neighborhoods and submarkets across 11 major U.S. markets.
Comstock's three Trophy-Class office towers at 1900, 1902 and 1906 Reston Metro Plaza, anchor Reston Station's 60-acre transit-oriented, mixed-use development that serves as home to the first Silver Line Metro station in the Dulles Corridor. In December 2021, the Company announced an 85,000 square foot lease Qualtrics, adding to the already impressive corporate tenant roster at Reston Station that includes Google, ICF, Neustar, a TransUnion Company, Rolls Royce North America, Solar Winds, Spotify/Megaphone, and Certipath.
In September 2021, Comstock announced the $355 million refinancing completion of the first three towers developed at Reston Station. This transaction was composed of two fully leased office towers and one office tower that was nearly fully leased, including the only building in Virginia designed by world renowned architect Helmut Jahn. The transaction demonstrates continued interest in the public-private partnership model for commercial development in the Dulles Corridor among the world's leading finance providers.
"We are delighted to receive the CoStar Impact Award for Best Finance Transaction on behalf of Reston Metro Plaza," said Christopher Clemente, chief executive officer of Comstock. "Building long-term relationships with best-in-class capital providers such as Blackstone and DivcoWest is among our key strategic initiatives, and we believe the financial commitment of these market leaders affirm the pre-eminence of our office portfolio in the Dulles Corridor."
Comstock subsidiaries arranged the non-recourse construction take-out recapitalization package on behalf of Comstock Partners, LC, an affiliated, privately held company. The package included a $312 million senior loan provided by a Blackstone subsidiary and a $43 million preferred equity facility with a DivcoWest subsidiary. The recapitalization package replaces construction loans provided by Bank of America covering 1900, 1902, and 1906 Reston Metro Plaza.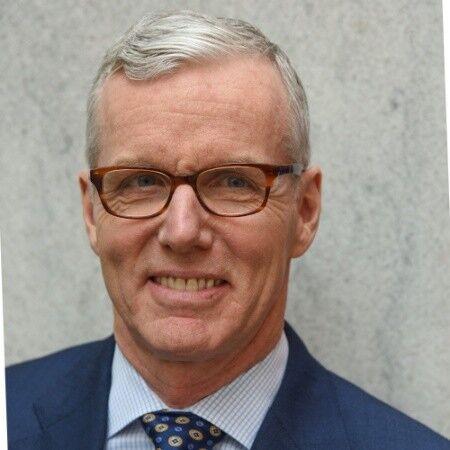 SAIC announces new member of Strategic Advisory Board
Science Applications International Corp. announced former U.S. Deputy Secretary of Veterans Affairs W. Scott Gould has joined the company's Strategic Advisory Board.
Gould is currently the CEO of Mountain Lake Associates, LLC, a technology-enabled healthcare services firm.
"We are thrilled to have Scott Gould as a key addition to this team of experts to assist SAIC as we continue to innovate and adapt to the changing needs of our clients," said Nazzic Keene, CEO of SAIC. "Scott's experience in the federal government, healthcare services industry and his military service provide him with insight that will be highly beneficial and applicable to our company. His unique skillset greatly complements the abilities of the other members of the Strategic Advisory Board, and we look forward to working with him."
The company's Strategic Advisory Board is composed of experienced leaders who bring comprehensive expertise from both industry and the public sector, providing advice and guidance to facilitate growth and innovation at SAIC.
Along with Gould, the Strategic Advisory Board is composed of David Norquist, former Department of Defense (DOD) deputy secretary and comptroller; Ellen Lord, former DOD undersecretary for acquisition and sustainment; and Dana Deasy, former DOD chief information officer.
"I'm eager to contribute to SAIC as it continues its vital work in confronting the challenges of tomorrow, especially with regard to health services," said Gould. "I look forward to working with the company and the rest of the Strategic Advisory Board in helping SAIC continue to thrive."
The Strategic Advisory Board advises company leaders on customer priorities, acquisition policy and potential disruptions in the environment, as well as possible new growth areas.
Inova board of trustees announces two new members
The Board of Trustees for Inova, Northern Virginia's largest non-profit healthcare provider and the region's most recognized for excellence, has announced two new members joining its ranks in 2022. 
Kathryn Falk, vice president for Cox Communications, and Lesley Kalan, corporate vice president and chief strategy and development officer for Northrop Grumman Corporation, have joined Inova's Board of Trustees beginning in 2022.
The Board of Trustees is primarily responsible for overseeing Inova's strategy, financial condition, and the performance of management. The Inova Health System's 20,000 team members encounter more than two million patient visits each year through an integrated network of hospitals, primary and specialty care practices, emergency and urgent care centers, outpatient services and destination institutes.
"I'm excited to welcome Kathryn and Lesley to our Board," said Tony Nader, chair of Inova's Board of Trustees. "They bring the perfect combination of distinguished experience and a deep commitment to serve the people in the Northern Virginia community."
In joining the board, Falk brings her experience as the vice president for Cox Communications in Northern Virginia. In this role, she is responsible for leading employees and the day-to-day operations of Cox in Northern Virginia. Prior to joining Cox Communications in 2002, Falk served for five years as the president of the Virginia Cable Telecommunications Association (VCTA) based in Richmond. Before this Falk was the vice president for Government Relations and head of the Washington Office for the National Exchange Carrier Association (NECA). Prior to her tenure at NECA, Falk led congressional and public relations efforts at the National Association of Regulatory Utility Commissioners on telecommunications, transportation and water issues. Falk began her career on Capitol Hill as an aide to U.S. Senator Dennis DeConcini of Arizona in the Washington, D.C. office.
Falk also serves as the immediate past chairman of the Board of Directors of the Northern Virginia Chamber of Commerce, the immediate past Chairman of Educate Fairfax, formerly the Foundation for Fairfax County Public Schools, the Board of Directors of the Tysons Partnership and the Board of Directors of the Virginia Broadband Association - VCTA, which she previously chaired.
As corporate vice president and chief strategy and development officer for Northrop Grumman Corporation, Kalan brings experience leading the company's growth strategy including mergers and acquisitions activities, portfolio alignment, commercial partnerships and strategic planning. She is responsible for the company's business development efforts and ensuring the company and its portfolio are positioned to serve its customers and their missions. Kalan also leads Northrop Grumman's public policy, regulatory and government affairs activities.
Previously, Kalan served as Northrop Grumman's corporate vice president, Government Relations and as vice president, Legislative Affairs. Before joining the company, she was vice president at The Cohen Group, a strategic advisory firm to diverse multinational and Fortune 100 companies. She also served as professional staff of the U.S. Senate Committee on Appropriations Defense Subcommittee and as a presidential management fellow in the Office of the Secretary of Defense. She serves on the board of directors for the National Association of Manufacturers, and the Wolf Trap Foundation and is a Center for Strategic and International Studies Women's Global Leadership Fellow.
"Both Kathryn and Lesley have a long history of business success and a commitment to the Inova mission and the communities we serve," said J. Stephen Jones, MD, MBA, FACS, president and CEO, Inova. "I'm thrilled to welcome them to our Board of Trustees and look forward to their contributions to our organization."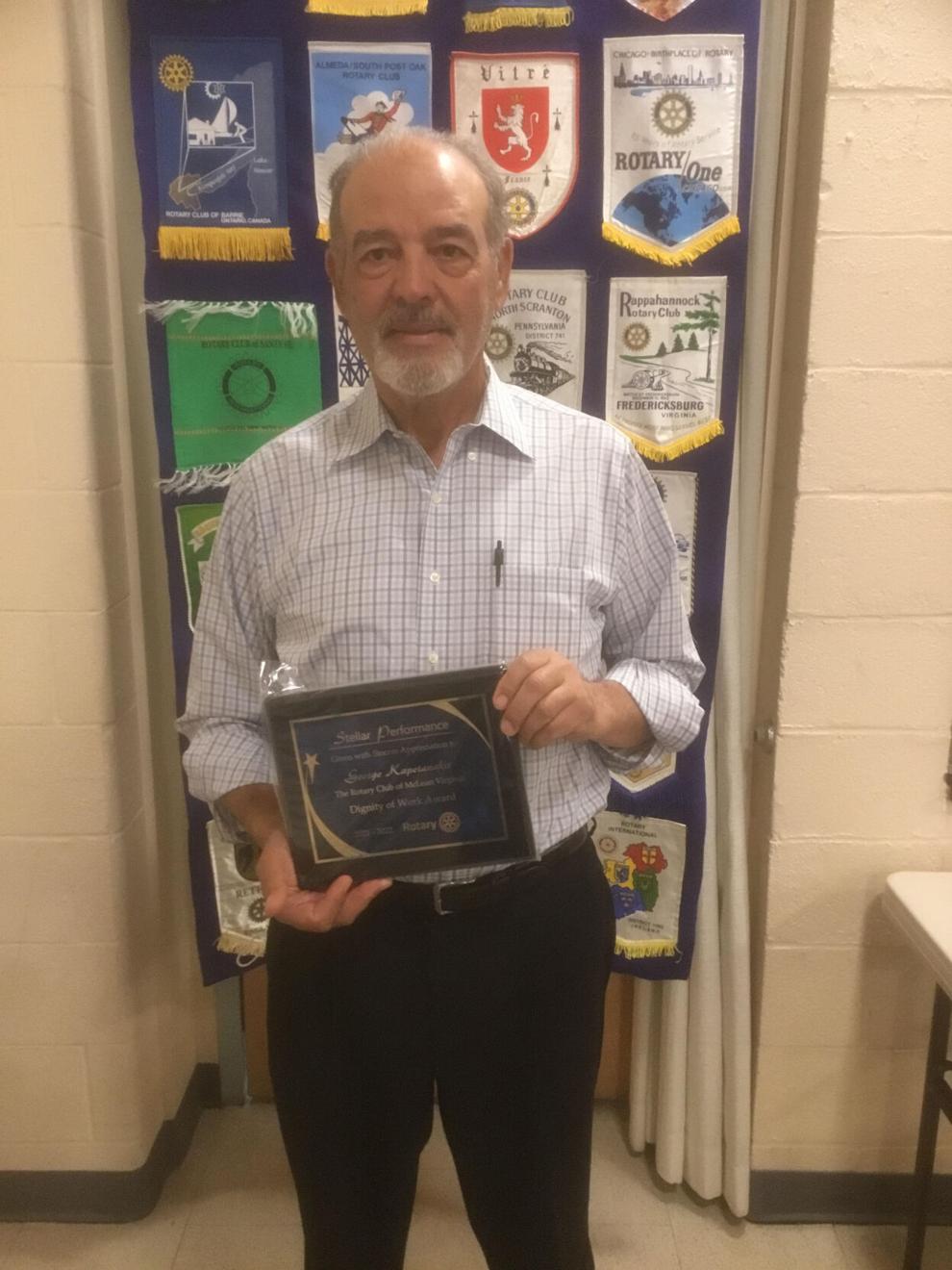 McLean restaurant owner recognized by Rotarians
The Rotary Club of McLean has awarded its annual Dignity of Work award to George Kapetamakis of the McLean Family Restaurant at its regular meeting on April 12.  
This award is designed to recognize and promote the outstanding people working in the McLean Community.  Rotary Club members nominate and then vote for individuals working in McLean who have impressed them with excellent customer service, courtesy, friendliness, dependability and integrity.
Kapetamakis has owned and operated McLean Family Restaurant for since 1977.  He greatly enjoys meeting and getting to know those who visit his restaurant.  He commented that he thought his most interesting guest was Newt Gingrich, former congressman and Speaker of the House from Georgia.
Rotary President John McEvilly said that he came up with the idea for this award based on his own blue-collar background where he was raised on the north side of Chicago in a family of six children.  "I started making my own way starting at 10-years old delivering newspapers," he said. He has worked continuously for the last 64 years. 
McEvilly joined Rotary in 1994, and one of the things attracting him was the belief that by contributing our vocational talents we can help solve the problems of society and meet the needs of the McLean community.  "I finally had my chance when I became president of the McLean Rotary Club and could direct my club to initiate a program that honors local people whose daily efforts where they work help make McLean a better place to live," he said.