FCHD team honor by National Association of County and City Health Officials
The National Association of County and City Health Officials (NACCHO), representing the country's nearly 3,000 local health departments, has recognized the Fairfax County Health Department's Acute Communicable and Emerging Diseases Program team as an Infection Prevention and Control Champion. NACCHO's Infection Prevention and Control Champion designation recognizes well-versed and respected leaders in the field of infection prevention and control. These individuals work at local health departments and advance infection prevention and control capacity, activities, guidelines, and engagement.
"It's an honor to be nominated and to receive Infection Prevention and Control Champion recognition. I am incredibly proud of our team, partners and community to see our work over the past five years recognized," said Barbara L. Downes, MS, CIC, manager, Acute Communicable and Emerging Diseases Program, Division of Epidemiology and Population Health.  "Infection prevention and control saves lives. Our community is the reason we do what we do, we are fulfilling our Health Department's mission to protect, promote, and improve quality of life. Every one of us has a role in infection prevention and control for a healthier, better-informed community. Through partnerships and connections, we are enhancing collaboration and witnessing firsthand the positive outcomes that result from effective infection prevention and control work."
The Fairfax County Acute Communicable and Emerging Diseases Program team, established in 2017, is responsible for conducting surveillance, disease prevention, and outbreak control for all reportable conditions (except Tuberculosis, sexually transmitted infections, and rabies), antimicrobial resistance, healthcare-associated infection prevention, and outbreak response.
During the COVID-19 pandemic response, the Acute Communicable and Emerging Diseases Program team's interactions with healthcare facilities, such as skilled nursing facilities, expanded to include surveillance and reporting, more frequent site visits with an emphasis on ensuring compliance with mitigation measures, assessment of personal protective equipment use and other infection prevention measures, outbreak investigations, and testing and vaccination support. In addition to onsite communication, they expanded outreach to include monthly webinar meetings with long-term care facility partners to better address COVID-19, healthcare-associated infection prevention, and antimicrobial resistance updates.
"The Fairfax County Acute Communicable and Emerging Diseases Program is a model for building, maintaining, and leveraging partnerships with critical facilities to respond swiftly and effectively to outbreaks, support implementation of infection prevention and control measures, and deliver education to local facilities," said NACCHO Chief Executive Officer Lori Tremmel Freeman. "NACCHO recognizes Fairfax County as an Infection Prevention and Control Champion for their exemplary work with facilities in Fairfax County, along with their commitment to sharing best practices at both the state and national level."
Enslaved People of George Mason Memorial to be dedicated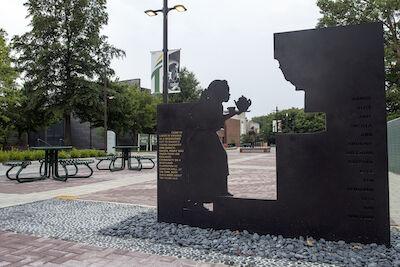 It was the summer of 2017, and five George Mason University students and three faculty members were beginning their research into the children enslaved by George Mason IV, the university's namesake.
Wendi Manuel-Scott, a professor of integrative studies and history, and one of the faculty members on the project, recalled how the students at one point "began to talk about how it would be awesome if years from now they came to campus and there's a plaque that honors the enslaved people held by George Mason."
As it turned out, they got much more than a plaque, as what was the Enslaved Children of George Mason project led to the Enslaved People of George Mason Memorial, a focal point of how the university is addressing its identity as it relates to a complicated Patriot.
"The purpose of the project was to raise awareness about George Mason IV, the man, the patriot and the slaveholder," Manuel-Scott said. "Our goal was to focus on expanding our community's understanding of Mason, and to focus on the people he owned and what they thought about freedom."
The memorial on the Fairfax Campus is the centerpiece of the newly renovated Wilkins Plaza, named for the African American civil rights leader, Pulitzer Prize-winning journalist, and beloved Mason professor.
It will be dedicated at 1:30 p.m. on April 4, as part of the university's 50th anniversary celebration.
"I started that project the summer after my sophomore year, and it sounded cool to have research that maybe would contribute to a memorial on campus," said Mason alum Kye Farrow, BA History '19, MS Management '20. "But it was really difficult at the time to see how it would get there. So, yes, still today, I'm absolutely amazed the work we did went to the product that's there today." 
Other students on the project were Alexis Bracey, BA Global Affairs '19; Ayman Fatima, BS Systems Engineering, BA Government and International Politics '21; Farhaj Murshed, BS Statistics '20; and Elizabeth Perez-Garcia, BS Criminology, Law, and Society '19.
It was important each student came from a different academic discipline, Manuel-Scott said.
"Each brought a different way of seeing and thinking, and a different way to analyze and explore records," she said. "That interdisciplinarity created a richness in terms of the project."
The project was launched by Manuel-Scott; Benedict Carton, a faculty member in History and Art History; and Mason alum George Oberle, Mason's history librarian and a term faculty member in the Department of History and Art History.
All are leaders in the Center for Mason Legacies, an interdisciplinary and collaborative research center established by the University Library and College of Humanities and Social Sciences that encourages student research to preserve and examine the legacy of George Mason IV and the people he enslaved.
The Enslaved People of George Mason project "shows that Mason is striving to be an exemplar institution in relation to the idea of promoting student inquiry and being open to where that goes and takes us, even if it's not always a happy story," Oberle said.
The memorial includes the iconic statue of Mason. A new pedestal includes four quotes which highlight the different aspects of his life, including the penning of the Virginia Declaration of Rights, the foundation of the U.S. Bill of Rights. But Mason also enslaved more than 100 people at his Gunston Hall plantation and did not free any upon his death.
Memorial panels are also dedicated to Penny, an enslaved child given by Mason to his daughter, and James, Mason's personal attendant. A fountain contains stones in a pattern that symbolize an African custom of gathering and prayer.
To acknowledge an altar that was constructed next to the Potomac River by the enslaved at Gunston Hall, and to acknowledge that the land on which the university was built was originally inhabited by indigenous people, water from the Potomac River will be poured into the fountain.
"It's a way to interconnect the worlds, between the place of enslavement, the place of difficulty, but also a place that's life-giving," said Gabrielle Tayac, an associate professor of public history at Mason, and a Piscataway tribal citizen. "To pour the water into the fountain that recalls those connections and all of those hopes and dreams and memories the people had, it's a way of awakening and blending those intentions."
"Our project sought to guide students' sense of moral duty, as they branched out to discover hidden histories," said Carton. "This duty is focused on reconstructing the everyday humanity of enslaved people whose lives had deep meaning, despite the cruelties of enslavement."
"The moral duty," he said, "is in the learning."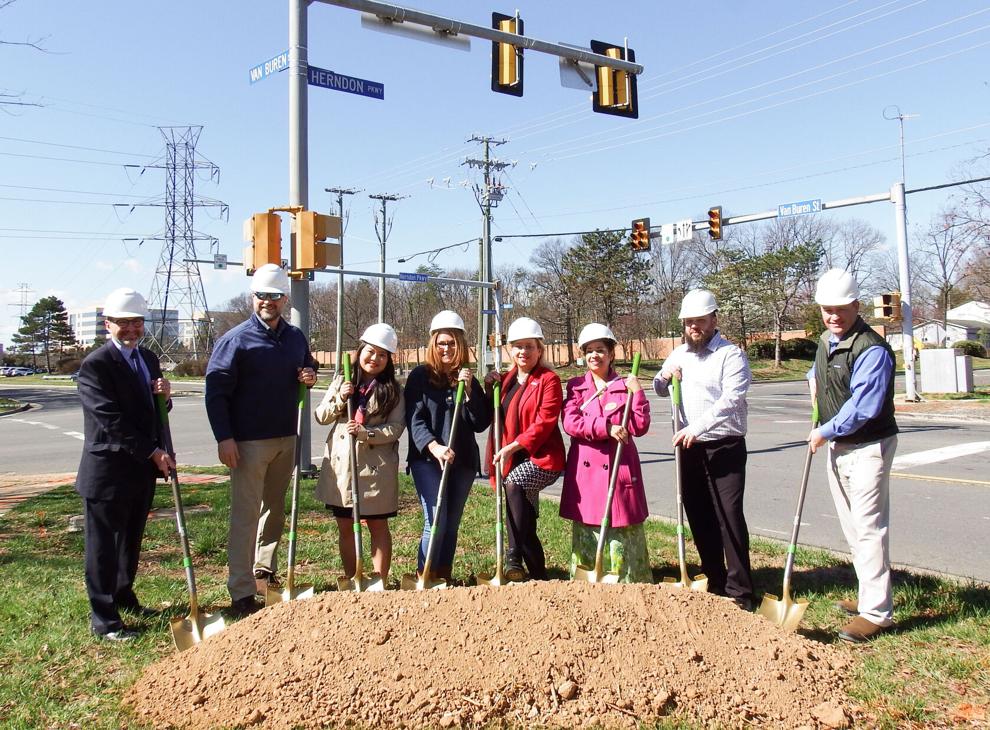 Officials from the Town of Herndon and A&M Concrete Corporation, the project contractor, broke ground March 25 for the commencement of construction on a major road project to improve the intersection of Van Buren Street and Herndon Parkway. The cost for the project is $10.9 million which includes $4.5 million for the Herndon Parkway intersection and $6.5 million for the Van Buren "complete streets" portion. The project provides significant enhancements to primary roads necessary due to the anticipated opening of the Herndon stop on the Silver Line. The town anticipates construction will be complete in spring 2023. In the photo (L-R) are Scott Robinson, director, Public Works, Town of Herndon; Bill Ashton, town manager, Town of Herndon; Virginia Delegate Irene Shin; former Herndon Mayor Lisa Merkel; Herndon Mayor Sheila Olem; Herndon Councilmember Naila Alam; Brian Glover, vice president, A&M Concrete Corporation; Richard Smith, senior civil engineer, Town of Herndon.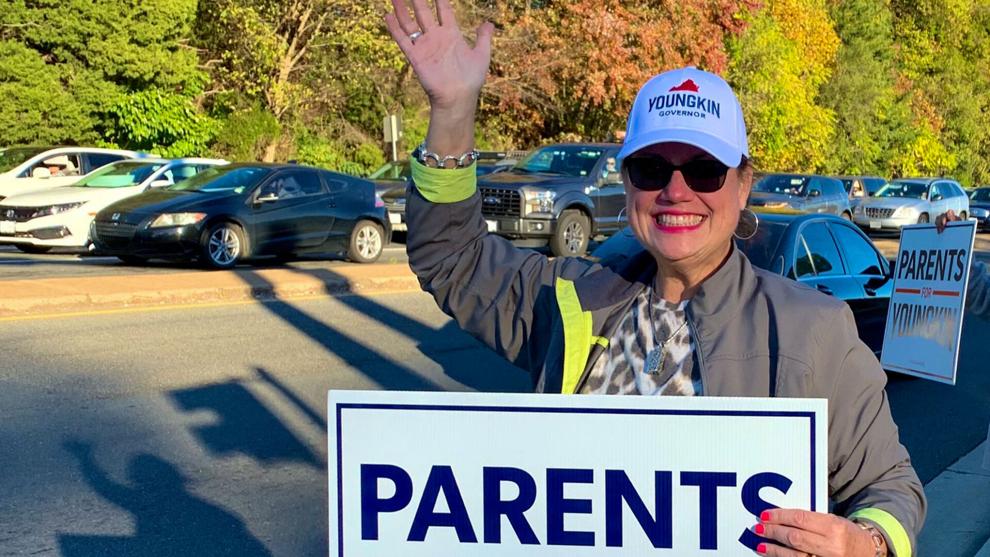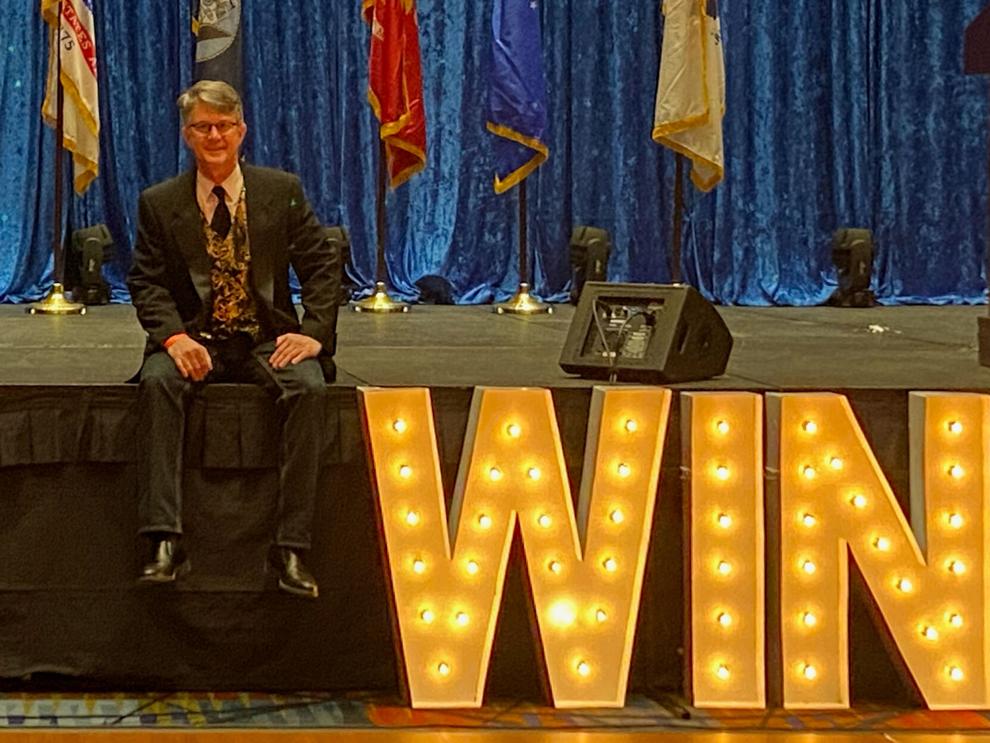 Fairfax GOP re-elects chairman; honors state official
At the biennial convention of the Fairfax GOP March 26, Steve Knotts was re-elected to a second term as chairman. 
Looking ahead to this November's midterm elections and next year's state-level contests, Knotts rallied the GOP faithful with a message of unity. "When we unite behind our nominees, as we did last year, we win," Knotts told convention delegates and attendees. "Glenn Youngkin proves that; Jason Miyares proves that; and the absolutely fabulous Winsome Sears proves that!"  
While Fairfax remains a Democrat stronghold, Republicans made significant gains in the county last year. "In deep blue Fairfax County, Youngkin's goal was to cut his losses compared to GOP gubernatorial performance in 2017," the Virginia Public Access Project wrote following the release of enhanced 2021 election data. "Youngkin met his goal in eight out of 10 precincts."
Knotts sees evidence of continued GOP momentum in the region. "Soon, we will choose our 2022 congressional nominees," the chairman noted. "Reflecting our party's revitalization here in Northern Virginia, we have many candidates in each race: five here in the 11th District; somewhere in double digits for the 10th; and believe it or not, five candidates in the 8th!"
During the convention program, the Fairfax GOP honored Virginia Assistant Superintendent Elizabeth Schultz, who formerly served on the county's school board. "As a committee, we commend Ms. Schultz's ongoing efforts to reform public education for the benefit of Virginia's students," the GOP said in a formal proclamation. "Further, we are determined to bolster and defend Ms. Schultz in this noble cause, however we are able."
New COVID policy coming for GMU Center for the Arts
The College of Visual and Performing Arts (CVPA) at George Mason University announces an update to the vaccination/testing policy for audiences at the Center for the Arts in Fairfax and the Hylton Performing Arts Center in Manassas, beginning May 2, 2022. After close consultation with the health and safety leaders at George Mason University, it has been determined that current health conditions allow the venues to discontinue requiring patrons to provide proof of vaccination or a negative COVID-19 test result upon entry into most events, as of May 2, 2022.
Beginning May 2, 2022, audience members will not be required to show proof of vaccination, or a negative COVID-19 test result prior to attending most events, except when required by the event organizer or artist. If proof of vaccination or a negative COVID-19 test result is required for a specific performance, it will be indicated on the webpage with event details.
Face coverings will continue to be required for indoor performances. The venues are implementing a step-down approach to the current pandemic policies. This approach also includes assessing the masking policy. The venues will announce any changes to this policy with at least 14 days notice on their website.
Dean of the College of Visual and Performing Arts and Executive Director of the Hylton Center Rick Davis shares, "Our audiences, artists, staff, and community members have been wonderful partners in the effort to contain COVID-19. Thanks to their dedication, we have been able to return to live performance and remain safe. While this virus is still worthy of concern, and caution is still appropriate, we are looking forward to easing our restrictions soon. We appreciate everyone who has helped us keep the arts alive and well during this challenging time."
Events scheduled from March 23 through May 1 at all CVPA venues will continue with the previously announced safety protocol.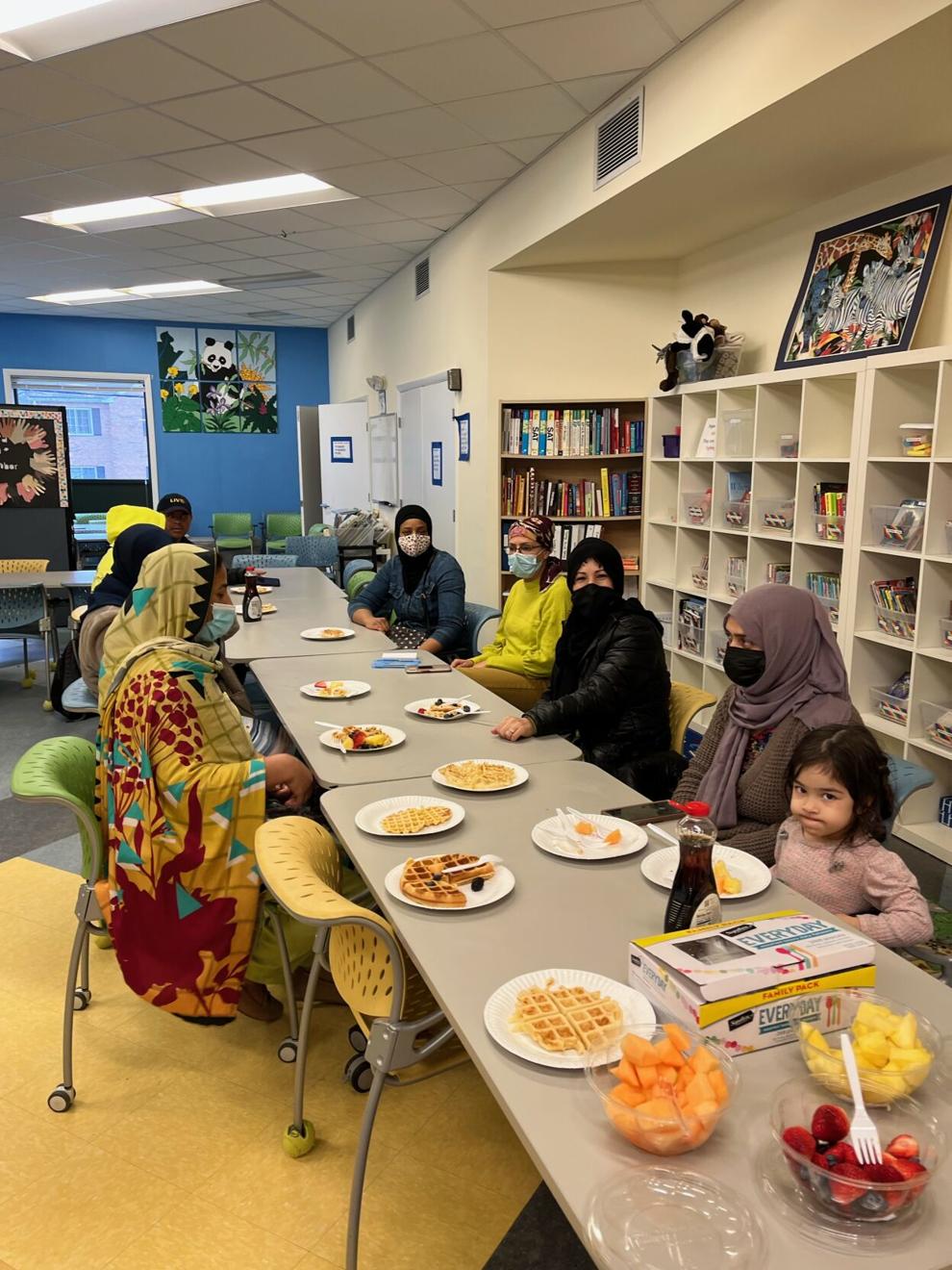 FACETS' team members recently met with Afghan women refugees who are living at Wedgewood apartments to learn about their families' needs as they settle. FACETS, a nonprofit that helps those suffering the effects of poverty in Fairfax County, provides a myriad of services to residents living at Wedgewood through its Education and Community Development Program (ECD). FACETS' ECD program operates year-round in four low-income, subsidized communities offering a continuum of supportive services to break the cycle of poverty including educational, preventative and enrichment programs to help adults and youth, including mentoring and tutoring, and a variety of classes such as ESL, budgeting, literacy, art, and computers.  In addition, residents receive on-going case management to connect residents with services to help them succeed.