Former law dean at University of Alabama, named Scalia Law School Dean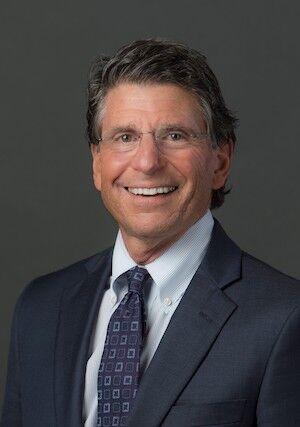 Kenneth Randall has been named the new Dean of George Mason University's Antonin Scalia Law School, effective Dec. 1, 2020. 
The Board of Visitors approved the hire at their Oct. 1 meeting.
Randall served for two decades (1993-2013) as Law Dean of the University of Alabama and was named one of legal education's most transformative deans of the last decade. He also served as special counsel to President Robert Witt of the University of Alabama from 2006 to 2012, a period when campus enrollment doubled.
"Ken Randall is a proven leader who embodies the spirit of George Mason University," said Mason President Gregory Washington. "He brings a commitment to ideas, faculty diversity and a proven ability to attract a wide range of students. We are excited to welcome him to Mason Nation."
During his time as dean, Alabama's U.S. News ranking soared from 96 to 21, the greatest jump in the history of U.S. News' law school rankings. Also, under his watch, Alabama similarly improved its U.S. News Peer Reputation more than any other law school.
Beyond his academic legacy, Randall has also been a successful entrepreneur. In 2013, he founded iLaw Distance Education, which has become a market leader in distance education, partnering with nearly 25 percent of all law schools. In 2017, iLaw was acquired by BARBRI Holdings, through Leeds Capital (NY). Randall's expertise in this field is vital at a time when the pandemic has made it necessary to educate students both online and in the classroom.
Randall holds a doctorate and master's degree concentrating in international law from Columbia University; a master's in law from Yale University, and juris doctor from Hofstra University.
"This is a strategic hire at an important moment for our law school and university," said Mark Ginsberg, Mason's provost and executive vice president. "Dean Randall is an independent thinker with an impressive track record. He will take the Scalia Law School to new heights."
Scalia Law is consistently ranked among the top law schools in the nation, currently ranked by U.S. News & World Report at 42 for its full-time program and 4 for its part-time program. It is strategically located in Arlington, Virginia, and has consistently placed students and graduates in clerkships, on key Senate and House Committees, at federal agencies and at top law firms.
"I am thrilled and honored to be the next dean of the Antonin Scalia Law School," said Randall. "I admire Scalia Law's entrepreneurial spirit and its commitment to intellectual diversity. In the spirit of Antonin Scalia, this school encourages the robust and respectful debate of ideas, and that makes it unique among law schools."
The political, economic and social climate will only increase the tremendous demands for legal scholars and first-rate law school graduates. Randall's experience and vision will help guide the law school during this critical time.
"In a pool of talented national candidates, Ken Randall stood out for his impressive track record leading a top law school for more than two decades, his independent thinking and his ensuing career as an entrepreneur," said search committee chair and Schar School of Policy and Government Dean Mark J. Rozell.
Henry Butler, who led record-breaking fundraising at the law school during his five-year tenure, will remain on the faculty as executive director of the law school's prominent Law & Economics Center. 
El Tiempo Latino recognizes community outreach specialist as "hero"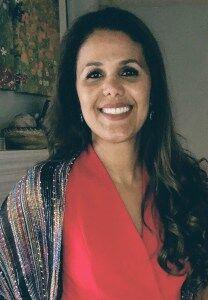 Carla Paredes-Gómez is a community outreach specialist who has been hard at work connecting people with the resources they need to survive the COVID-19 pandemic. She is well-known for her dedication to the health needs of Hispanics in Fairfax Health District.
Those who work with Paredes-Gomez have long considered her a hero for the positive impact she makes on the lives of local Latinos every day. Therefore, it is only fitting that one of the D.C. region's largest Spanish-language publications, "El Tiempo Latino" named her as a "COVID-19 Hispanic Hero." The program recognizes those who have done positive work on behalf of the local Latino community during the pandemic.
"The 10 individuals featured on these pages serve as inspiration to remind us that we can all become heroes of our home, our work team, and our neighborhood," the article read.
She was asked to share her thoughts on what "being a hero" means:
"I am deeply moved to learn that my colleagues chose me as a COVID-19 hero," said Paredes-Gomez. "It is an honor to know that wonderful people that I call heroes and that I am fortunate to work with on a daily basis, also see me as a hero. When I think about the question of what it takes to be a hero, what comes to mind are the images of many of my colleagues working non-stop, regardless of the time or day, as well as the image of hundreds of leaders mobilizing resources against the clock to somehow alleviate the challenges the community has been facing.
"For me, being a hero means understanding that your actions, no matter how small, can change people's lives and even if the reality is overwhelming, every day your own life can become a catalyst to generate positive changes.
In these difficult times, we can all be heroes, we just need to wake up every day wondering how, from our own reality, we can take the necessary actions to support other people and thus generate the change required to alleviate the difficult burden that our community is carrying." 
Her voice is relied upon by many. She can be seen across Fairfax County's social media and website properties delivering presentations, video messages and media interviews. During the COVID-19 pandemic, she has been tirelessly working to get local Latinos tested and to connect them with basic needs assistance if quarantine or isolation is necessary. She also has been key in engaging local Hispanic community leaders from non-profits, faith-based communities, and other local organizations in the county's COVID-19 response.
Paredes-Gómez has been with the Fairfax County Health Department for five years. A native of Venezuela, she resides with her husband and daughter in Fairfax.
County celebrates completion of Hayfield Road pipe conveyance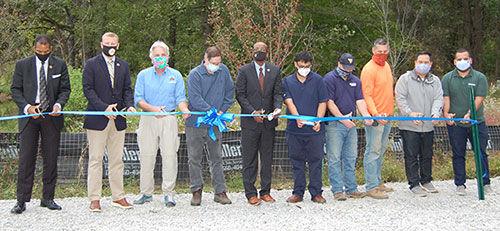 Fairfax County and the Hayfield Farm community celebrated the early completion of the Hayfield Road Pipe Conveyance project with a ribbon-cutting ceremony Oct. 1. 
The large-scale project, requiring installation of 3,600 linear feet of stormwater and 2,000 linear feet of sanitary sewer parallel pipes, was designed to control and prevent flooding in the community.
The Hayfield Farm community has experienced residential structure flooding over a long period of time and with increasing Board of Supervisors Chairman Jeffrey McKay spoke at the ribbon cutting.
Fairfax County Stormwater staff has met with the Lee District Supervisor's Office and the Hayfield Farm community to discuss modeling results, review pipe conveyance feasibility and to seek community feedback. In September 2014, the community provided a unanimous vote of all present at a Hayfield Citizens Association meeting to support the proposed project.
The project broke ground in September 2019. In addition to pipe installation, special care was taken to include design enhancements to protect the sensitive habitat in the adjoining Huntley Meadows Park. Due to the hard work of all those involved, the project was successfully completed several months ahead of its November 2020 deadline.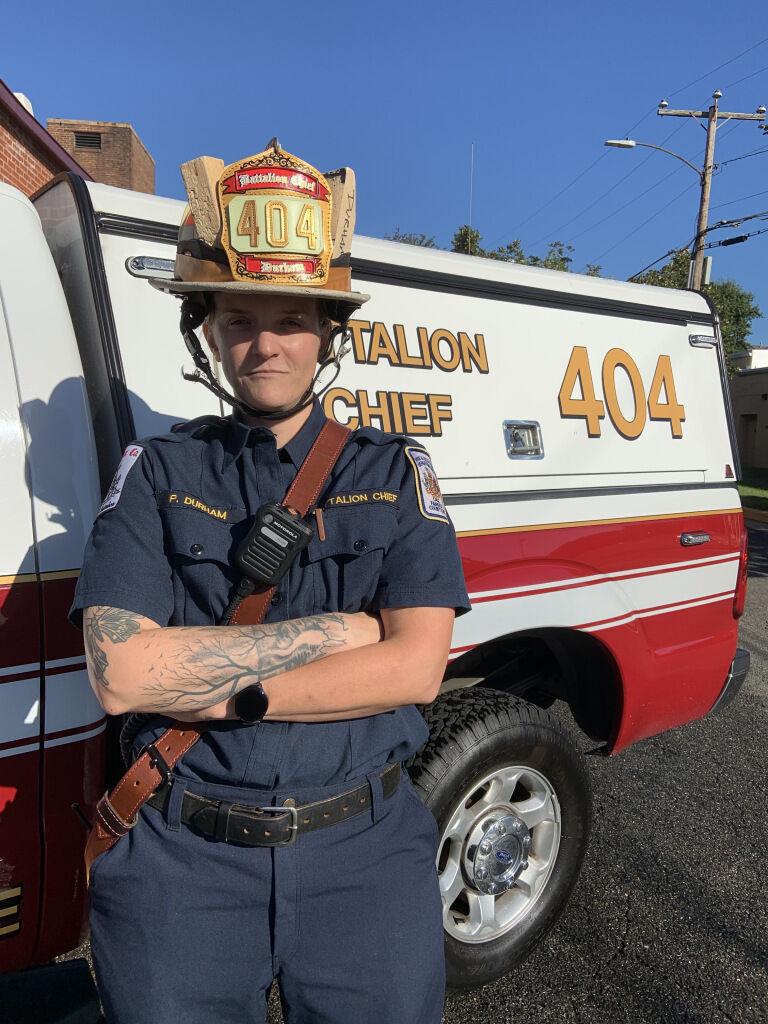 These days you can find Battalion Chief Philippa Durham leading the five stations in the Fourth Battalion as Battalion Chief 404 on B-shift. 
After serving nearly 15 years with the Fairfax County Fire and Rescue Department (FCFRD), Durham was promoted to battalion chief in August. She is the first female battalion chief assigned to the Fourth Battalion – one of the busiest in the county. The 4th Battalion encompasses five fire stations in the Annandale, Bailey's Crossroads, Jefferson, Seven Corners, and West Annandale areas of Fairfax County.
Very active in sports and outdoor adventures as a child, Durham did not grow up thinking of a career in the fire service. However, there was one childhood event that played a role in determining this potential career path. When she was 13, her father was tragically struck and killed by a car. She also recalls having a strong desire to help those in need or less fortunate at a young age.  Traits that would eventually lead her toward a fire service career.
After graduating from the University of Maryland with degrees in Biology and Secondary Education-Science, Durham became a teacher with Montgomery County (MD) Public Schools. After three years as a teacher BC Durham still had that strong desire to help others that was ingrained in her as a child. She was drawn to medicine but did not want to go back to school.  Several of her friends said she would like the Fire/EMS field due to being athletic, interested in the medical field, and truly helping others at one of their worst times in life.
She was hired by FCFRD in 2006 as a member of Recruit School 119. Durham's first promotion was to apparatus technician in 2011. She was one of the few females assigned to be a tower ladder driver and operator. After receiving a proficiency designation as a master technician, she rose to lieutenant (2013) and then Captain (2017), allowing her to serve in a variety of roles.
A competitive athlete in her youth, being a part of a team and promoting teamwork has been a pivotal philosophy in Durham's various leadership roles. The tragic event of losing her father in an accident instilled in her a strong determination to "be the best first responder in order to give people in that situation the greatest chance at survival." She also continually strives to seek the positive in situations and to be positive. During this journey, she makes it a point to mentor and prepare the next set of diverse, inclusive, and motivated leaders.
In her new role, Durham firmly believes in empowering subordinates to make decisions, take initiative, and to provide input to help everyone in the Fourth Battalion be successful. She has met with each station Captain and looks forward to "a lot of collaboration with the station officers".  Self-actualization is also an important philosophy for Durham as she firmly believes that the realization or fulfillment of one's talents and potential will only make the department and individual stronger.
Durham endeavors to be "a bad-ass female firefighter" who is known for being able to handle everything that comes her way. Her goal is to one day break a glass ceiling in Fairfax County and become the first female deputy chief of Operations in the history of the department. She believes it is important for other women to see themselves not just being limited to EMS field in the higher ranks, but to also be amongst the highest ranks inclusive of being a top-notch fire suppression officer.
Durham lives on the Eastern Shore of Maryland with her wife and daughter.  She enjoys building and being outdoors.  One relatively recent hobby she embraces is raising chickens.
If that was not enough to keep her busy, Durham is also pursuing a Master in Public Administration degree at the University of Delaware.
Former USGS senior advisor joins Dewberry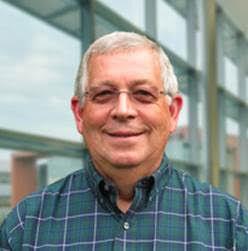 Dewberry, a privately held professional services firm, has announced that Larry Sugarbaker has joined the firm as a senior technical advisor to the geospatial and technology services group based in the firm's Fairfax, office.
Sugarbaker previously worked as the senior advisor for the National Geospatial Program at the U.S. Geological Survey (USGS), and was responsible for developing geospatial policy for the National Map and National Atlas, as well as other national program activities. He also served as the senior project director for a new geospatial information service to support senior executives within the Department of the Interior and its bureaus.
Prior to joining USGS, Sugarbaker spent six years with NatureServe as the vice president and chief information officer, and 22 years with the Washington State Department of Natural Resources where he served as the geographic information systems (GIS) manager. His areas of expertise include business development, GIS and information technology, remote sensing, and forestry.
"We are thrilled to welcome Larry to our team," says Dewberry Senior Vice President Amar Nayegandhi, CP, CMS, GISP. "Our federal clients have unique challenges that require creative problem-solving, and Larry's expertise will add great value to their solutions."
Sugarbaker earned his master's degree in remote sensing from the University of Michigan (1979) and a bachelor's degree in forestry from the University of Michigan (1977). He was chair and federal liaison to the Washington Geographic Information Council, and state of Washington representative to the Washington State Geographic Information Council, National States Geographic Information Council, Western Governors' Association, and the Interorganizational Resource Information Coordinating Council (IRICC). He is also past chair of the Mapping Science Committee for the National Research Council. Sugarbaker received the President's Making a Difference Award in 1999 from the Environmental Systems Research Institute, and the Outstanding Individual Achievement Award in 1999 from the Washington Urban and Regional Information Systems Association.